Miles of winding roads pass rugged coastlines, soaring pinnacles, and flowery meadows. Embark on one of America's many stretches of road to uncover the nation's mesmerizing landscapes. From curving mountain trails to flat desert terrain, these journeys — best enjoyed in the warmer months — range from a few hours to a few days and can easily be customized to suit your road trip desires.
Cascade Loop, Washington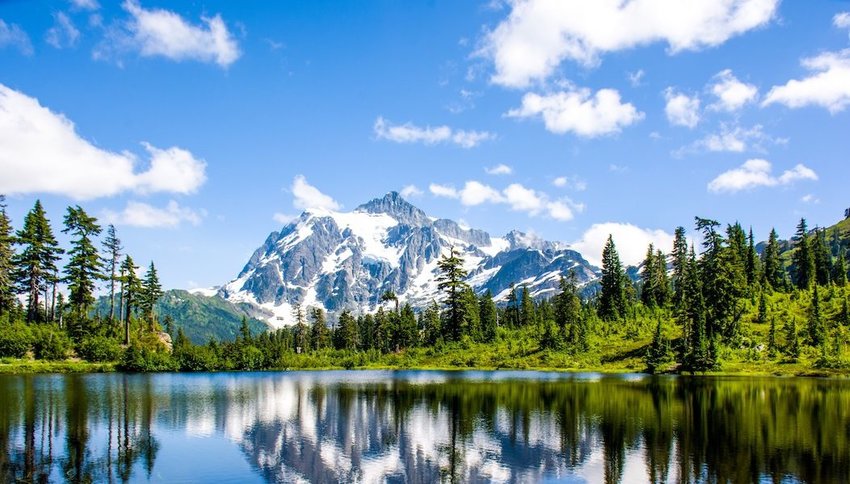 Washington's ultimate road trip begins just 30 miles north of Seattle in Everett, and the Cascade Loop's 440 miles of roadway whisks you past a diverse blend of urban communities, striking mountain ranges and lush forests. Travel east to west on Highway 2 landing in Stevens Pass, and if time permits, embark on the short hiking trails that lead to the silvery waterfalls of Bridal Veil and Wallace Falls. Spend the night in the Bavarian village of Leavenworth and sample traditional German beer and sausages. The most scenic portion of the Cascades Loop leads you to the ancient forests and blue green waters of North Cascades National Park, passing a series of overlooks that afford sweeping views of its more than 300 glaciers. End your road trip on the Cascades Loop back in Seattle for a little urban exploration to cap off your trip.
PCH From San Diego to Los Angeles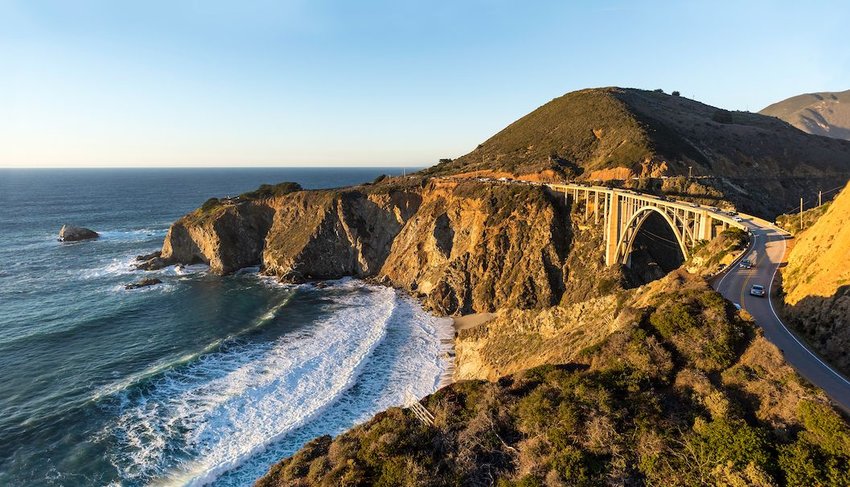 Winding for more than 500 miles along the rugged coastline of California, the Pacific Coast Highway begins near Pelican State Beach in the north and extends to San Diego in the south. While you could spend a week or two conquering the entire drive, if you're looking to shorten the experience this summer, plan on just making the journey from San Diego to Los Angeles. Begin in the bordertown of San Diego, enjoying the quaint coastal community of La Jolla or the picturesque Coronado Island before heading north. Stop in Carlsbad for donuts from VG's Bakery before continuing north. Stop for the night in Newport Beach, walking the loop around Balboa Island at sunset before dining at one of the many delicious restaurants on Lido Island. Then hit the road again, heading up north through Hermosa Beach to Venice to Santa Monica and then into the City of Angels.
Jackson to Bozeman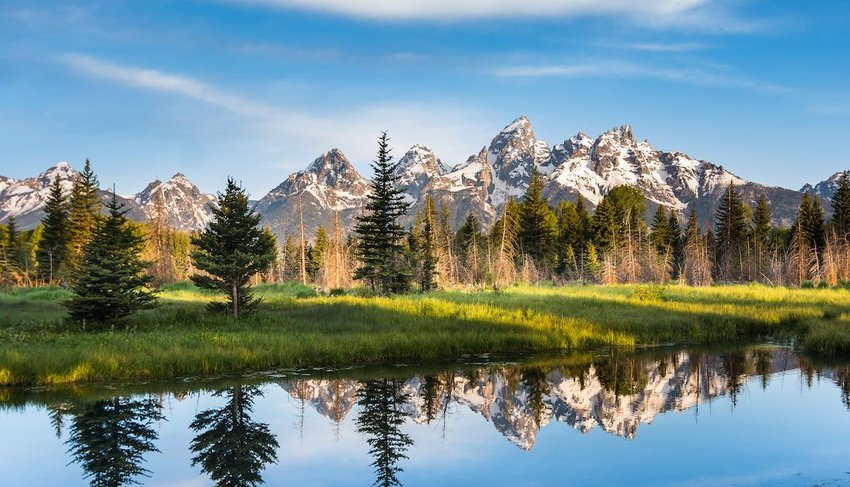 Running 250 miles in length, the route between Jackson, Wyoming and Bozeman, Montana transports you through two of America's favorite National Parks — Grand Teton and Yellowstone. Witness the majestic peaks of the Teton Range emerge before your eyes as you head north from Jackson, and hike the forested paths of the park to alpine lakes and dramatic canyons, traversing fields of wildflowers in the summer. From Grand Teton National Park, experience the natural grandeur of Yellowstone, entering via its south entrance. Designated in 1872 as the world's first national park, the vast grounds of Yellowstone houses half the world's collection of geysers and fumaroles, and its extensive plains abound in wildlife viewing opportunities as bison, elk and bears roam freely.
Scenic Byway 12, Utah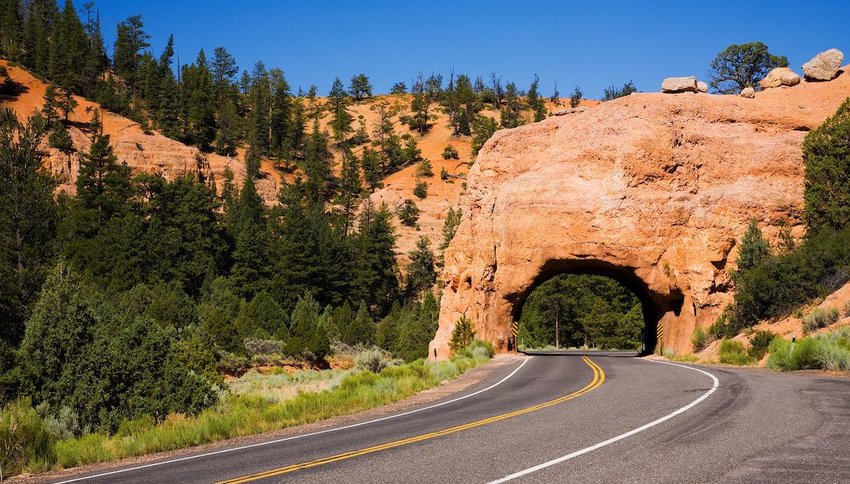 Deservedly recognized as an All-American Road, the 123 miles of Scenic Byway 12 highlight Utah's sheer diversity of natural wonders, introducing visitors to the photogenic landscapes of Dixie National Forest, Red Rock Canyon, Grand Staircase-Escalante National Monument and Capitol Reef National Park. Scenic Byway 12 begins south of Panguitch, where you'll drive beneath two crimson-colored sandstone arches, and ends in Torrey, a blissful spot that offers ample opportunity for outdoor recreation. Visit the Grand Staircase-Escalante National Monument and embark on a short hike to the slot canyon of Spooky Gulch, then discover the vibrant red and orange colored delicate rock spires of Bryce Canyon National Park, whimsically arranged in a natural amphitheater.  
San Juan Skyway, Colorado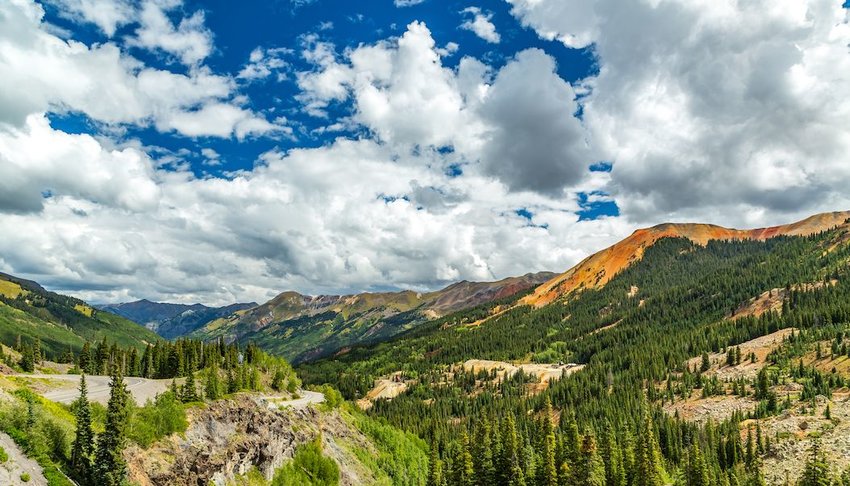 The 233-mile loop through southwestern Colorado passes historic mining towns, snow-capped peaks, and limestone gorges. Begin your journey in Durango, and admire a view of the San Juan mountains at Molas Pass before continuing on to Silverton, where saloons and rustic shopfronts allude to a rich mining heritage. The stretch of the highway between Silverton and Ouray is dubbed the Million Dollar Highway, as local tales refer to the amount of money used to construct it. But the striking views seem just as priceless. Discover Ouray, affectionately known as the Switzerland of America for its surrounding 13,000 foot summits, and head south through Telluride and Cortez, saving time to immerse in the ancient Native American culture of the Ancestral Pueblo people at Mesa Verde National Park.
Blue Ridge Parkway, North Carolina and Tennessee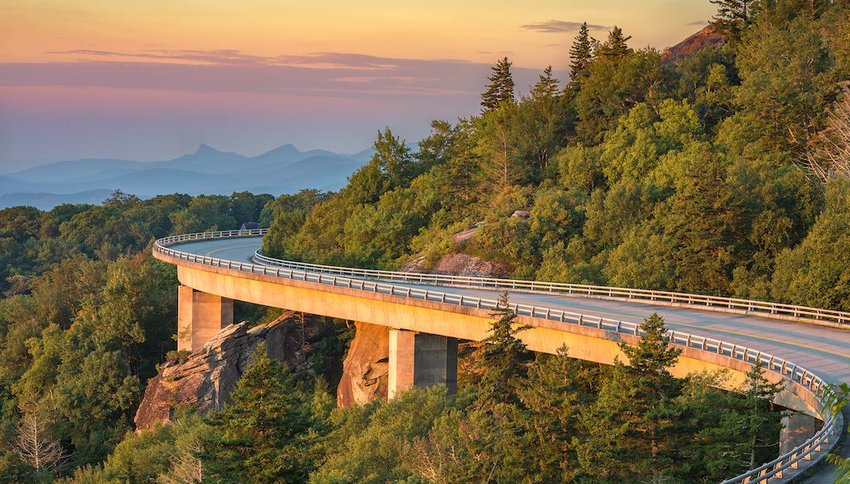 The 469 miles of America's Favorite Drive links Shenandoah National Park in Virginia with Great Smoky Mountains National Park, straddling the border between North Carolina and Tennessee. A quintessential Southern road trip, the Blue Ridge Parkway meanders around the the lofty peaks of the Appalachian Mountains and its fragrant meadows make Peaks of Otter a particularly popular and scenic stretch of the drive. Complete a hike through one of the area's well maintained trails and opt to sleep at the rustic Peaks of Otter Lodge, where every room features a view of Abbott Lake for a rejuvenating excursion to the mountains.
Charleston to Savannah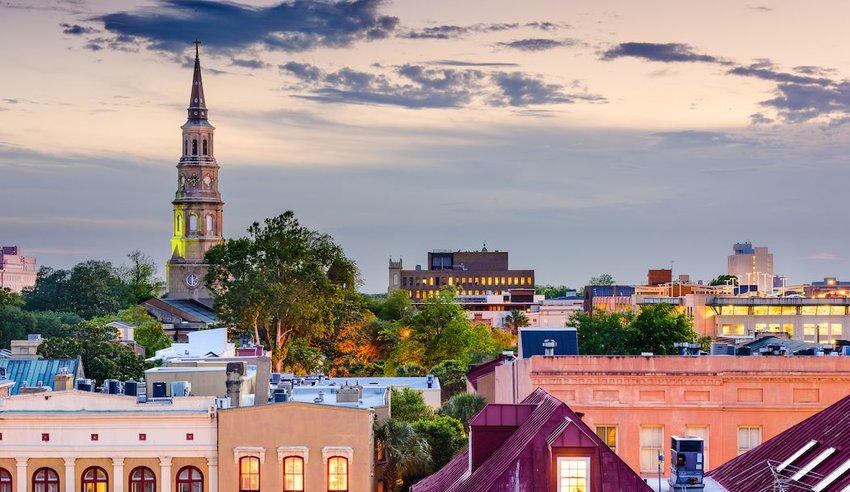 Lined with massive oak trees that drip with Spanish moss and elegant antebellum plantations, the two-hour drive between two of America's favorite southern cities make for a romantic road trip. Stroll the charming cobblestone streets of Charleston, South Carolina, and wander past secluded gardens and historic buildings that boast intricate, wrought iron balconies. Seek respite in the scorching heat of summer in the cool shades of Waterfront Park. Explore the Historic District by horse-drawn carriage in Savannah, Georgia, and embark on leisurely strolls along the Savannah River. Shop and indulge in the regional cuisine on River Street where historic cotton warehouses have been converted into trendy boutiques and restaurants, making sure to sample fried green tomatoes and hearty plates of shrimp and grits.
Overseas Highway, Florida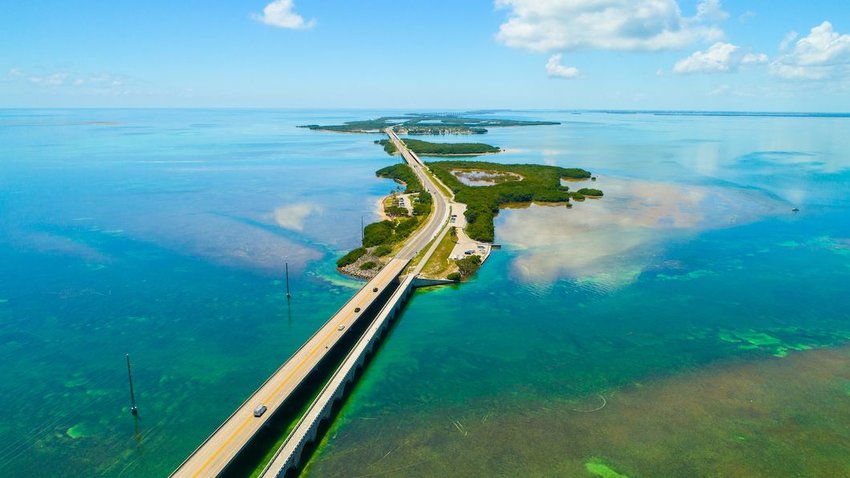 The 113-mile Overseas Highway links Miami on the tip of Florida's mainland to Mile 0 in Key West, the end of America. Enveloped by shimmering turquoise waters, the miles of roadway and 42 bridges that run the length of the Keys afford sweeping views of Florida Bay and the Gulf of Mexico on either side. Begin with a stop in Key Largo, and witness the colorful coral reefs and teeming marine life on a snorkeling tour or glass bottom boat at John Pennekamp Coral Reef State Park. Then visit Marathon, your halfway marker to Key West, and learn about the Dolphin Research Center's conservation initiative while swimming with dolphins. From Marathon, traverse the famed Seven Mile Bridge that connects the middle and lower Keys, and while in Key West, observe fiery sunsets at the bustling waterfront plaza of Mallory Square.
Coastal Maine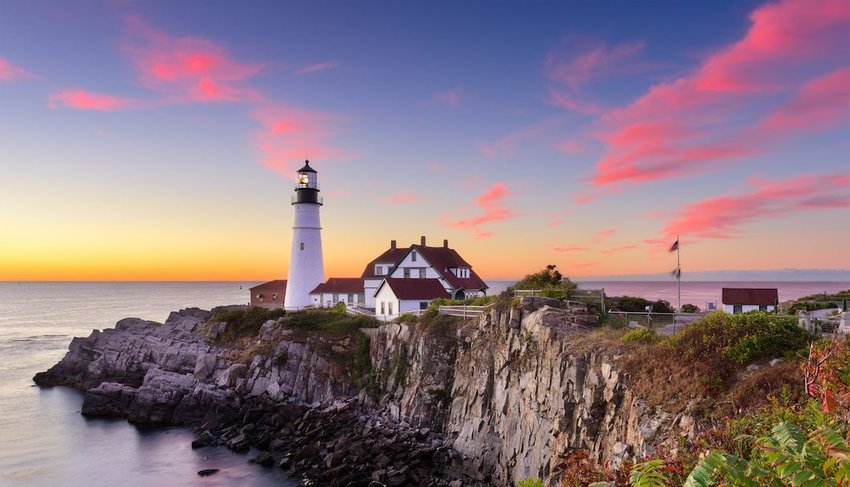 Maine's largest metropolis of Portland is an ideal starting point for a road trip along Maine's jagged coast, the most picturesque region of New England. Explore Portland's harbor and Old Port where stylish boutiques and trendy restaurants don historic brick facades. Perched atop the shores of Fort Williams Park in Cape Elizabeth 20 minutes south of downtown Portland is Maine's oldest lighthouse, Portland Head Lighthouse, where the sound of crashing waves against the rocky coastline carries into the salty ocean breeze. Explore the vast 35,000 acres of Maine's only National Park, Acadia National Park, and conquer the summit of Cadillac Mountain for spectacular vistas over Frenchman's Bay. End your coastal Maine road trip in Bar Harbor by visiting the popular microbrewery, Atlantic Brewing Company, and embark on a free tasting tour of their craft ales held daily.
New York City to Narragansett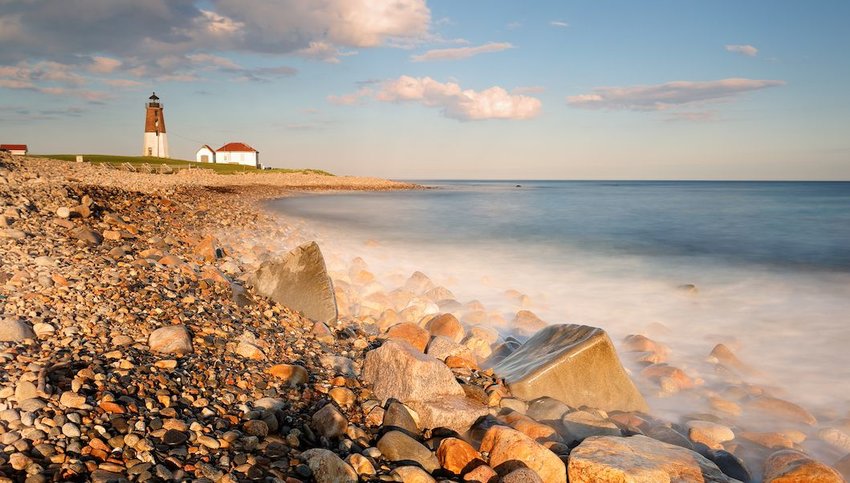 Spend a few days indulging in classic New York City experiences, like laying on the expansive lawns of Central Park, shopping under the neon lights of Times Square, and catching a Broadway matinee. Then swap New York's bustling cityscapes for Rhode Island's seductive beaches on a 180-mile-drive north on I-95 to Narragansett. Affectionately nicknamed Gansett by locals, this seaside town is famed for its three pristine beaches: Roger Wheeler State Beach, Scarborough State Beach, and Narragansett Town Beach. Savor the scent of the coast's salty ocean air and gorge on quintessential summer meals of clam cakes dipped in New England style clam chowder, a beignet-esque fritter unique to Rhode Island that embodies a chewy interior and thick, crunchy exterior.