Natural pink lakes, rainbow mountains and vibrantly-colored towns — this planet is home to a striking kaleidoscope of colors. Certain beguiling corners make for visually bold journeys. For curious wanderers and photographers chasing landscapes of rainbow hues and jewel tones, discover these 25 most colorful places on Earth.
St. John's, Newfoundland, Canada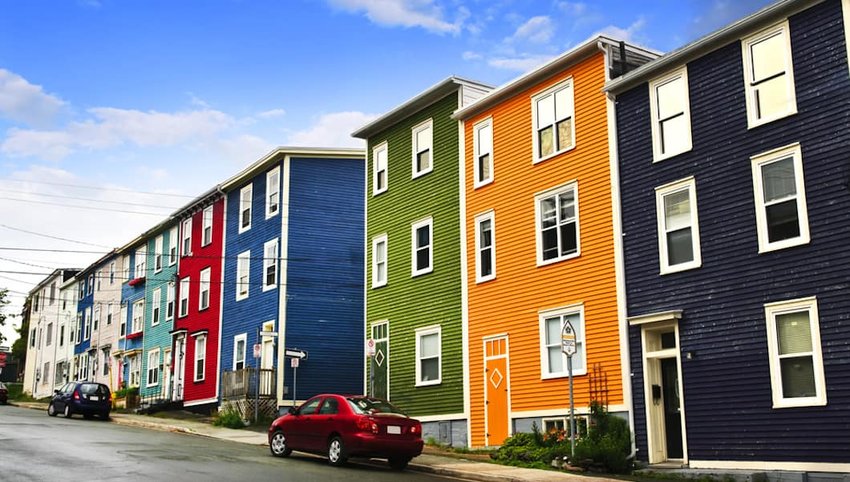 Set on the eastern island of Newfoundland, St. John's is composed of a maze of hilly streets, lined with candy-colored row houses that have earned the nickname "Jelly Bean Row." Though it's Newfoundland's largest city, St. John's population of artists, musicians and cozy neighborhood pubs exude a refreshing Canadian small-town vibe.
Cartagena, Colombia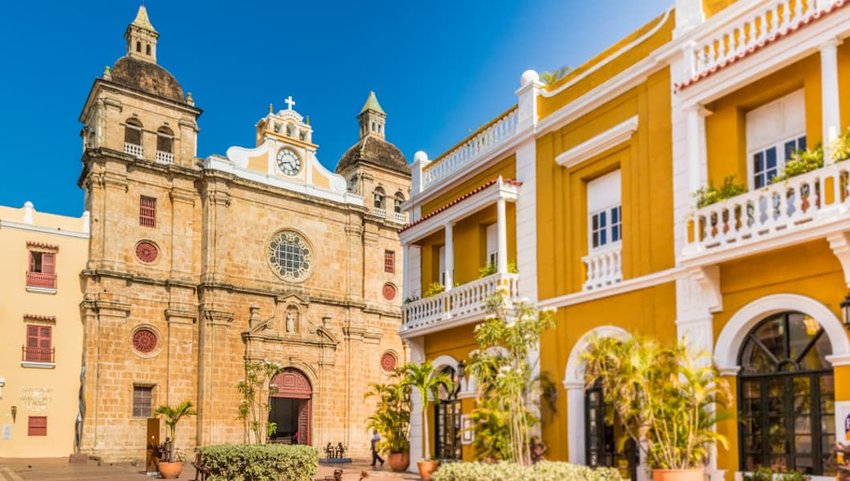 Perched at the top of South America on Colombia's Caribbean Coast, Cartagena is a beautifully preserved historic city of old world charm. Its UNESCO World Heritage Old Town is bound by an eight-mile stone wall that encloses a beguiling blend of colorful colonial buildings, leafy plazas and historic cobbled alleyways.
The Wave, Arizona, USA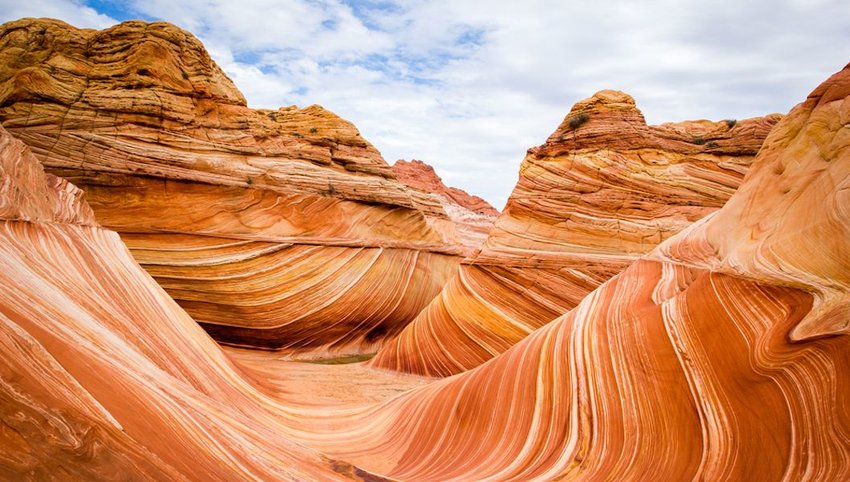 The monumental waves were carved into the sandstone formation of Arizona's Vermilion Cliffs National Monument by way of wind erosion, giving the geologic wonder its name — The Wave. This attraction currently limits the number of daily visitors to 20 to protect its fragile beauty, and 10 of the daily permits can be reserved online four months in advance through a lottery system.
Grand Prismatic Spring, Yellowstone, USA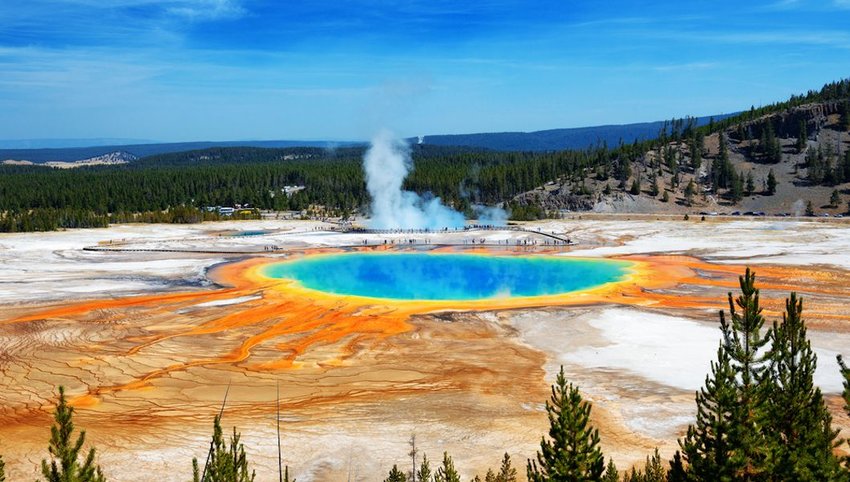 Measuring 121 feet deep and 370 feet wide, the Grand Prismatic Spring is America's largest hot spring, and the world's third largest. Its steaming turquoise pool is encircled by rainbow-colored bands of algae in Wyoming's Yellowstone National Park, which houses half the world's collection of geysers, fumaroles and mud pots.  
Northern Lights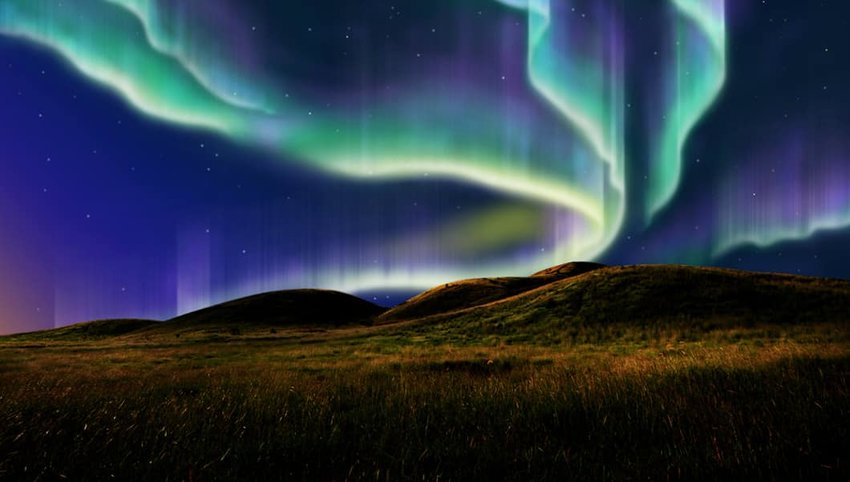 Seen in high latitude regions of the world, the northern lights are a natural phenomenon where vibrant shades of green and pink dance across the night sky. There a few places in the world to observe this colorful light display — Alaska, the Yukon, Iceland and the northernmost reaches of Norway and Sweden. Though it's difficult to predict the exact occurrence of the northern lights, they can generally be observed between late August and mid-April in the most intensely dark hours of the night from 930 p.m. to 1 a.m.
Havana, Cuba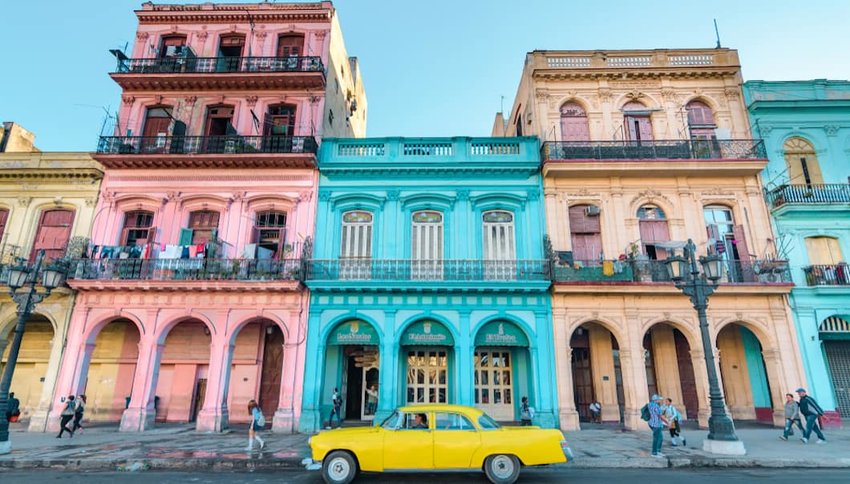 This Caribbean city's cobbled streets, elegantly aging facades and classic American vintage cars give Havana an old world charm and colorful atmosphere. Calle Obispo is the Cuban capital's vibrant commercial hub, its collection of art galleries, lively cafes and handicraft shops heavily trafficked by locals and tourists.
Elafonisi Beach Beach, Crete, Greece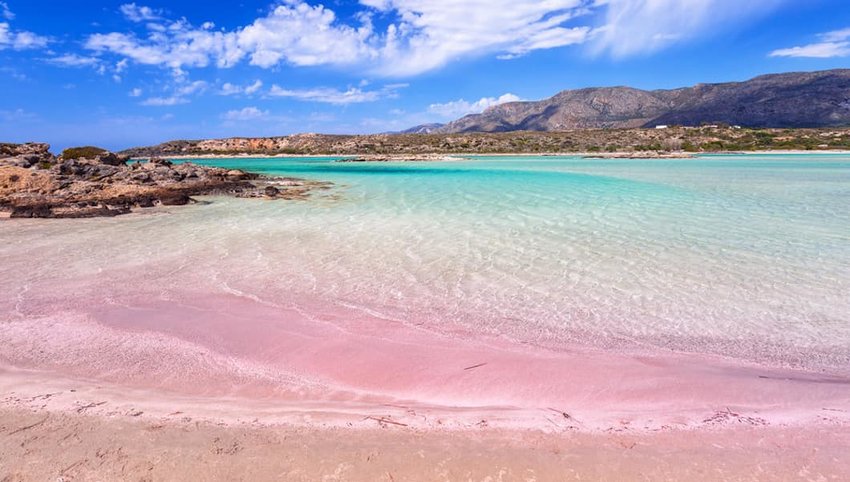 Once upon a time, this pink-sand beach was a well-protected local secret. But these days, visitors flock to southern Crete to enjoy this shallow, warm lagoon and sandbar. The surrounding area also comes alive with color in the spring when more than 100 rare plants and flowers bloom. Consistently ranked as one of the world's top beaches by international beach bums, its soft sands appear a dusty pink under the bright sunlight, and transforms into a shade of deep rose under the glittering light of dawn and dusk.
Willemstad, Curaçao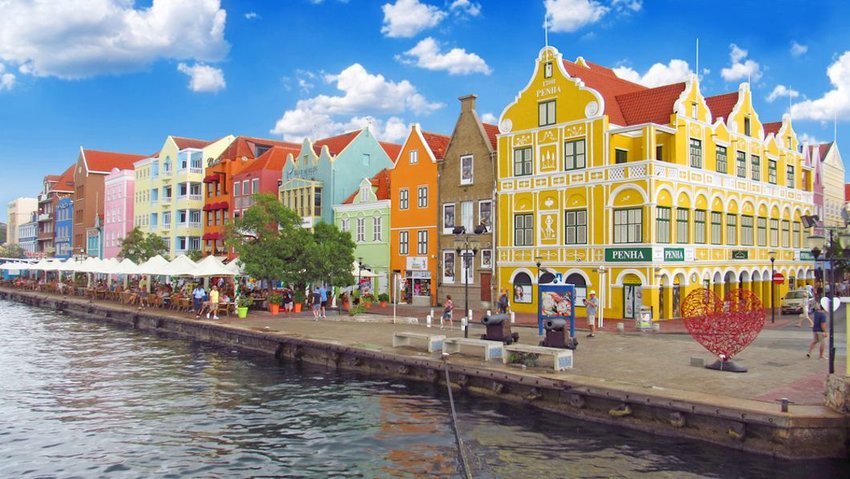 A Dutch Caribbean Island, Curaçao represents a slice of Europe in Caribbean paradise. A succession of hidden beaches and stretches of rugged coastline make up the spellbinding landscape of this island nation, and its rich marine life makes it a top destination for snorkeling and diving. Visit Curaçao's bustling capital of Willemstad, where the enclave of colorful Dutch colonial buildings is the city's highlight.
Antigua, Guatemala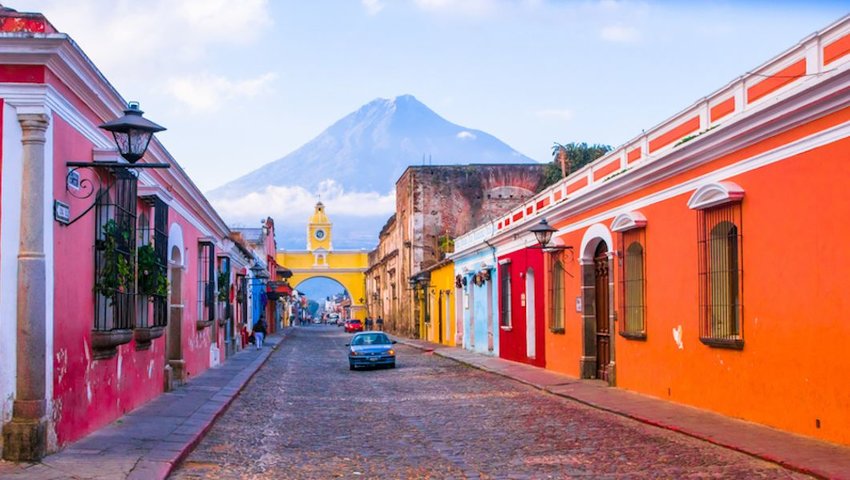 The pastel dwellings of Antigua are ringed by three volcanoes and surrounded by coffee plantations that offer ample opportunity for avid exploration. This Spanish colonial town once ruled as the nation's capital for 200 years, but its reign was ended by a catastrophic earthquake that struck the city in 1773. The multitude of Spanish language schools attracts a steady stream of keen foreigners to this Unesco World Heritage destination and has become a favorite weekend getaway for middle-class Guatemalans.
Cinque Terre, Italy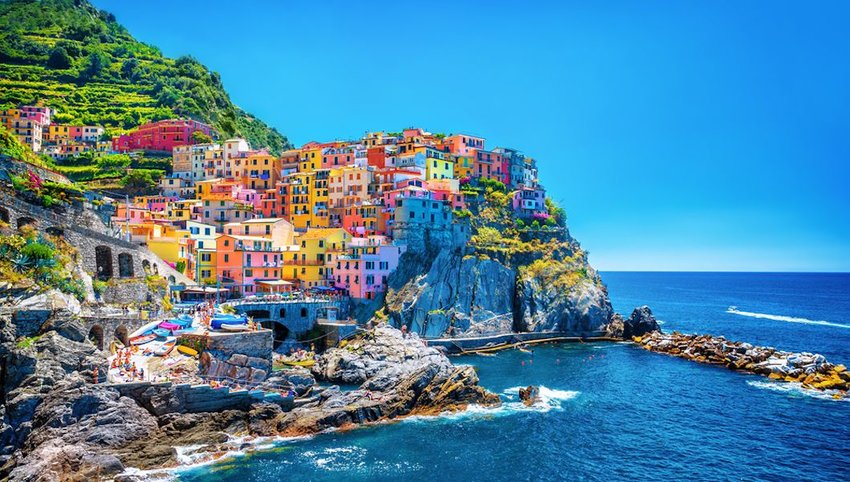 The five medieval fishing villages of Monterosso, Vernazza, Corniglia, Riomaggiore and Manarola make up Cinque Terre, a UNESCO destination situated on the steep cliffs of the dramatic Italian Riviera. With car traffic in Cinque Terre heavily restricted, visitors travel between villages by regional train, ferry, or footpaths along the rugged coastline that pass terraced vineyards and fragrant olive groves.
Fly Geyser, Nevada, USA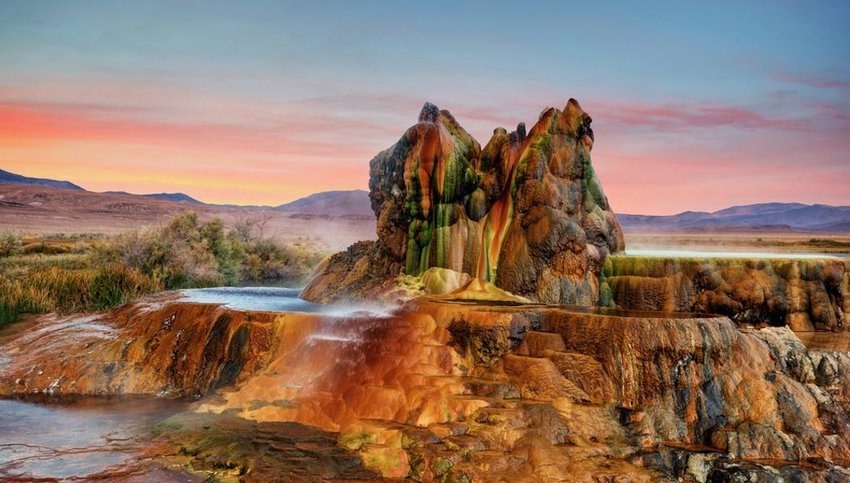 Natural geothermal pressure met with human error resulted in the part-manmade geologic wonder of Fly Geyser in 1964. Situated on private land in Nevada's Washoe County, this rainbow geyser was an attempt to drill a well that went wrong. Though it's located on private property, three-hour guided walking tours of Fly Geyser and its surrounding environment are offered throughout the year on select days of the week.
Jardin Majorelle, Marrakesh, Morocco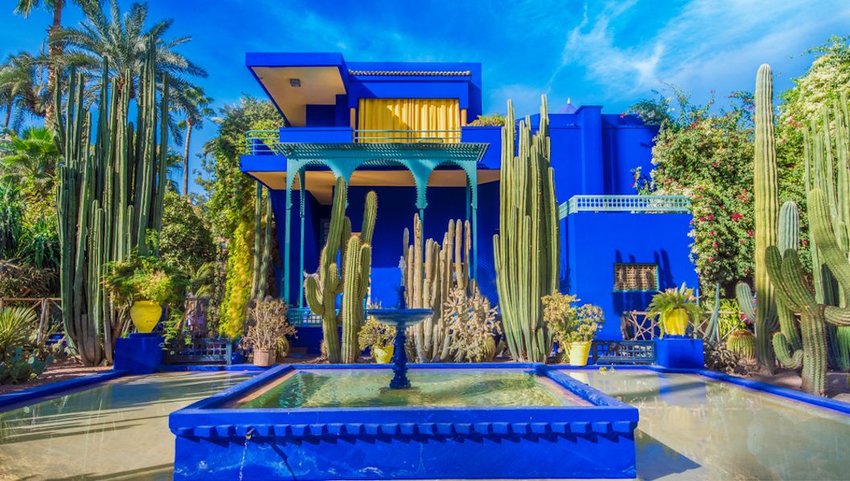 This 12-acre botanical garden in Marrakesh was first the vision of French painter Jacques Majorelle in 1924 and was subsequently owned by fashion designer Yves Saint Laurent, who purchased the property to preserve Majorelle's vision. A striking desert mirage of cactus gardens and bamboo groves, Jardin Majorelle showcases 300 species of flora from five continents of the world, which provide a visually stunning contrast to the electric shades of Majorelle blue and loud yellows that paint the garden's facades.
Laguna Colorada, Bolivia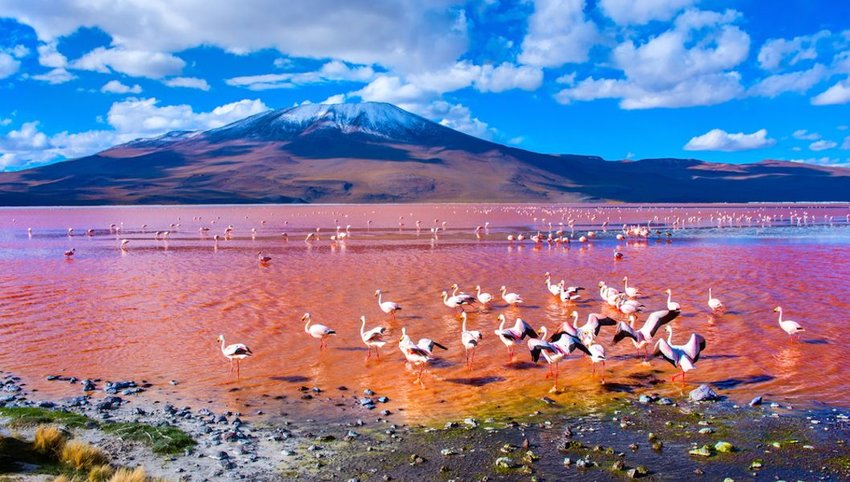 You'll find this shallow, burnt-orange and pink lake perched 14000 feet above sea level in Bolivia's Eduardo Avaroa Andean Fauna National Reserve. Laguna Colorada's rusty hues derive from the algae which flourish in the mineral-rich lake, contrasted by the white deposits of borax and sodium that envelop its waters. Visitors to Laguna Colorada witness all three species of South America's flamingos breed here.
Burano, Italy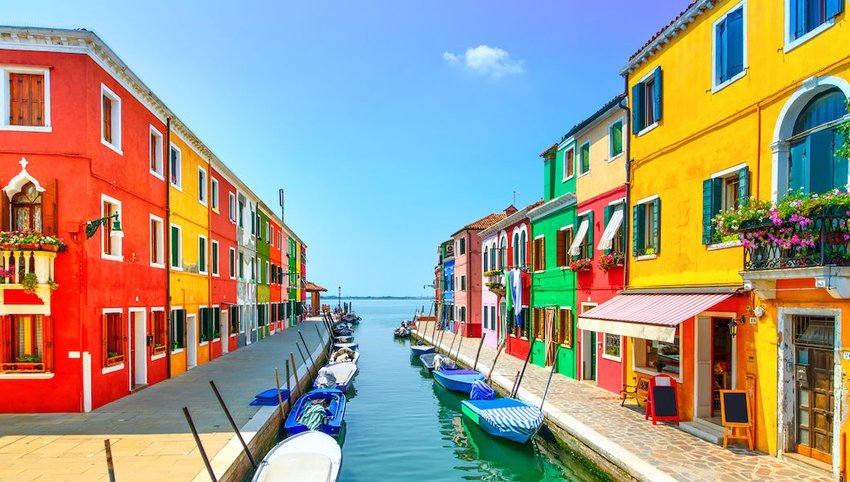 Drawing fewer visitors than bustling Venice, the island of Burano in the northern Venetian lagoon is a welcome respite from the aggressive crowds of its mainland counterpart. This destination was once known for its tradition of intricate handmade lace, but is now just as famous for its brightly-painted houses that line the island's boat-filled canals.
Five Flower Lake, Sichuan, China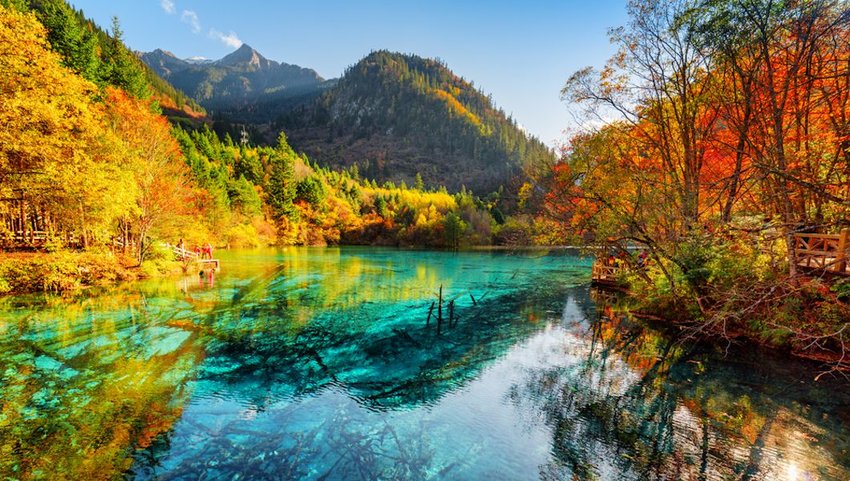 Jiǔzhàigōu National Park in China's Sichuan province is one of the nation's main natural highlights, with Five Flower Lake a top attraction. Hike the path to the clifftop overlook of Tiger Mouth for a bird's eye view of the multihued lake, its crystal clear waters shifting between shades of green, blue and yellow against a backdrop of snow-dusted peaks.
Lavender Fields, Provence, France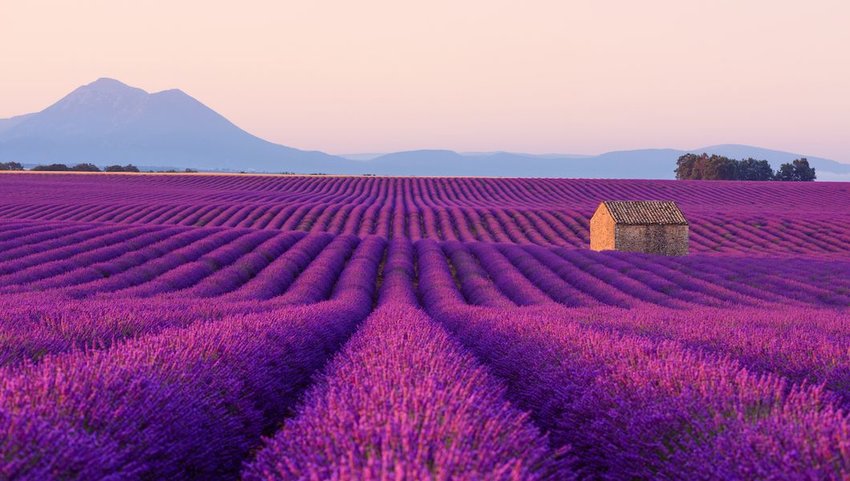 The romantic purple fields of Provence have attracted visitors for decades. Home to an abundance of fragrant fields in the region, those belonging to Plateau de Valensole are by far the most famous and photographed. Lavender season in France begins the final week of June through to the beginning of August, but time your visit for the peak blooming season in early July to witness endless seas of purple.
Rainbow Mountains, Peru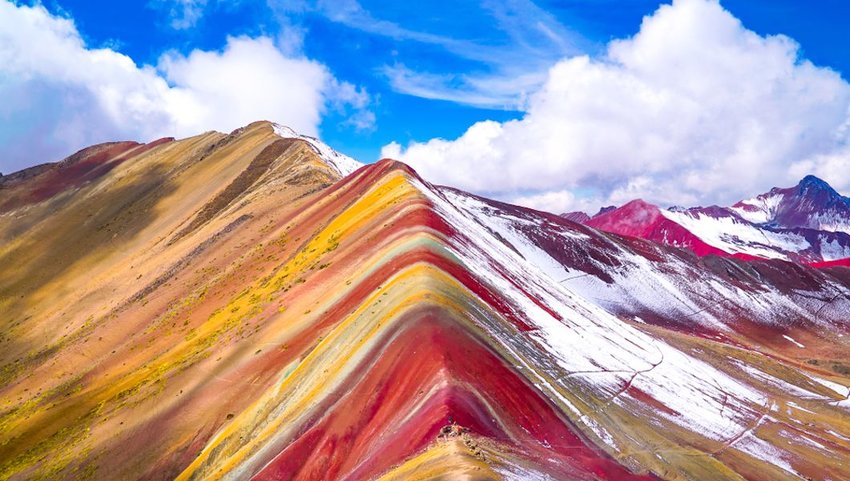 Considered a holy site by many Peruvians, Rainbow Mountains, known locally as Vinicuna, lay deep within the Andes Mountains. With a lofty peak of over 17000 feet above sea level, access to this wild landscape and rainbow bands of turquoise, maroon and gold requires several days of arduous trekking, plus its trailhead is three hours southeast of Cusco by car.
Keukenhof, Netherlands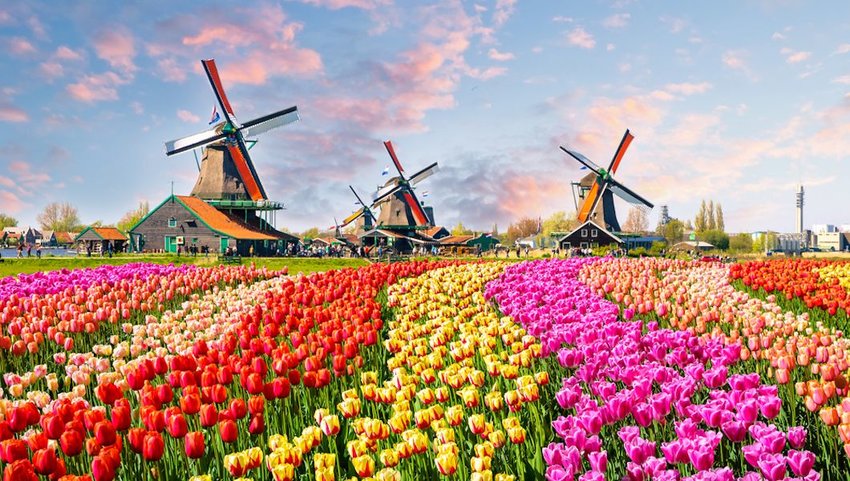 Attracting over 1.4 million visitors annually, Keukenhof Gardens is one of the Netherlands' top destinations. Seven million flower bulbs are planted in the garden's 32 hectares by 40 gardeners each year, and in the spring the entire landscape erupts in a colorful explosion of yellow daffodils, fragrant hyacinths and gorgeous tulips. Open for an eight-week period between March and May every year, the Keukenhof Gardens can be accessed by bus from Amsterdam Airport Schiphol, or via car and bike from the nearby town of Lisse.
Guatapé, Colombia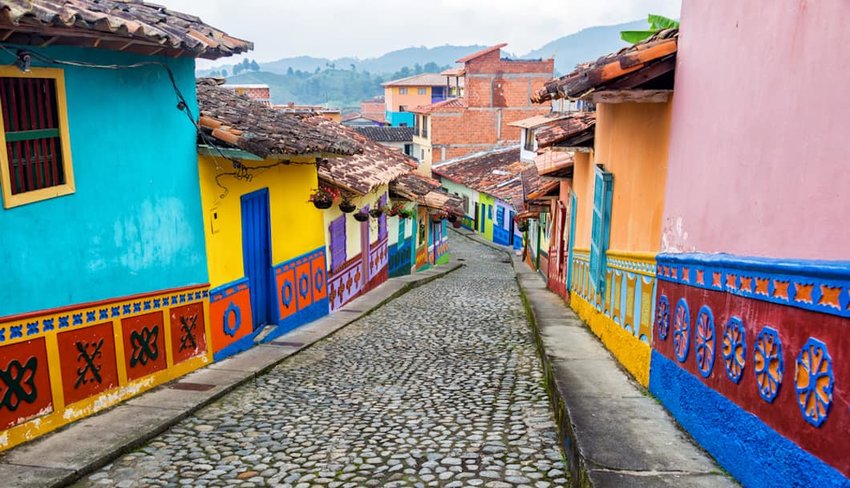 A seaside town on the edge of the artificial lake, Embalse Guatapé, is a favorite destination for Colombian weekenders and popular day trip for travelers from Medellín, some 70 km west. This holiday town has been widely regarded as the world's most colorful destination — the bottom half of all its residents' brightly colored homes are adorned in paintings of animals, shapes and people.
Red Sea Coral Reef, Egypt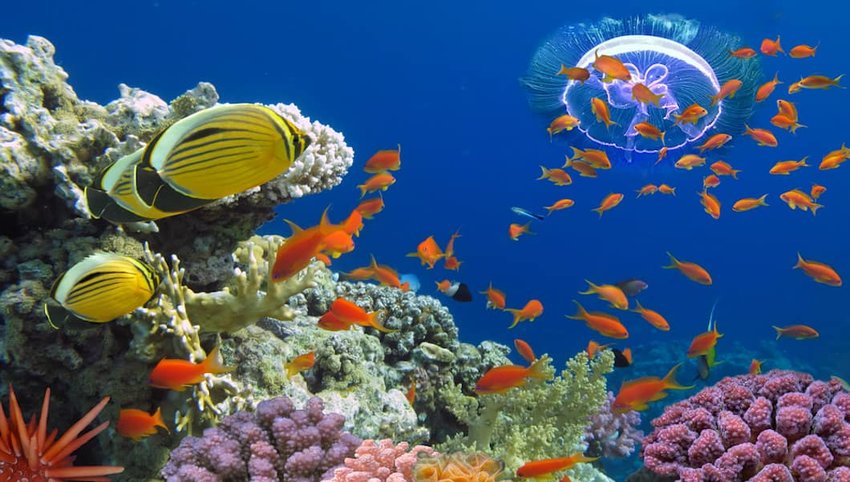 Egypt's Red Sea is a renowned destination among international scuba divers, with warm waters year round and a collection of shipwrecks to explore, including some from World War II. With water temperatures rarely dipping below 71°F even in the Egyptian winters, Sharm El Sheikh, Marsa Alam and Hurghada are three of the Red Sea's favorite dive spots, and many of its 1100 species of fish are unique to the region.
Menton, France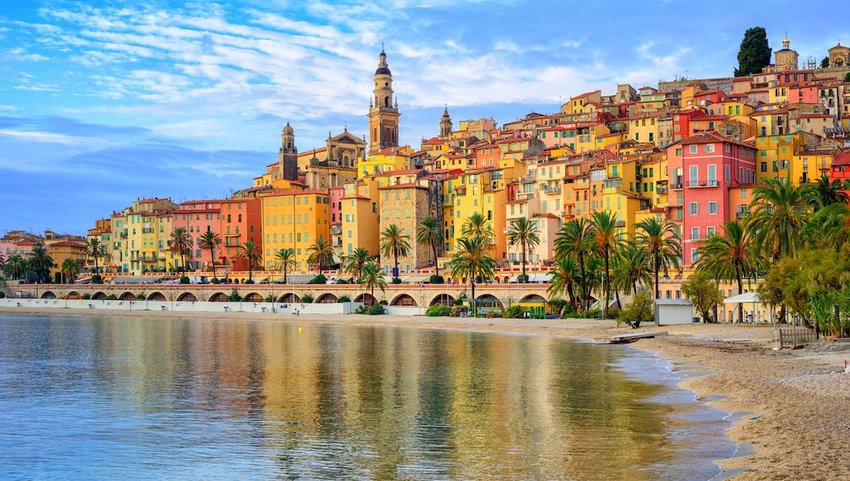 This delightful seaside town on the Côte d'Azur is revered by locals for its distinctive lemons, celebrated in February annually at the Lemon Festival. But Menton's Old Town of pastel-hued dwellings and sun-kissed beaches entice travelers to make the trek to this quaint corner.
Chefchaouen, Morocco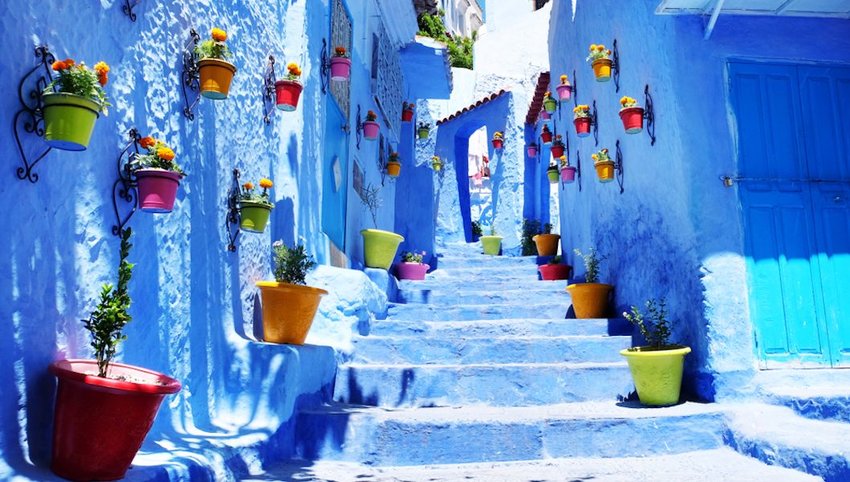 The Blue Pearl of Morocco sits beneath the twin peaks of the dramatic Rif Mountains. The town is painted in shades of blue that range from powder to navy, making this town arguably the nation's most charming destination. The mountain village's color scheme was brought by Jewish refugees seeking respite from Hitler in the 1930s, who brought with them the tradition of coloring items blue, a symbol of heaven.
Bo-Kaap, Cape Town, South Africa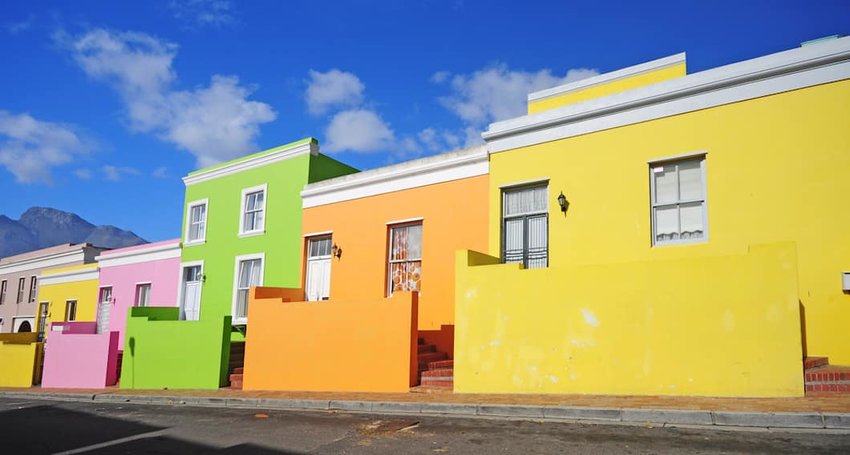 Situated at the foothills of Signal Hill, the brightly-painted building of Bo-Kaap are part of Cape Town's oldest residential area, where Cape Malay slaves were housed in the 1760s. An artistic blend of Cape Dutch and Cape Georgian architectural styles line its quaint cobbled streets making the low roof homes one of the city's most photographed attraction.
St. Basil's Cathedral, Moscow, Russia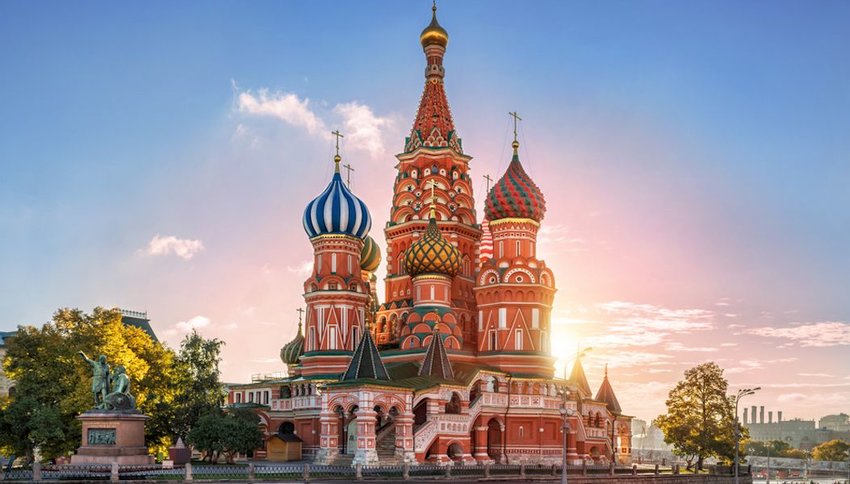 An iconic symbol of Russia, St. Basil's Cathedral stands at the southern end of Moscow's Red Square, its nine onion-shaped domes a collection of whimsical colors and patterns. St. Basil's Cathedral was commissioned by Ivan the Terrible to commemorate his 1552 capture of the Tatar stronghold of Kazan, and remains one of the most recognizable monuments of the country.
Batu Caves, Kuala Lumpur, Malaysia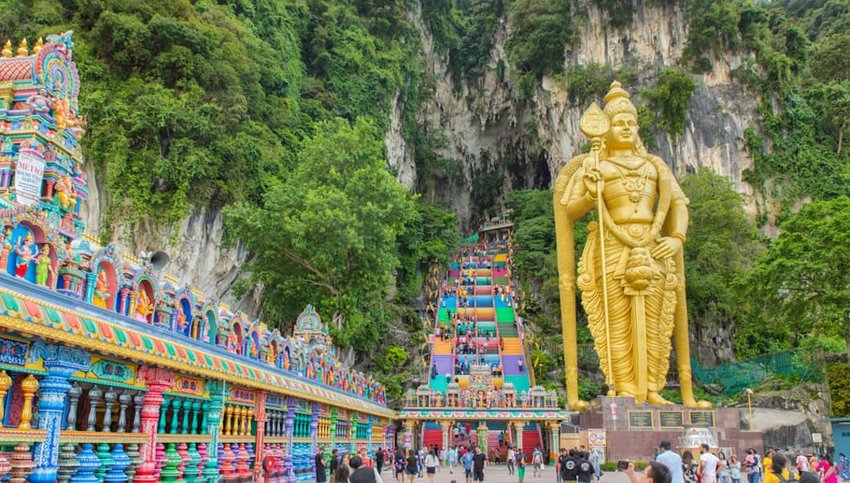 Situated 13 km north of Kuala Lumpur, a day-long excursion from the Malaysian capital to Batu Caves is an unmissable and colorful experience. The succession of limestone caves is accessed via a set of 272 rainbow stairs, guarded by an immense gold painted statue of Hindu deity Lord Murugan.
Zhāngyē Dānxiá National Geopark, Gansu, China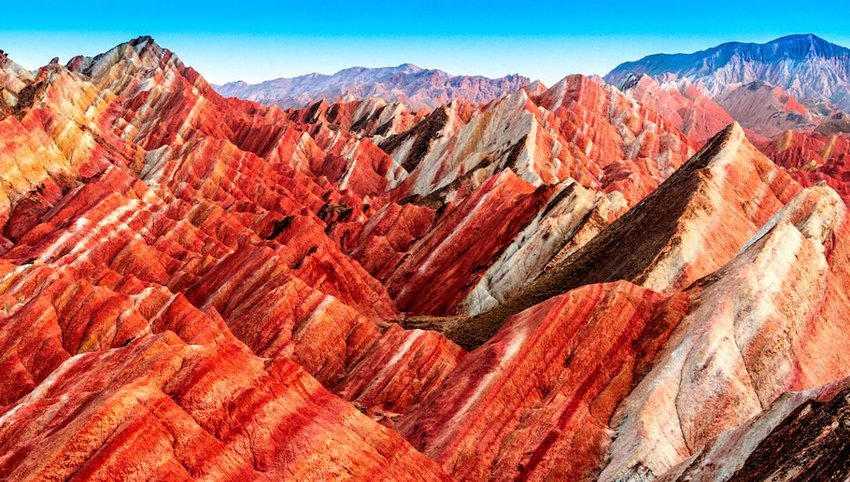 Officially designated a national geopark in 2011, Zhāngyē Dānxiá in the Chinese province of Gansu is a magnet for outdoor enthusiasts and photographers. Mineral deposits paint these rainbow mountains a striking blend of oranges, yellows and browns, which are best viewed at the break of dawn when the early morning light dances across the rolling hills.