Travelers have no shortage of great options for winter wear, but as great as the Smartwools and Patagonias of the world are, you can get some surprisingly great gear for shockingly little money. Here are some affordable favorites that I've bought and used myself, with prices starting at under $5.
Packable ultra-light down coats aren't that hard to find anymore, but extra-long ones are still pretty rare, and those are the ones you want even if it's not actually snowing. I bought the original version of this coat in 2013, and it's still perfectly fine, so I'm keeping it as a backup. But the new version is better because of the more fashionable asymmetrical hemline, removable hood, and zippered pockets that will keep my hat and gloves safe while I have lunch or wander through museums.
I carry my coat with me during all four seasons, because I never know when I'm heading somewhere that I'll need it. I can do that because it's so light and takes up so little room. It is the perfect coat for travelers, hands-down, which is why I'm happy to have an extra. It is such an excellent value right now because it's almost half-off, and all of the regular sizes are still available in black – which is my idea of the perfect travel color, since it rarely shows stains of any kind.
Longer cardigans are warmer and pockets are so convenient. While open front cardigans may be fashionable, they don't offer as much protection when the wind is blowing. You might be surprised at just how hard it is to find a sweater like this one, especially for around $20. An added bonus is that the sleeves are ribbed higher up from the wrist, so they don't ride up every time you raise your arms. This cardigan looks and feels very, very nice.
While there are lots of touchscreen gloves around, these stand out for a few reasons. Most important is that they are a little longer than the majority of gloves I've seen, which stop right at the wrist. That means my arms aren't exposed to the cold every time my coat sleeve rides up. But they're also very soft, and look quite elegant with the 3-button detail. The lighter-than-leather fabric means less weight in the luggage, yet they look every bit as nice as leather gloves. I'm not wild about the fact that the touchpads are visible, particularly since they're heart-shaped. But they are rarely visible to me or anyone else, so I can live with them.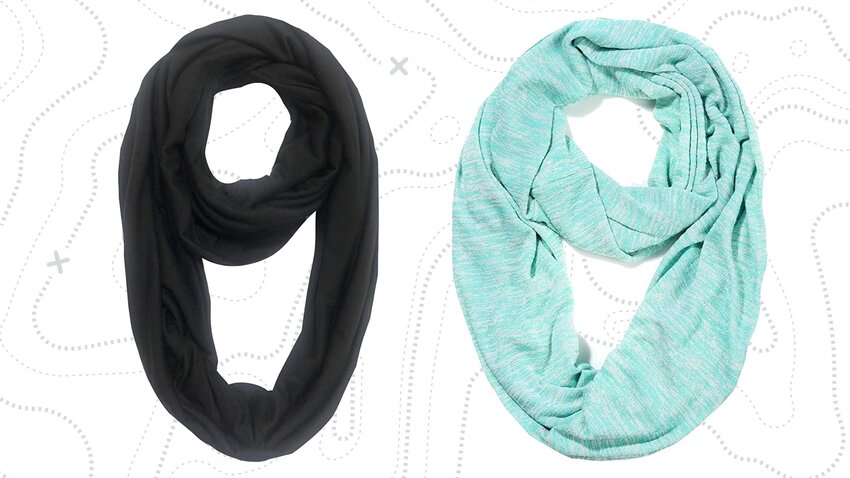 Honestly, I don't know why everyone isn't wearing one of these to travel. I feel like my debit card and ID are never safer than when they are actually hanging around my neck. There are tons of these around, but this one is much bigger than I expected, and I was pleasantly surprised at the weight of the fabric. It's not wool, so it really can be used almost year-round, except in the hottest climates. The hidden pocket is almost as big as my handbag. I have a big phone, so I wouldn't put it in any scarf like this just to walk around with all day long, but it's nice to be able to just easily throw my phone into the scarf pocket when I need to be hands-free for a short time. Most importantly, it's very soft and comfortable, which is a priority for anything I wear, and looks really nice. I like it so much, I'm going to get it in a second color.
I don't happen to be a fan of typical berets. I find most of them a little skimpy, and I'm just not wild about those little loops on top. I also have a hard time keeping them perched on my head. In fact, I don't even wear this hat as a beret, although you certainly can. But this is a large knit hat of 50% wool, so it is warm enough during winter, yet not so winterish looking that you can't wear it during spring. It's got far more heft than your average beret because it is knitted in a double layer, so what you have is  a nice thick hat that lays perfectly flat to pack and can also be rolled up to put in a pocket while indoors..which is why I'm ordering it in a second color, as well.