Capture the magic of flying by launching yourself into the sky and floating among the clouds in a thrilling hot air balloon ride, the world's oldest form of aviation. As humbling perspectives, surreal landscapes and remains of ancient civilizations emerge before you, gain new appreciation on this timeworn Earth. Greet the sun in your hot air balloon at the glowing light of dawn and experience the most unique locations in the world from above.
Sedona, USA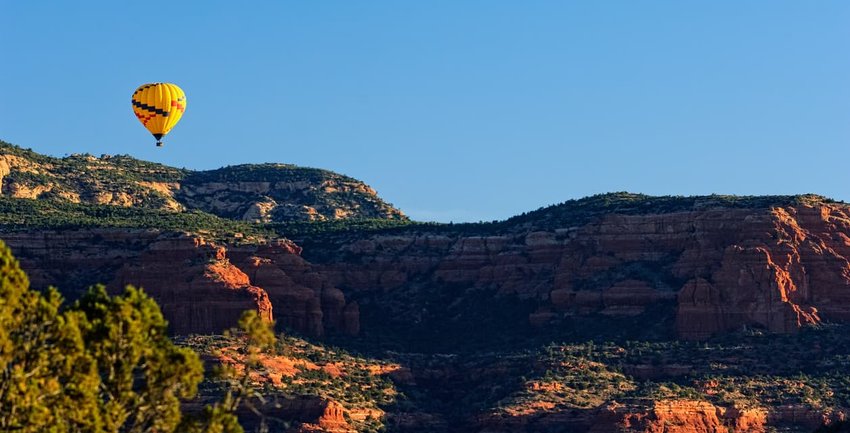 Spiritual seekers and healers congregate in Sedona, 90 minutes north of Phoenix, Arizona, to experience the region's mysterious fields of energy. Sedona's concentration of sacred vortexes radiate Earth's power and release psychic energy to heal, inspire, and uplift its visitors. The arid expanse of glowing red sandstone is ancient, and its towering canyon walls and jagged rock formations record 300 million years of Earth's history. Catch a glimpse of Sedona's unique wildlife and stunning red rocks as your hot air balloon hovers at a lower altitude. And as it glides effortlessly into the clouds, marvel at roaring creeks that punctuate the rugged landscape of striking red rock buttes and steep canyon walls, all framed by the majestic pine trees of neighboring Coconino National Forest.
Atacama Desert, Chile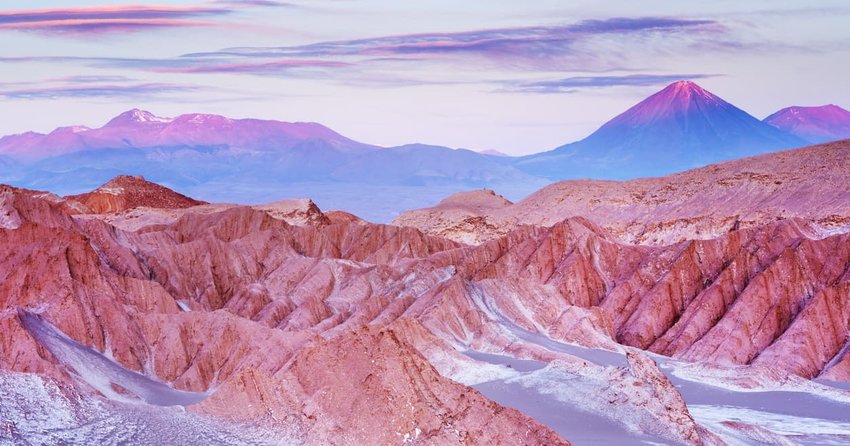 Vast, remote, and extreme in nature, northern Chile's Atacama Desert is the driest in the world. This dramatic plateau extends along the Pacific coast and is hemmed in by a series of mountain ranges, with the Andes to the east. Take to the skies in the nation's wildest region and hover above the swirling pink sands of Moon Valley. Greet flocks of Chilean and Andean flamingos at the desert's vast white salt plains. Backed by a wall of volcanoes and jagged rust-colored rock formations, the landscape at the Atacama Desert is nothing short of ethereal.
Châteaux d'Oex, Switzerland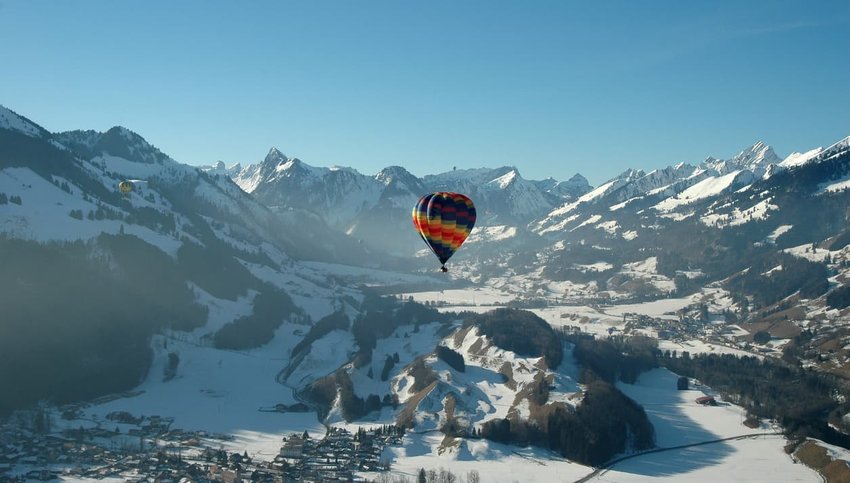 The seemingly endless trails of this mountain village resort draw crowds of hikers and mountain bikers in the summertime, and its slopes attract local families in the wintertime. However, these days hot air ballooning is Châteaux d'Oex's claim to fame, and the resort town hosts the Châteaux d'Oex International Hot Air Balloon Festival in January each year. Hundreds of hot air balloons are piloted by representatives of some twenty nations. In the height of winter, gliding across the snow blanketed Romont Castle and Swiss Plateau in a hot air balloon is nothing short of enchanting.
Luxor, Egypt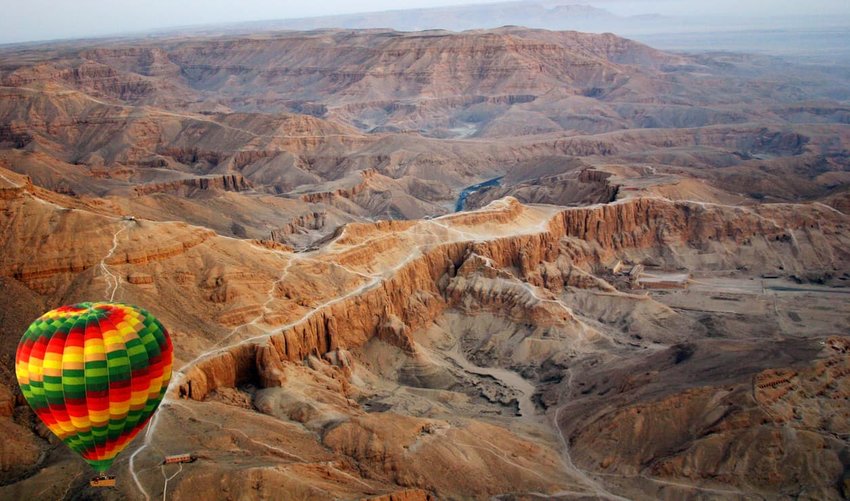 Soar above Luxor and nearby Valley of the Kings, two of the world's most historically rich regions. Peep the ancient tombs and temples scattered along the west bank of the Nile, and take in the scale and grandeur of Luxor and Karnak Temples on the east bank, built thousands of years ago. Luxor's high concentration of ancient relics makes this destination an open air museum, in which its timeworn treasures easily overshadow those of the modern world.
Serengeti National Park, Tanzania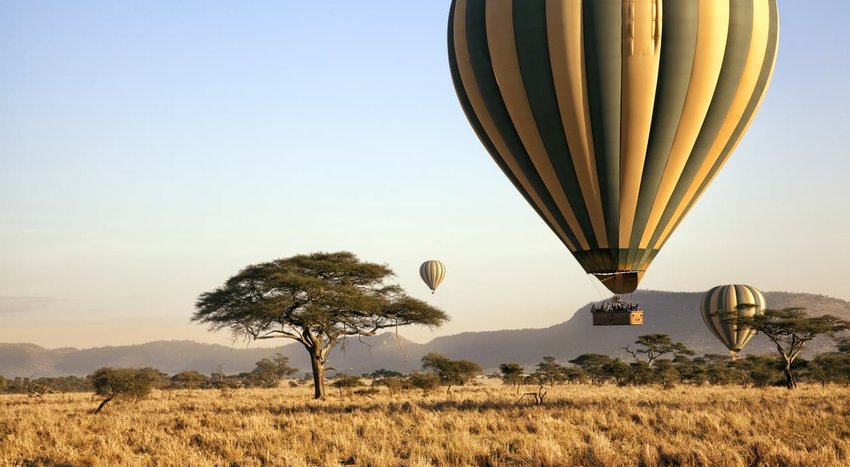 Sprawling across 5700 square miles, Tanzania's most treasured national park in the north witnesses the natural spectacle of the Great Migration each year, where millions of zebras, gazelles and wildebeests traverse the vast savannah in search of greener pastures. Though this game park is renowned for the predators that take up residence here, its lions, leopards and cheetahs are also met with elephants and black rhinos, allowing visitors a rare opportunity to glimpse the Big Five. Sail above the endless plains of golden grass on this hot air balloon safari, and revel in the wonders of Mother Nature as you witness splashing hippos in watering holes and cackling hyenas in search of their next prey.
Cappadocia, Turkey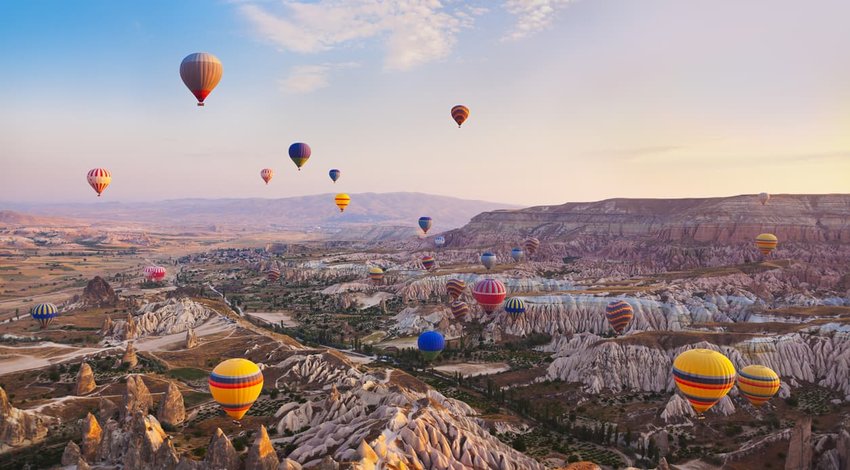 As if plucked from Earth and ushered into a landscape handcrafted for whimsical fairy tales, the enchanting fairy chimneys of Cappadocia never fail to mesmerize visitors. The startlingly dramatic landscape of craggy rock formations began as a thick blanket of ash from volcanic eruptions millions of years ago. The majestic fairy chimneys eventually took form as a result of wind and water erosion. Evidence of life from several civilizations are revealed in the churches, stables and storehouses that were hand carved from the stone, resulting in a honeycombed network of safe houses for those fleeing persecution throughout history. The golden light of sunrise over Cappadocia adds another dimension to this otherworldly landscape, making soaring over the region in a hot air balloon ride an unmissable experience.
Bagan, Myanmar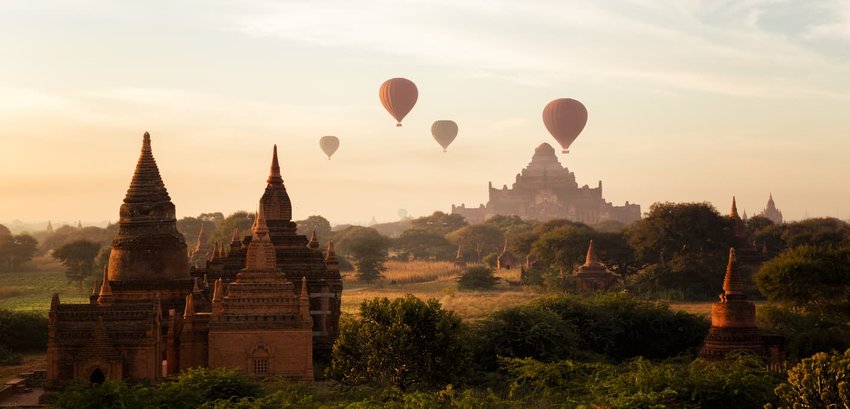 Once the powerful capital of the ancient Pagan Kingdom, Bagan now ranks as one of Southeast Asia's richest archaeological sites for its dense concentration of temples and pagodas. At the height of its reign, the kingdom commissioned the construction of over 10,000 grand temples, which became important sites of Buddhist pilgrimage. Nestled along the banks of the Ayeyarwaddy River, 2200 stupas and monasteries in varying states of disrepair remain in this temple town. Though some are regularly restored, other structures are overgrown with vegetation. Hot air balloons rise over Bagan at dawn, when the early morning light dances across the ancient facades.
Queenstown, New Zealand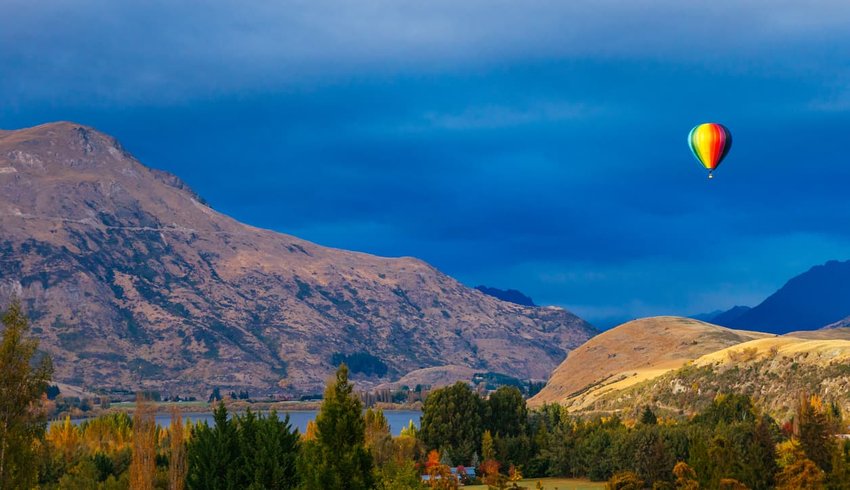 Adventure capital of the world and New Zealand's premier resort town for adrenaline junkies, Queenstown is famously the birthplace of bungee jumping. Between Heli-skiing, white water rafting on the mighty Kawarau River, and skydiving, its visitors come in search of adrenaline-fuelling experiences. Thrilling and scenic in equal measure, Queenstown is home to some of the nation's most striking natural landscape. Gentle breezes guide your hot air balloon 6000 feet above ground to reveal New Zealand's finest golf courses nestled alongside the cerulean waters of Lake Wakatipu, overlooked by the lofty peaks of the Remarkables.