As a full-time traveler, I prep my meals in a wide variety of lodgings. But no matter where I'm staying, the kitchens invariably tend to be under equipped. Since I travel only with what I can carry, I wasn't about to start adding unnecessary kitchen supplies to my luggage, but there are things I wanted which would make my life a great deal easier. When I went looking for solutions, I stumbled upon silicone kitchen wares, and now I'm obsessed.
What's great about silicone products is that they're safe to use in dishwashers, microwaves, freezers, refrigerators, and even regular ovens, generally up to about 425 degrees Fahrenheit. They are very lightweight, as well. I've managed to restrain myself from buying too many silicone kitchen products – so far – but I'm really happy with the ones that I've chosen to keep in my suitcase. But I wouldn't be surprised if I soon start sacrificing clothes or shoes so I can start carrying more.
Here are some of my current silicone favorites that I take with me from Airbnb to Airbnb.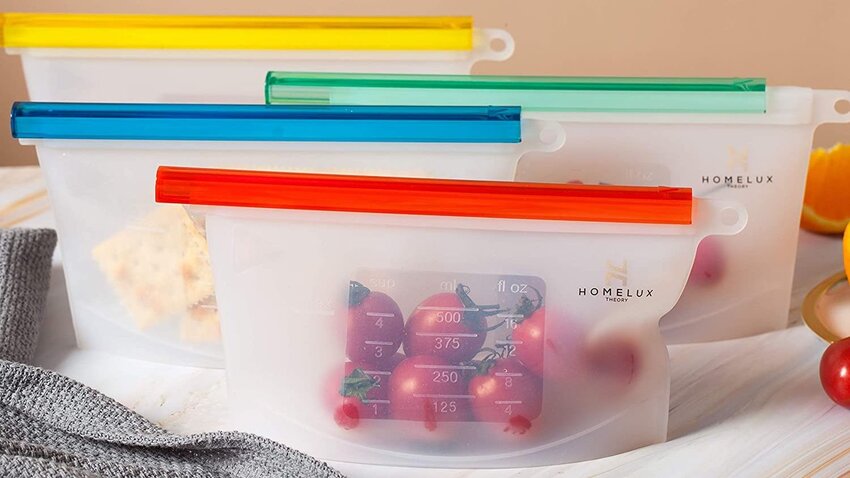 Although sampling local cuisine is one of my favorite things about travel, I certainly don't want to eat out every meal. Not only is that expensive, and often not very healthy, but I start to crave home cooking after a while. Since I don't like to spend a whole lot of time in the kitchen, I find it easier to make enough for about 4 servings every time I cook. Rental apartments rarely have food storage containers, and I refuse to buy disposable bags any more, so I separate the servings into these 2-cup silicone bags.
I've bought reusable plastic bags before, and ruined almost every single one of them by putting food in them that was still a little too warm. That causes the seams to melt, and the food then leaks out all over the counter or refrigerator. But you can put steaming food into these reusable bags, put them directly in the fridge, then into a microwave, regular oven, or pot of boiling water, with no fear of leakage. Afterward, they can be cleaned in a dishwasher.
There are silicone bags that just fasten at the top like ziploc bags, but I prefer the security of the plastic sliders on these. Of course, they are lighter and take up a lot less room in my bags than plastic food storage containers, but they also stand up on their own, so they are just as easy to fill.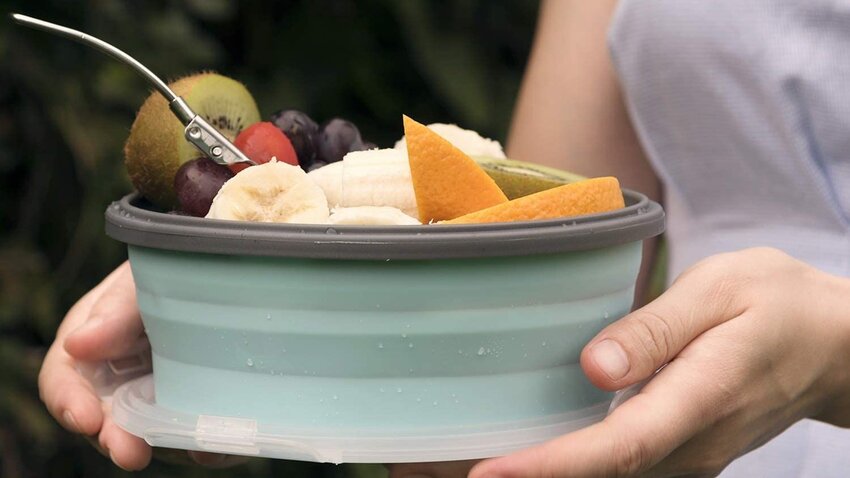 A vast majority of the bowls I come across on my travels are on the small side, and I rarely see serving bowls. This 40-ounce size makes it easier to eat bulkier meals or to toss single servings of salads. Even better, this bowl has all the advantages of the silicone bags as far as where it can be used and the temperature it can withstand, so I can actually bake things in it.
The lid fastens tightly and it has a stopper that can be removed to warm its contents in a microwave. Since it's collapsible, it lays fairly flat, and it is extremely lightweight. Therefore, I have no problem throwing it in my bag to take with me everywhere. Bonus points for the metal folding fork that comes with it.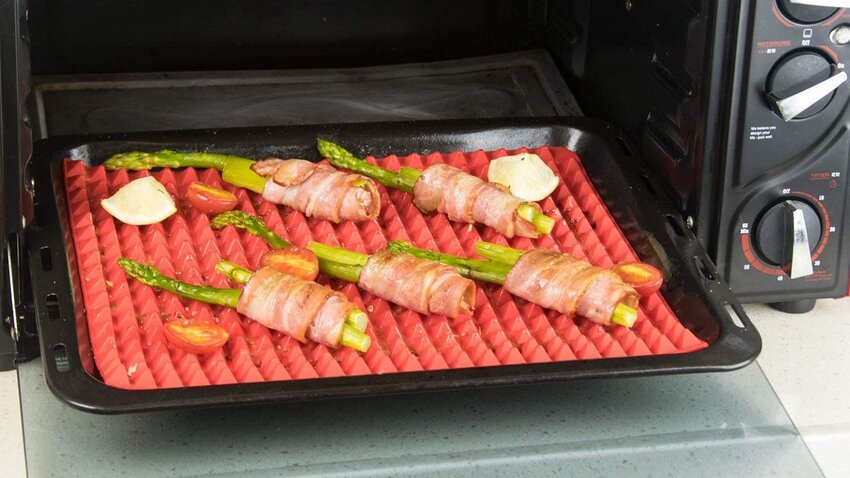 Baking is one of my favorite ways of cooking. What could be easier than throwing a chicken or roast in the oven with a bunch of scrubbed veggies and forgetting about it for an hour or so? But I hate cleaning baking pans, even when I've coated them with olive oil, so I've always lined them with aluminum foil. However, I also hate leaving half-used boxes of aluminum foil everywhere I stay.
This mat can be used in baking pans up to 11" x 15.5". The fluids will gather in the little squares, so you can tip it out over your food afterward, or throw the juices out. Cleaning the mat afterward is ridiculously easy, especially compared to scrubbing out a metal pan.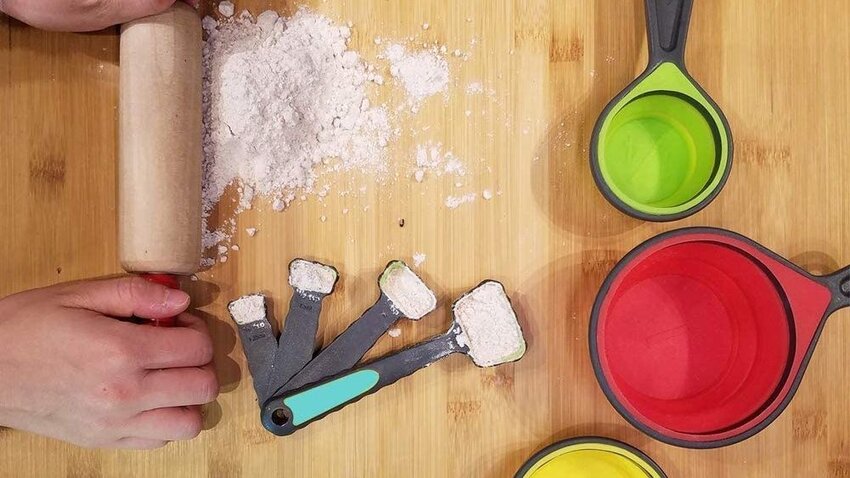 There is no way I am going to put a regular measuring cup in my bag. Whether glass or plastic, I'd be afraid of breaking it. These collapsible measuring cups and spoons take up very little room and, thanks to their silicone construction, their weight is negligible. Those who don't happen to live out of suitcases, but also don't have a lot of storage space to spare in their home kitchen, will appreciate being able to hang them off a hook on a wall.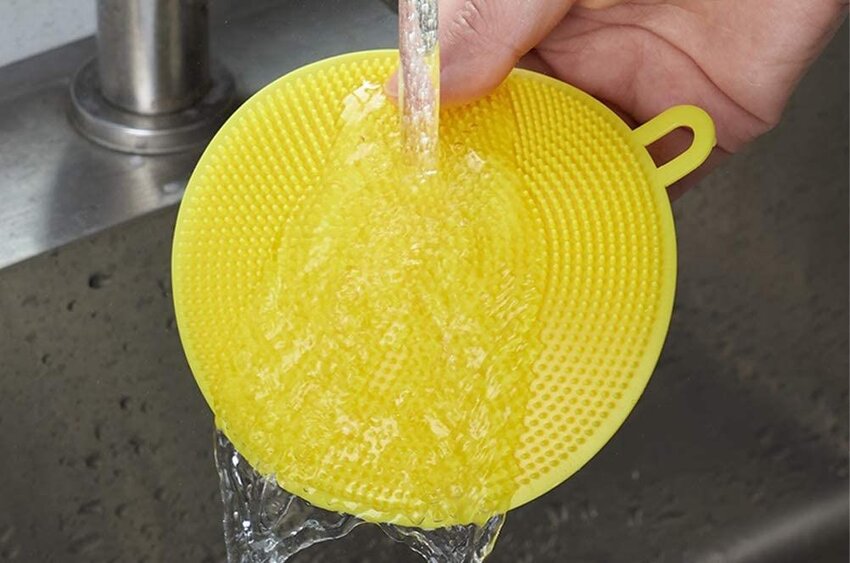 With space at a premium, I have to be ruthless about choosing what makes the cut to take up room in my luggage. That's why I adore multi-functional products above all else, and these fit the bill better than practically anything I've ever seen. I might have bought one just because I happen to think sponges are disgusting germ incubators that even dishwashers can't sufficiently clean. But I got a handful of these because they can do so much.
They are great for washing dishes, because they are easily cleanable themselves when I'm done. But because silicone is so heat resistant, they can also be used as pot holders or trivets. As though that weren't enough, they are very effective at scrubbing fruit and vegetables, as well.
Top photo by alexandre zveiger