| | | |
| --- | --- | --- |
| EDITION 31 | | | 4:08 read time |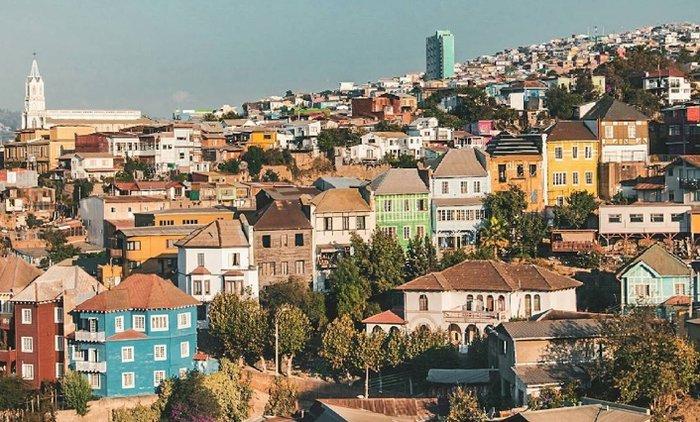 Valparaíso, Chile | @freebius
Ahh, Valparaíso. The unofficial cultural capital of Chile. With its eclectic street art and steep hills, this city is edgy and charming, a full-blown artistic expression of the highs and lows of Chilean culture. Stretched along the sea, and offering unbeatable vistas of vibrant buildings and rolling ocean waves, this sunny city is one of our favorite South American treasures.
Valparaíso, Chile
S 33.05° / W 71.61°

#FunFact
Valparaíso is home to the largest fireworks display in South America! This explosive event takes place every New Year's Eve, and broke the 2007 world record when it shot off 16,000 fireworks!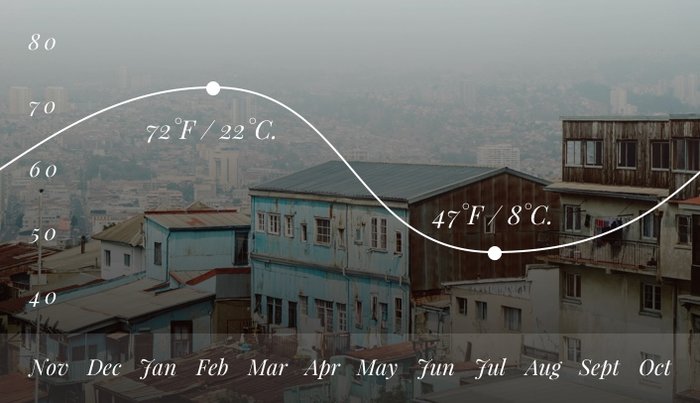 @southtraveler
Year-Round
Valparaíso may be south of the equator, but it has the climate of a Mediterranean island. Travel is enjoyable year-round, but keep in mind that summertime (December to February) will be busier for tourists, especially with the famous New Year's Eve fiesta.
#valpo | @paulaespindolas
I'm All the Way Up
"Valpo," as the locals call it, is built on a series of hills or "cerros", making this city a vertical challenge. There are a few tourist attractions to catch your eye, but time is better spent exploring the hills. Climb the decorated stairs or ride a rickety funicular to the top. Each cerro holds a new wonder, from Nobel-winning author Pablo Neruda's house and stunning vistas of the sea, to architectural wonders and incredible street art.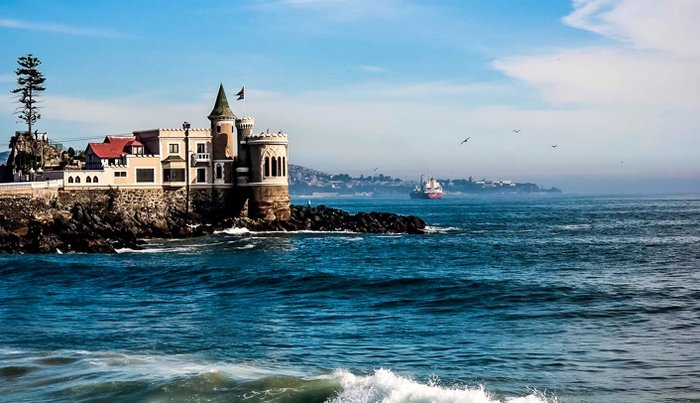 Viña del mar, Chile | @gilcaldas
Coastal Cruisin'
The city is one of the most important ports in Chile, so checking out the seaside activity is a must. Catch a boat ride from Muelle Prat. You won't find any luxury cruises here, but you'll have a blast on an old fishing boat with the locals. Look out for sea lions and get some picture-perfect views of the colorful houses from the water. Afterwards, hit up a local beach, like Las Torpederas, for a little sun and relaxation.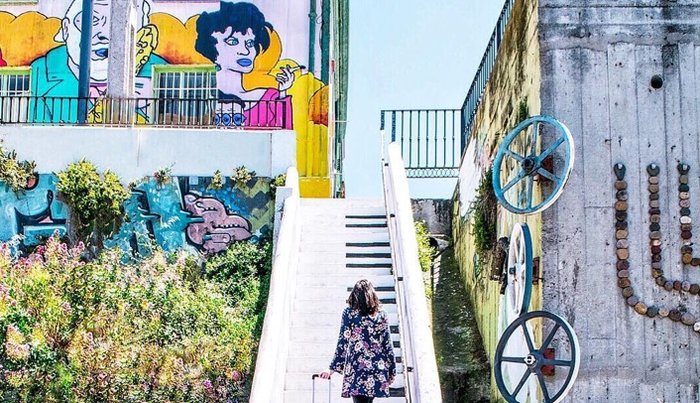 Cerro Alegre, Valparaíso | @leahshoup
Let's Take this Art to the Street
You've heard of street art, but Valparaíso takes this concept to a whole new level. As you wander the hills you won't know which way to look - up, down, or side to side. Whichever way your neck cranes you'll be blinded by bright colors and incredible designs. You can hit the iconic piano steps on Cerro Alegre, or the murals of Cerro Concepción. Wander the city to fill your camera roll with snapshots of crazy art.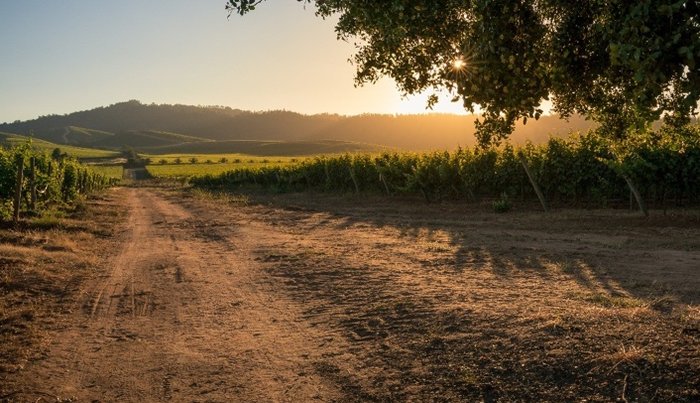 Casablanca, Chile | @evoquefilms
We'll Always Have Chile
If you're a fan of vino, you're in luck. Valparaíso is situated just outside Casablanca Valley, home to some of Chile's most famous wineries. A quick 30-minute car ride will situate you in the heart of this beautiful valley where you can explore traditional, organic, and boutique vineyards to suit all your tastes.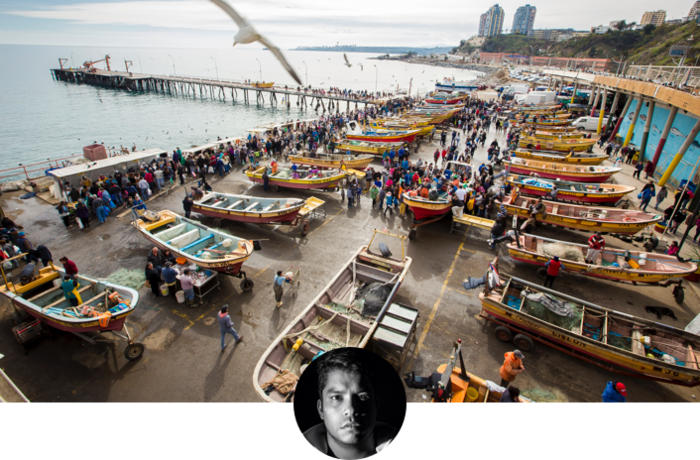 Cristóbal's Discovery
@cristobal_photo
"I was born in Viña del Mar, which is 10 km away from Valparaíso, but since I was little I used to go to Valparaíso to take walks with my family and to eat there. I have always been attracted to the city because of the history and the culture. I think it is a special, multicultural place because of the mix between the local culture and all the tourists that sometimes even end up living there. What I like the most is to go to Valparaíso to walk around the city to learn more about the culture and to know local people. I think the best is to start walking without a previous plan so to let the city surprise you. This lets you also learn more about photography, because in the city there are a lot of visual resources."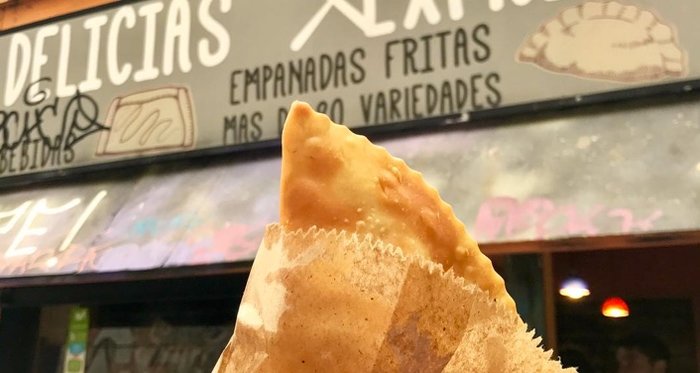 Delicias Express | @limlam8
Empanadas for Days
When fresh seafood meets Chilean cuisine, you're in for a treat. In Valpo it's all about the empanadas, especially the fresh crab empanadas. Stop by Delicias Express to try over 60 different fillings! According to Discoverers Alli and TJ, "Manjar Empanadas are a must-try for anyone with a sweet tooth (Manjar is essentially a Chilean caramel). They usually come with a delicious sprinkling of powdered sugar on top." Another necessary dish is chorrillana - french fries piled high with meat, fried eggs, and onions. The best local place to grab this dish is J.Cruz, so add that stop to your list after a long day of hiking the cerros.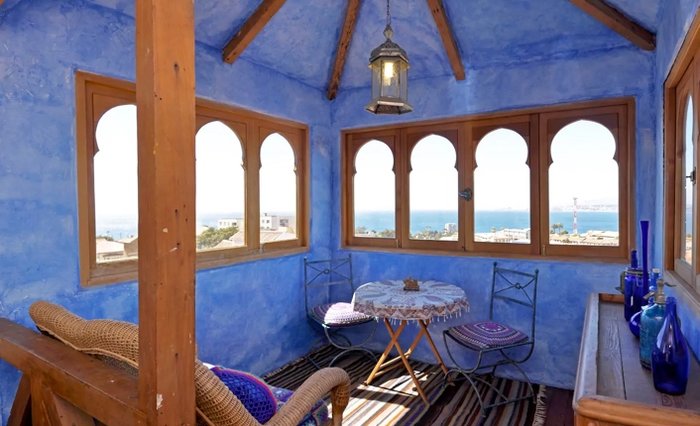 Romantic Suite
In an Airbnb by the Sea
Between the hostels and Airbnb, you can easily find a comfy and cheap place to stay the night. Rent a room or entire apartment in the more popular cerros, like Cerro Alegre or Cerro Concepcion, to be close to the action. We're loving this artistic home or this beautiful room with a killer view.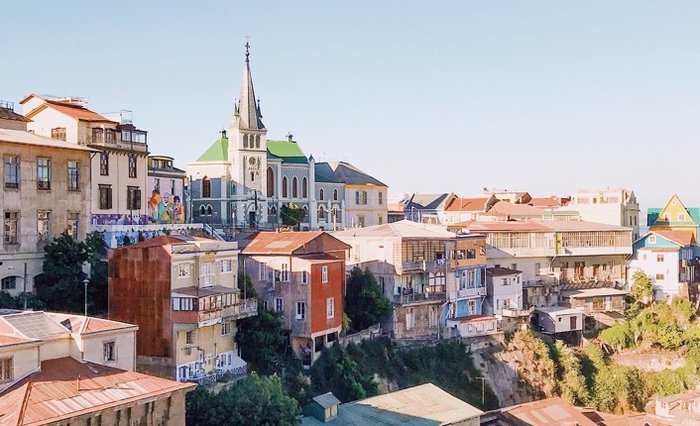 #valparaiso | @worksmarttravelhard
Get Some Direction
If you stop by at Mercadito Alegre for desserts, be sure to pick up a map there - they have the best/most helpful ones - @cmallangada
Have a Plan
Valparaíso is a city in the hills with narrow streets full of tourists, so renting a car is a bit complicated as parking spaces are not easy to find. Best thing to do is plan the places you want to check in the morning and figure out the best way to wander, combining walking with taxis and public transport. - @_araujobernardo
Be Cautious
Valpo is a beautiful city but tourists need to be attentive as there are a lot of thieves. Be careful with your stuff and try not to get too lost. - @caroaron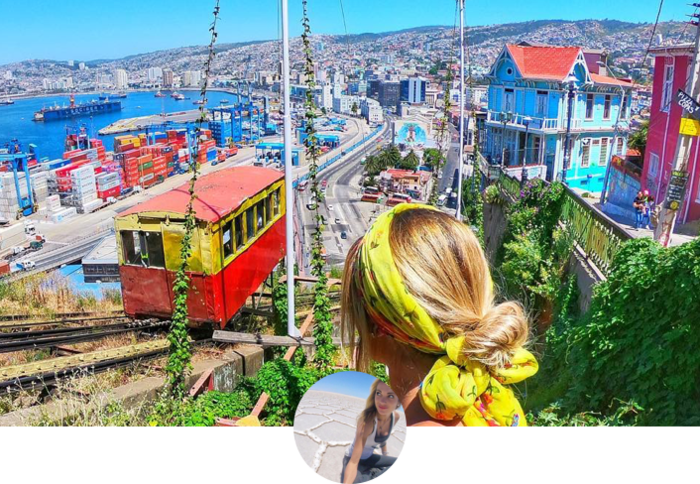 Alyssa Ramos
@mylifesatravelmovie
| | |
| --- | --- |
| Country Count | Favorite Discovery |
| 75 | Antarctica |
"I Discover To... live my best life and inspire others to do the same."
"I arrived in Santiago on a red-eye, and the immigration officer asked for my job title so I told him about my blog and Instagram. He then started giving me tips for places to see and the first one was Valparaíso, so I wrote it down on my phone right under my AirBnB address in Santiago. Since I was so tired, I didn't realize when I showed the taxi driver the address for the AirBnB, that he assumed it was in Valparaíso since that's what was written under it! So I accidentally ended up getting driven all the way there in the middle of the night, and had to have my taxi driver help me call hotels to see if anything was available! When I woke up, I was in the middle of the main square of Valparaíso and it was like walking into a painting!"