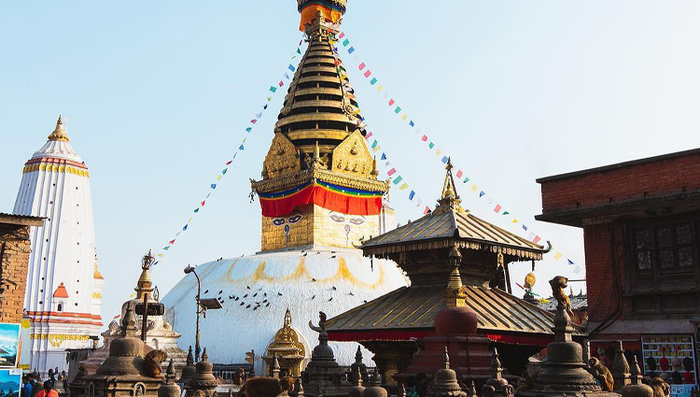 Swayambhunath Temple | @darylariawan
Something Sacred
Kathmandu sits at the intersection of Buddhist and Hindu faith, and has numerous sacred sites representing both religions. Perhaps most recognizable and certainly the most striking is Boudhanath Stupa, one of the largest Buddhist stupas in the world. Decorated with prayer flags and painted with serene eyes, this stupa gazes over its busy surroundings. Next is a visit to the Hindu Pashupatinath Temple, a religious complex dedicated to the god Shiva and the largest temple complex in Nepal. Observe Hindu cremations and last rites outside the gates (only Hindus are allowed inside). Finally, if you'd rather escape the noisy city, make the trek to Swayambhunath, a hilltop stupa and temple that is not only a site of religious faith but also home to several mischievous monkeys.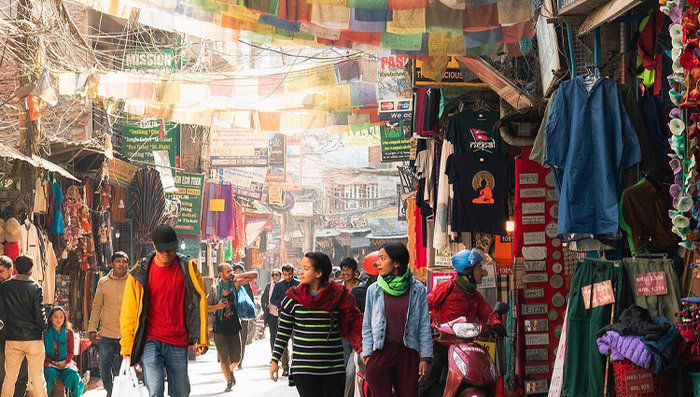 Thamel | @darylariawan
Through the Chaos
Wandering the dusty, loud, maze-like streets of Kathmandu can be intimidating, but it will also get you closer to the most energetic parts of the city. Find your way to Durbar Square, where kings were once crowned. Though many temples in the square were damaged in the 2015 earthquake, rebuilding continues and the area remains one of the most active parts of the city. Spend a little time in Thamel, a main commercial hub lined with watering holes and shops selling hiking gear. Yes, the area is touristy but it's also a fun place to mingle with other backpackers. If you're looking for locals, then make your way to Asan Tole, a buzzing bazaar of vendors selling everything from Buddha statues to spices.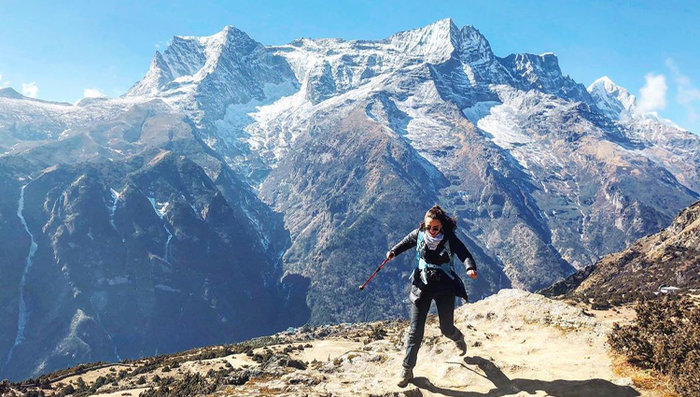 Everest Base Camp Trek | @britt__travels
From the Highest Peak
The majority of Kathmandu's visitors are heading to the mountains. From Everest hopefuls to trekkers exploring the Annapurna circuit, we don't blame travelers for being eager to explore Nepal's vertical wonders. If you aren't a hiker, though, consider booking a mountain flight with Buddha Air to catch sight of Everest's summit from the sky. But mountains aren't all Nepal has to offer. Just outside Kathmandu is Chitwan National Park, a biodiverse national park that's home to incredible wildlife, including endangered rhinos and Bengal tigers. You can find a little green escape within the city as well, at the Garden of Dreams, an oasis park with pavilions, fountains and manicured lawns.

NOTE: As of January 2019, Everest Base Camp is closed to tourists. Read more here.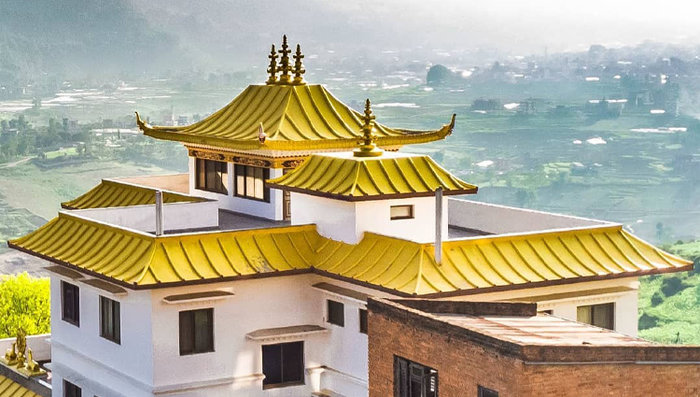 #naturallynepal | @shaouraav
Through the Valley
A patchwork of rice fields and hills, Kathmandu Valley is home to a beautiful collection of villages that most tourists never see. The surest way to escape the crowds of the city is by heading out of town. Nearby Patan and Bhaktapur offer their own bustling attractions, including temples and city squares. But it's the smaller, traditional Newari villages like Bungmati and Khokana, that will capture your heart. These spots are more like living museums, and you can choose to bike or hire a taxi to help you explore. Also worth visiting is Nagarkot, a hillside village with stunning views of eight different mountain ranges. Many of these districts also make for great places to stay if you prefer to avoid the hustle and bustle of Kathmandu.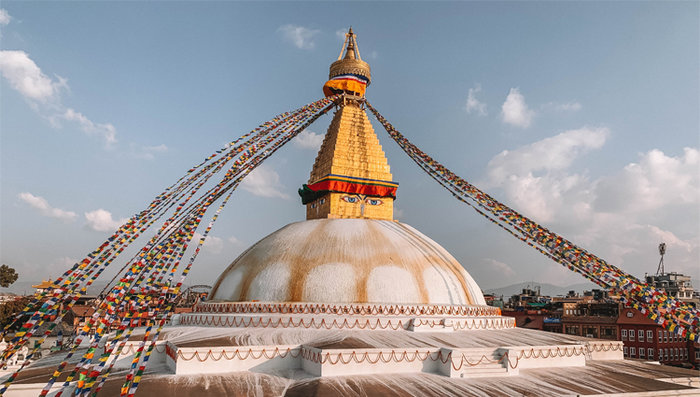 @goodmorningworldblog
"One of the most spectacular sights of Kathmandu is the enormous Bodnath stupa. Soak in the magical atmosphere of this holy temple while watching the believers walking around it murmuring prayers. Special tip: Admire the view and the colorful prayer flags blowing in the wind from one of the rooftop cafés."