While travelers head for the world's most beautiful beaches to soak up the sun, you might consider trading in your favorite white sand beaches for something a little different. We're talking about black sand volcanic beaches — a stunning alternative to those sugary shores you're used to.  
Black sand beaches are incredible diverse, and you can stroll along dramatic, contrasting landscapes that include everything from icebergs to palm trees on.  Take note, because these 10 volcanic beaches remain among the world's most beautiful destinations for an alternative to the classic postcard-perfect beach.
Punalu'u Beach, Hawaii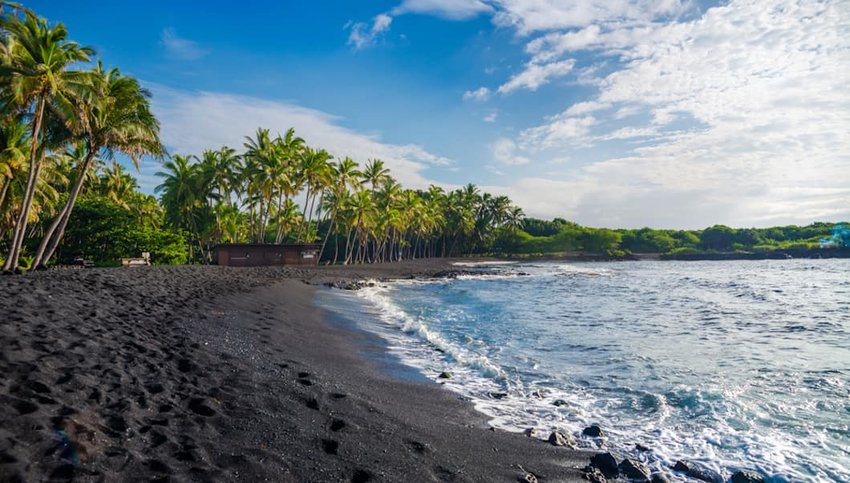 Punalu'u beach is a favorite Hawaiian destination, for good reason. The pristine black sands are the result of the Big Island's volcanic activity — lava flows into the ocean and explodes as it cools in the waves. The shoreline serves as a striking contrast to the clear waters of the Pacific and the surrounding, lush green vegetation. Visit the beach in the morning and step away from larger crowds of people to catch a glimpse at the hawksbill turtles and honu, or green sea turtles, that rest along the beach.
Lovina Beach, Bali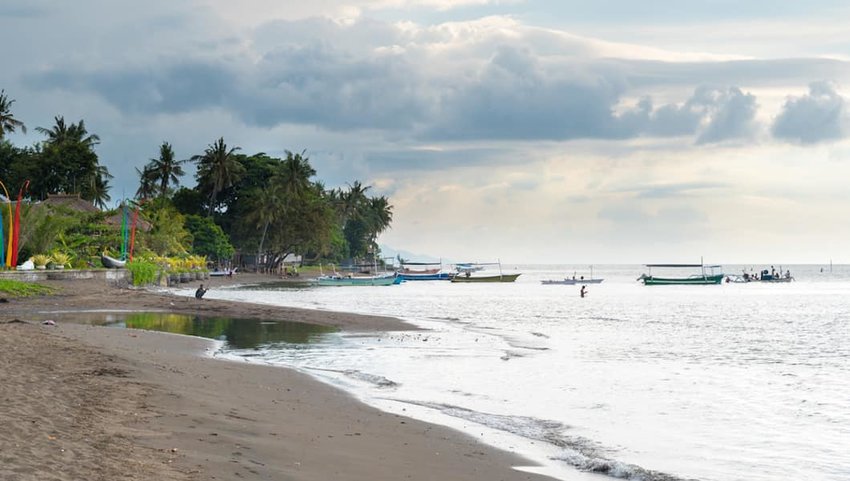 Along Bali's northwest coast, Lovina beach is a relaxed snorkeling haunt tucked away between agricultural fields of rice paddies. This section of beach is calm and quiet thanks to a coral reef that breaks the waves out from the shore. Spanning 2 km, this beach is especially beautiful at sunrise and sunset as soft light illuminates the dark sand.
Taharuu Beach, Tahiti, French Polynesia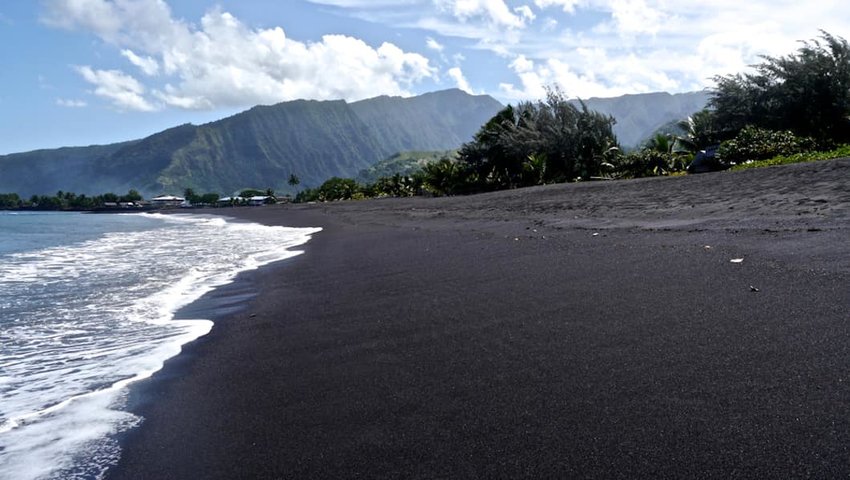 Similar to the black beaches of Hawaii, Taharuu Beach on Tahiti's southern coast is a marked by lush green forests surrounding a long stretch of black volcanic sand. This beach is ideal for swimmers and surfers, and with plenty of room to stretch out you'll be easily able to claim a spot of your own.
Reynisfjara, Iceland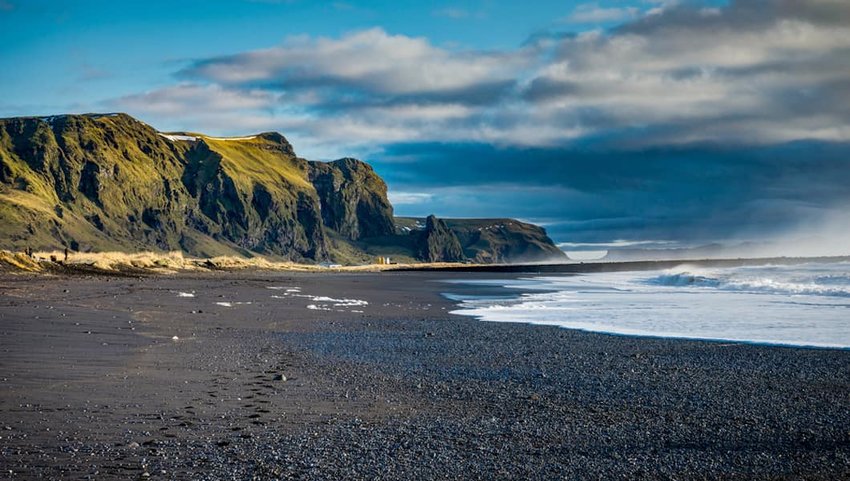 Iceland is home to one of the world's most dramatic and contrasting landscapes, which are made all the more fascinating by its nearly 130 volcanoes. Since the island nation was founded in the 9th century, 18 of its volcanoes have erupted leaving Iceland with several beautiful black sand beaches. Of these, Reynisfjara is one of the most popular, otherwise known as Vik Beach for the nearby village. Lined with rock formations that jut from the ocean's breaking waves, the wide open views of this other worldly-looking beach are unmatched.  
Perissa Beach, Greece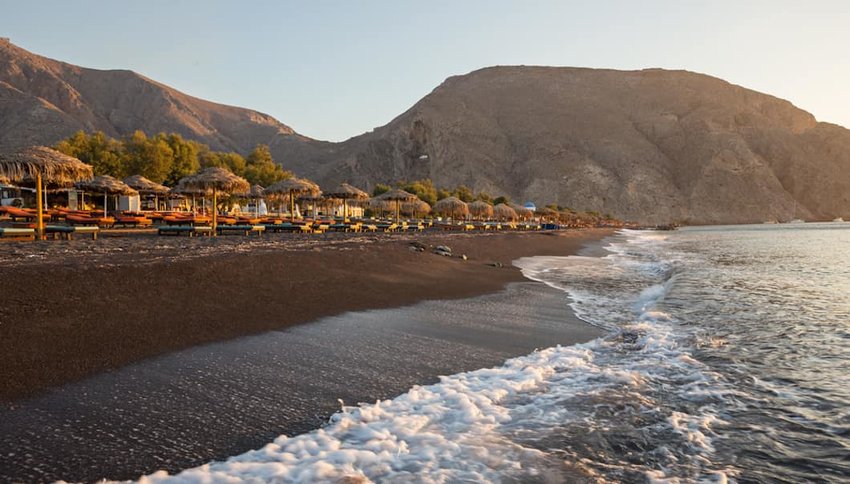 Located on the island of Santorini, the black volcanic sands of Perissa beach provide a stark contrast to the island's well-known white and blue homes that overlook the sparkling sea. Choose a beach bar or taverna to settle into for the day, and drink in views of Mount Vouno while sun bathing. With so many photos of the white and blue village in rotation for Santorini, this black sand beach is an unexpected twist that will thrill travelers.
Playa Jardín, Canary Islands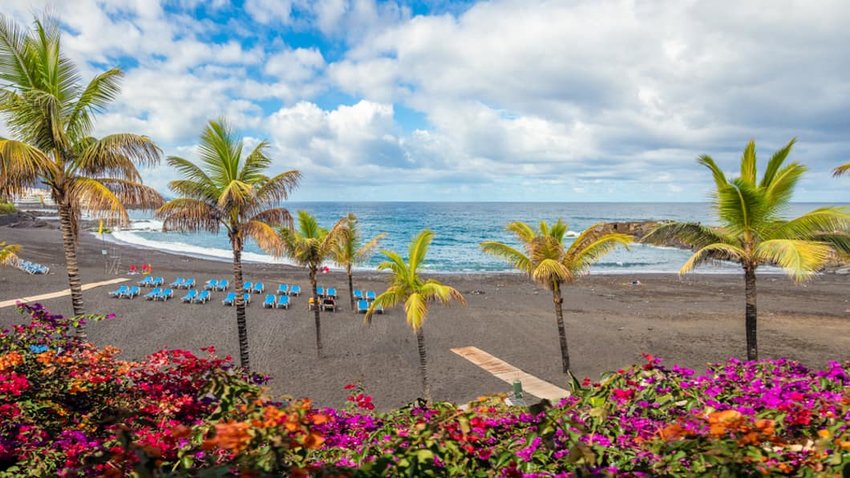 Playa Jardín, which translates to "Garden Beach", lives up to its name with an abundance of shady palm trees and vibrant gardens. This colorful landscape contrasts the black sand beaches of this island perfectly. Travelers can enjoy sprawling out on the warm sands or take a seat at a cafe among the long promenade that overlooks the beach.
Waianapanapa Beach, Hawaii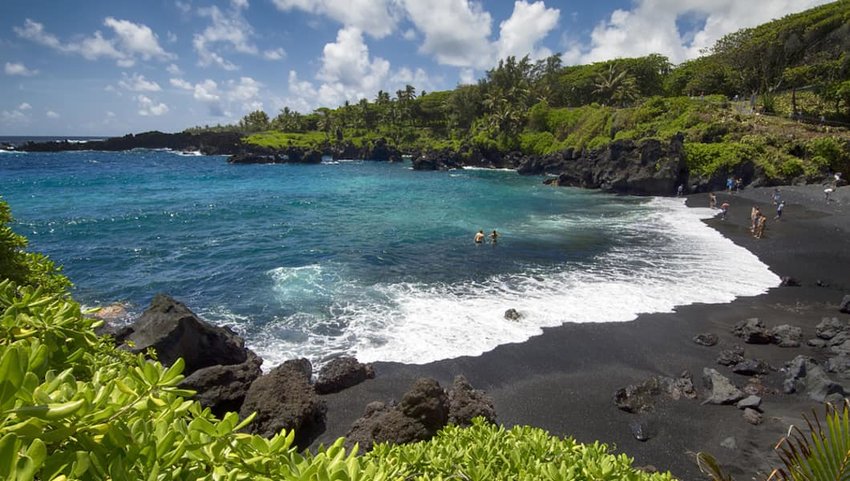 Situated along a rocky coastline, Waianapanapa beach is nestled in a private cove in its namesake state park. Wander the beach to discover the volcanic rock formations and natural blow holes. The inky-black beach is a stunning contrast to the deep blue of the surrounding waters, but be careful. Locals believe bad luck will fall on any who remove sand from the beaches of Hawaii.
Anse Ceron, Martinique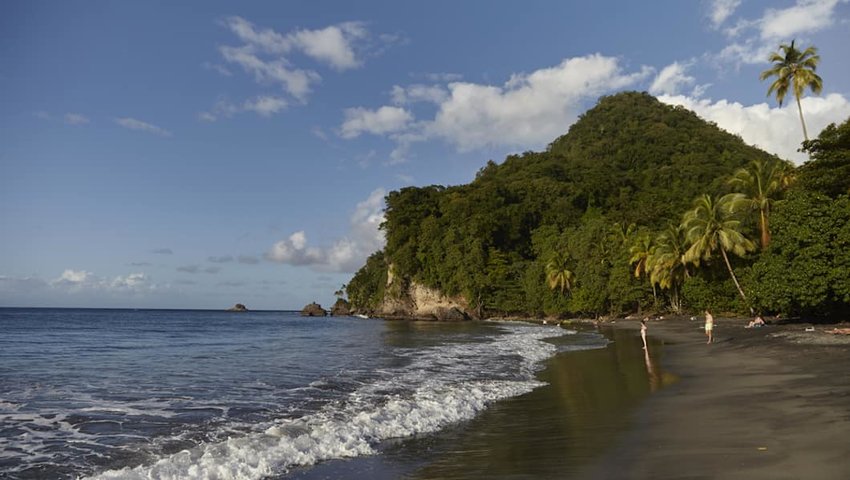 The French-spreaking outpost of Martinique is known for its beautiful, soft white sand beaches, but head to its northwest coast for a black sand beach escape that remains a secret to the throngs of tourists. Enjoy a quieter spot for relaxing, diving and snorkeling. Explore the thick jungle forests after lounging on the narrow beach in a day of escapism and local indulgence.
Mosteiros Beach, The Azores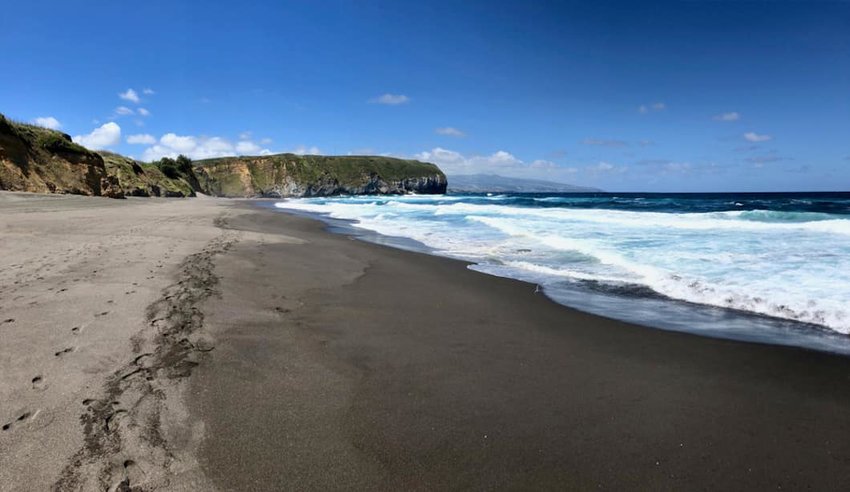 Located on the coast of the Azores' São Miguel island, Mosteiros beach features a long swatch of black sand broken up by some truly striking volcanic rock formations. Enjoy a morning of exploring, an afternoon of sunbathing and then catch a sunset between the twin rock formations out in the water.
Karekare Beach, New Zealand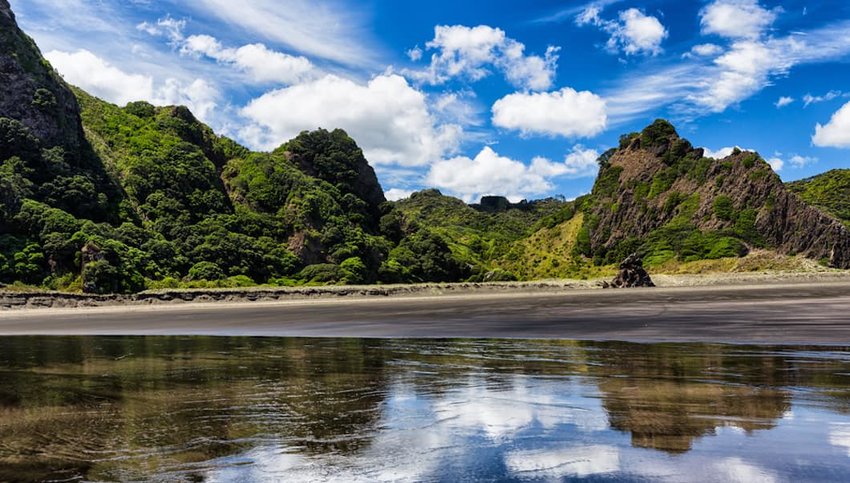 Located an hour or so from Auckland, Karekare beach is best known for the waves that offer prime conditions for surfers. The swell here is among the best available in New Zealand, but even non-surfers will be drawn to this beach's beautiful landscapes with dramatic, emerald cliffs that seem to plunge into the ocean.