From exploring tide pools to swimming through crystal clear water, there are plenty of reasons to head to one of the many beaches in Orange County. But with 42 miles of coastline, it can be difficult to choose which beach you want to visit for the day.
As a lifetime Orange County resident, I grew up visiting the ocean almost every weekend and would like to think I've visited every beach up and down the coast. Since there are so many great spots here, I wanted to help narrow down which beaches are worth a visit and chose seven locations that offer spectacular views, calm waters for swimming, and/or extensive walking paths.
Salt Creek Beach Park, Dana Point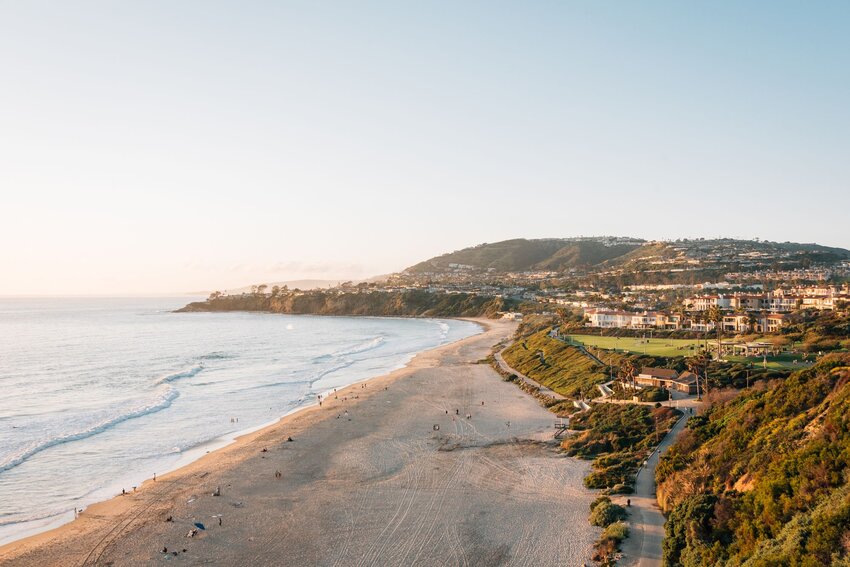 Salt Creek Beach offers amazing scenery of both the California coast and a golf course. The best part though is that it has plenty of activities to choose from–whether it's strolling along the path parallel to the beach, picnicking at one of the many tables in the park, enjoying the playground, or simply heading to the beach. The path stretches for several miles along the ocean, making it an ideal spot for dates or walking your dog. Salt Creek Beach Park is also one of the many parks that OC Parks chooses to host free outdoor concerts at during the summer. Seeing Orange County-native Andrew McMahon (of Andrew McMahon in the Wilderness, Something Corporate, and Jack's Mannequin) perform here in 2017 with the Pacific Ocean as his backdrop has to be one of the most Southern Californian moments of my life.
Pirate Cove and China Cove Beach, Newport Beach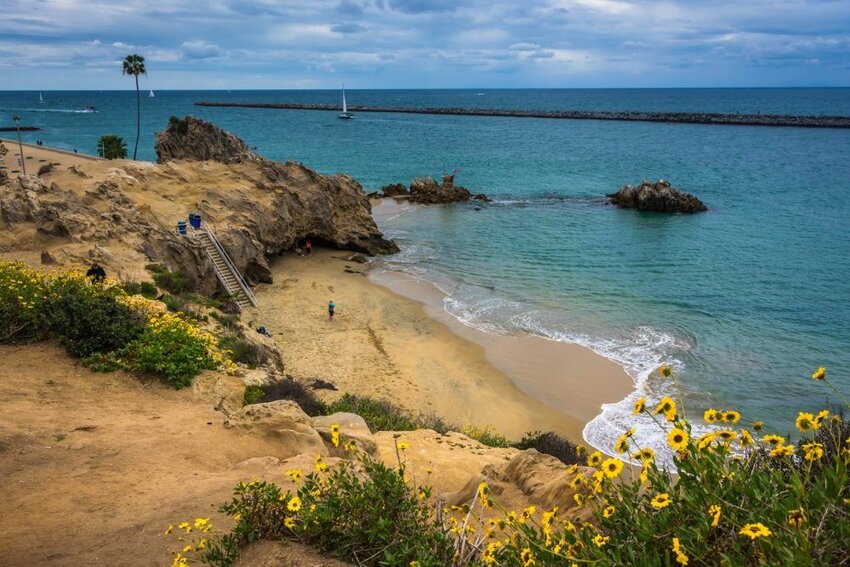 These two beautiful coves are right next to each other, making it easy to either swim or walk over to one of them from the other. What makes these spots so beautiful is that both have extra calm waters for swimming because they're located at the entrance of Newport Harbor and have a jetty breaking some of the waves. The calmer currents create crystal-clear water and visitors can often easily see the sea life below the waves. One other thing that makes these coves different from other beaches along the coast is that they have rock walls that are fairly easy to climb and you'll find kids doing this all year long.
Little Corona, Newport Beach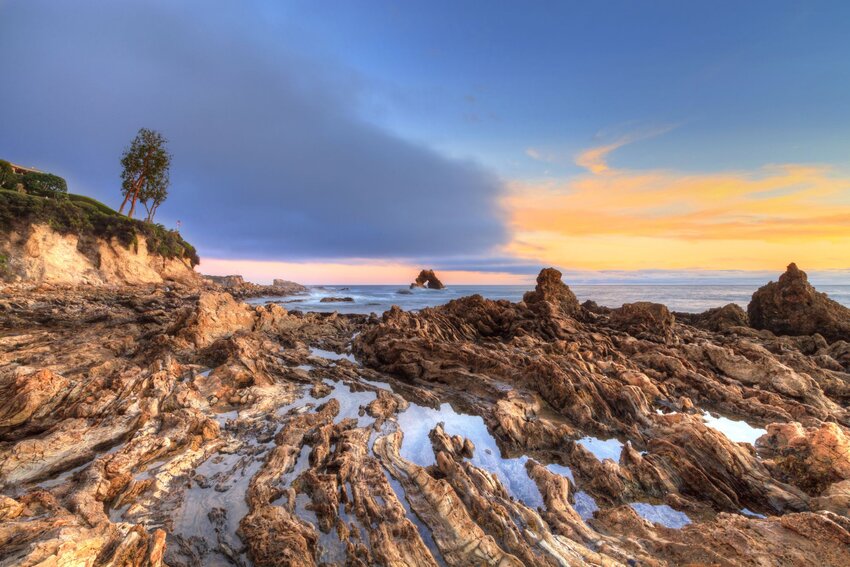 Just south of Pirate Cove and China Cove Beach, but still within walking distance, you'll find Little Corona. This beach is a popular spot for wedding portraits or engagement photoshoots because of its amazing views of Corona del Mar's coastline and beautiful homes. It's also home to some excellent tide pools that are brimming with sea life like hermit crabs, sea snails, sea stars, fish, and if you're patient, even an octopus or two. At sunset, walk up the hill from the beach and grab one of the benches overlooking the ocean to get a panoramic view of the Pacific.
Balboa Peninsula, Newport Beach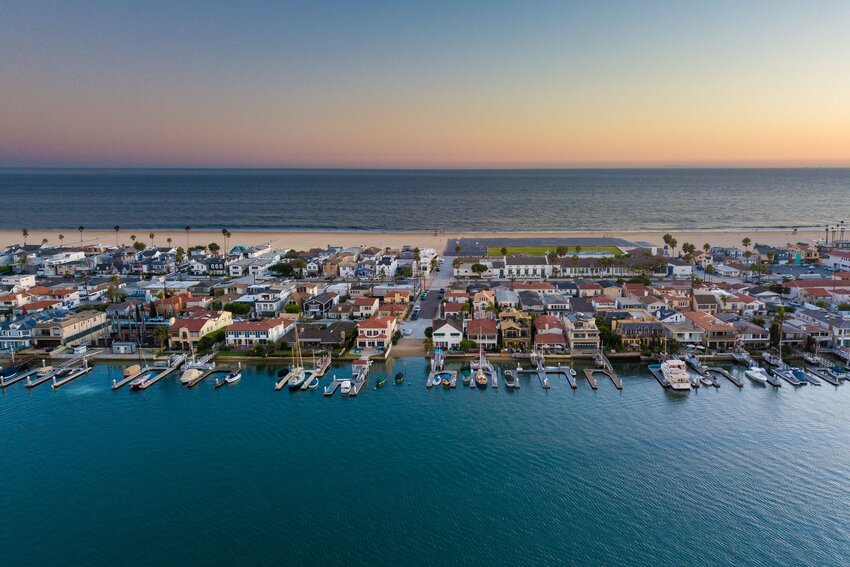 If you're a fan of Arrested Development or The O.C., you may recognize Balboa Peninsula, which is home to a boardwalk and plenty of restaurants that were popular hangouts for characters on both shows. If you're a fan of The O.C., be sure to head to the Crab Cooker, the inspiration for the Crab Shack where Ryan Atwood worked, for some Manhattan clam chowder and fresh seafood. The restaurant is currently under renovation, but will reopen at the end of this summer.
Even though this peninsula can get a bit crowded during the summer, it's definitely still worth visiting, even if it's just to experience the most quintessentially Southern California beach. Here you'll find surfers, volleyball players, fishermen, ice cream stalls, a fun zone, and beautiful homes–all in one place. It's the perfect option for someone who wants all of the attractions and excitement of Santa Monica Pier, but without the major crowds.
Huntington Dog Beach, Huntington Beach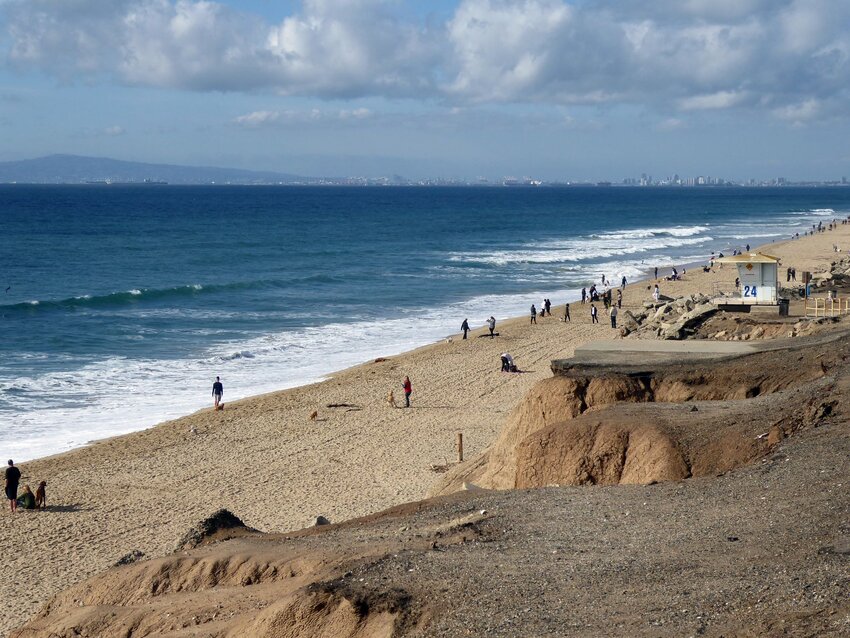 Located close to the Huntington Beach Pier, this beach is technically the only one in Orange County where your dog can go off-leash (even though plenty of people put that rule to the test at other beaches). Here you can easily spend the whole day playing fetch or swimming with your dog. And when you get hungry, both Main St. (across the street from the pier) and Pacific City are within walking distance and have plenty of restaurants with patios for the two of you. And while in Pacific City, make sure to check out Lemonade for their poke and seasonal salads and Han's Homemade Ice Cream.
Shaw's Cove, Laguna Beach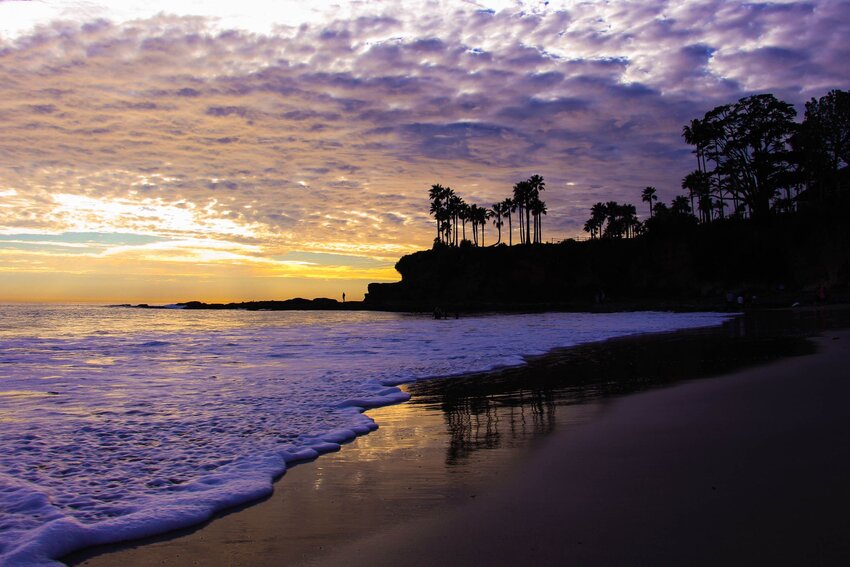 Tucked away between condo complexes, Shaw's Cove has some of the most serene coastline along Laguna Beach. Between its tide pools and palm tree-lined cliffs, this cove looks like something straight off of a postcard. Since this cove is within walking distance of the downtown area, you can easily grab lunch in town and then enjoy the rest of your day at the cove. Start by grabbing the d'lox pizza from Urth Caffé and bringing it to Heisler Park for a picnic. After lunch, walk around the cove (which allows dogs on leash from September 11 – June 14) and then head back into town afterward for dessert at Dolce Gelato.
Treasure Island Beach, Laguna Beach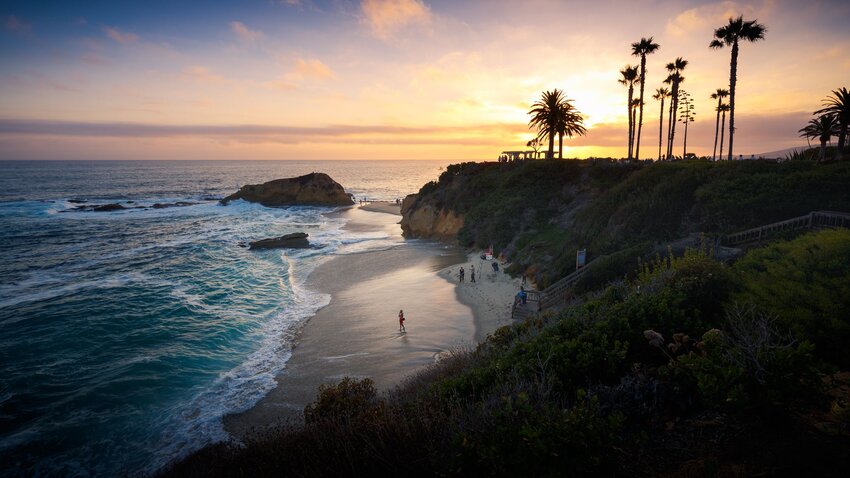 Just south of Shaw's Cove, Treasure Island Beach has beautiful rock formations and tide pools plus plenty of shoreline to enjoy, making it one of the most beautiful beaches in Southern California. Additionally, this beach is located right in front of the Montage Laguna Beach and has a path leading up to the resort, so you can easily enjoy both the property's beautiful public spaces and the beach itself. If you're feeling up to it, climb up the rock formations to try to get a view of Santa Catalina Island, which is just across from the beach.