The inspiring beauty of Sedona's red rocks draws hikers from near and far. However, many run into a common obstacle: no parking spaces available at the trailheads, or waiting in a long line to get one. Most travel guides recommend arriving at the lots before 7 a.m., which hardly qualifies as vacation timing. When a friend and I hoped to hike the popular Boynton Canyon trail, I made her skip her morning journaling so we could beat the crowd, which we did, albeit a little bleary-eyed.
With the help of the manager at The Wilde Resort & Spa, my friend and I discovered an easy solution to this problem: choose lodging near a trail and take fabulous hikes without bothering about a car, traffic, or overcrowded lots. Many of these trails also solve another Sedona hiking challenge of avoiding trails crowded with fellow hikers, mountain bikers, and guided Jeep tours. While trails near lodgings are less popular than some internet-famous trails — like Devil's Bridge or Cathedral Rock — they're equally as beautiful and most are in the heart of Sedona. For advice on finding other hikes to match your goals and fitness level, stop by the Hike House or use their online trail finder, which features 101 hikes.
Choosing one of these lodgings will also help you follow the Sedona Cares Pledge, which the visitors center asks all travelers take: stay and play mindfully and in an eco-friendly manner.
Alma de Sedona Bed and Breakfast Inn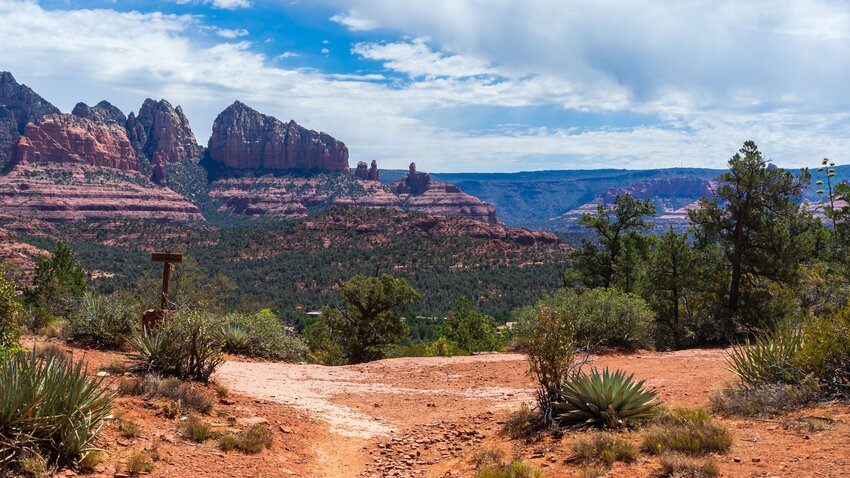 This adobe bed and breakfast has both a labyrinth (a pattern of pathways walked in a circle to reach a central point, inspiring relaxation and reflection) and a medicine wheel (a circle divided by a cross, emphasizing balance and the sacredness of life and based on Native American practices) and offers private spiritual ceremonies with each. A 10-minute walk through residential streets will land you at the Thunder Mountain trailhead and the Little Sugarloaf hiking area, from which you can choose several loop trails, including one to Chimney Rock. If you want a longer hike, aim for Capitol Butte or the top of Sugarloaf Mountain, which both have amazing views.
Ambiente Resort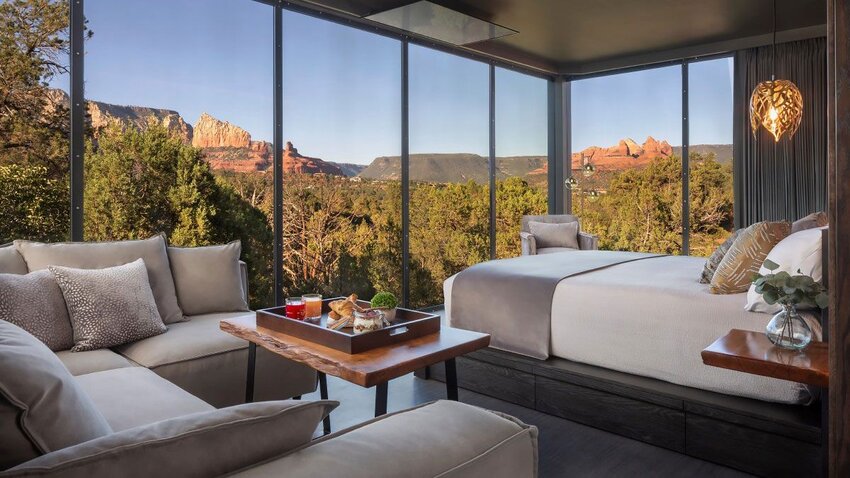 This soon-to-open luxury lodging will offer miles of hiking trails accessible from the Adobe Jack Trailhead. That trail takes a two-plus-mile, partially shaded loop and connects with others. Ancient waterways wind through this setting with excellent views of the Brins Mesa mountain range. Ambiente also plans to offer private rooftop decks with fire pits and Velvet, its wellness-centered spa.
Arabella Hotel Sedona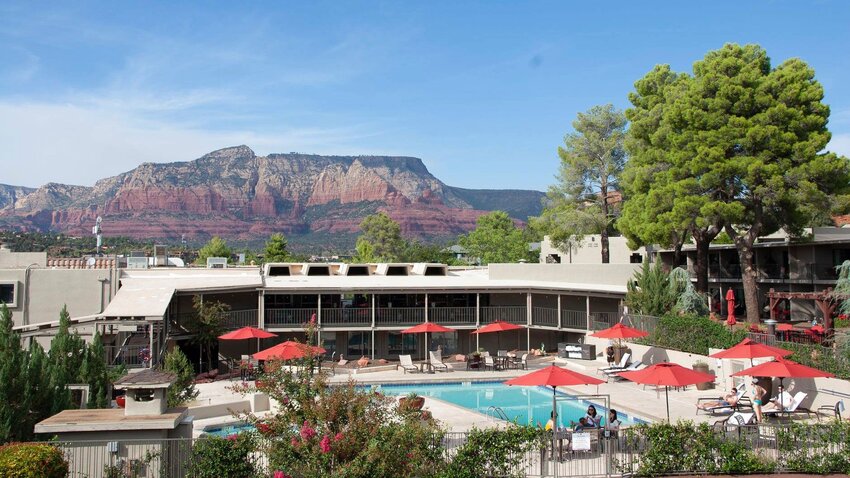 With Marg's Draw trail in its backyard, this pet-friendly hotel on the slower side of town features two heated pools, complimentary wine tastings with frequent live music, and a walk to a sunset vista with 360-degree views. The 2.3-mile (out and back) trail leads to Snoopy Rock, named after the cartoon character that it resembles, and ambitious hikers can connect with several other trails from that one.
Enchantment Resort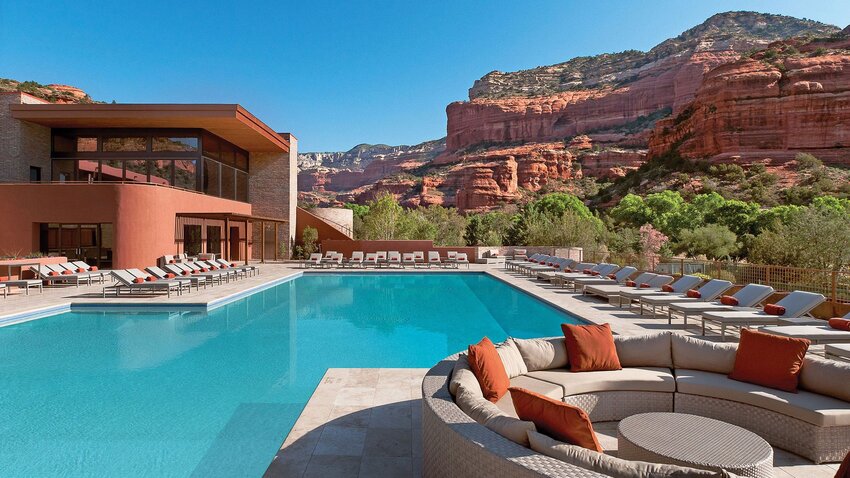 Located in Boynton Canyon about 15 minutes north of main Sedona, this resort offers the option to practically walk out the door of your casita and onto the captivating Boynton Canyon trail or the nearby and shorter Boynton Vista trail. The resort's new Trail House will help you choose hikes to match your ability level and desires. It also offers themed and guided hikes, like a morning meditation walk or nighttime photography-focused hikes. From the Boynton Canyon trail, you can head to one of Sedona's famous energy vortexes, which can be described as "swirling centers of energy that are conducive to healing, meditation and self-exploration."
Sedona Summit Resort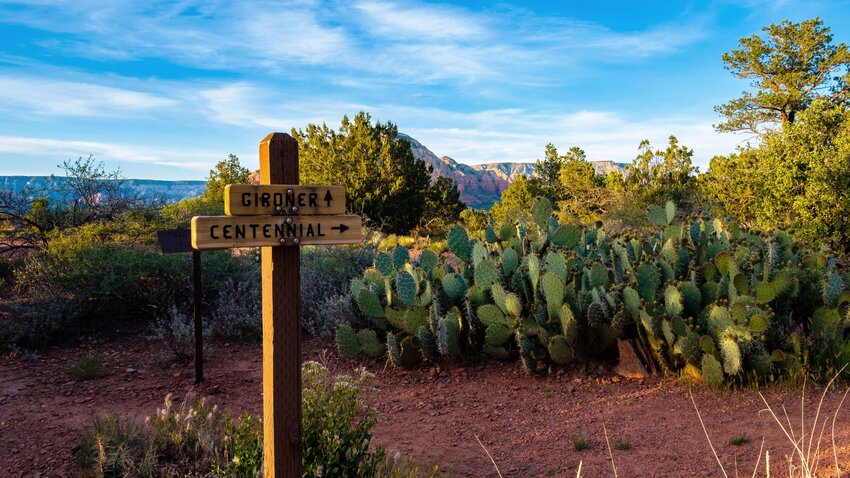 Located in the upper Sedona plateau, this family-friendly resort, part of the Hilton Vacation Club, offers four heated outdoor pools and is a 10-minute walk from the Cultural Park trailhead. From there, choose between the shorter, paved Centennial Trail that leads to a 270-degree view or opt for the 7.4-mile Outer Limits Girdner Trail, a loop with views of Dry Creek Canyon below and the distinctive Cockscomb red rock formation nearby. Map it in advance to connect several trails to one loop.
Sky Ranch Lodge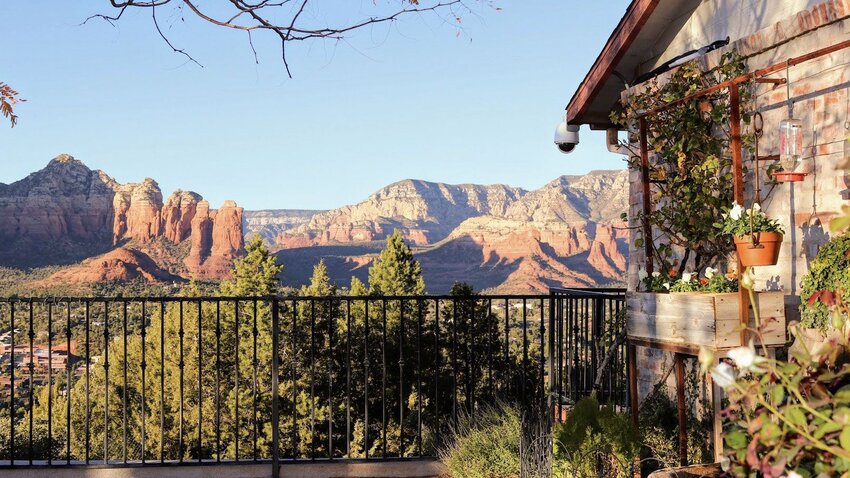 Perched atop Sedona's Airport Mesa (also known as Tabletop Mountain), this resort offers panoramic views from its heights and is a certified botanical garden. From your room, you'll be steps away from the Sedona Airport Scenic Lookout and the Sedona View trail, which is 0.6 miles from the Airport Mesa trail (a 3.5- mile loop) and the popular Airport Mesa vortex. Catch a sunrise or sunset to see the red rocks aglow and include the spur Table Top Trail (a 0.5 miles-out, rocky trail with drop offs) for spectacular 360-degree scenery.
The Wilde Resort & Spa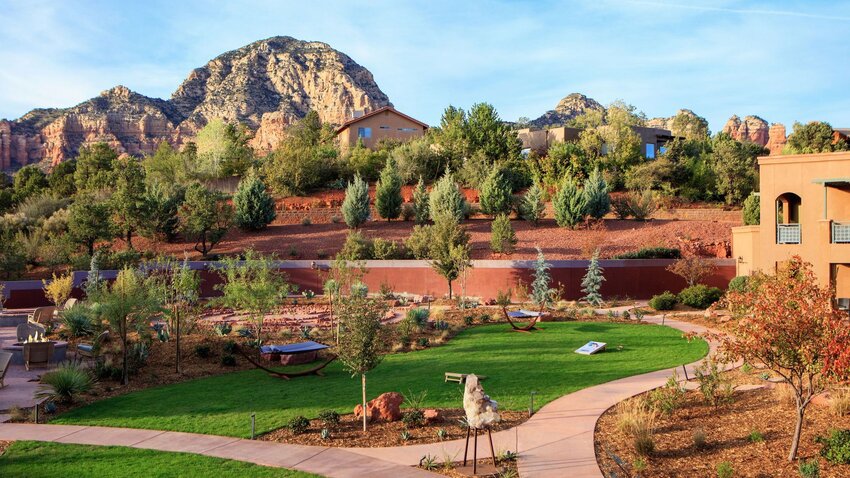 Entirely refurbished and redesigned in 2021, this in-town property has impressive views of Thunder Mountain, along with a maze, fire pits, and a rooftop hangout. Additionally, most of their onsite spa treatments are inspired by local plants and the surrounding landscape. After a half-mile walk up the road and through a residential neighborhood, you reach the Sugar Loaf trailhead, which leads to a network of great hiking options including the Thunder Mountain trail and Teacup trail. We opted for the moderate hike to the Sugar Loaf summit, which had a magnificent 360-degree view from the top. Make sure to refuel at their diner-inspired restaurant, Rascal, afterward.