Imagine chocolate aromas wafting through the air or sweet, enticing bundles of truffles, butter creams, and brittle bits cushioned within tiny, delicate shells. Who needs a special event to savor delicious chocolate? Yet so often we save these treasures for a holiday, birthday, anniversary or other special occasion.
Baltimore, Maryland's largest city, is a chocolate-lovers destination, with more than a handful of small-batch, hand-made chocolatiers scattered like nonpareils within the city limits and out beyond the Beltway. Three of them are more than 100 years old and feature European techniques. The others are newer and feature methods and ingredients that attract today's taster with specific requirements, like highlighting candies that may be gluten-free, kosher, or feature cocoa beans or chocolate from specific countries. Check out the seven chocolate shops below for a taste of what Charm City has to offer.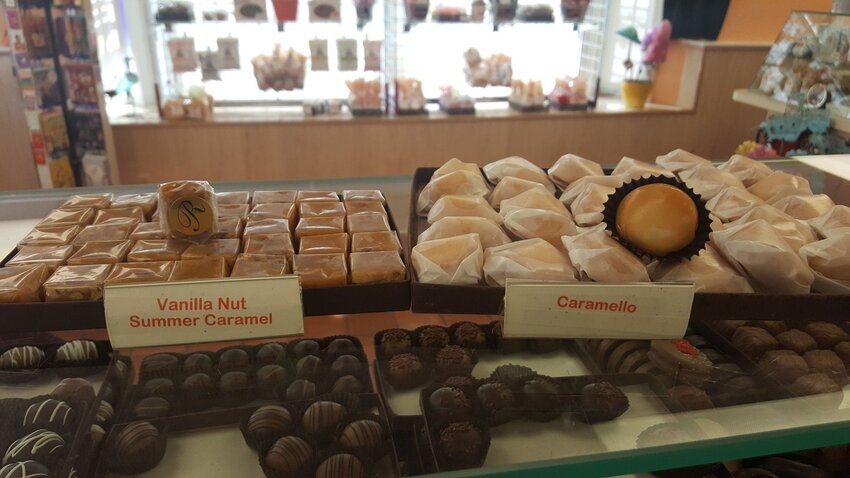 Elmer Wengert has worked for Louis J. Rheb Candy Company for 42 of their 105 years, starting the week after he turned 18 when he needed a job because he wanted to buy a used '65 Chevy Impala. He now is a co-owner, and many of the employees are fourth generation. "Chocolate sales used to be 80/20 dark/light chocolate," he says. "Now, it's closer to 60/40. The favorites — truffles, dark chocolate vanilla buttercreams, and turtles — haven't changed." Stop by this corner shop that looks like it's out of a movie set and, on days leading to Mother's Day, Valentine's Day, and other holidays, expect to see a line waiting down the block.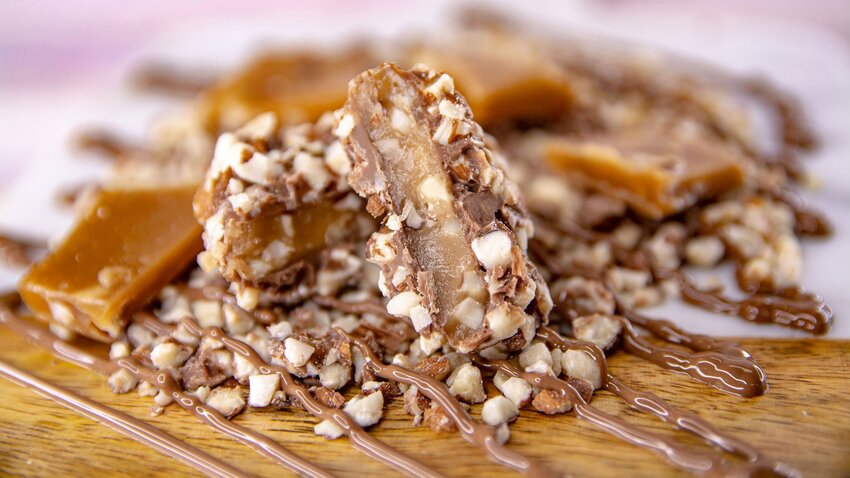 Herman Charles Wockenfuss came to America in 1887 and opened his eponymous candy shop in 1915, making it 107 years old. 10 family members from four generations are among those making these delicious European candies today. Guests are sure to gaze in awe at the chocolate-filled "seashells" and, if you can't get to the beach, at least here you can buy some salt water taffy. They've branched out a bit with shops in Towson, White Marsh, Columbia, Ocean City (two locations), and a main store on Belair Road in Northeast Baltimore.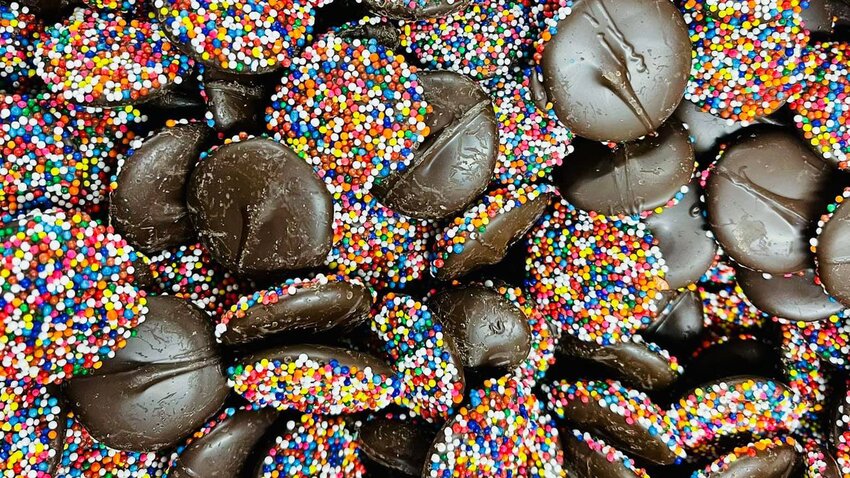 Northeast of the City in Fallston is Log Cabin Chocolates, open since 1920 — except during the hot and humid summer days of late June through August (meaning great clearance sales at the end of May). It features hand-made chocolates, fudge, and holiday candies, and of course, log cabin bars made of pecan, nougatine, and caramel, surrounded by milk chocolate and dusted with sea salt. In the too-adorable-to-resist category, look for the shop's chocolate Terrapin (think: University of Maryland) with a Maryland flag neck scarf.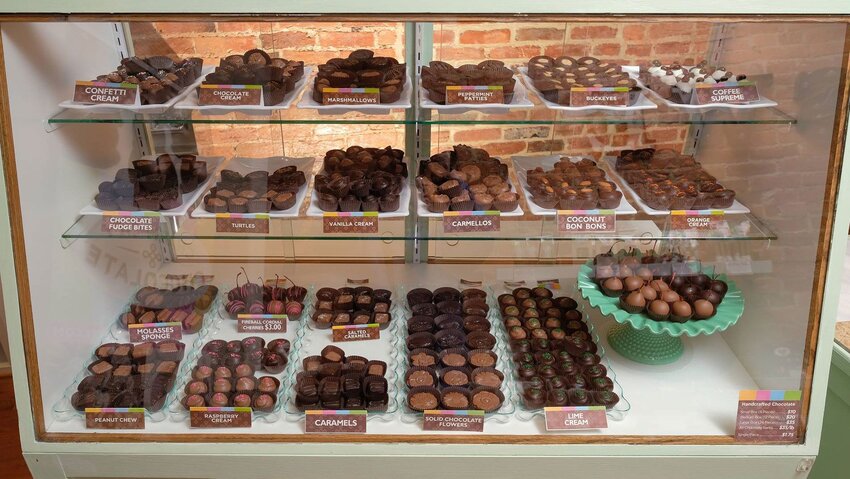 Calling themselves "The Sweetest Place on the Avenue" (36th Street) in Hampden, Charm City Chocolate owners Todd and Michelle use local ingredients and source chocolate from sustainable growers around the globe who "treat their lands and people with honor." Using family recipes, they hand-dip each of their premium confections, all made in small batches. Among the special treats for visitors and locals are the BaltimOreo gift box that includes milk and dark chocolate-coated cookies and decorated with HON, a crab, and a Made-in-Baltimore logo. Order online and designate a pickup time on Friday or Saturday between noon and 5 p.m.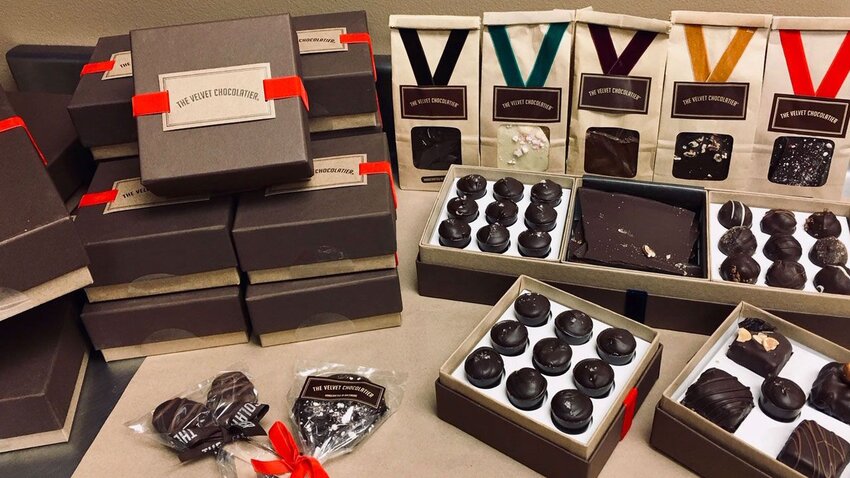 If you're impressed with celebrity endorsements, you'll be enthralled with the Velvet Chocolatier in Stevenson. In existence since 2010, the certified Kosher and gluten-free chocolates are favorites of Oprah Winfrey and Julia Louis-Dreyfus (who discovered them while filming the TV series Veep). Try a chocolate-dipped potato chip or roasted almonds covered in dark chocolate and sprinkled with cinnamon. Tempted to try your hand at chocolate-making? For anyone who's eight or older, buy the chocolate kit with molds, spatulas, wrappers, crayons, bags, and enough ingredients for eight bars. Chocolatier Ruthie Carliner was trained in the States and Europe and her candies never have preservatives, while also using honey as a sweetener whenever possible. Makes for a "velvet" texture, she says.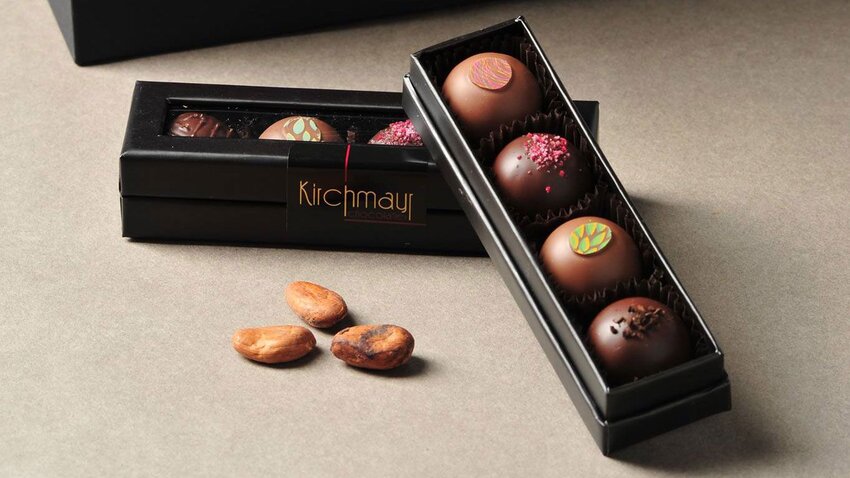 Created from chocolates around the world that combine bitterness, fruitiness, and acidity to accompany liqueur, nuts, and fruits, owner of Kirchmayr Chocolates Albert Kirchmayr offers European truffles, nuts and fruits, plain chocolates, and specialty items for Easter, Valentine's Day, and Christmas. Milk and white chocolate-dipped strawberries are a particular spring favorite. For a local flavor, look for chocolate horseshoes and Sagamore Rye whiskey chocolates. And for that extra-special occasion, order a chocolate champagne bottle filled with chocolate truffles. Located in Lutherville-Timonium, Kirchmayr's has been serving decadent chocolates since 1985.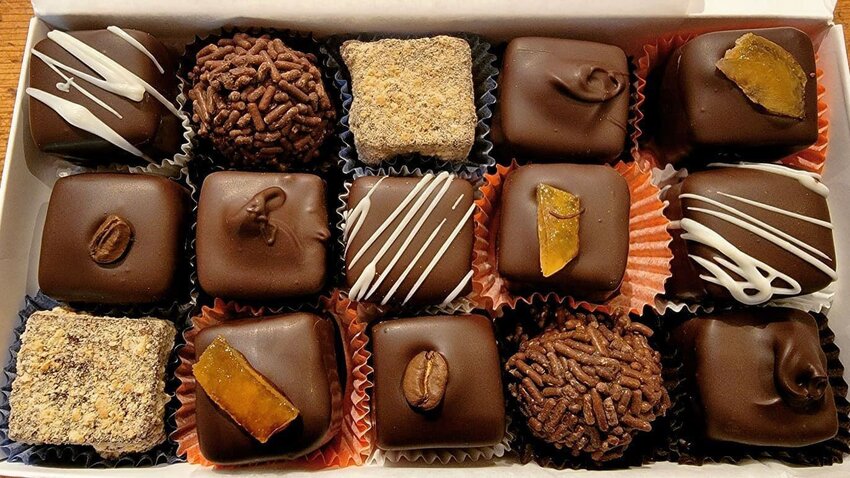 Is there a chocolate lover who won't swoon at the thought of marshmallow and Nutella sandwiched between two graham crackers and cascaded with chocolate? That, and other s'mores, are available at Sweet Cascades Chocolatier in Savage, Ellicott City, and Mt. Airy. Sue Whary, a self-taught chocolatier, and her husband Rick come up with some "Why hasn't someone thought of this before?" creations, including Boh mustaches (aka, the logo of National Bohemian); chocolate covered pretzels, chocolate crabs, chocolate-dipped caramels topped with Old Bay seasoning, chocolate-covered bacon, and a milk chocolate Thomas the Tank Engine. Established in September 2005, you can also find traditional truffles and crème centers.