These steps aren't made for sitting. Roman police have begun enforcing a law that makes it illegal to sit, eat, or drink on the city's iconic Spanish Steps; those who run afoul of the new rule, which went into effect last month, risk incurring a fine of up to €400 ($447). That's a heavy price to pay for catching a breather during your vacation.
It's also a bit ironic considering that Rome's own tourism website refers to the steps as "a place for meeting and a pleasant rest," but that's neither here nor there.
Preserving the Past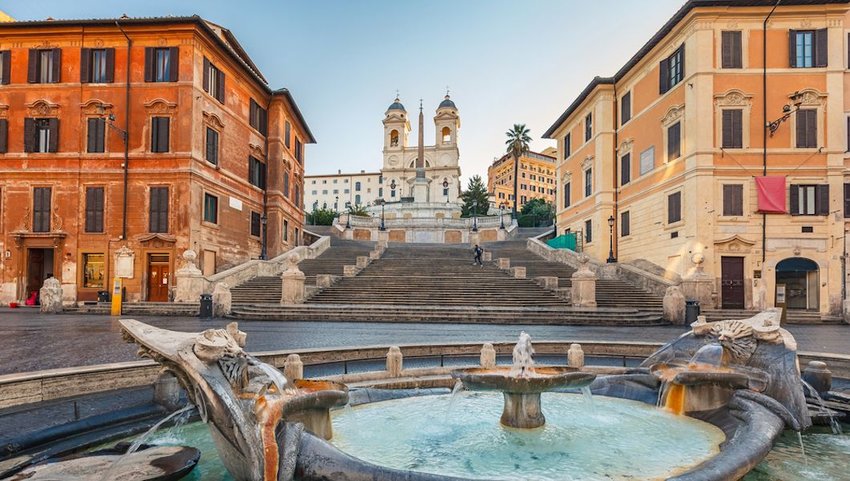 Italy in general and its capital in particular have been taking action to preserve the country's many renowned landmarks, including the Trevi Fountain. Those who try to take a dip in it can now be fined as much as €450, and those costumed Centurions in front of the Colosseum are getting the boot as well.
Per the city's website, these new rules are part of an attempt to "guarantee decorum, security and legality" and forbid behavior that is "not compatible with the historic and artistic decorum" of Rome. If you find yourself near one of these spots, you may see a police officer or two wearing yellow vests; if you do something you shouldn't, you'll hear the dreaded blow of a whistle before being reprimanded.
It's understandable that the government is so committed to taking care of these monuments. All 174 of the Spanish Steps date back nearly three centuries, when Francesco de Sanctis designed them. They've also been featured in countless movies, television series, and music videos, most notably 1953's "Roman Holiday." You may not be able to reenact one of that charming romantic comedy's favorite scenes, but you can still walk up and down them — respectfully, of course.