An enamored John Muir once described Yosemite as, "[A] noble park…big enough and rich enough for a whole life of study and aesthetic enjoyment. It is good for everybody... None can escape its charms. Its natural beauty cleans and warms like a fire, and you will be willing to stay forever in one place like a tree."
The crown jewel of the Sierra Nevada, Yosemite National Park has long been a place of refuge and retreat. A place of unrivaled beauty and grandeur. A landscape that is almost impossible to describe, even with the most elaborate expressions or exaggerations.
Its iconic status also makes it a major draw for national park lovers, nature aficionados, hikers, naturalists, and families alike. But with over 700,000 acres of wilderness to explore, planning a trip to Yosemite can be a bit overwhelming. To kickstart your adventure, we put together a list of things to do, places to stay, and what to expect when visiting Yosemite National Park.
Visiting for the Day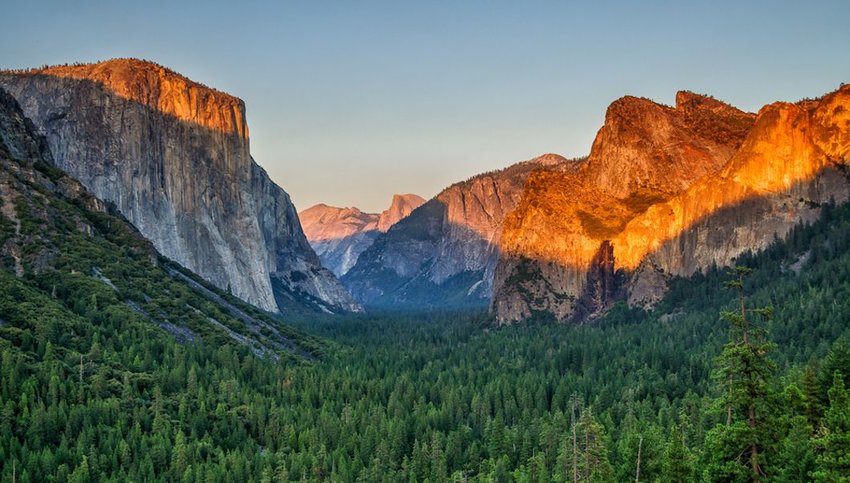 Yosemite Valley
Part of Yosemite's appeal is that the park's wow-factor can be appreciated with little to no effort. Yosemite Valley offers unparalleled access to several incredible vistas featuring iconic Sierra summits. So, even if you only have a day to explore, jaw-dropping views of towering granite monoliths and cascading waterfalls can be easily appreciated via a quick trip through Yosemite Valley.
Entering Yosemite Valley, you'll drive along the Yosemite Valley Loop where you can periodically peer upwards at Yosemite icons rising abruptly from the valley floor.
For a closer look, park the car and take a stroll along the Cook's Meadow Trail, a flat 1-mile footpath that offers sweeping views of Yosemite Falls, Glacier Point, Half Dome, and Sentinel Rock. Or, grab a pair of binoculars and head to El Capitan Meadows to admire ambitious climbers as they ascend Yosemite's 3,000-foot granite goliath, El Capitan.
Another paved 1-mile footpath will take you to the foot of Lower Yosemite Falls, a portion of the highest waterfall in North America. At 2,425-feet, Yosemite Falls is ten times the height of Niagara Falls and a popular bucket-list item for most visitors to the park. Along the way, drop by Sentinel Bridge to catch a glimpse of Half Dome reflecting in the tranquil Merced River below.
If you're exiting the park via Northside Drive, keep your eyes peeled for a small, relatively discrete parking area on the left shoulder. Known as one of the Yosemite Valley's most illustrious views, Valley View sits along the Merced River, offering breathtaking vistas of El Capitan and Bridalveil Fall.
Tunnel View
An adventure to Yosemite National Park wouldn't be complete without a visit to the most photographed and admired viewpoint in the park, Tunnel View. For over 75 years, Tunnel View has captivated visitors with jaw-dropping, expansive views of Yosemite Valley and its many icons.
As Yosemite's most beloved viewpoint, Tunnel View is notoriously crowded. If you don't want to bump elbows with other sightseers, consider taking a quick trek to Inspiration Point. This 1-mile, uphill hike will take you a 4,500-foot, unobstructed, panoramic view of this treasured vista.
Glacier Point Road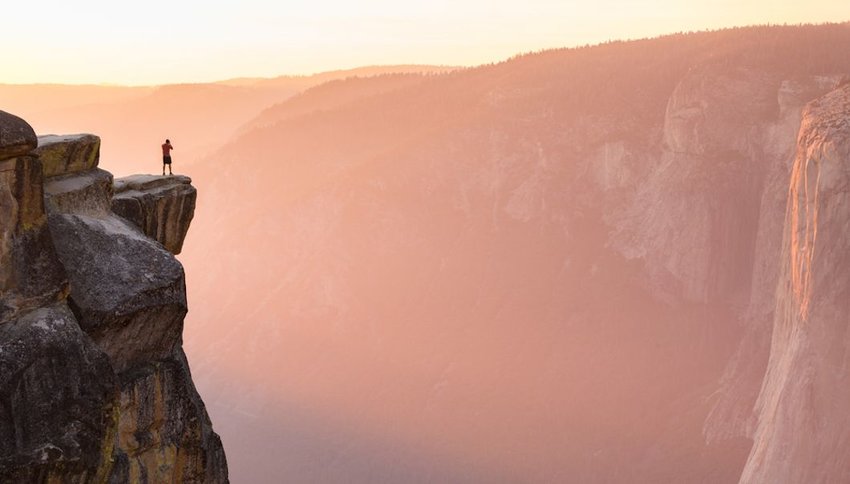 A quick search for Yosemite National Park via social media will result in thousands of images of thrill-seekers standing on precarious, rocky outcrops overlooking Yosemite Valley. While we don't recommend taking potentially fatal selfies in the park, we do recommend making the trek to two incredible vistas along Glacier Point Road — Taft Point and Glacier Point.
Taft Point is referred to as "Glacier Point without guardrails," where courageous visitors can walk directly to the cliff's edge and peer into the valley from 7,500 feet. Visitors that are acutely aware of their mortality or are afraid of heights will seek comfort in the guardrails found at Glacier Point, which offers an equally as commanding view.
Glacier Point Road is open seasonally from late spring through early fall. The exact dates change every year, so keep an eye on current weather conditions and road closures.
Visiting for a Weekend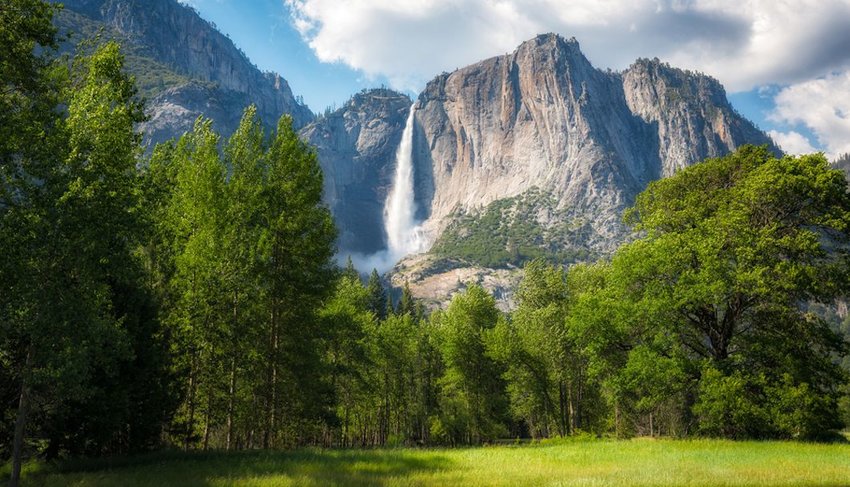 Yosemite Falls
Want to know what it feels like to stand on top of one of the world's tallest waterfalls? If so, the Yosemite Falls Trail is right up your alley.
One of Yosemite's most historic and iconic trails, the Yosemite Falls Trail ascends a series of switchbacks to 2,425 feet above the valley floor. Clocking in at 7.2-miles (9.9 miles if you continue to Yosemite Point) and 2,700 ft of elevation gain, this trail is not for the faint of heart.
However, after just a 1-1.5-mile climb, you'll be rewarded with spectacular views of Yosemite Valley, Half Dome, and Sentinel rock from Columbia Rock and Upper Yosemite Fall. From there, the hike can be extended to Yosemite Point or Eagle Peak, which each offer unique perspectives of the park's stunning granite landscape.
The Mist Trail
Feel the mist of two incredible waterfalls, Vernal Fall and Nevada Fall, by tackling Yosemite's signature hiking trail. The Mist Trail runs parallel to the Merced River, weaving through the forest and ascending 600 granite steps before reaching the top of 317-foot Vernal Fall. After arriving at the boisterous Vernal Fall, continue on for another 1.5 miles to reach 594-foot Nevada Fall and cross the footbridge to tramp along the famous John Muir Trail.
Cathedral Lakes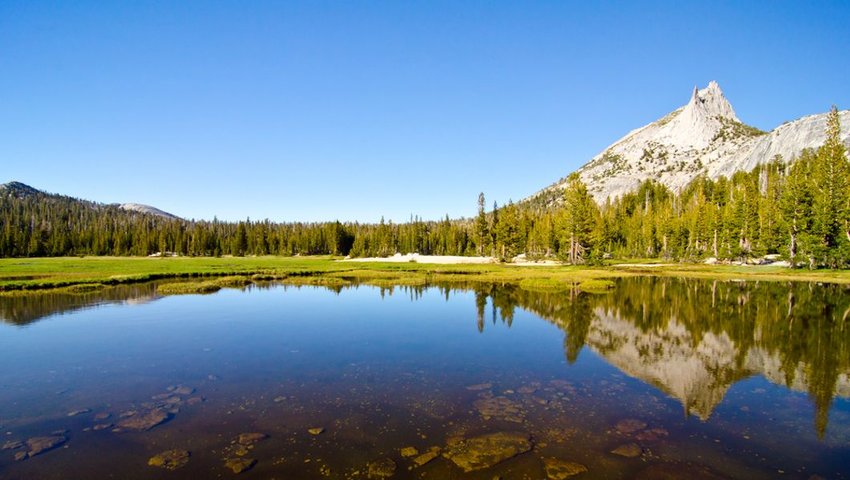 Despite being a popular hike in the Tuolumne Meadows area, Cathedral Lakes doesn't receive the same foot traffic as trails in the valley. So, if you want to be surrounded by 10,000-foot peaks and hang out at a stunning alpine lake with relatively few crowds, Cathedral Lakes is a great option.
The trek to Cathedral Lakes is fairly modest, spanning 7 miles round trip and gaining just 1,100 feet of elevation. You won't see Yosemite Valley icons, like El Cap or Half Dome, but you'll experience a handful of lesser-known Sierra Nevada gems like Echo Peak, Tresidder Peak, and Cathedral Peak.
Mariposa Grove
Located in the southernmost part of Yosemite, Mariposa Grove is the largest sequoia grove in Yosemite and is home to over 500 of the oldest and tallest trees in the world. Several scenic trails exist in Mariposa Grove. Short footpaths like the Big Trees Loop and Grizzly Giant Loop will lead you, with little effort, to ancient giants like the Fallen Monarch and Grizzly Giant.  Meanwhile, lengthier trails, like the Guardians Loop and Mariposa Grove Trail, travel for miles through the canopy of this incredible forest.
Escaping the Crowds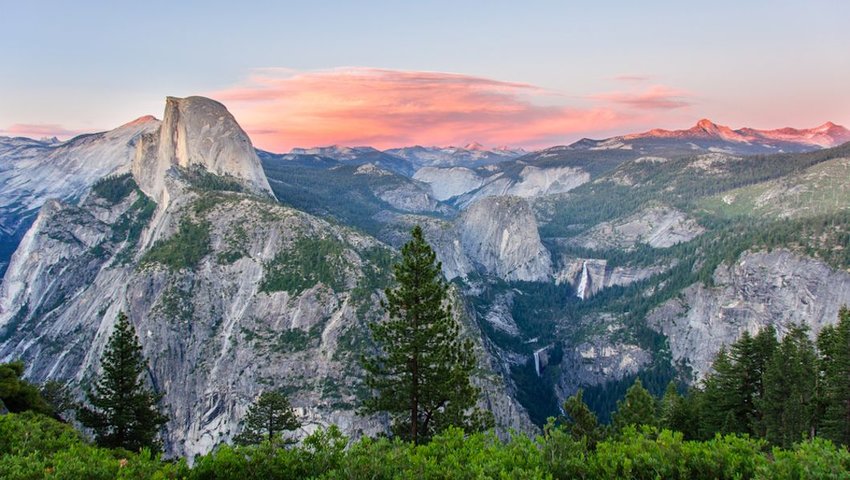 The further you walk, the thinner the crowds. Though it can be tempting to experience the park from the front seat of your car, we recommend strapping on your hiking boots and hitting a few of the park's long-distance trails to fully immerse yourself in Yosemite's wonders.
Panorama Trail
The Panorama Trail is a lesser-known, 8.5-mile trek that pieces together several of the previously mentioned park treasures and trails. The trail begins at Glacier Point, following the eastern slope of Illilouette Ridge before descending to Illilouette Creek and reaching the top of Illilouette Fall. Eventually, the trail meets the famed John Muir Trail or Mist Trail and wanders back down to the valley floor.
Half Dome
Yosemite may be the birthplace of American rock climbing, but you don't have to be a mountaineer or world-class climber to ascend the 8,839-foot Half Dome. You do, however, need to be in good health, an experienced hiker, and well-prepared to tackle this trail.
The 17-mile round-trip trek to the top of Half Dome requires climbing nearly 4,800-feet and ascending the slick granite precipice of Half Dome via a series of metal cables. In terms of wow-factor, Half Dome is hard to beat, but the climb is strenuous and can take anywhere from 10 to 12 hours to complete.
Hiking Half Dome also requires a special permit, so pre-planning is a must. The Half Dome cables are usually up by the Friday before Memorial Day and are taken down the day after Columbus Day.
Clouds Rest
Clouds Rest is an excellent option if you can't snag a permit for Half Dome, but still want to ascend high above the valley floor. In fact, some would argue, that if you don't want to share the view of the valley below, Clouds Rest is the preferred trail. The 12.5-mile trail climbs 2,700 feet of elevation to the summit of a peak that sits 1,000 feet above Half Dome. The views are nothing short of spectacular. Along the ascent, the trail is bordered by a 4,000-foot drop-off into Tenaya Canyon on the right and a 2,000-foot sheer cliff into Sunrise Creek Canyon to the left.
Where to Stay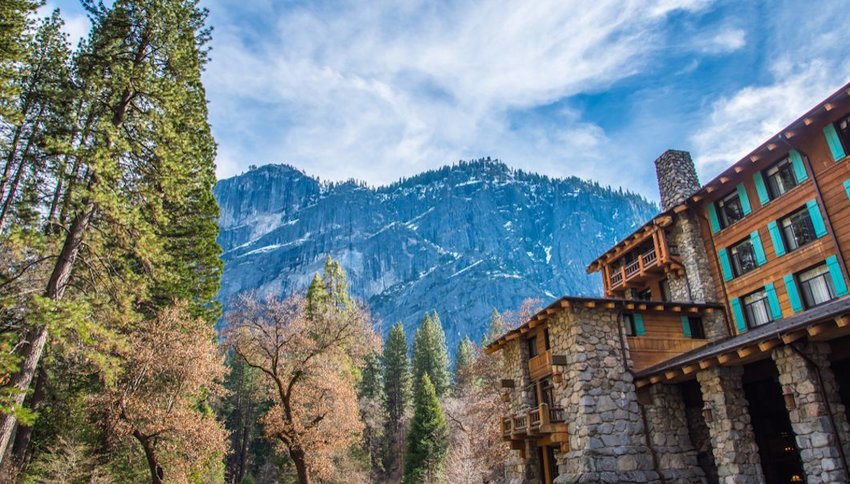 Hotels
There are several historic lodges and hotels in the Park to accommodate guests. The Yosemite Valley Lodge, Ahwahnee Hotel, and Big Trees Lodge were all built to emphasize the natural features of the park and are among the most popular accommodations. There are also a variety of privately-owned homes, apartments, and cabins available to rent for an idyllic Sierra getaway.
Campgrounds
If you prefer sleeping on the ground, Yosemite has 13 campgrounds, seven of which require advance reservations.
Reservations are released in blocks of one month at a time, up to five months in advance, but they fill up fast! If you're hoping to pitch a tent at the heart of the park, you'll need to book a site as soon as they become available.
First-come-first-serve campgrounds, like Camp 4, are equally as popular. In order to score a site, you'll need to arrive early in the morning.
Getting Around
Yosemite's popularity makes it an exceptionally busy destination, particularly in the summer. If you don't want to fight for parking, the Yosemite Valley Shuttle operates year round and offers a free means of transportation throughout the Valley.
The Mariposa Grove Shuttle is also available seasonally for free transportation to and from Mariposa Grove.  To find out more about available transportation within Yosemite National Park, visit the National Park Service Website.
Best Time to Visit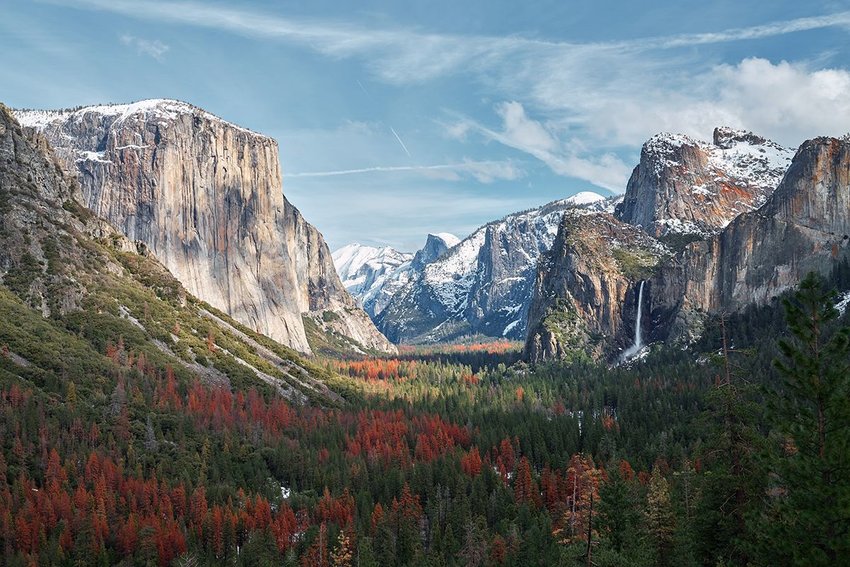 Summer: June - August
Summer is the season for near-perfect weather, star-filled skies, longer days, and less road or trail closures. Unfortunately, summer is also the busiest season in Yosemite, so you can expect crowded trails, campsites, and traffic in the valley. It's also worth noting that if you're chasing waterfalls, summer may not be the season for you — several waterfalls, including Yosemite Falls, may be dry by mid-to-late August.
Fall: September - November
Crowd factor won't typically be a problem from September to November. Fall brings much cooler days, unpredictable weather, and some road closures. But fall is also leaf-peeping season as big-leaf maples, black oaks, and other deciduous trees put on a vibrant display of fall foliage.
Winter: December - February
Winter is arguably Yosemite's best-kept secret. Road closures to higher elevation destinations result in less visitation to the park. However, in the winter, Yosemite Valley transforms into a beautiful winter wonderland. The Glacier Point/Badger Pass Road is plowed to the Yosemite Ski & Snowboard Area, making it accessible for winter recreation, and iconic Yosemite Valley vistas are still accessible by car or by foot.
Spring: March - May
As snow begins to melt at higher elevations, Yosemite's waterfalls, streams, and rivers come to life. Spring is the ideal season for feeling the mist of Yosemite's roaring waterfalls and for experiencing lively wildflower blooms. Road closures will still limit access to higher-elevation hiking areas, but you won't have to worry about summer crowds.
Conclusion
Officially, Yosemite is the nation's third national park. But it was the natural beauty and grandeur of this incredible slice of wilderness that sparked national efforts to preserve public land. If you're visiting the park, be mindful of your impact. Take only photographs, leave only footprints.