Ahh, the Greek Islands. Just mentioning them conjures up images of turquoise water and sun-drenched beaches. Are you dreaming of an island-hopping holiday this summer? You may not realize it, but there are 6,000 islands in total, with just over 200 actually inhabited. That means you could spend years and never make it to each one! To get you started on your epic Greece vacation, here's our complete guide to visiting the Greek Islands.
When to Go
The main season for visiting the Greek Islands is from May to early October. Past that, you may struggle to find transportation options and some businesses may be closed for the off season. If you want to avoid the bulk of the crowds, skip June through August, especially the July and August months. The one downside to visiting early or late in the season is that the water may not be as warm for swimming. But that may be worth it considering how crowded some of these tiny islands can get during peak travel season.
How to Visit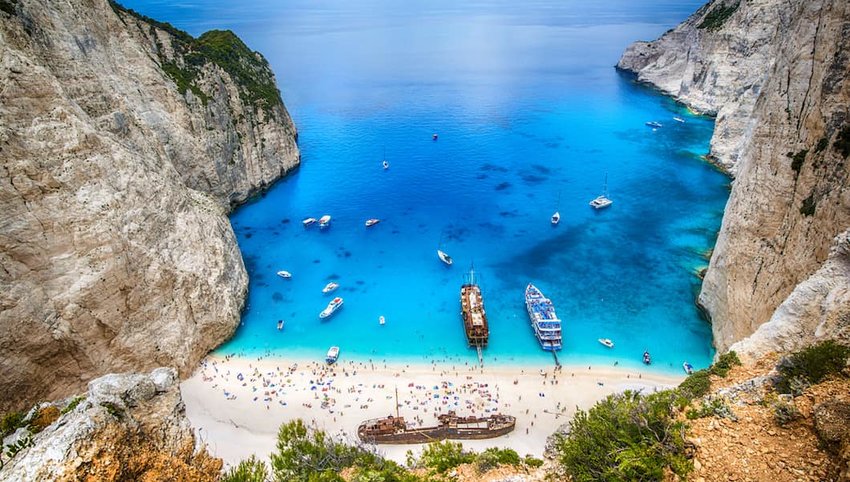 You have multiple options for how to visit the Greek Isles. For those who aren't big into planning, you can book a Mediterranean itinerary on a large cruise ship or consider a small ship like the Aegean Odyssey. These trips do the heavy lifting of transport and itinerary-creation for you, so you can just sit back and relax in the Greek sun. If large cruise ships aren't your thing, consider booking a private crewed sailing charter where you can explore the islands at an entirely different pace. Companies like Moorings operate charters throughout the world, including the Greek Isles.
If you'd rather avoid boats, there are other itineraries and organized trips that will help you experience the best of the islands for a flat fee.
For the independent traveler, skip the organized tour and go island hopping on your own. Greece has plenty of ferries traveling between the islands, but you'll have to book your own passage for each leg. Sites like FerryHopper let you compare schedules and prices for more than 30 ferry companies that operate in the region. Santorini Dave also has a comprehensive guide to ferry schedules that will help you narrow down options and decide what timing and company work best for you.
If you prefer to fly, there are domestic airlines in Greece that offer flights to a number of islands. Around 25 islands have their own airports, and several are international as well. This means carriers like Air France, British Airways and EasyJet might have flights arriving several times a day during the high season. Keep in mind, however, that a flight ticket versus a ferry ticket will be very different in terms of price.
Transportation Strikes and Delays
Transportation strikes are not uncommon in Greece, and things run slower, especially on the islands. Buses and ferries may not depart or arrive on time, while airports and taxis may suddenly be on strike during your trip. Take a deep breath and remember that everyone else is in the same predicament when it comes to trying to get where they need to go. Be sure to include extra time when booking your connecting ferries, flights or other transport.
Greek Island Groups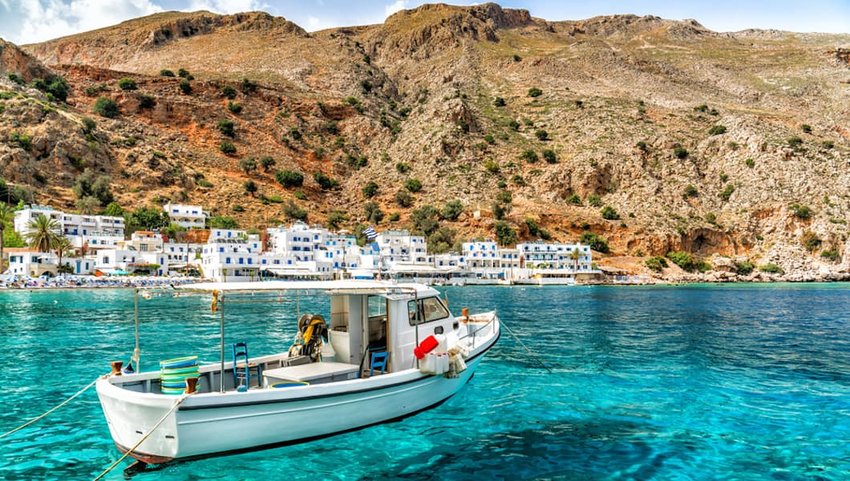 When planning your Greek island getaway, it's important to understand the various island groups, as this can impact your travel planning. Islands you think are nearby could be a 10-hour overnight ferry ride away. Planning your trip around specific groupings can help you save time and better organize your itinerary.
·      Ionian: This island cluster is closer to Italy and Albania than Athens and includes islands like Corfu and Zakynthos. These islands feature ragged shores, towering cliffs and the deepest waters in the Mediterranean.
·      Saronic Gulf Islands: Located between Athens and the Peloponnese, you'll find islands like Hydra in this grouping. The islands are easily reached from Athens, making them a popular and accessible vacation for those with less time.
·      Cycladic Islands: The most famous island grouping, the Cyclades include popular hotspots like Santorini and Mykonos. The gorgeous sandy beaches and the iconic white and blue architecture draw visitors from around the world to these ports.
·      Sporades Islands: Located east of Athens, Evia Island is attached to the mainland by a bridge, so it's great for a weekend getaway from the city. These islands feature more vegetation than most.
·       North Aegean Islands: Some of the most remote islands, the North Aegean Islands are located between Thessaloniki and Turkey and include Samos, which is a popular transit to Turkey since it's close to the Turkish port city of Kusadasi.
·      Dodecanese Islands: These islands are close to Turkey and merged with Greece after World War II. There is a noted Turkish-Venetian vibe and you'll find the stunning fortified island of Rhodes here.
·      Crete: Crete is often classified as its own mini-state and is the biggest island in Greece. From white sand beaches to towering mountains, the terrain is varied, and you should expect to spend several days here exploring before moving on.
Choosing Which Islands to Visit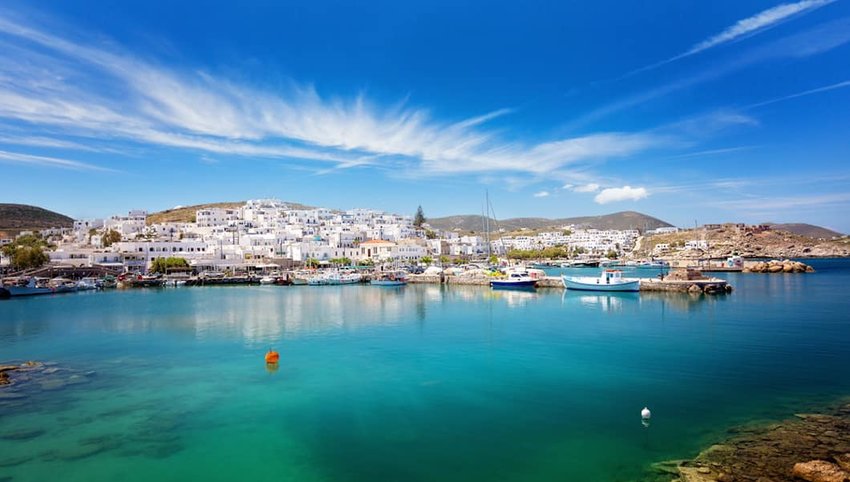 Each island offers its charms and has a different personality. Some are noted for their gastronomy, historical sites, beautiful beaches or untouched natural beauty.  Choosing which ones to visit is a very individualized decision. But whichever islands you choose, you're in for an unforgettable vacation.
While Santorini and Mykonos are undeniably gorgeous, they also attract a significant number of visitors each year, especially during the summer months with countless cruise ship itineraries stopping here. If you want to escape the crowds, consider some of the other lesser-known islands that offer stunning landscapes with only a fraction of the tourists, or head to Mykonos and Santorini outside of the main travel season for a more relaxed experience.
Paros should definitely be on your list to check out. This island is a main hub for ferries so it's easy to access other islands if you make it your base. Romantic and peaceful, it's perfect for couples looking for a getaway.
If you're single and ready to mingle, check out the parties on Ios, which serves as a great alternative to busier Mykonos. With stunning beaches and water sports during the day and a thriving nightlife, the party never stops here.
For families, Naxos offers plenty of culture and history on top of beautiful sunny beaches. With old churches and Venetian castles, not to mention olive tree orchards, there's plenty to explore.
Hikers should head straight to Crete's rugged mountains that overlook the sparkling blue sea. Home to strenuous trails and walks, as well as deep gorges and canyons, there's a ton of nature to love.
What to Eat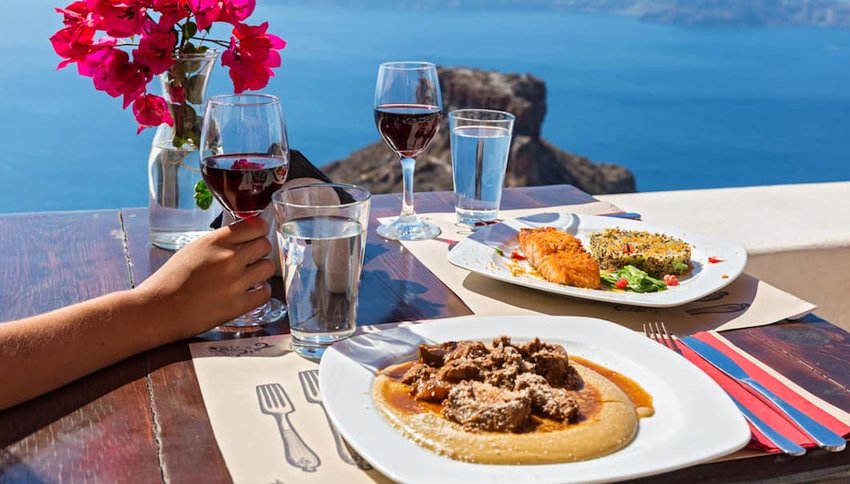 Each island may have its own local specialty ingredients and dishes, so it's worth doing a little reading before you go. When you're on Crete, try Dakos salad or Gamopilafo, the famous Cretan wedding rice. On Naxos, try some of the local cheeses and pig rosto, which is a pork leg stuffed with garlic and then braised in wine. Santorini has a number of special food products, including fava beans, a different variety of cherry tomatoes, white aubergines and chloro cheese made from goat's milk. Staples across the islands include fresh olives and wine, so indulge in both with a sunset view over the water.