Why doesn't that bottle of pink wine you snagged on your vacation to the South of Francetaste nearly as good at home as it did when you first sipped it? Blame what some call the "Provence rosé effect." Beyond being an enticing drink, wine may be inextricably linked to the experience of sipping it — especially if you enjoyed it at a winery that happened to be pretty spectacular.
Wine lovers know that touring the cellar, sampling a few bottles, and overlooking the vineyards definitely add to the winery experience, especially if said winery offers an unparalleled setting. From the Dolomites to the Western Cape of South Africa, these 10 wineries situated on gorgeous properties around the world don't sacrifice substance for style, instead providing immersive tasting experiences and impressive signature wines.

Domaine Sigalas - Santorini, Greece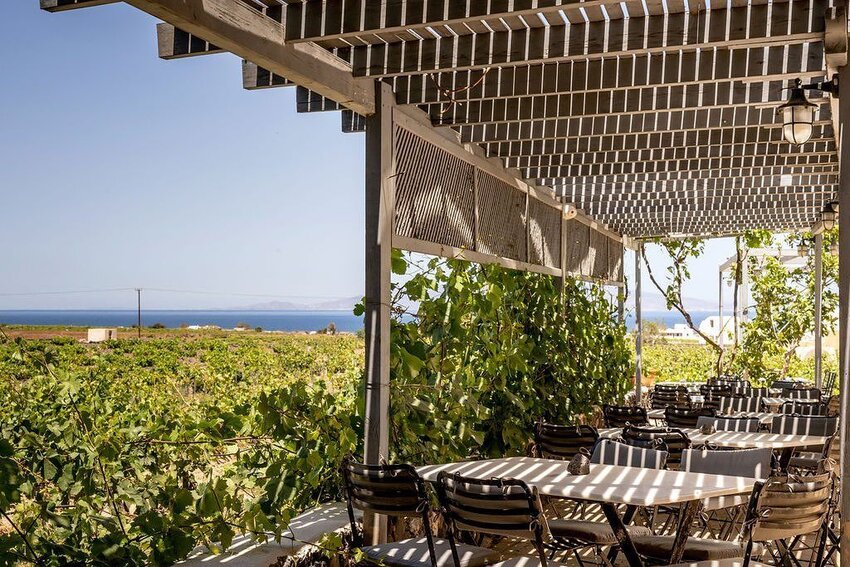 Cobalt blue-domed roofs and stark, whitewashed architecture aren't the only strikingly iconic features you'll find on Santorini. Wine fans can visit otherworldly vineyards where volcanic soils and sea breezes lend minerality and a tinge of saltiness to the signature grape. Domaine Sigalas, in particular, is a pioneering producer of Assyrtiko, the unique white varietal that turns the dial up on acidity and body. Here, visitors can stroll amid vines pruned in the koulara method, where canes are wrapped into a wreath-like basket as they grow to protect the precious plants. Choose from four different tasting experiences—including one that's a deep dive into four different iterations of Assyrtiko—with the sparkling, crystal-blue Aegean Sea stretched beyond.
Bodega Catena Zapata - Mendoza, Argentina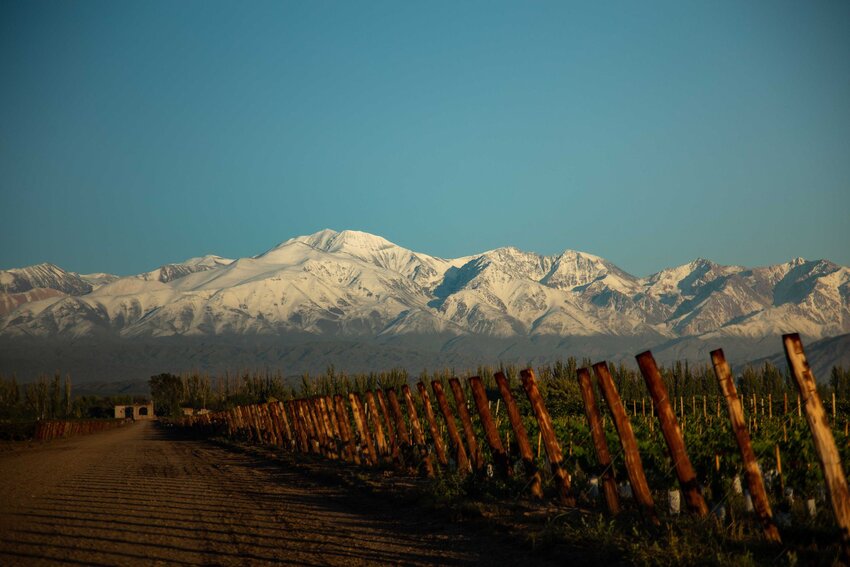 It would be special enough to sip a glass of malbec at this family-owned Argentinean producer, legendary for resurrecting the forgotten French varietal and championing it into the shelf staple it is today. But standing on the stone terrace of the Mayan-style property rewards guests with not only a vista of those famous pioneering vineyards, but also the impressive, snow-capped Andes beyond. The mountains aren't just a pretty backdrop, though; they speak to the winery's experiments in extreme high-altitude terroir — especially the Adrianna Vineyard, which at almost 5,000 feet in elevation has been called the Grand Cru of South America. Tastings range in focus from the family connection and musical sensory experiences, to master blending sessions, allowing visitors to sample malbec and chardonnay made from grapes grown there, where intense sunlight and extreme daytime temperatures add complexity and structure while retaining acidity.
Domaine Carneros - Napa, California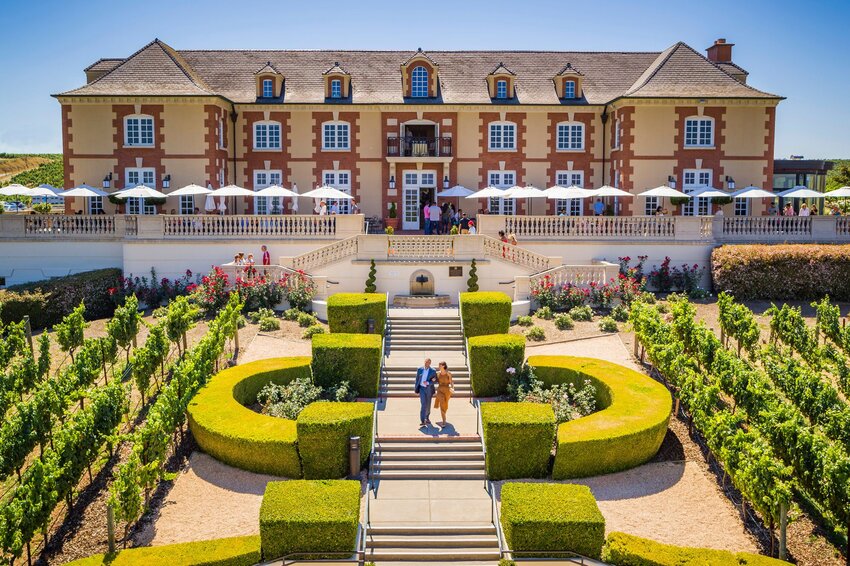 Straddling the Napa and Sonoma regions is this venture launched by French Champagne house Taittinger, which crafts traditional-method sparkling wine in an Old-World-meets-New-World style. From your table on the estate's expansive patio, you can take in the meticulously manicured garden and hedges and the rolling hills of Carneros beyond. There are several themed tastings that highlight Domaine Carneros' approach of combining French tradition with lush California chardonnay, pinot noir, and pinot meunier. But make sure to try the Blanc de Blancs, Brut Rosé, or Blanc de Noirs, as well as single vineyard sparklers and Le Rêve, their vintage tête de cuvée. Red wine fans can sample a flight of the still pinot noir that doesn't make it into bottles of bubbly, and pairings of cheese, charcuterie, and caviar showcase just how versatile and food-friendly sparkling wine can be.
Château L'Hospitalet - Narbonne, France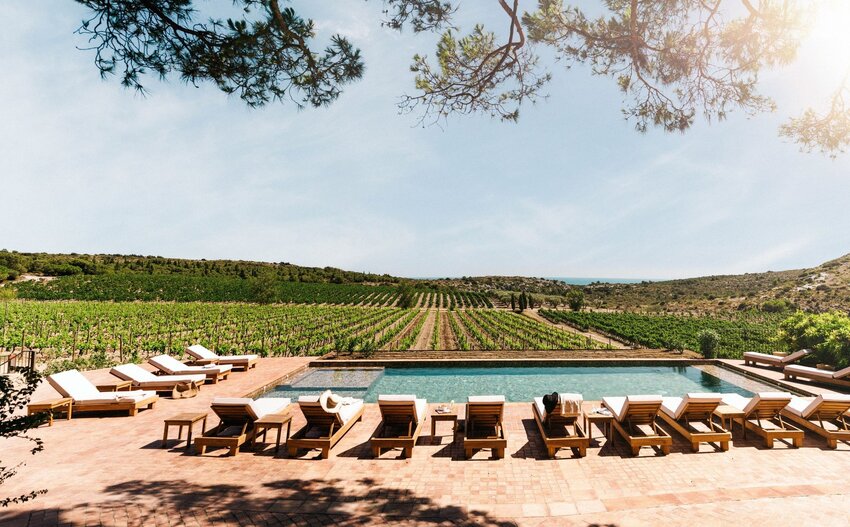 Out of all of Gérard Bertrand's properties in France's southern, sun-drenched Languedoc region, this is the most spectacular. In 2002 the fourth-generation biodynamic and organic winemaker acquired the site, and since then, this location's influenced his winemaking and overall philosophy centered around the Mediterranean art of living. Recently, Bertrand added an eco-wine resort with a poolscape, wine bar, restaurant, and nearby beach club. You can book a property tour on an electric scooter, take a masterclass, dine en plein air, or walk through the vineyards while learning the benefits of biodynamic techniques. Whichever route you choose, a sampling of the Grand Vin Blanc and Grand Vin Rouge while sitting outside soaking in the sunshine makes for a day well spent.
Abadia Retuerta - Valladolid, Spain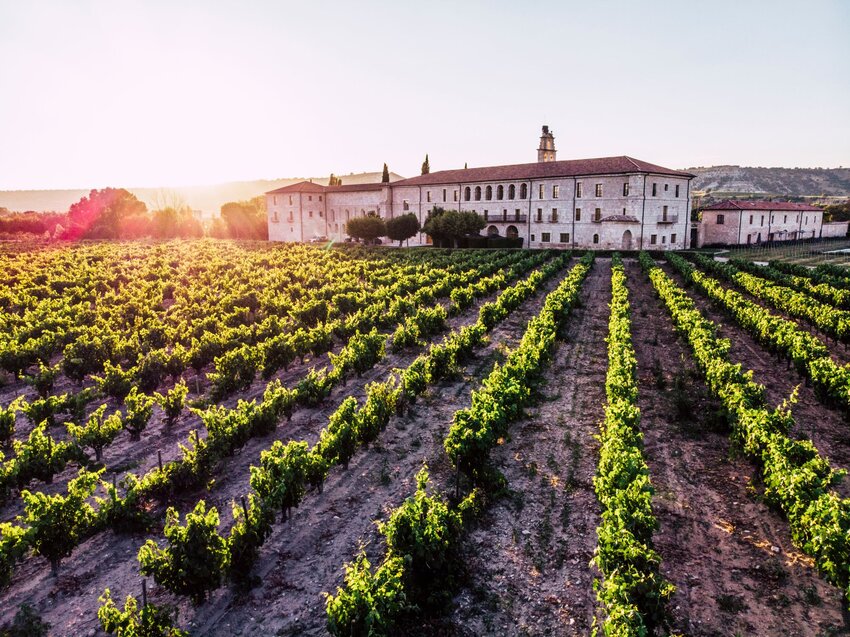 Two hours from Madrid you'll find this meticulously restored 12th-century abbey and Spanish cultural heritage site set among 500 acres of vineyards on the Duero River. Visiting Abadia Retuerta is a tempranillo-soaked experience complete with high-end accommodations, a Michelin-starred restaurant, and customized treatments from Spain's first spa sommeliers, who guide guests on pre-treatment wine tastings.
But even those only here for the day can still experience the property's lavender fields, herb gardens, and pine groves on foot, on a guided Land Rover tour, or on an e-bike, concluding with a curated picnic and five-pour tasting. For the ultimate experience, book the Oenological Immersion, a private 4x4 estate tour with DIY vegetable picking in the biodynamic garden and a snack and tasting in the vineyard. Highlighted are Vino de Pago wines, the official Spanish designation for estate-grown bottles–like Selección Especial, their tempranillo-based blend that features a mix of the vintage's best wines.
Quinta das Carvalhas - Pinhão, Portugal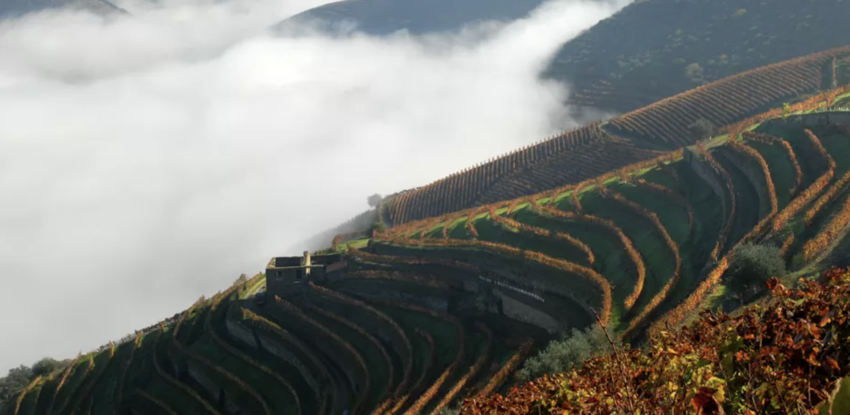 Portugal's Douro Valley is unlike any other wine region in the world. For one thing, it's the opposite of accessible, but those who dare navigate the nail-biting switchbacks leading from Porto to Douro are afforded views of steep, terraced vineyards built into hillsides and the namesake river carving a path through the region. Quinta das Carvalhas, which dates back to the 18th century, offers 360-degree vistas of stunning geographical features while you taste your way through a range of Ports, from red berry-tinged Ruby to the nutty, caramel-rich Tawny. But don't overlook their non-fortified counterparts, especially the red blends made with some of the same grapes used for Port, which are approachable and food-friendly.

Villa Corniole - Giovo, Italy
The rocky Dolomites provide a dramatic backdrop in Italy's northernmost wine region and vast apple orchards fill the valleys. Yet the grapes are the real standout at Villa Corniole, used in wines showing exquisite purity of fruit thanks to steep plantings, alpine climate, and modern winemaking techniques. Depending on the season, visitors might encounter the mountains and grapevines blanketed in snow or the terraced vineyards in bloom. But regardless of the time of year, you'll be able to taste terroir-driven still and sparkling wines that are truly expressive of the mountain terrain. Make sure to try the mineral-driven and citrusy müller thurgau, intense, ruby-hued lagrein, and Salísa Zero, a 100% chardonnay-based, ultra dry, traditional method bubbly.
La Petite Ferme - Franschhoek, South Africa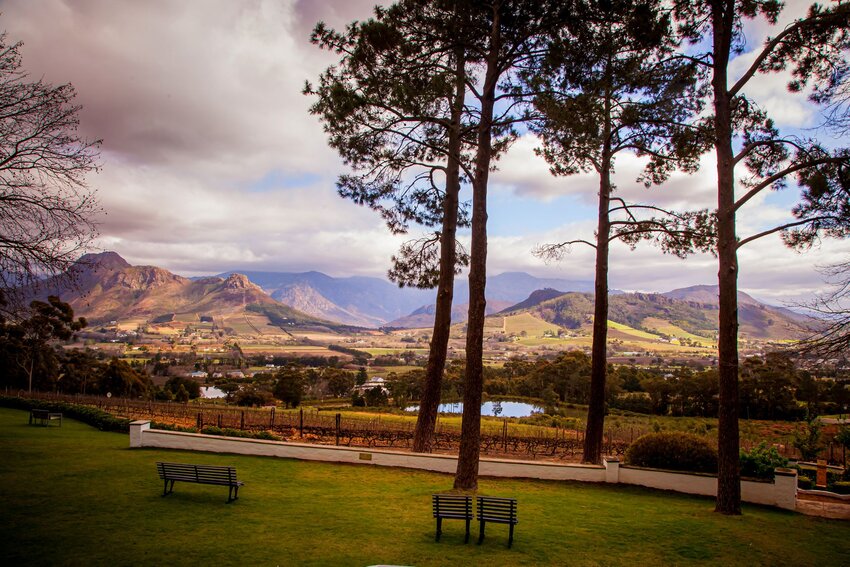 French Huguenots introduced viticultural techniques to this part of the Western Cape beginning in the late 17th century, subsequently making it one of South Africa's top winemaking regions. One of the area's most scenic wineries, this small, boutique producer situated on the slopes of Oliphants Pass in the Middagkrans Mountains boasts inescapable views of the Franschhoek Valley. The best strategy is to snag a bench seat on the lawn — or grab a spot on the ledge—and taste through a selection of their portfolio. Their grenache-based rosé balances the flavors of strawberry and candy apple with plenty of acidity while the violet and cherry-esque Verdict blends three of the region's top reds grapes: cabernet franc, cabernet sauvignon, and pinotage. Add a glass of Methode Cap Classique, South Africa's answer to Champagne, as a toast-worthy option for a sundowner.
Castello Banfi - Montalcino, Italy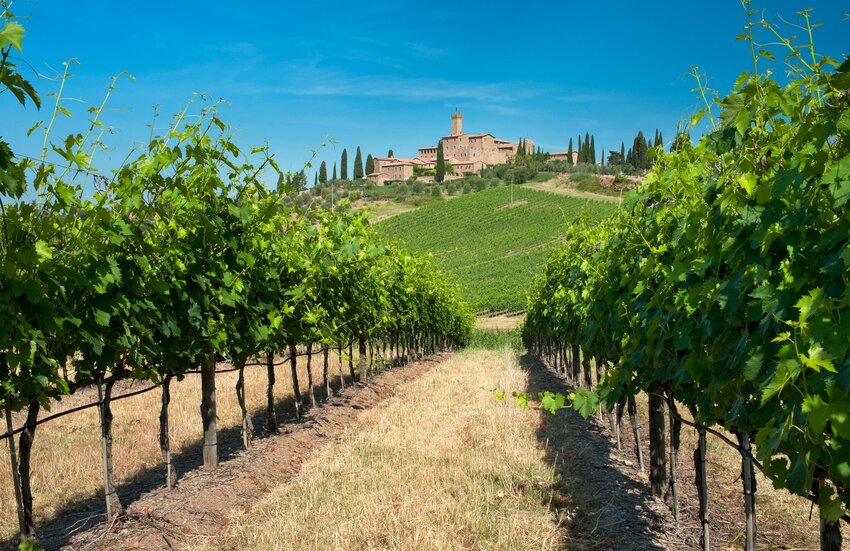 Tasting wine at a sprawling villa that's perched on a steep hill in the Italian countryside is a common fantasy for, well, lots of people. And though this beloved region has properties aplenty that check off these boxes, one stands out as the ultimate Tuscan dream. Situated in the village of Poggio alle Mura among vineyards, olive and cypress trees, and rolling hills, Castello Banfi is part-winery, part-agriturismo resort, and part-museum. A private tour takes you through the vineyards, cellar, and the Balsameria, where the team produces small amounts of richly flavored balsamic vinegar. The most enviable spot is a terrace table at La Sala dei Grappoli with a glass of Brunello di Montalcino, the area's signature sangiovese-based red with notes of cherry and plenty of acidity.
Weingut Oberhofer - Edesheim, Germany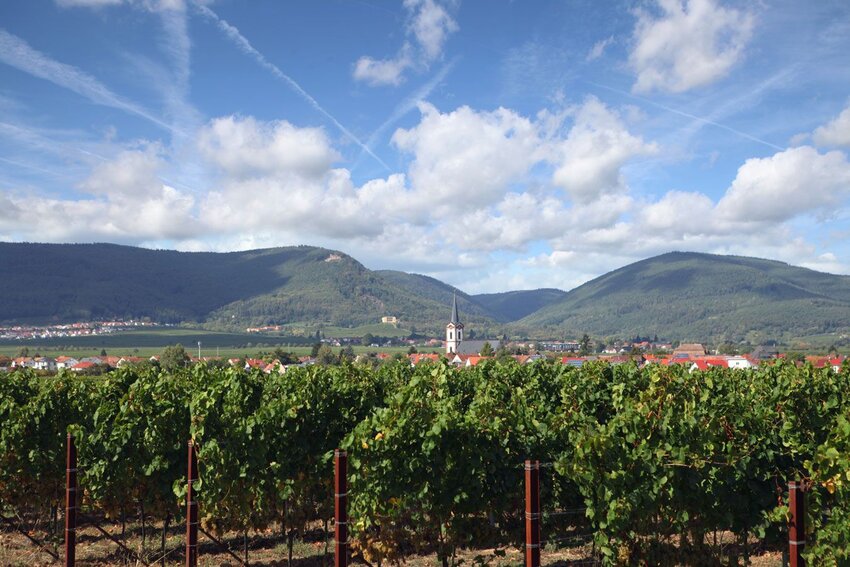 The Mosel might be Germany's most recognized wine region, but the Pfalz in the western part of the country between the Rhine River and the Haardt Mountain range has some claims to fame too. It's the site of the world's largest wine festival in Bad Dürkheim, not to mention the location of the first and perhaps best-known wine route, the Deutsche Weinstraße, which runs for more than 50 miles and links 130 wine towns. But only at this winery can guests taste while overlooking the oldest vineyard in the world, dating back to the early 17th century. 300 gnarled gewürztraminer vines still grow in the limestone-marl soil, producing a tiny yield that goes into a very special bottling packaged with an oak base and four layers symbolizing the four centuries and four elements of viticulture: plant, soil, water, and sun. But the other wines are equally sippable in this special spot, like the sauvignon blanc and a tart pinot noir.