The dry, warm climate and desert landscape have drawn many to Scottsdale since the city's early development at the beginning of the 20th century. Among them were a range of artists who came to the Arizona desert during the Depression, partly thanks to the Works Progress Administration (WPA)-funded art center in Phoenix. Some, however, settled in nearby Scottsdale, including famed architect Frank Lloyd Wright who needed a warm place to spend winters for health reasons and decided to build a winter retreat and studio, Taliesin West, at the base of the McDowell Mountains. Taliesin West is the catalyst that brought many architecture apprentices to the area, a number of whom went on to build their own architecture practices.
Today in Scottsdale, you'd find works of Frank Lloyd Wright, his disciples, and other architects who were drawn to this town burgeoning with artists and designers. Here are nine notable architectural works you can visit in Scottsdale and its surrounding area.
Taliesin West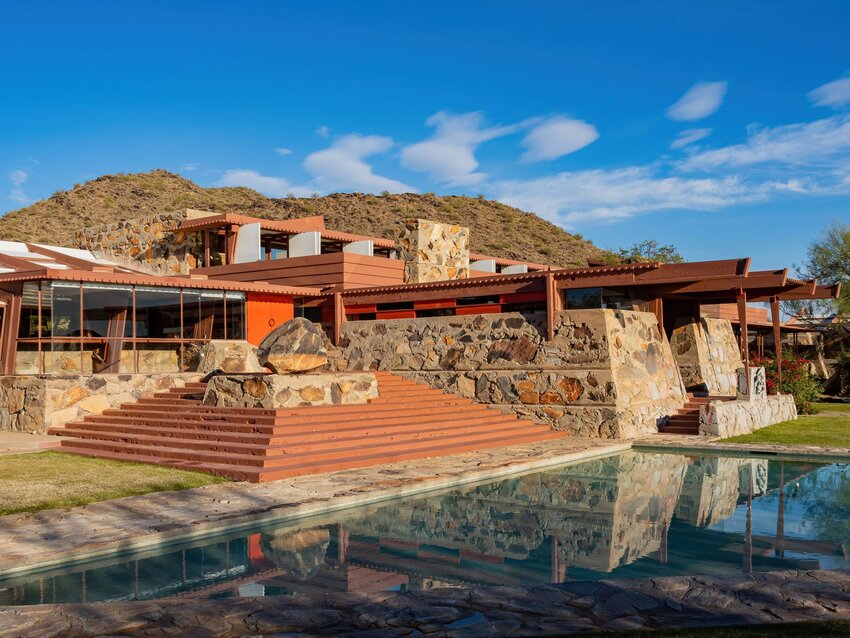 Like many northerners did in those years, Frank Lloyd Wright started spending winters in Scottsdale after he was told that the harsh winters in Wisconsin (where he had built Taliesin East) was detrimental to his health. Wright purchased 600 acres in 1937 and with help from his students started building Taliesin West largely in a style he called "desert masonry." Taliesin West is an important example of organic architecture, where design is inspired by its surrounding environment from the landscape to the climate. Wright designed every part of Taliesin West, from all the furniture to the hexagonal cabaret theater. This National Historic Landmark is open for guided tours and tickets can be purchased here.

The Spire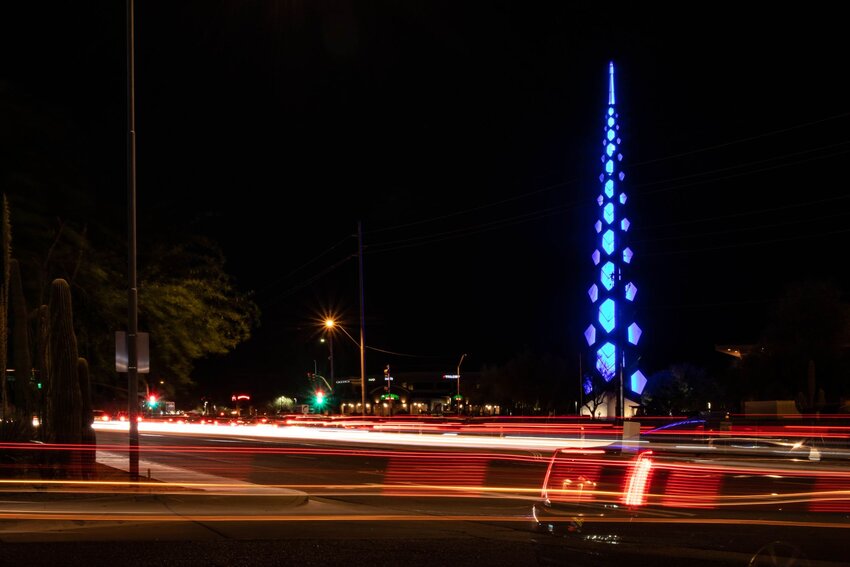 This towering sculpture in Scottsdale is an unusual Frank Lloyd Wright landmark, not least of all because it is a standalone spire instead of part of a larger building or complex. The glass and turquoise-colored steel spire was originally part of Wright's design for the Arizona State Capitol in 1957, which he'd designed without having been commissioned and was promptly rejected since the state didn't need a new capitol. Decades later, the developer of the Promenade Shopping Center had Wright's apprentice, Arnold Roy, redesign it to be the center's focal point. Soft blue lights within the glass panels illuminate the 125-foot tall spire at night, which can be easily viewed from the road at the intersection of Bell and Scottsdale Roads.
Cosanti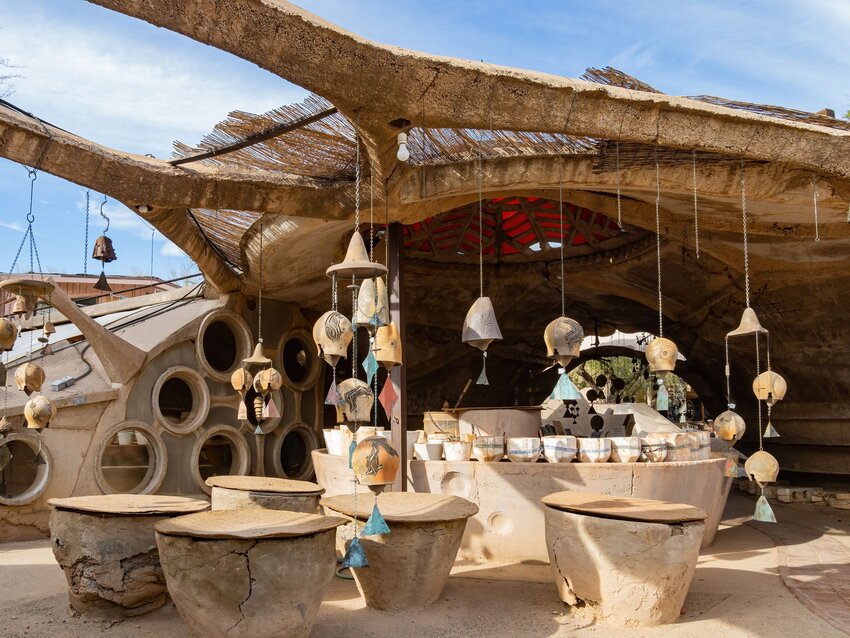 Paolo Soleri was an Italian-born architect who first came to Scottsdale in 1946 for a fellowship under Frank Lloyd Wright at Taliesin West. He returned to Italy to build a ceramics factory in 1950, but made his way back and settled in Scottsdale in 1956. He built Cosanti as his home and studio using the "earth-casting" technique, pouring a concrete shell over mounded dirt then excavating the dirt underneath and creating a unique type of structure. At Cosanti he began to work on the concept of "arcology" (architecture + ecology) as well as the bronze wind bell casting studio that funded his arcology projects. Cosanti offers a one-hour tour Monday-Saturday on a donation basis, during which guests can learn about earth casting as well as watch the bronze-pouring process.

Soleri Bridge and Plaza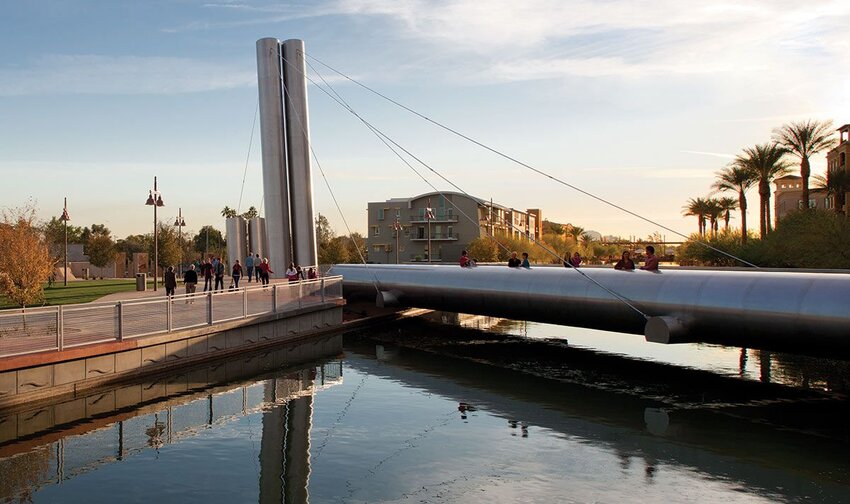 Despite being well known for his "arcology," Paolo Soleri didn't receive many structural commissions throughout his life and sales from his bronze wind bells and ceramics provided the funds for his experimental constructions. However, Soleri did receive a commission from Scottsdale Public Art to build a pedestrian bridge, which was completed as the Soleri Bridge and Plaza in 2010. The bridge is also designed to be a solar calendar, marking every solar noon, summer solstice, and winter solstice. There's a trail that goes around the canal and includes crossing the Soleri bridge, a nice stroll that's just steps away from Old Town Scottsdale.
Scottsdale Museum of Contemporary Arts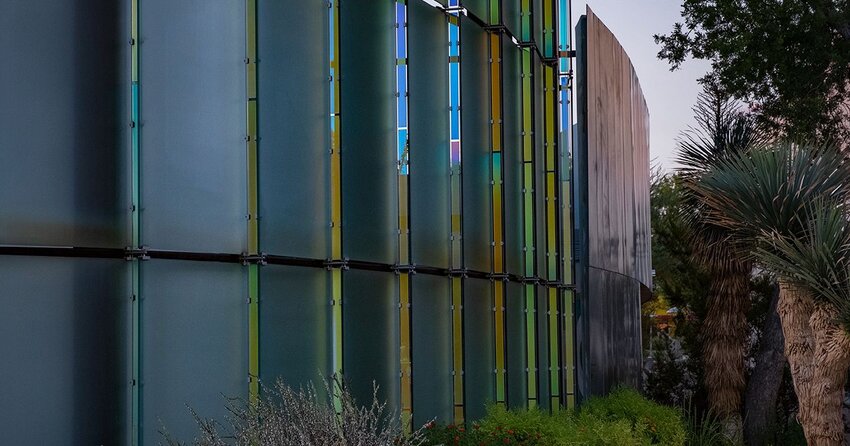 The Scottsdale Museum of Contemporary Arts, also known as SMoCA, was designed by Will Bruder, an award-winning, self-trained architect who worked as an apprentice under Paolo Soleri at his Cosanti studio. The museum is a retrofitted movie theater that Bruder has converted into a highly functional and low cost museum. Bruder decided to leave open exposed rafters throughout the gallery spaces that not only made them feel much taller than the outside would suggest, but the open rafters are also incredibly strong and allow the museum to hang objects just about anywhere in the gallery spaces. Make sure to check out the Skyspace created by artist James Turrell–it sits in the museum's courtyard and is encircled by a glass scrim wall. The museum is open Wednesday-Sunday and admission costs $10 when purchased online.
Hotel Valley Ho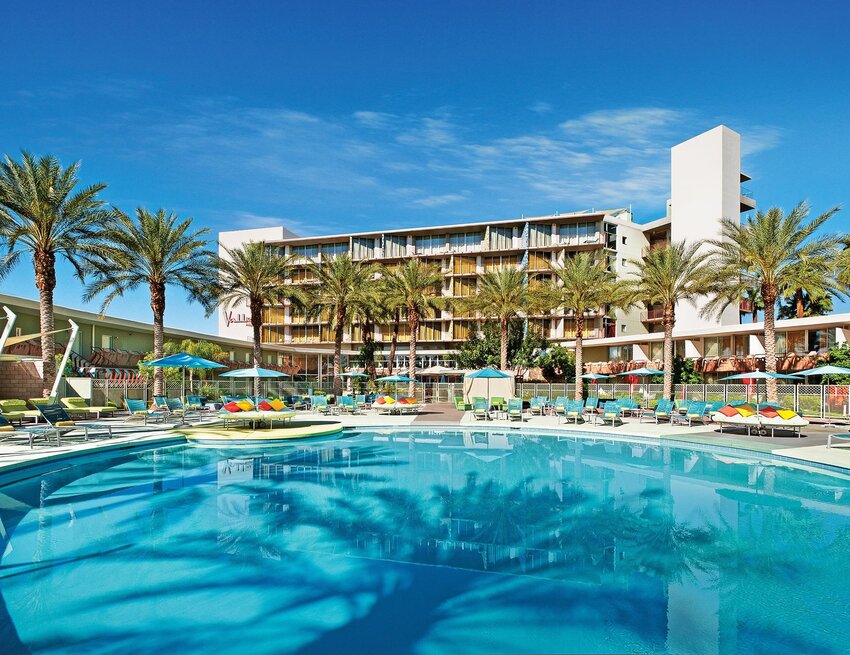 The mid-century modern Hotel Valley Ho was originally designed in 1956 by Edward L. Varney, who worked as an architect in Phoenix from 1937 to 1980s and was also a student of Frank Lloyd Wright. Much of the original design was lost throughout the years after it was converted to a Ramada, including brick walls that had been covered by drywall. However, the hotel was then acquired by Westroc and the latest renovation has restored the mid-century modern elements, from the geometric concrete panels that line the property to the brick walls in the guest rooms. Experience the hotel's design by staying the night here or visiting the on-site restaurant, Zuzu.

Scottsdale Center for Performing Arts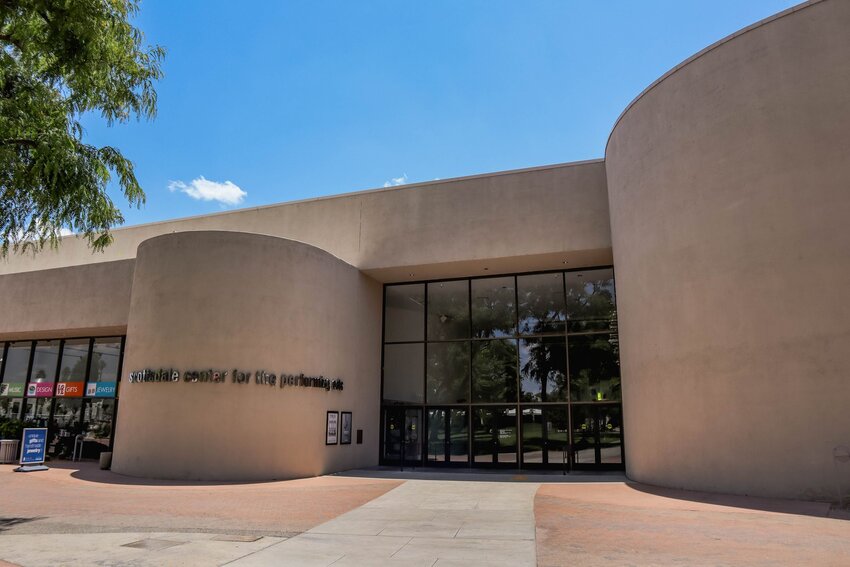 Bennie Gonzales is responsible for designing many Scottsdale landmarks, including the city hall and library which both sit within the Civic Center alongside the Scottsdale Center for Performing Arts. While Gonzales did not apprentice under Frank Lloyd Wright, he credited Wright as his inspiration, encountering Wright at the Arizona Biltmore Hotel when he was eight. At the time Gonzales designed the center, Scottsdale had a tight restriction on building heights to keep as much open space as possible. To get around the height restriction, Gonzales decided to build the theater in the ground while the ground floor entrance leads into a large-scale atrium. As a byproduct, the center's theater has wonderful acoustics since its underground location isolates it from outside noise. The atrium and the art galleries within the center are open to visitors, but the best way to appreciate the space is to enjoy a performance there.
Arcosanti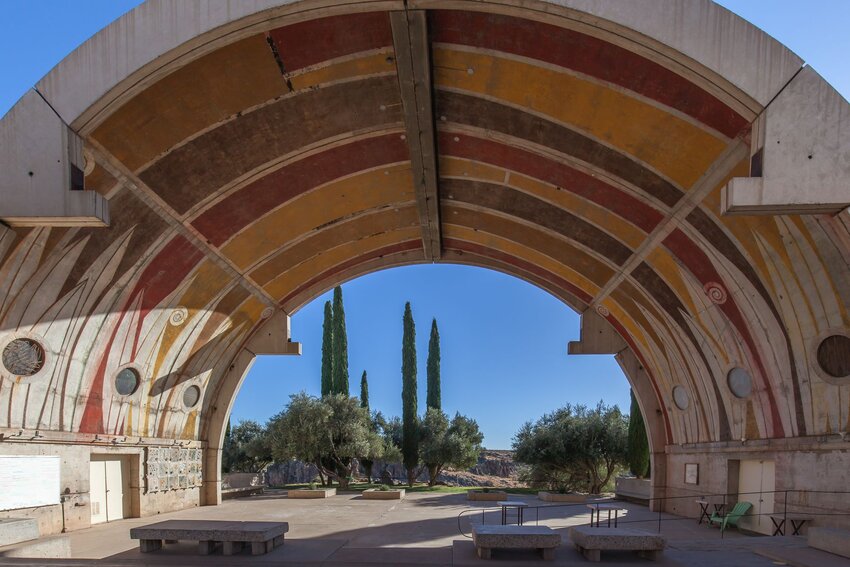 Paolo Soleri founded Arcosanti in 1970 and built the compound using the earth casting and slip casting techniques he perfected at Cosanti. Arcosanti is an example of passive sustainable architecture for the climate, with big volumetric spaces that bring in the breeze. Beyond the architecture, Arcosanti stands as Soleri's work towards "arcology" and this experimental self-sustaining community can house up to 150 people with a gathering space where residents meet daily. Those who live at Arcosanti work for The Cosanti Foundation and live close to nature while the public can visit Arcosanti by taking one of the daily tours or staying the night at the guest rooms, available on AirBnB.

Arizona Biltmore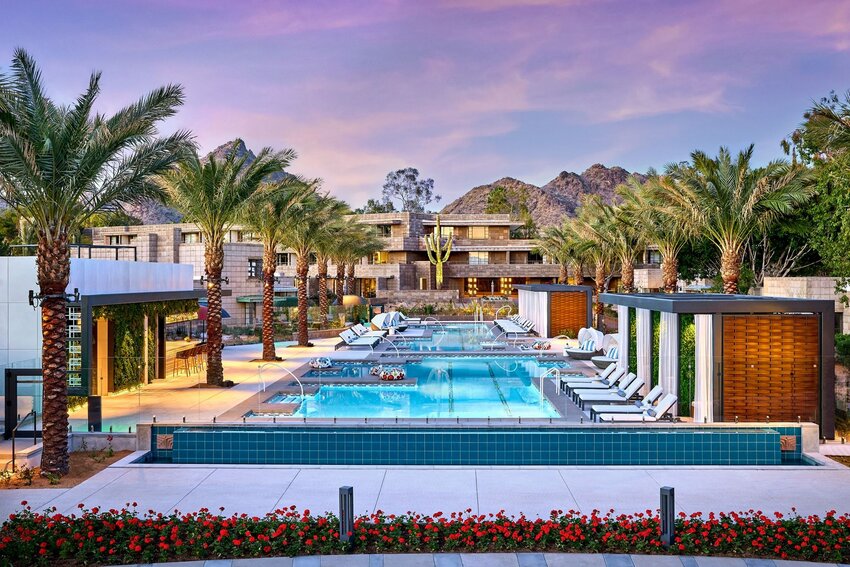 The Arizona Biltmore Hotel was built by Albert Chase McArthur, a Prairie School architect like Frank Lloyd Wright. Wright had built a house for McArthur's father in Chicago and McArthur worked with Wright in the early 1900s. When McArthur was commissioned to build the hotel, he wanted to use Wright's concrete textile block system and Wright was brought in to consult. Wright's design influences led the hotel's design to sometimes be mistakenly attributed to Wright, and the recent hotel renovation added further nods to Wright with stained glass elements throughout the bars. Take a closer look at the patterned concrete blocks by staying at the Arizona Biltmore (now a Waldorf Astoria resort) or by taking one of their history tours.