Churches are among the most stunning architectural wonders in the world. It's nearly impossible to deny the beauty of these hallowed structures, which are often highlighted by their majestic spires and vibrant stained glass windows. But while the design of many churches adheres to a traditional mold, some defy those trends, incorporating strange shapes and natural elements into their construction.
From the United States all the way to Australia, these unconventional places of worship are worth visiting whether you're religious or not. Here are six of the world's most unusual churches.
Rock-Hewn Churches - Lalibela, Ethiopia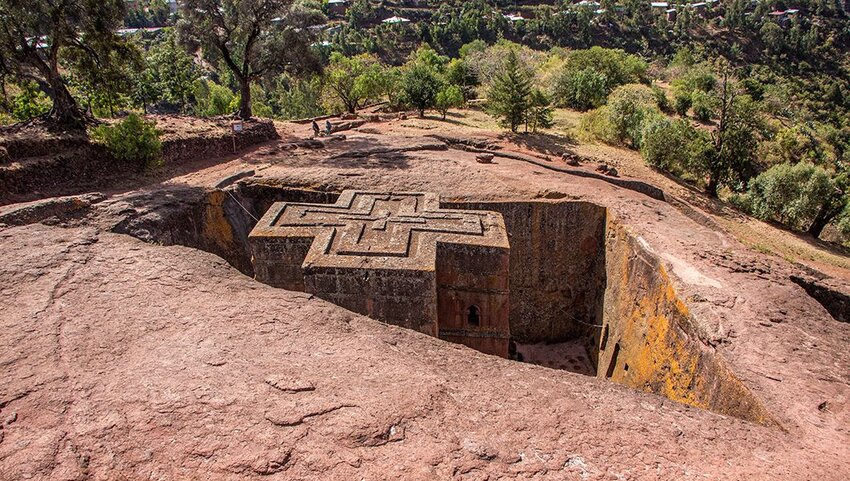 Few religious sites boast a richer history than the churches of Lalibela, located in the north-central region of Ethiopia. These monolithic stone structures date back to 13th-century medieval Africa, specifically the reign of King Lalibela who sought to create a "New Jerusalem." What makes this UNESCO World Heritage Site all the more special is that it's not just one church, but 11, all constructed in a wholly unique style.
Rather than build upwards during construction, builders carved monolithic blocks directly into the earth. These segments were later formed into buildings with doors, windows, and roofs from the existing natural elements, without requiring outside materials. The result was stunning and impressive, as the many churches were connected by an equally amazing trench system that proved to be a true feat of engineering. Perhaps no church at Lalibela is more notable than Biete Medhani Alem, which is large enough to be considered the biggest monolithic church in the world. Despite being located 370 miles outside of Ethiopia's capital city of Addis Ababa, Lalibela remains an eminently holy site frequently visited by pilgrims and tourists alike.
Hallgrímskirkja - Reykjavik, Iceland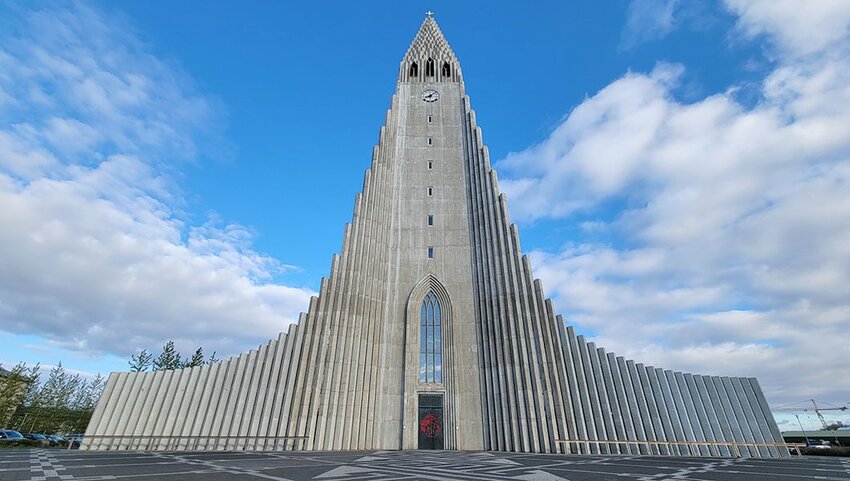 While most churches are built to worship gods, Reykjavik's Hallgrímskirkja was constructed to resemble the tool of a god — namely, the hammer of the Norse god of lightning, Thor. Standing a mammoth 245 feet tall, this largest church in Iceland was built between 1945 and 1986 and is named after 17th-century clergyman Hallgrímur Pétursson. Though it was controversial during its construction, the church has since become one of Reykjavik's most notable attractions, dominating the city's skyline.
Upon arriving at the church, it's hard not to be left in awe looking up at the triangular steeple looming high above. This peak dramatically ascends from two wings that extend outward closer to the ground, forming the look of Thor's hammer if it were situated upside down. But it's not just the Norse god who played a key role in Hallgrímskirkja design — Iceland's incredible natural beauty influenced the construction as well. In fact, much of the church's stonework is meant to reflect the basalt columns that have naturally formed around the country due to the lava flow from its volcanic landscape. So whether you're more fascinated by Iceland's nature or mythology, Hallgrímskirkja is a sight to behold.
St. Samaan Church - Cairo, Egypt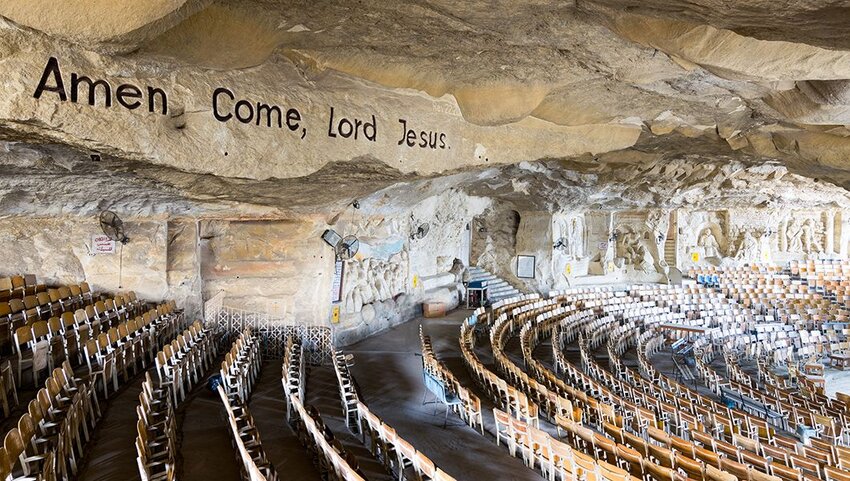 Mokattam Mountain in southeast Cairo became the home of several garbage collectors who flocked to the region in the mid 20th century, many of whom were Coptic Christians seeking to escape poverty and persecution. In doing so, these people created an impressive monastery with an even more stunning cave church contained within; a church that's not only the largest church in Egypt, but all of the Middle East.
In the 1970s, residents of the region began work carving out a monastery nestled within the heart of the mountain. The result was St. Samaan (or St. Simon in English), a monastery where they could freely practice their religious beliefs. The most incredible aspect of the project was the creation of a chasmic expanse to serve as a place of worship for up to 20,000 churchgoers. As the space was hollowed out, stones were painted and carved with important religious stories and scriptures, and sculptures of the Virgin Mary and other religious figures were formed from the natural rock. The eventual result was a church that descends deep into the mountain, though it maintains an open-air rear that opens up to the bright Egyptian sky, perfectly intertwining natural elements such as earth and the air.
Temppeliaukio Church - Helsinki, Finland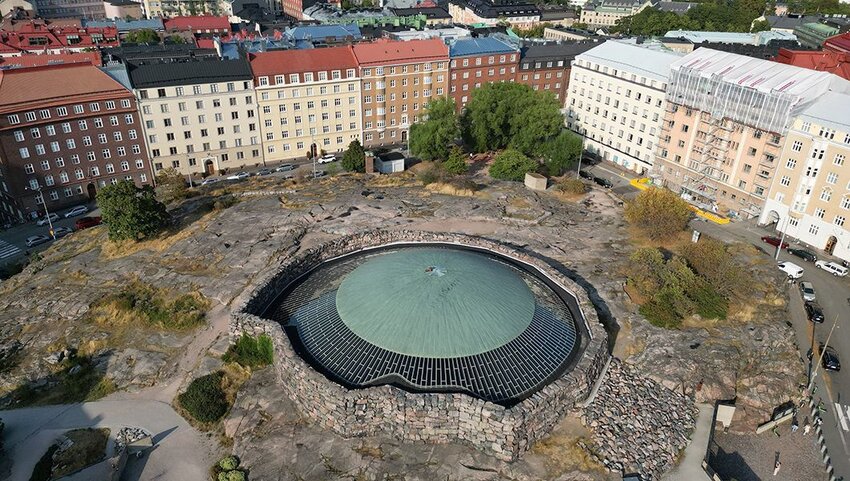 While most churches are known for their gargantuan spires, Temppeliaukio in Finland barely rises above the ground. Completed in 1969 and located in Helsinki's Töölö neighborhood, Temppeliaukio is topped by a massive dome that extends a mere few feet over street level. But contained deep within this domed place of worship is a stunning expanse that highlights the natural beauty of the region.
Set below the looming metropolis of Helsinki, the church's interior is lit by natural sunlight produced from 180 rectangular glass window panels that form a circular border around the roof. Below that glass sits walls of natural rock and rubble that are normally hidden within the city's bedrock, but in this instance are highlighted as key components of this religious center. All in all, Temppeliaukio allows its visitors to feel at one with nature while also connecting with the Lutheran religion.
Serbian Orthodox Church - Coober Pedy, Australia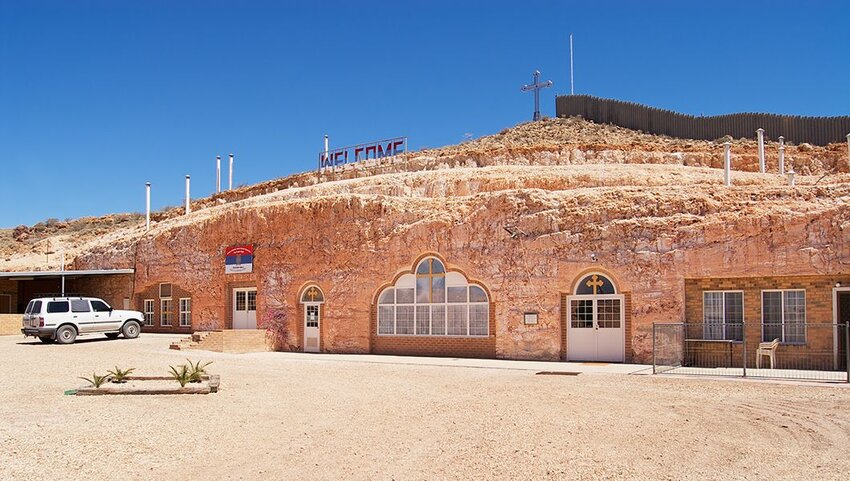 Few places are as brutally hot as Coober Pedy, Australia, and as a result of the region's sweltering heat, many of the town's residents are forced to live underground. A group of Serbian settlers descended into Coober Pedy in 1993, bringing their religion with them and creating one of the most unusual churches in the process.
The Serbian Orthodox Church is carved directly into the Australian sandstone, and is the only Serbian church in the world that's built underground. Though these religious migrants formed the church out of necessity — it's a much more bearable 75 degrees Fahrenheit underground — they also created something spectacularly scenic. This secluded place of worship is highlighted by stunning frescoes carved directly into the rock, and is brilliantly lit by stained glass windows that let in some of the harsh Australian sun. All in all, this unorthodox orthodox church is an architectural and religious marvel.
The Dog Chapel - St. Johnsbury, Vermont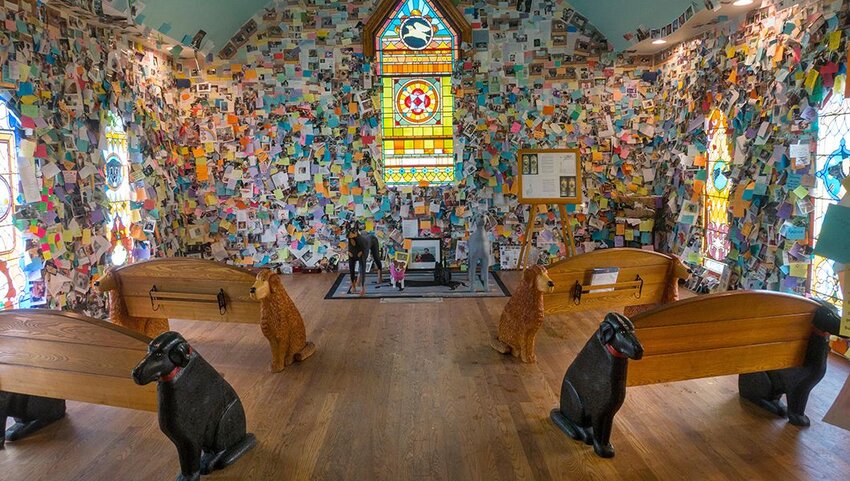 While people may disagree on religion, dogs are almost universally beloved. So it makes sense that in St. Johnsbury, Vermont, there's a Dog Chapel that's dedicated entirely to these adorable furry creatures. While the building itself may boast a traditional design, the interior is the perfect place to pay homage to man's best friend. The chapel was the brainchild of artist Stephen Huneck, who even came up with the appropriate motto, "Welcome all creeds, all breeds, no dogmas allowed."
Highlighted by statues of dogs as well as vibrant stained glass windows depicting dog silhouettes as if they were religious figures, there's simply no other church in the world quite like this roadside attraction. The Dog Chapel sits on the larger Dog Mountain property, a place that's been welcoming dog lovers since it opened in 2000. Despite its kitschy nature, the church offers some visitors a religious experience, as the remembrance wall allows dog owners to connect with their beloved pets from the past.