Orange County, California is most well known to visitors for its miles of dazzling beaches and amusement parks like Disneyland and Knott's Berry Farm. However, Orange County contains so much more than just its naturally stunning geography and its entertainment destinations.
As the fourth largest county in California, Orange County is home to over three million people. And according to the 2021 census, Asian Americans make up a little over a fifth of the population – including the world's largest Vietnamese community outside of Vietnam. As a result, it comes as no surprise that Orange County is also home to many Asian American shopping centers, temples, and neighborhoods. Below are a few of the most interesting landmarks and destinations that make up Asian American Orange County.
Cao Dai California Temple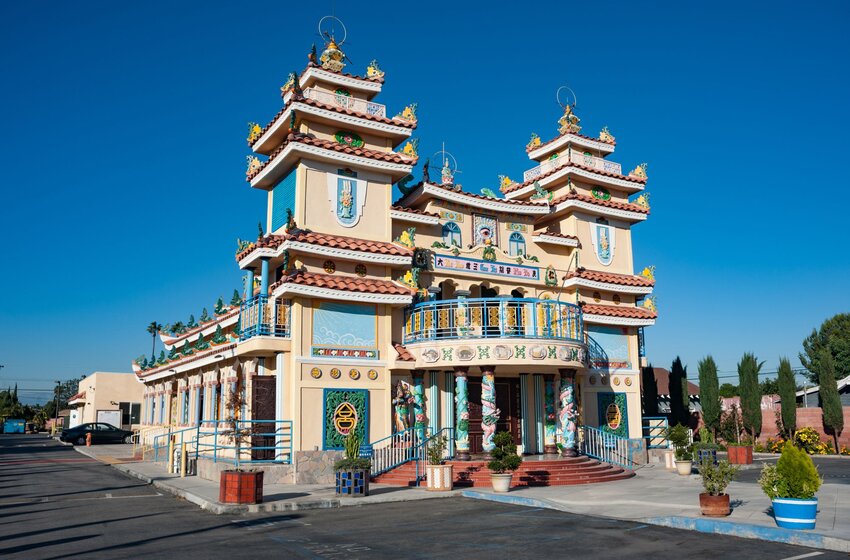 Located in one of Little Saigon's more residential neighborhoods, the Cao Dai California Temple is one of only four Cao Dai temples in the U.S. This temple in particular is based on the Mother Church in Tay Ninh, Vietnam, only a bit smaller. Caodaoism is a mixture of Buddhism, Taoism, Confucianism, and Catholicism, and elements from all of these religions can be found in this temple's design. For example, it has a nave reminiscent of what you'd find in a Catholic cathedral and has the nine ascending levels of Buddhist pagodas. While the temple's open hours aren't listed, you can still view its intricate carvings and paintings along its exterior from the parking lot no matter when you stop by.
Phước Lộc Thọ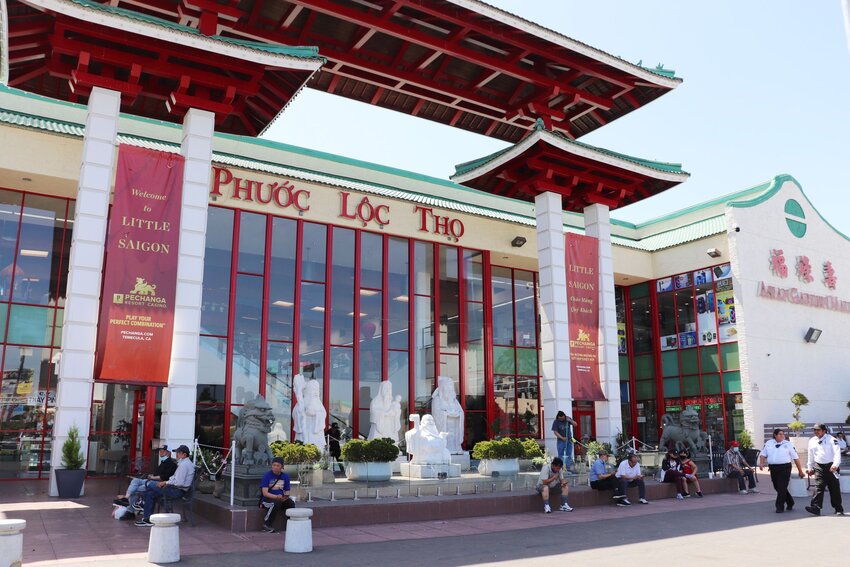 Also found in Little Saigon, Phước Lộc Thọ (aka Asian Garden Mall) stands out from all the other strip malls on Bolsa Avenue because of its impressive architecture – in particular, its green tiled roof, pillars, and statue garden featuring the Sanxing deities and a Buddha. Phước Lộc Thọ is home to dozens of stores selling áo dài (a traditional Vietnamese garment consisting of a long gown worn over trousers), stuffed animals, jewelry, and more. The best part of the mall, though, are the food stalls in the middle of the first floor. There, you'll find a plethora of Vietnamese dishes like phở, bún riêu (a tomato noodle soup), and lá dứa nước (sweet and sticky coconut rice). Also, make sure to bring cash since most of the vendors don't accept cards.
Diamond Jamboree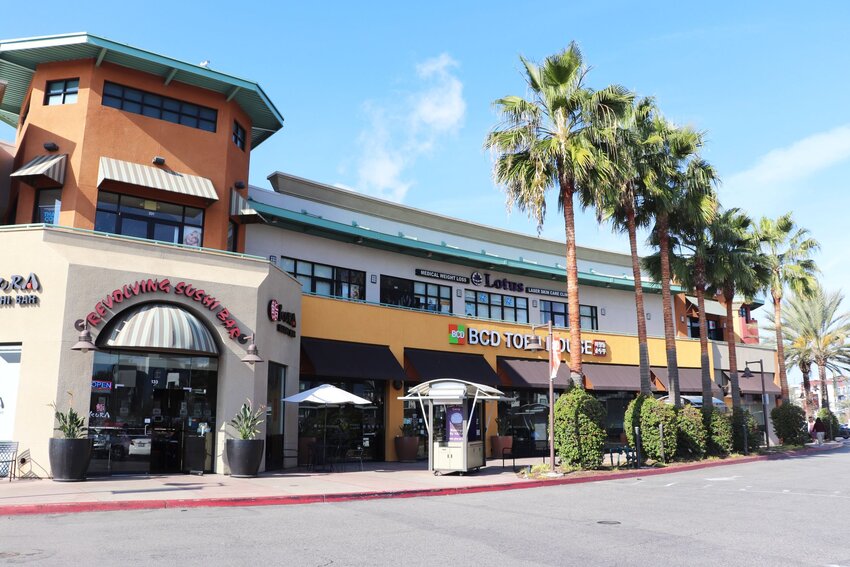 This Irvine shopping center largely features Asian restaurants, many of which are extremely popular in East Asia already, like 85°C Bakery Cafe and Tim Ho Wan. As a result, this place can get super busy, so try to arrive a little bit before lunch or dinner time in order to nab a parking spot. My ideal day at Diamond Jamboree starts with dinner at either Pepper Lunch, a Japanese teppanyaki steak house, or BCD Tofu House, a Korean soondubu spot. Afterwards, I like to grab a bowl of silky tofu pudding topped with taro and yam balls and a milk tea from Meet Fresh before spending the rest of the night at Plush Karaoke Lounge belting out Taylor Swift songs. If teppanyaki and karaoke aren't for you, there's also an escape room, a virtual reality gaming center, a rotating sushi bar, a taiyaki ice cream store, and multiple East Asian beauty boutiques.
Historic Wintersburg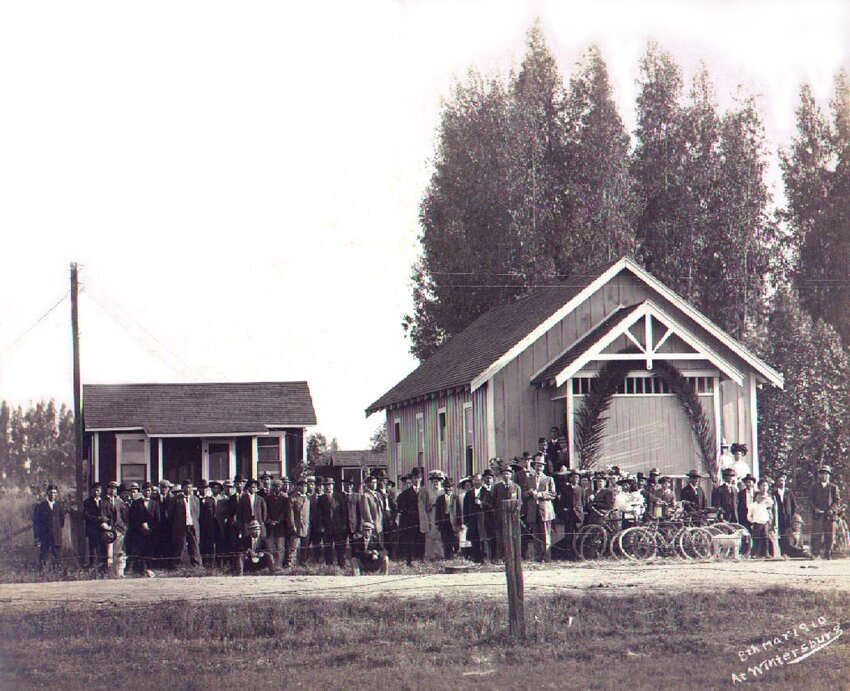 Founded in 1904, Historic Wintersburg is a four and a half acre farm with historic buildings documenting the history of three generations of Japanese Americans. Unfortunately, two out of the six historic buildings burned down in early 2022, including the oldest Japanese American mission in Southern California (the Huntington Beach Fire Department is currently investigating this). However, Historic Wintersburg is still a critical part of the past century of local Japanese American history and serves as a testament to how prevalent Japanese Americans were in California before their WWII incarceration. The site is endangered and not open to the public, but portions of it can be viewed through the perimeter fence.
Noguchi Garden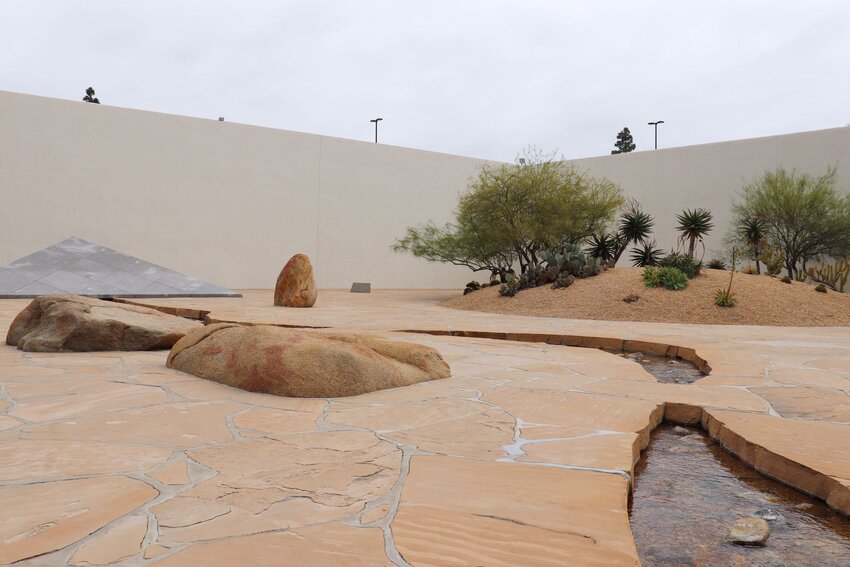 Just a few blocks away from Orange County's luxury mall South Coast Plaza is Noguchi Garden. Isamu Noguchi, a Japanese American artist and the first Asian American artist to be exhibited at the White House, designed this minimalist space surrounded by office buildings. Filled with succulent gardens, a small stream, and neutral-toned boulders, the garden, open daily from 8:00 a.m. - 12:00 a.m., is a soothing space for visitors and is a perfect example of Noguchi's work as a landscape architect. After your visit, drive down the road to Mitsuwa, a Japanese supermarket with a food court and boutiques. In particular, I recommend Santouka Ramen's shio ramen for lunch and then either the matcha or black sesame soft serve from Matcha Love for dessert.
Orange County and Southeast Asian Archive
In the 1980s, a group of Southeast Asian Americans in Orange County suggested to UCI Libraries that there should be a space to preserve the history of the Cambodian, Laotian, and Vietnamese diasporas. Together with one of UCI's research librarians, community members helped found the Orange County and Southeast Asian Archive in 1987 with the goal of documenting the experiences of Southeast Asian refugees and immigrants. Today, the archive is occasionally open to the public for exhibitions and programming and is a great space for researchers. Before you stop by, be sure to check their website to see what exhibit or events they have at the time of your visit and what their current hours are.
Sri Siva Kameswari Temple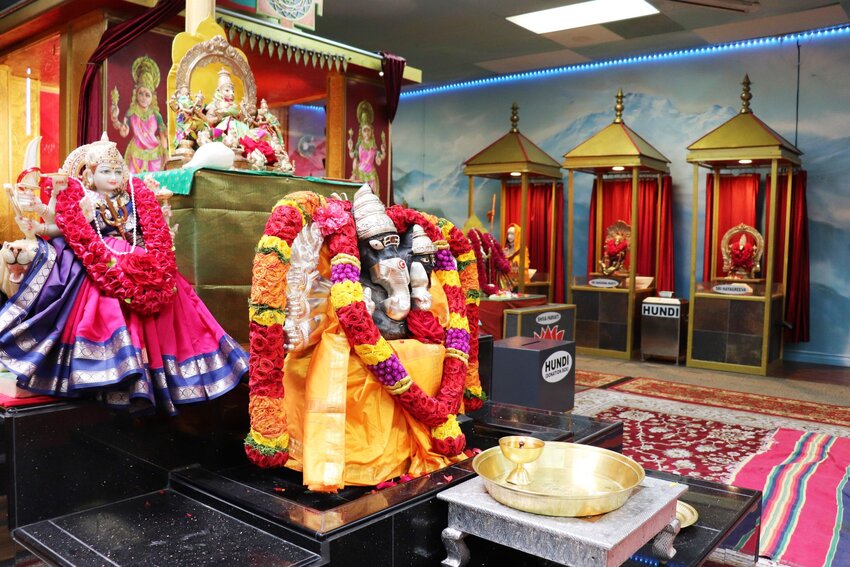 Located in an office park near John Wayne Airport, Siva Kameswari Temple touts itself as "Orange County's Vedic Spiritual Center" and is a great spot for visitors to learn more about Hinduism or for Hindu visitors to worship. This temple provides a venue for all to connect to their choice deities and is open both in the morning and afternoon for worship.
The Source OC
Just down the road from Knott's Berry Farm, The Source OC is the local spot for shopping and dining for fans of Korean culture. The center features three floors' worth of Korean restaurants, clothing boutiques, stationery shops, K-pop memorabilia stores, and the Korean movie theater chain, CGV. My favorite places to visit here are Aritaum for Korean beauty products, K-place for stationary, and Flippoly for their fluffy Korean-style egg sandwiches (make sure to try the bacon cheese one). If you visit on the weekend, head to the main courtyard and you may find K-pop dancing performances, art exhibitions, taekwondo demonstrations, or locally-owned vendors selling jewelry, dry bouquets, and coffee.

Tanaka Farms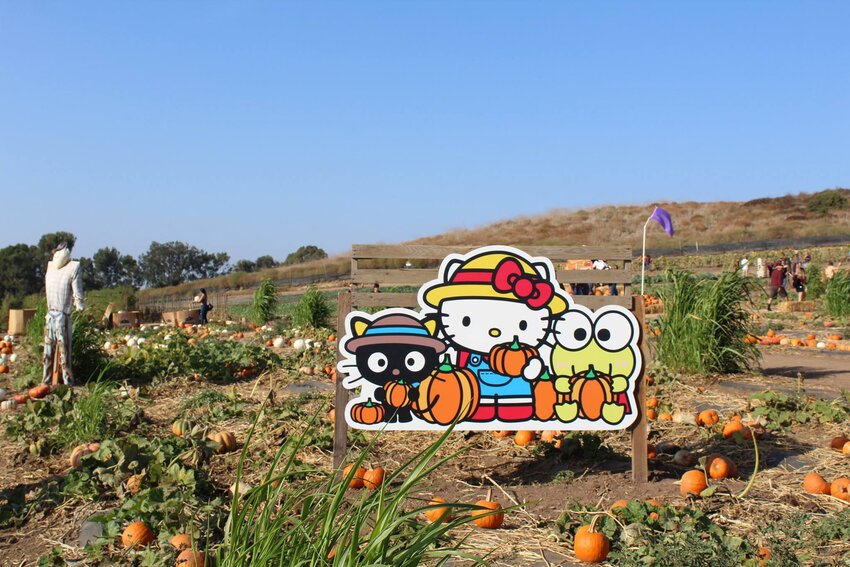 Before World War II, many of the West Coast's most valuable farms were run by Japanese Americans. However, due to their incarceration during WWII, many Japanese Americans chose not to return to California, having had their property and livelihoods stolen from them, and it's now harder to find Japanese American farms on the West Coast. Luckily, Irvine still has Tanaka Farms, which is open to the public for tours, vegetable and fruit picking, and seasonal events like light festivals and Sanrio holiday pop-ups, including when their pumpkin patch gets decorated with Hello Kitty and her friends for Halloween.