Nova Scotia is a peninsula on the east coast of Canada that includes the Bay of Fundy, one of the official Seven Natural Wonders of North America. The province is modest in size — about 360 miles long and 80 miles wide — but has over 8,000 miles of coastline and features an amazing array of natural attractions, including many that aren't widely publicized. A short list of these ecological, geological, and environmental treasures includes the world's highest tides; a tidal bore; 12 species of whales; five nature UNESCO-designated sites; two biospheres; three national parks; two designated dark-sky areas, and a boreal rainforest.
100 Wild Islands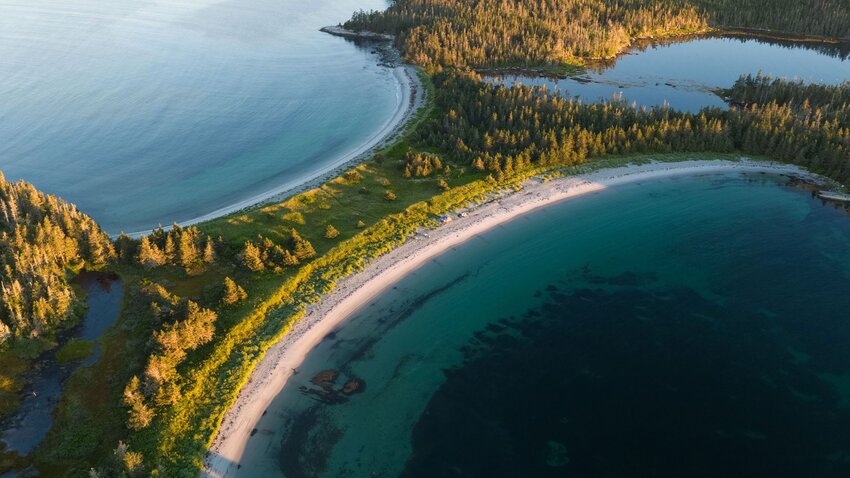 100 Wild Islands is one of Nova Scotia's best-kept secrets. Located off the Eastern Shore, this series of 282 islands covers 7,000 acres and 150 miles of shoreline that have gone untouched for more than 10,000 years.
With inviting white sands, emerald-green waters, a rainforest, bogs, barrens, sheltered coves, and steep cliffs that seem more Caribbean than Canadian, it's almost difficult to believe you're still in Nova Scotia. Marine life is everywhere you look, and crystal clear waters reveal fish, lobsters, clams, muscles, and sea plants right beneath your oars. Vegetation is incredible and includes every coastal ecosystem along the province's Atlantic Coast, including the carnivorous northern pitcher plant and boreal felt lichen. Over 100 species of birds call these islands home.
Borgles Island and sandbars are a favorite for visitors, as are Wolfe's Island, Middle Island, and the boreal coastal rainforest near Shelter Cove. The 100 Wild Islands Legacy Campaign accepts donations, and its website hosts videos and photos of what to expect during a visit. While the area can be difficult to walk, there are developed hiking trails and boat tours, and kayaking and snorkeling adventures are also available.
Sable Island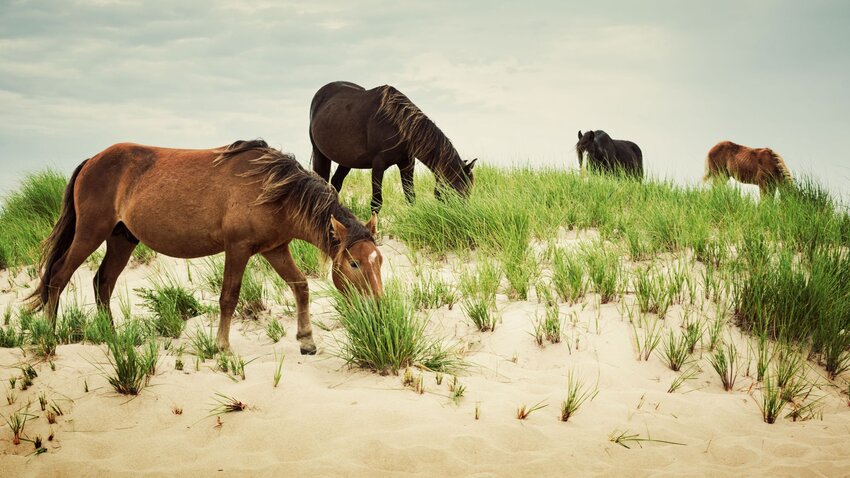 This crescent-shaped, treeless island is about 100 miles off the Nova Scotia mainland. Aside from a small group of government employees, the only inhabitants are its famous herd of wild horses and the world's largest colony of breeding grey seals. The island is small — less than a mile wide and 25 miles long — which partly explains the more than 350 shipwrecks along its sandbars. Some sources claim the number is closer to 500, with approximately 10,000 lives lost since its discovery around 1520, earning it the nickname "Graveyard of the North Atlantic."
The Gulf Stream influences the temperature, which remains warmer than the rest of Nova Scotia but is susceptible to weather extremes, including year-round tropical hurricanes. The white sands and emerald-colored water will seem inviting, but there's no swimming as the coast is patrolled by 18 species of sharks.
Sable Island is only accessible with government permission by air or water between June and the end of October. Tours must be booked in advance and depend on perfect weather conditions, and you'll be ferried to shore on an inflatable dinghy. There is a small risk of being stranded overnight, as even the most modern weather tracking systems are sometimes no match for Nova Scotia's heavy fog and unpredictable storms.
Joggins Fossil Cliffs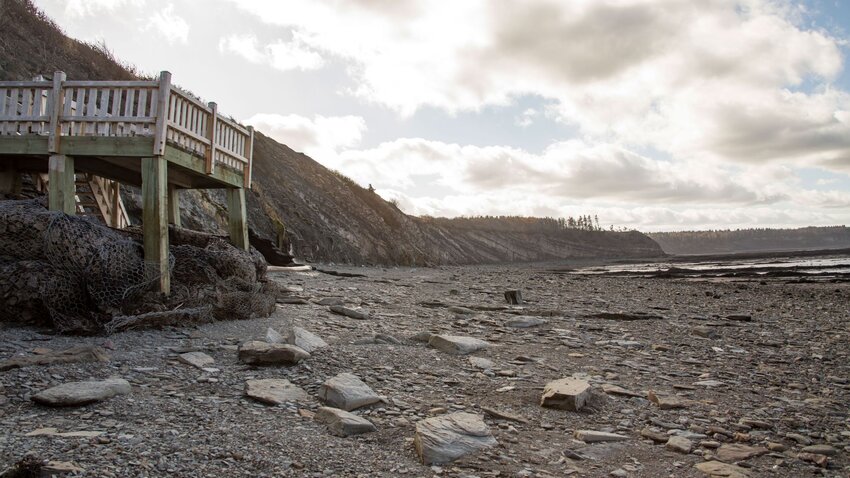 The Joggins Fossil Cliffs are located along the Cumberland Basin on the Bay of Fundy. The cliffs are a UNESCO World Heritage Site known for its fossil record dating back to the Carboniferous Age (Coal Age), 300 million years ago. It's considered the most comprehensive and complete terrestrial fossil record of that period.
There are millions of fossils representing three ecosystems, including an ancient rainforest and almost 200 species of plants and animals represented along the nine miles of coastline. It's a remarkable site, documenting the period when animals first ventured out of the water onto land. It was here that early geologists found the first "true" reptile, Hylonomus lyelli. These small creatures were about eight inches long and evolved into dinosaurs over the next 100 million years — quite an evolutionary success story by any standard.
Visitors can expect to see large, upright lycopsid trees on display in the face of the cliffs, fossilized plants, and reptile and amphibian footprints. It's not uncommon for people to discover fossilized remains of other animals, either. Every three-to-four years, the strong tides of the Bay of Fundy wash away the face of the cliffs, revealing a new cache of fossils.
Balancing Rock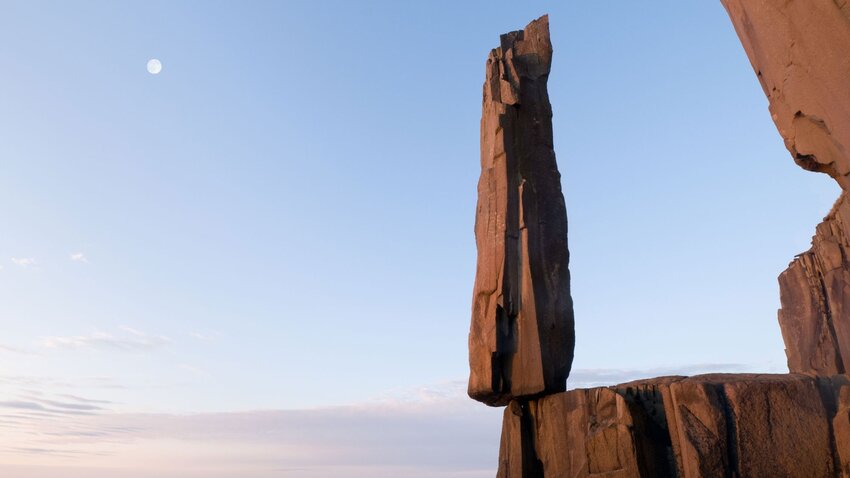 On Long Island, Nova Scotia, you'll find an amazing natural attraction called Balancing Rock. The rock is a gravity-defying column of basalt on the cliffs of St. Mary's Bay in the Bay of Fundy. While interesting rock formations aren't uncommon in Nova Scotia, most change or are destroyed over time — but not this one. Its grasp has defied even human efforts to remove it from its perch.
Locally, it's promoted as "Nature's Time Post" and is the most photographed of Long Island's basalt formations. Visitors have to travel by ferry to get there, and there's a very well-maintained 1.5-mile hiking trail. However, there is a 235-step climb to get to the platform, though the view alone is worth the effort if your knees are up for it. Between the stairs and Nova Scotia's unpredictable weather, it might be a good time to heed your grandmother's warning to wear sensible shoes and take a sweater.
Burntcoat Head Park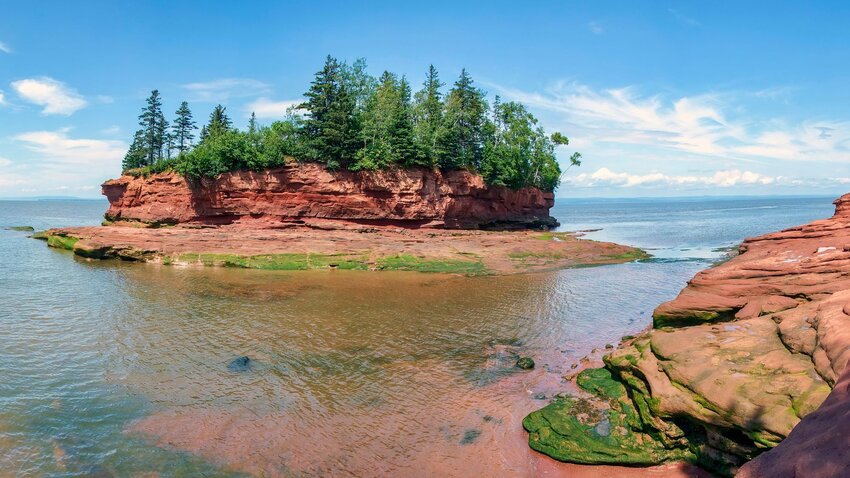 Burntcoat Head is on the Minas Basin, an inlet of the Bay of Fundy. It's in the community of Noel, which you'll want to remember because that's probably the only thing your GPS will respond to. The Guinness World Records credits Burntcoat Head with the highest mean tide range in the world at 47 feet, six inches. For visitors, this means the chance for a fantastic day of tide watching and exploration along the ocean floor. At low tide, you can observe many species of vegetation and animal life from several ecosystems both along the shore and trapped within tidal pools. Barnacles, slipper limpets, horse mussels, and moon snails are common. Five types of crabs and several species of fish are regularly trapped in the tidal pools, and pieces of ocean sponges often wash up on shore. Burntcoat is also home to the Atlantic Mud-piddock, a threatened species of mollusk known as "fallen angel wing" and found only in the Minas Basin, so be careful where you step.
Burntcoat Head is rich with fossils left behind by animals traveling the Triassic Lowland Region millions of years ago. Partial skeletons of both a Dicynodont and a Teraterpeton have been found there. People often find fossils, but collecting them without a permit is illegal. If you discover a fossil, take a photo, note the location and contact the Fundy Geological Museum for identification.
Burntcoat Head is open May to October from dawn to dusk. Taking a guided tour is recommended, but if you're exploring on your own, check the tide times carefully, as the tides come in at an inch per minute. Getting down to the flat shoreline can be tricky as the ground is soft and slipperier in some areas, making proper footwear essential. Rubber shoes or boots are good options, but not sandals or flip-flops. Be sure to take advantage of the fountain to rinse your footwear before getting into your car, too; the shore's red mud will stain anything it touches and stay there forever.
Nova Scotia Tidal Bore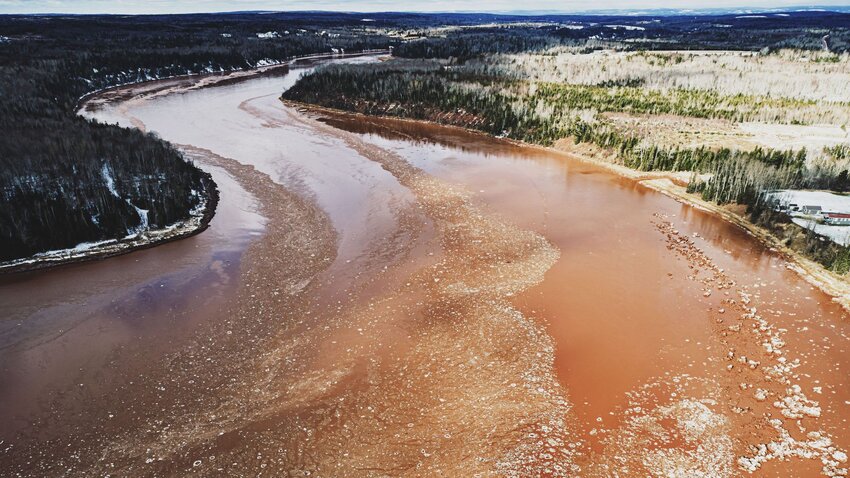 One of Nova Scotia's most popular attractions is the Tidal Bore, a phenomenon where tides roll in with one surge so strong that it reverses the flow of rivers as it enters. This can be observed from many small rivers connected to the Bay of Fundy, but two areas developed for tourists include Salmon River in Truro and the Shubenacadie River near South Maitland.
Watching the Tidal Bore come in is a memorable but tame activity that adventure-seekers can take to the next level with tidal bore rafting and mud sliding. There are 60 Tidal Bores worldwide and the Shubenacadie River is the only one where you can go tidal bore rafting.
Cabot Trail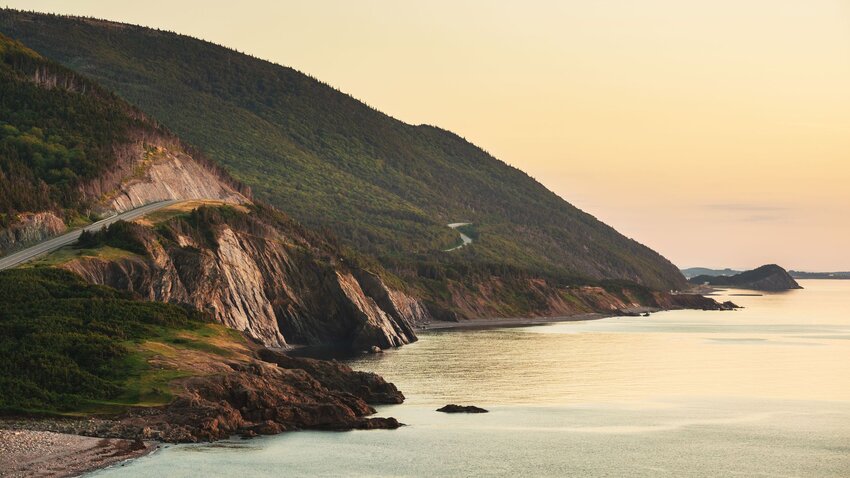 The Cabot Trail on Cape Breton Island is considered one of the world's most scenic destinations, especially breathtaking in the fall when leaves change color. The trail is a winding loop of highway that travels along the coastline, passing by cliffs and through highlands, offering unbelievable views of wilderness and valleys. The drive is 185 miles long and takes five hours without stops, but you'll definitely want to pull over a few times for the sheer amount of what you can see and explore.
Just outside of Baddeck is Uisge Bàn Falls (pronounced "Ish-kah-bahn"). Visitors have to walk about one mile to see the 50-foot waterfall cascading into a fantasy-like stream surrounded by moss-covered rocks and hardwood forest.
The Skyline Trail is a looping hiking trail just over four miles long on the western side of the Cabot Trail. It offers a dramatic view of the Cabot Trail and the Gulf of St. Lawrence, where the sunsets are the stuff of legends. Visitors can watch for whales along the viewing decks as well as spot moose, bears, bald eagles, and boreal birds.
The trail is well designed and considered easy, but anyone with mobility issues might want to take advantage of the viewing platforms and benches when possible. Dogs are not permitted because their presence agitates moose and bears — and no one wants to deal with an angry Canadian moose.
The Ovens Natural Park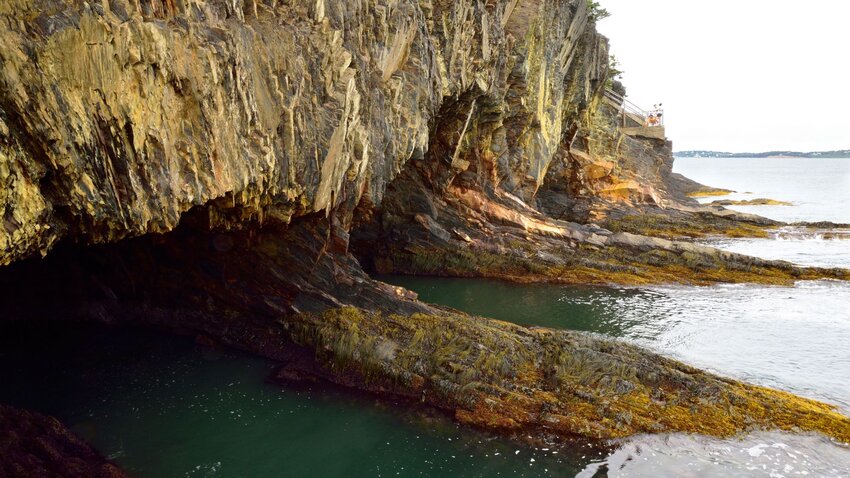 The Ovens is a group of sea caves in Feltzen South, (a village in Lunenburg County) most famous during the 1861 gold rush. The area is privately owned, featuring 190 acres of pristine coastal forest, and the best way to explore it is by kayak (though tours must be booked in advance). There are popular walking trails, but be prepared for stairs, and keep in mind that this is a private area and therefore requires a fee to enter. The park also may not be open during certain times, so check ahead before making plans. Visitors can also pan for gold if they arrange to do so before arriving.
The Three Sisters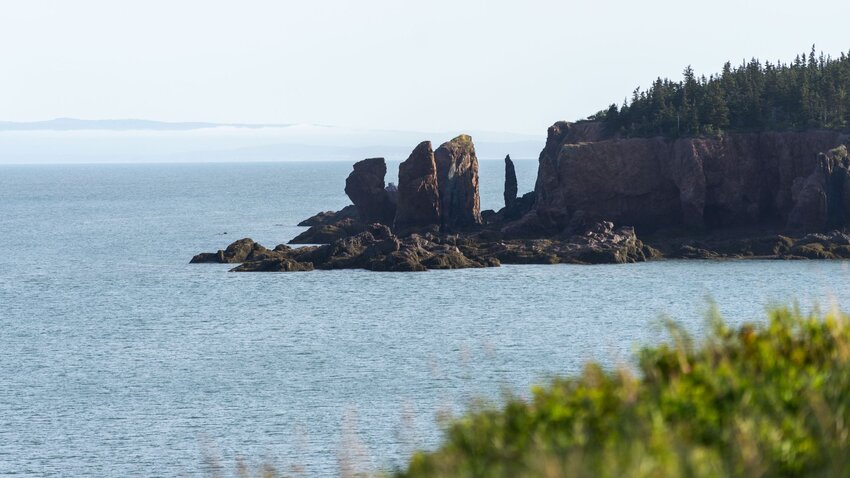 The Three Sisters are located in Cape Chignecto Provincial Park, Advocate Harbour. These unique rock formations are the focus of several Mi'kmaw legends, and one story credits the formations to Glooscap, who became annoyed with his sisters and turned them into the stone figures visible today. The legend is supported by the fact that there are face-like features on the stone. The walk to see the Three Sisters is easy for all family members, though the view by kayak is much better — where a fourth "sister" can be seen from the water.