Glassy lakes, heather-shrouded peaks, and swathes of silky beaches are what greets travelers to County Sligo, a majestic slither of Ireland's Wild Atlantic Way.
County Sligo is framed by the emerald-green Dartry Mountains and a dramatically craggy 120-mile coastline. Home to Megalithic sites, a buzzy surf culture, and riddled with cozy pubs — where you'll hear the sound of fires crackling and soothing trad music — Sligo lies at the intersection of nature and the arts.
From beautiful mountain hikes to shucking oysters right on the shore, here's what you need to know about visiting the enchanting County Sligo.
Best Time to Visit Sligo & What to Pack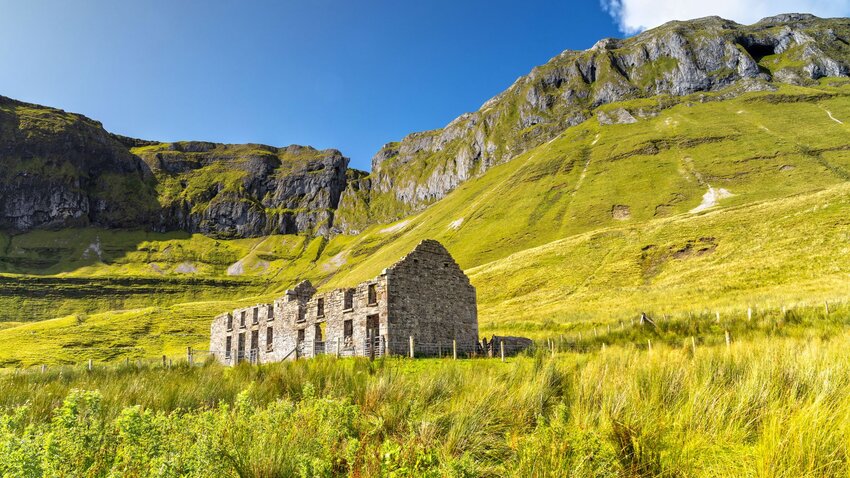 Summer is the best time to visit County Sligo, when all of the region's attractions are open and the climate is at its mildest. Summertime weather is changeable, though; you might find the temperature cool one day and humid the next, creeping up to 75 degrees Fahrenheit and dropping to 50 just 24 hours later. Either way, you'll want to enjoy time on Sligo's many satin-soft beaches.
If you're planning on getting into the water to surf, swim, paddle board, or kayak, pack swimwear, including a wetsuit and aqua shoes if you own them. You could also rent a wetsuit in Strandhill.
Showers roll in from the Atlantic Ocean with little warning. Pack a waterproof coat, warm, comfy layers, and hiking boots if you plan to cover ground on some of Sligo's spectacular mountains.

How to Get Around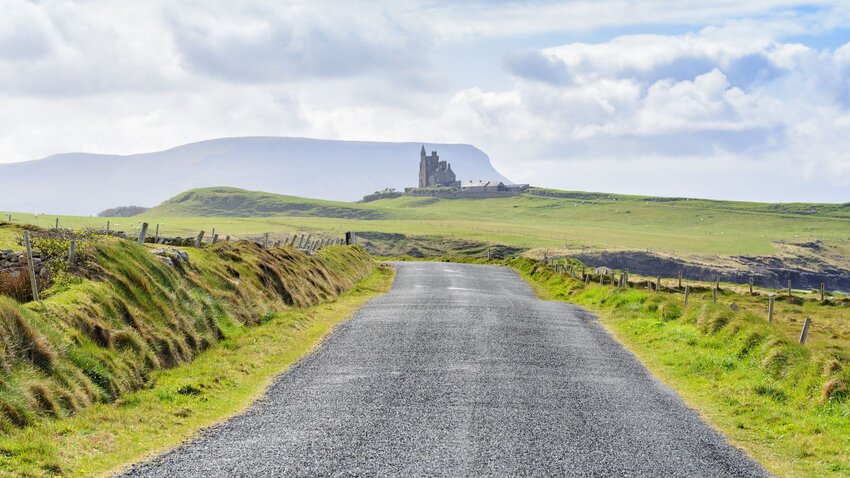 County Sligo's biggest draw is its dramatic landscape, and the best way of getting around it is by car. You can rent one upon arrival at one of Ireland's many airports – Ireland West Airport Knock is a 50-minute drive south of Sligo, Dublin is 2.5 hours southeast, and Shannon is 2 hours 20 minutes south.
If you're combining your time in Sligo with a visit to Dublin, you can use the regular bus or train service, which operates between the two cities. But you'll still want to rent a car when you arrive in Sligo to give you the freedom to drive around while you're here.


Places to Go & Where to Eat
Sligo Town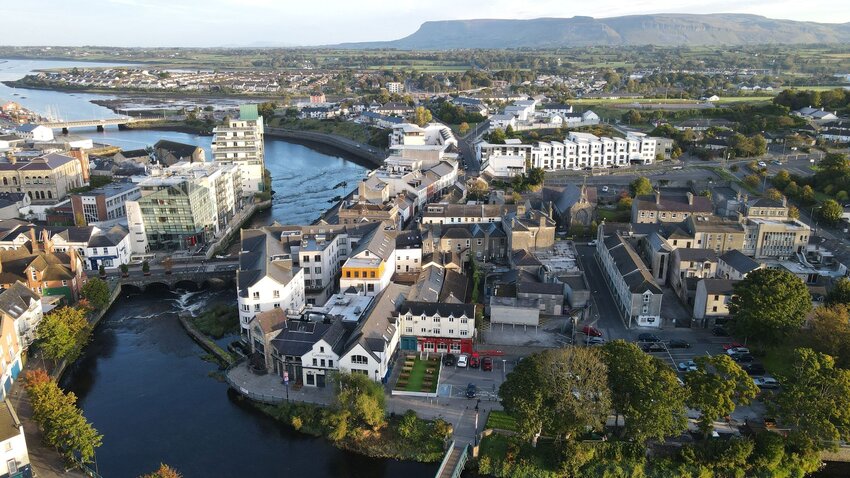 Sligo Town is the center of Yeats Country, the affectionate nickname given to Sligo in honor of the famous poet, William Butler Yeats, whose adoration of the county flowed through his writing. Sligo has the feel of a small city rather than a town — compact and easy to get around on foot, it's packed with nooks and crannies to explore. The Garavogue River, feeding Lough Gill from the Atlantic Ocean, cuts through the city with a scattering of bars and restaurants lining the waterfront.
Begin your discovery at The Model, one of Ireland's best contemporary art galleries. You could lose several hours wandering around its melody of exhibitions and artists' studios, featuring works by Jack Butler Yeats, Norah McGuinness, Dorothy Cross, and Alice Maher. On a rainy day or snug evening, watch an Irish or international indie movie or take in some live music from a mix of scheduled contemporary and classical performances.
Stop by P.F. Dooney & Son, a traditional Irish knitwear shop on O'Connell Street to pick up a cable knit aran jumper that will last a lifetime. Then browse the myriad of pantry items and fresh produce at Cosgrove & Son, a delicatessen on Market Street that's been around since 1898.
Save the best for last: A malty pint of Guinness and creamy bowl of seafood chowder at Hargadon Bros, an 1868-established pub on O'Connell Street where that chatter of locals is punctuated with the sound of clinking glasses.
Mullaghmore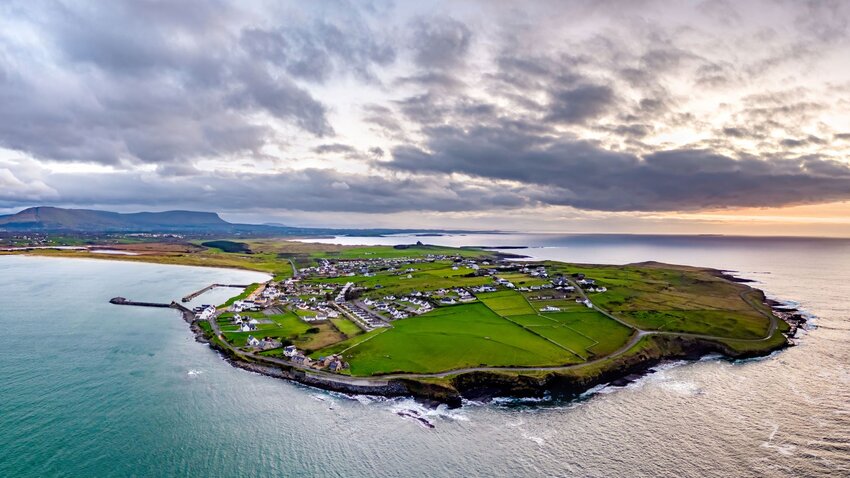 This charming fishing village in north Sligo is famous for its curving golden shore, natural swimming pool, and traditional harbor. Mullaghmore's almost two-mile-long beach is flanked by steep sand dunes and a backdrop of the hulking, flat-topped Ben Bulben, part of the Dartry Mountains range.
Mullaghmore is one of the best places in Sligo to enjoy a swim in the ocean. Even during summertime, you may find you have this remote, golden beach entirely to yourself. Join locals cooling off during summer's warmer days by jumping off the edge of the harbor's wall into the ocean.
If you're keen to explore Sligo's diverse marine life, join an exhilarating scuba diving or fishing trip from the harbor with Offshore Sea Fishing Mullaghmore, which operates two- and seven-hour trips. Cod, mackerel, pollock, ling, bream, and even skate are among the fish you might encounter or reel in. The endangered basking shark and playful dolphins have also been spotted in the waters of Mullaghmore and Sligo Bay in recent years.  
Sligo's seafood offering is never ending and Eithna's By The Sea in Mullaghmore Harbor is top billing. Inside, cozy tables for two and larger seats for groups are perfect for cooler days. On a warm day, take a seat outside and enjoy a decadent lunch of buttery lobster Thermidor and plates piled high with fresh crab claws, mackerel, mussels, shrimp, and more lobster.
Afterward, walk the short distance to Mullaghmore Head to soak up the soul-soothing coastal views that stretch across Donegal Bay. Looking south (towards Sligo Town) spot the late 19th-century Classiebawn Castle with its single turret in the distance.
If you're in the mood to trot along the shore, book a horse-riding session with ​​Island View Riding Stables. Located in the nearby village of Grange, riders are taken onto the hauntingly beautiful Streedagh Beach. When the tide is out, you can see the remains of a Spanish Armada shipwreck that has lain on Streedagh since 1588.

Strandhill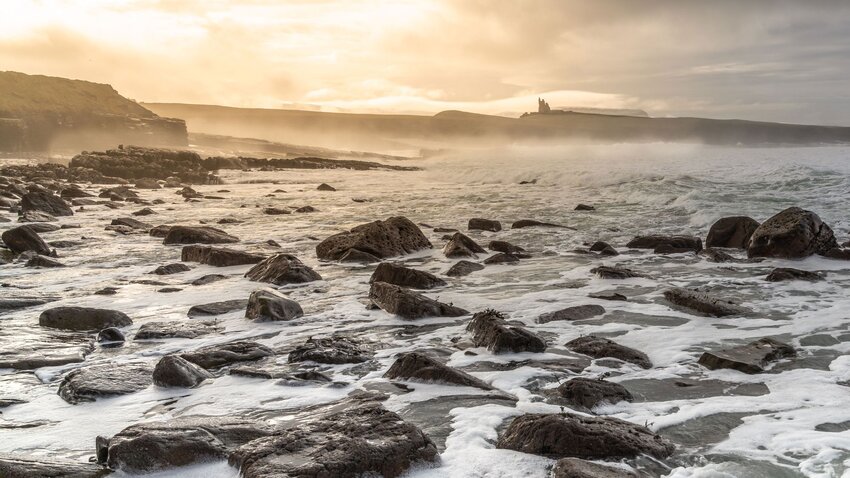 During a vacation to County Sligo, you'll likely make several visits to Strandhill's buzzy shorefront. This seaside town on the Coolera Peninsula features a creamy-colored beach backed by wispy sand dunes and a links golf course. Make your first port of call Shells Cafe for breakfast where you can choose between things like Buddha bowls, breakfast burritos, and sweet vanilla pastries covered in chocolate. Part cafe, part organic grocery store, and part gift shop, pick up a selection of Irish cheeses, smoked salmon, locally-made chocolates, and roasted coffee beans, among ceramics, jewelry, and artwork.
One of the biggest draws to Sligo is its wild Atlantic waves. The county is known for having the most consistent swells in Europe, making it the perfect destination to learn the basics of surfing. Strandhill offers a couple of schools that provide lessons and rent out wetsuits and boards.
After an energizing surfing tutorial or breezy beach walk, indulge in a seaweed bath at Voya in Strandhill's waterfront. The restorative treatment involves first stepping into a relaxing steam room before slipping into a tub of hot water and organic, hand-harvested seaweed plucked straight from the Atlantic Ocean. One of the best souvenirs to take home from Sligo is a box of Voya's dried and packaged detoxifying seaweed, which can be purchased from the spa.
At this point, you'll have worked up an appetite from the surf and seaweed. On Sundays, the vibrant Strandhill People's Market is a must-visit for delicious street food, live music, and craft stalls, located within Hanger 1 of Sligo's barely used airport (there are no scheduled flights here).
You could also book a group or private trip to join Sligo local Aisling Kelly Hunter on an oyster safari for an experiential gourmet trip to Coney Island, which lies between Strandhill and Rosses Point in Sligo Bay. You'll visit a working oyster farm to see the oyster beds, learn how oysters are harvested, and how to shuck them before slurping on fresh Sligo oysters. For a sweet finish of hot waffles or velvety ice cream, enjoy dessert at the charming Mammy Johnston's on Strandhill's seafront.

Lough Gill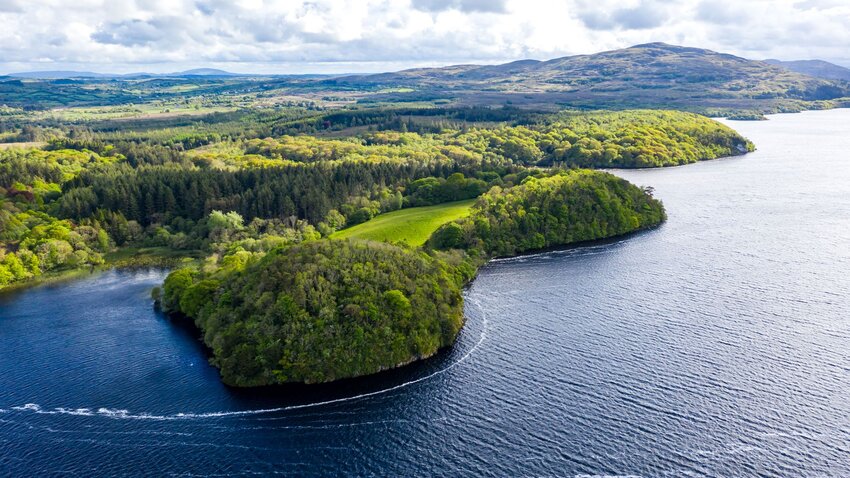 Surrounded by thick, fern forests and hills carpeted with wild gorse, Lough Gill is a magical place to hike, swim, and spot local wildlife, including herons, cormorants, otters, and deer. Forage for wild garlic, sorrel, and mint or simply breathe in the fresh air and peaceful energy all around.
Lough Gill and its calm, inky water calls out to be kayaked. Join Sligo Kayak Tours on a small group trip to glide by Cottage Island, also known in local folklore as Beezies Island. Break for cups of hot tea and coffee generously dished out by your guides.
Whether you're a whiskey aficionado or not, Athrú — a small-batch distillery producing triple-distilled, single malt whiskey on the banks of the Garavogue in Hazelwood — is a must try. While visitors to Sligo are not currently able to tour the distillery just yet, plans are underway to open to the public in the coming months. You can sample the whiskey at Foleys, a store specializing in whiskey and other drinks, on Sligo's Castle Street.

Lissadell to Rosses Point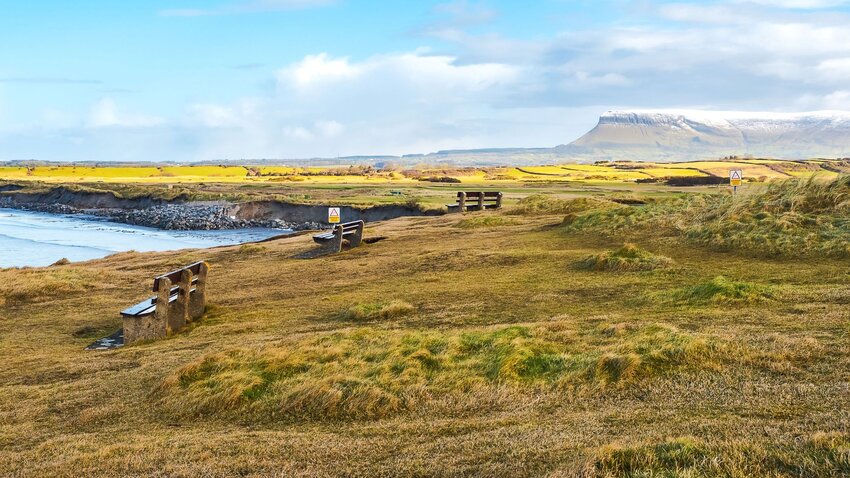 Winding, single-track lanes lead around the crags of Sligo's jagged coastline between Lissadell and Rosses Point. It's a 10-mile horseshoe loop, with Lissadell and its near-hidden beach facing the north side of Rosses Point. This stretch of Sligo is perfect to cover in a day, or even half-day if you have less time.
Begin at Lissadell House and Gardens to get a real sense of Sligo's historical links to the Gore-Booth family, including politician Constance Markievicz, a revolutionary leader of Ireland's 1916 Rising, a suffragist, and the first woman elected to British Parliament.
Now a private residence, visitors are welcome to visit during summer to explore the glorious grounds. Once you've explored the house on a guided tour, wander among the blushing Alpine Garden, a divine space with a lawn sloping towards the shore, and the plentiful walled Kitchen Garden.
From Lissadell, make your way south to Rathcormac via St. Columba's Church in Drumcliffe, which lies in the shadow of Ben Bulben mountain. The church was built in the 1840s by Sir Robert Gore-Booth of the Lissadell Estate and is the final resting place of W.B. Yeats. (His gravestone is located near the entrance of the church.) Pop into the Teach Bán Gallery & Art Centre, located in a whitewashed building at the entrance to the churchyard to browse the works of wonderful Irish artists, with photography, jewelry, and paintings available to purchase.
Time your visit to coincide with Rathcormac Craft Village, a wonderfully vibrant market open every Saturday that celebrates Sligo's creative artists and makers, with traders selling a variety of antiques, art, jewelry, and crafts.
Following a morning packed with art and culture, loop around to the Blue Flag Rosses Point Beach. Throw down a towel or a blanket and relax to the sound of the sea. It's safe to swim here so pack your swimsuit for a dip.
Once you've dusted the sand off, step inside Rosses Point's Fish & Bean, a pared-back seafood cafe at Sligo Yacht Club. Share plates of seared scallops, Coney Island tempura oysters, and crispy squid as you listen to the wild Atlantic waves beating on the shore.

Queen Maeve Trail & Carrowmore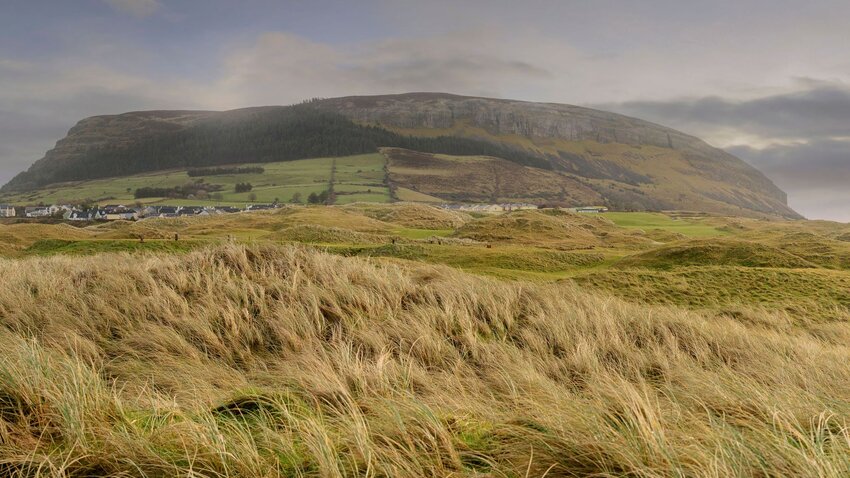 Stop by Carrowmore to witness the extraordinary sight of some of Ireland's oldest and largest megalithic tombs, in the Cúil Írra Peninsula near Strandhill. There are 30 ancient tombs in total, plus forts and standing stones, the oldest thought to be around 6,000 years old.
Hike through open farmland, fir and pine trees, and grazing sheep to reach the summit of Knocknarea, a limestone mountain also near Strandhill. Legend has it that the cairn of stones at the top of Knocknarea is the Megalithic tomb of the heroic Queen Maeve. The 1,050-foot mountain trail takes around 2.5 hours and offers stunning views of the Ox Mountains, Lough Gill, neighboring Donegal, and the North Atlantic Ocean.

Where to Stay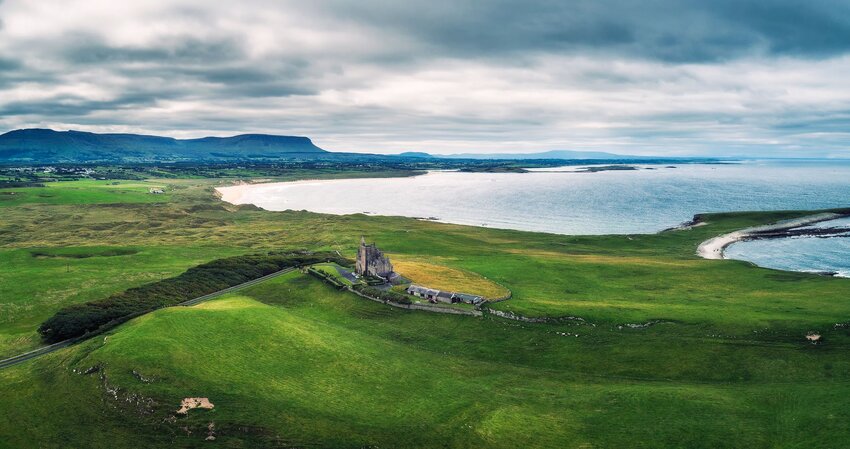 The Driftwood, a handsome boutique abode in Rosses Point, makes for a delightful base, within easy access to Sligo Town, Strandhill, and Mullaghmore. Spaces are warm and welcoming, with the soothing sound of the Atlantic Ocean within earshot from the sea-facing rooms.
Opt for a Superior Seaview Room with a four-poster bed and roll-top bath. Enjoy craft cocktails, local ales, and fresh seafood in the bar and restaurant downstairs. Savor dishes such as smoked garlic-buttered crab claws with thick sourdough bread, breaded shrimp tacos, and beer-battered cod, before the sound of the ocean lulls you to sleep.