As a traveler, road-tripping around a country provides the opportunity for spontaneity, adventure, and experiences you may not have if you stick to a tour bus or train. You can veer off course, change your plan at a moment's notice, and encounter situations you'd otherwise be sheltered from. Road trips almost always equal a freeing, exciting experience.
So, why not kick it up a notch and saddle up for your next "road trip" instead? There's something about the wind in your hair and sun on your skin as you gallop across a new land on the back of a horse. Redefine what it really means to be free and take to the trails with one of these incredible horseback riding trips.
Dude Ranch Pack Trip
Montana, USA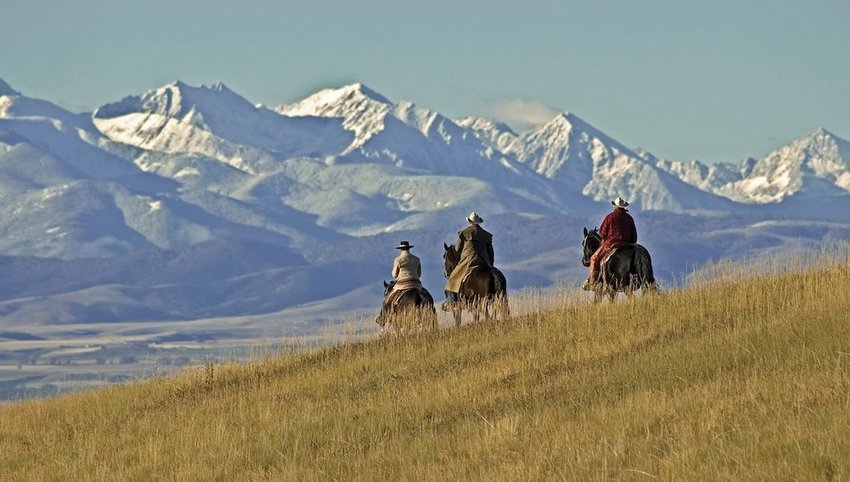 The word "dude" — referring to a wealthy east coast city man coming out to experience the rugged world of ranching in the West — was coined in the late 19th century. At the time, a dude ranch referred to the type of patron attracted to what was known more politely as a "guest ranch." It basically defined a city boy who couldn't hack it – not exactly a friendly term!
Nowadays, people come from all over the world to experience a pack trip at a "dude ranch" in the expansive western U.S.  JJJ Wilderness Ranch offers multi-day pack trips through the Big Sky State that are so epic, leaving your city life and moving to Montana might more than cross your mind. Experienced guides lead riders through the Bob Marshall Wilderness, along the Continental Divide, and past sprawling landscapes that most people only see in photographs. Down time is spent cooking meals at camp or fly fishing in streams. Keep your eyes open for elk, deer, moose, black bears, mountain goats, and eagles.
Tuscan Day Trip
Tuscany, Italy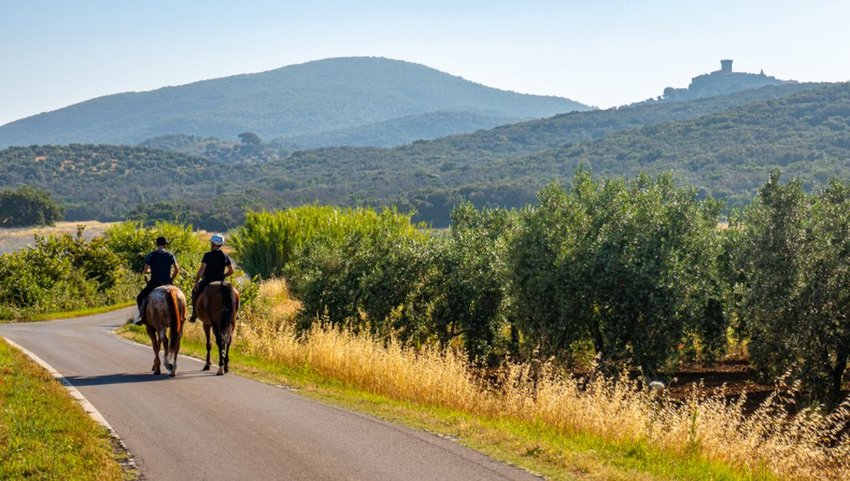 Combine charming vineyards, exquisite food, and acres of olive groves and you've got yourself one of the most ideal locations for a horseback riding adventure. This tame, day-trip style adventure caters to the less experienced horseback riders, offering a variety of activities along the easy trails.
However, don't let that deter you; during this Tuscan countryside tour you'll enjoy gazing over picturesque landscapes, the vistas interrupted only by stop offs for a wine cellar tour (and tasting!), olive oil tasting, and photo-ops of the endless olive groves and vineyards. The day is capped with a traditional Italian meal.
Ride Across the Andes
Chile & Argentina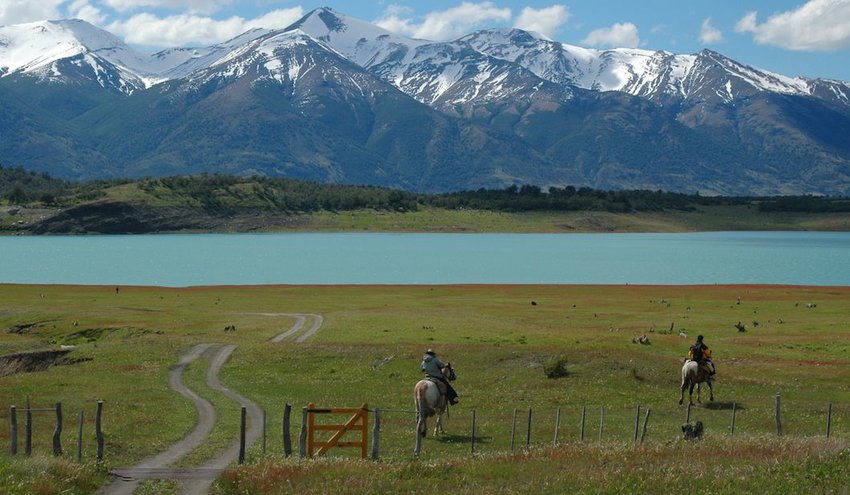 Push limits and cross borders (literally) with a week-long trip through the Andes Mountains. A tour like this attracts only the most intrepid explorers, yearning for discovery of the most unspoiled nature on earth.
Commencing in the Chilean Lake District, Equitours' Ride Across the Andes showcases the region's magnificent scenery right from the start. Local professionals guide riders into the Patagonian wilderness, passing through hidden valleys so remote, they were once used by smugglers. Navigating the rugged terrain, steep trails, and river crossings requires stamina and patience. However, the effort is rewarded with views of crystalline lakes and ancient forests, all with a never-ending mountainous backdrop. After 8 days on the trail, the ride comes to a halt in Argentina's Nahuel Huapi National Park.
Beach to Mountains
Costa Rica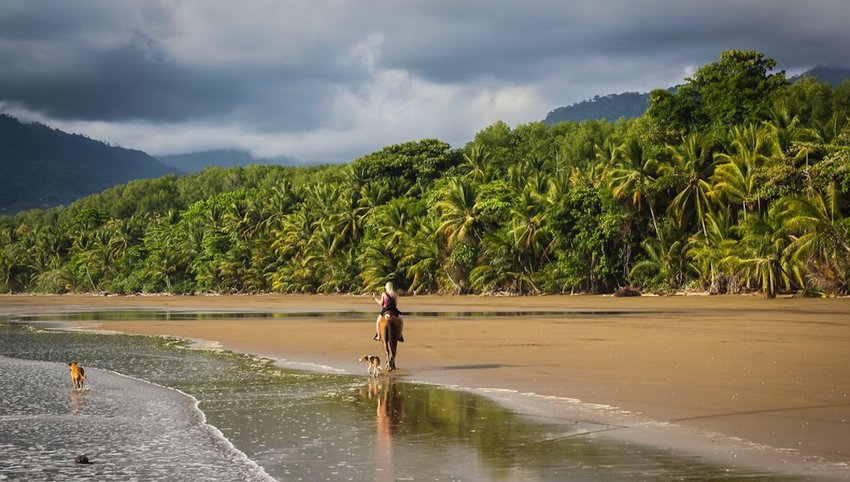 Most people come to Costa Rica for the beaches and the nature. Get the best of both worlds in two days with the Trek to Nosara along the northwestern shores of the country. The trip traverses along hidden beaches you may otherwise miss, and offers a peek into the local culture as well.
The adventure begins after leaving the farm in Paraiso and heading straight to the coast, riding the beaches all the way to Largatillo. Lunching in the small fishing town allows riders to relax and enjoy an authentic side of Costa Rica before continuing south to the wide-open sandy spaces that define Playa Marbella. The second day brings you inland to a more mountainous terrain of streams and preserved woodland. Finish with a trot through the rice fields on the way to Nosara before heading back to the farm in Paraiso.
Horse Trek Mongolia
Mongolia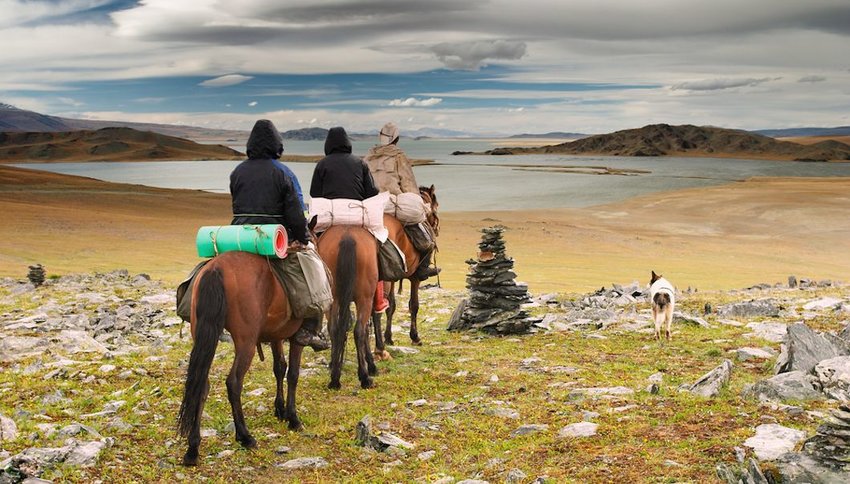 Nothing screams off the beaten path like Mongolia. The nomadic culture combined with the striking landscape makes Mongolia an epic destination for a horseback riding trip. Those who travel here are drawn by the thought of days galloping a horse across wild, wide open spaces and nights spent in traditional gers, hosted by the local nomadic tribes.
Very experienced riders can opt for Horse Trek Mongolia's grueling Gobi Gallop, a 10-day trip packing in 14 hours of riding per day. This is likely too intense for the novice rider, but there are other options; the Lake and Waterfall Wilderness ride is similar in duration, but requires less hours of riding. This trip takes riders across Mongolia's famous steppes, through untouched forests, along mountain passes and into the heart of beautiful valleys. Stop offs at multiple pristine lakes and waterfalls complete the itinerary.
Ring of Kerry Ride
County Kerry, Ireland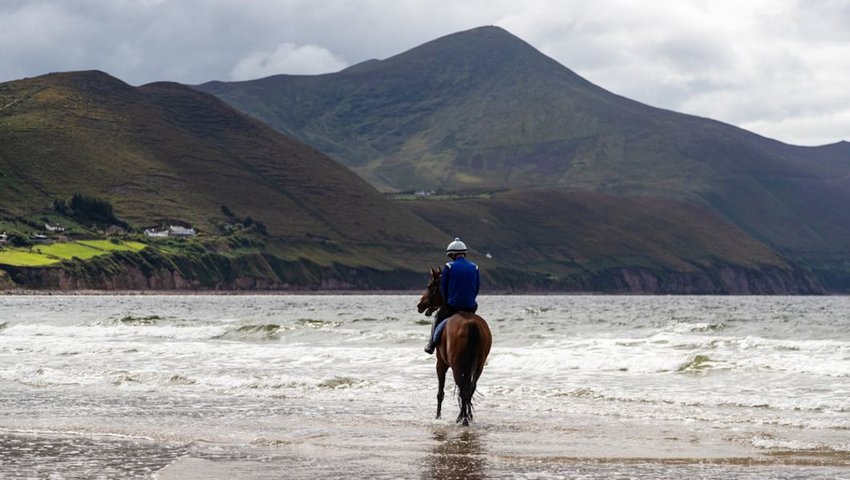 Deserted beaches merge crashing surf with soaring cliffs along Ireland's dramatic coastline. Varying shades of emerald cap the incredible terrain, creating an irresistible landscape for a wild adventure.
While most people discover Ireland's southern shores by car, Hidden Trails offers an intimate opportunity to become a part of it. Combining the region's highlands, forests, country lanes, and beaches, the Ring of Kerry Ride's grand finale is a 4-mile trot across the glorious golden sand of Rossbeigh. The bonus of this trip is staying in multiple locations along the route with the chance to check out some of the country's historic sites.