If Hawaii, Western Europe, and the movie set of Jurassic Park had a baby, it'd probably look at lot like Madeira. An island territory closer to Morocco than its mainland Portugal, this destination is one full of surprises (just luckily not of the mutant dinosaur variety). The first being how accessible it is: just a two-hour flight from Lisbon on multiple airlines, or the weekly direct route on SATA Azores Airlines from JFK to Cristiano International Airport, will land you in an Atlantic paradise.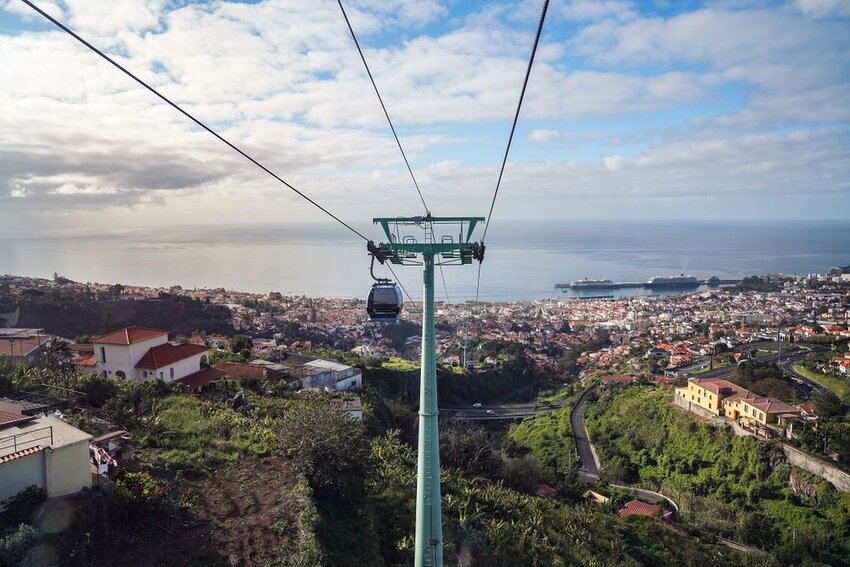 With everything from hiking and sea adventures to rich culture and excellent food, Madeira packs a punch with its sheer amount of things to do. Walk through a cinematically foggy forest in the wee morning hours, and by the afternoon, sip homemade poncha on a boat as dolphins glide through the shimmering water below. And that's just the beginning.
It's an island fit for exploring, so while a car rental isn't absolutely necessary, it's highly recommended. A long weekend is just enough time to get a taste of Madeira's zest and beautifully diverse landscape, but once you go, you'll realize that there's no rush to jam it all in… because chances are you'll be back again. This four-day itinerary is here to get you started.
Thursday
Grab your rental car and get settled at your hotel (more on those below) before hitting the ground running to maximize your time on the island. Take your first day to get your bearings in the capital city of Funchal; from markets to gardens and everything in between, there's plenty to see. Kick-off your city tour at the Mercado dos Lavradores, a vibrant two-story farmer's market full of vendors selling flowers, spices galore, souvenirs and gifts, and a wide array of fruits. Make sure to sample the banana-ananás, a local fruit that tastes like a sweet blend of its translated name, banana-pineapple.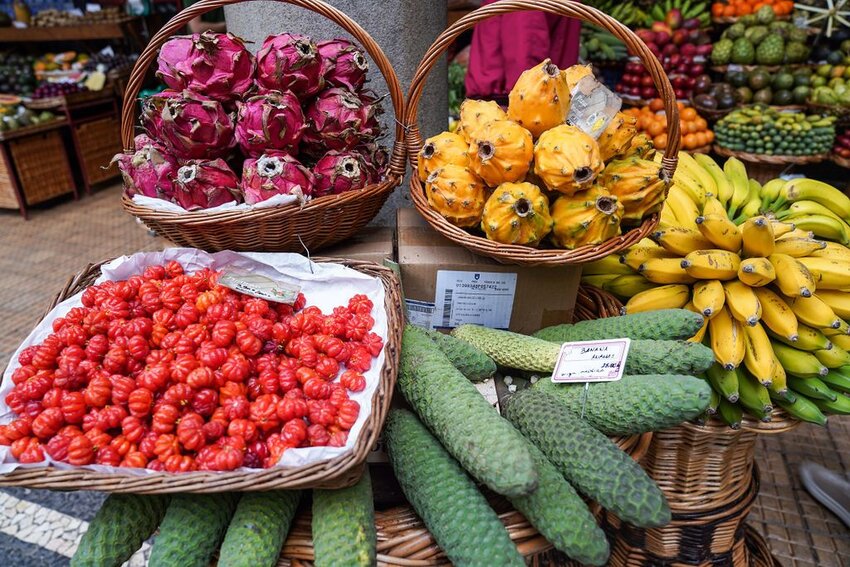 After your stint at the market, wander down the Rua de Santa Maria – a pedestrian, cobblestone street located adjacent to the market building with colorfully painted doors adorning a variety of shops and restaurants. Here, you can fuel up with their homemade fish soup or grilled limpets (a mussel-like shellfish) at Taberna Ruel after you work up an appetite strolling.
Post lunch, take the Funchal cable car up to the Monte Palace Botanical Garden where you can immerse yourself in the wonderfully unique and diverse flora and fauna life on the island. A one-way ticket cost 12.50 Euro for a 15-minute ride above the city. The scenery alone is worth it, but the sprawling gardens put the experience over the top. Venture through the various themed levels of the hilltop tropical gardens, which house anything from South African birds of paradise to the native laurel trees.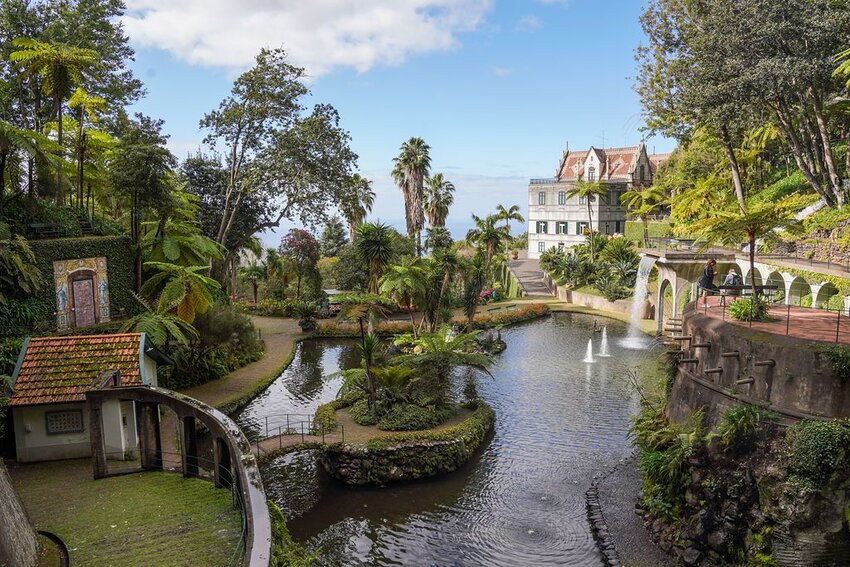 By this point, you're probably wondering how you're going to get back down to Funchal since you've only purchased a one-way ticket. That's where the most iconic thing you can do while visiting Madeira comes in: a sledge car ride. Although these fun rides are primarily for tourism and entertainment purposes now, the wicker basket-like toboggans were used as a form of transportation down the hillside in the 1800s. It'll set you back 30 Euro for two people, but being guided by well-dressed men wearing special sledge-running shoes down the hill is worth it.
Ride the high from your exhilarating journey back into the old town just in time for a poncha-fueled happy rour. Grab a table in the adorable courtyard of Rei da Poncha in the heart of Funchal and order the traditional Madeiran drink, which consists of rum or aguardente liquor, sugar, honey, and citrus juice like lemon or orange. Do as the locals do and get the "regional" (lemon), without ice.
Cap off your first full day in Madeira with dinner on the terrace at Il Vivaldi. The terrific view matches the food, all of which is Mediterranean-inspired. Try the freshly-caught tuna or the shrimp and scallop risotto and wash it all down with a glass (or three) of local vino.
Friday
Now that you've explored Funchal and gotten a full night's sleep, it's time to hit the road due west in your rental car and see what else the island has in store: steep terraces, dramatic cliffs skirting the ocean, historic villages, interior mountains, and rich forests just to name a few. First, peer down at the rugged coast atop the glass platform at the Cabo Girão Viewpoint. Then, take the cable car down to Fajã dos Padres, a seaside farming village accessible only by boat or cable car. Meander along the path to the restaurant past the banana trees and enjoy an early lunch of grilled tuna steak and scabbard fish filet topped with fried banana, a Madeiran specialty.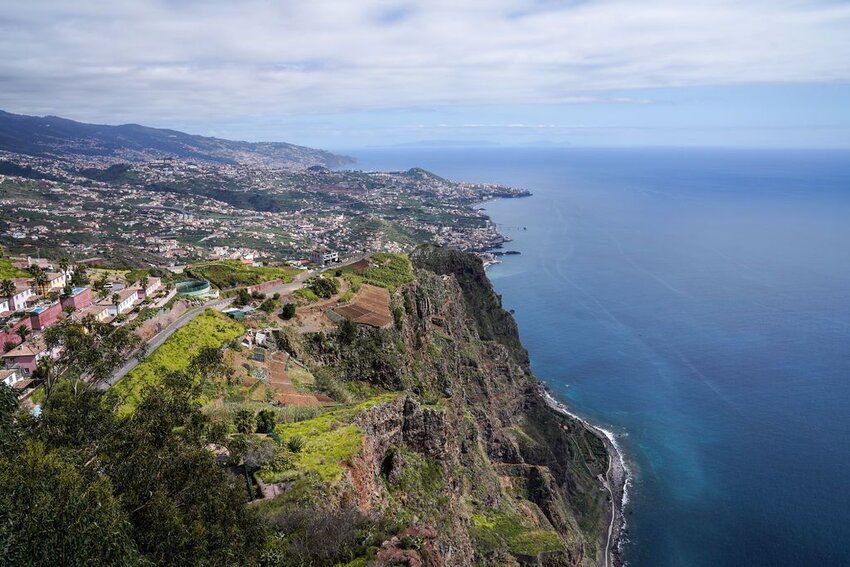 After taking the cable car back up to the clifftop, continue along the western coast for approximately 45 minutes to the Miradouro da Garganta Funda, a viewpoint of one of the highest waterfalls on the island. The 459-foot drop is nothing short of awe-inspiring and a great place to take photographs.
Next up is the wild northern coast where the Atlantic waves show off their power. Make a stop in Porto Moniz to visit the natural coastal pools where you can take a dip in the protected coves of volcanic rock. Post swim, walk to Praia da Ribeira da Janela, a beach with towering rock formations just offshore that's only a few minutes east of Porto Moniz along VE2. Venture up the stairs from the parking area first, and take the short trail through the cave. Then, you can head down to the beach for a closer vantage point of the rocky giants.
Leisurely drive back to your hotel in Funchal and get ready for a special dining experience that  you hopefully made a reservation for a while back. The Wanderer is more of an experience than it is strictly a dinner. One table that seats six seems odd at first, especially when you're sharing it with strangers. But, the locally-sourced, creative tasting menu is certainly something to bond over.
Saturday
Saturdays are for sunrises, or at least they should be in Madeira. Approximately 45 minutes from Funchal, Pico do Arieiro is the island's third-highest peak and a favorite spot to watch the sun come up from above a sea of clouds.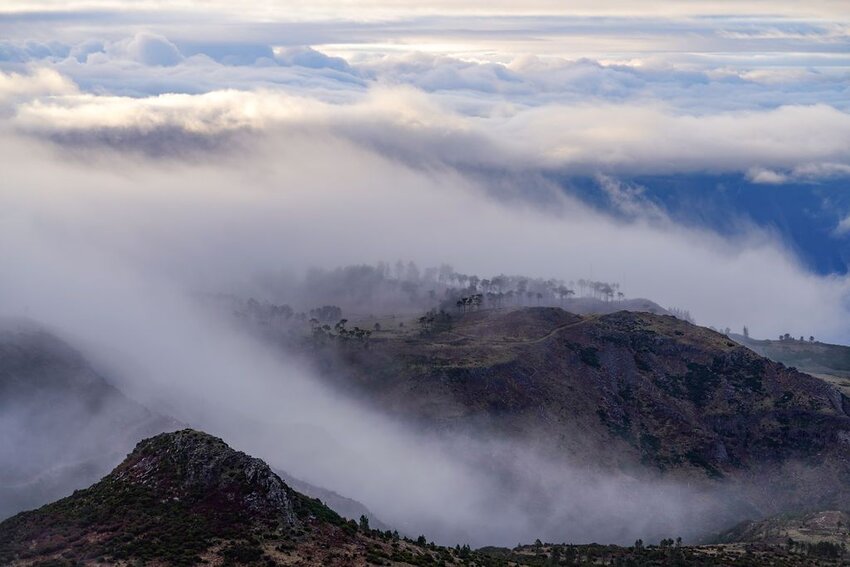 Since you're already up, you might as well channel your outdoorsy side and embark on a levada hike. The island is host to a network of more than 300,000 km worth of old irrigation canals or "levadas," most of which you can hike along. One of the best all-around trails is Levada das 25 Fontes, an almost six-mile, round-trip hike featuring a waterfall with a 328-foot drop. You can either venture along this trail on your own, or with a guide from Adventure Kingdom. Walk through three types of forests – relic, heather, and eucalyptus – along this easy-to-moderate route and try to keep count of the 25 "fountains" or waterfalls.
After all of that morning action, it's time for lunch and a siesta. Stop in the budget-friendly institution Casa do Bolo do Caco on Rua Dr. Fernão de Ornelas in the center of Funchal. Chances are at this point you've already tried and fallen for Madeira's famous potato bread, bolo do caco, and this place does it right. This well-loved street food spot is seemingly always busy with outdoor seating so you can people watch as you feast on their specialties: the steak sandwich or traditional pork cooked in wine and garlic.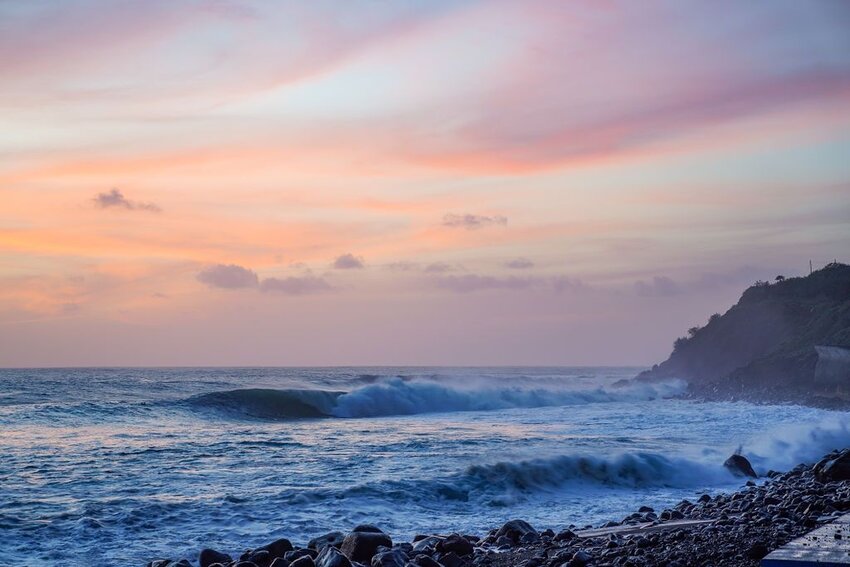 Now that you're refreshed from a relaxing afternoon, head to the laid-back surf town of Paul do Mar, a 50-minute drive from Funchal. Try to grab dinner and drinks at the famous Maktub Pub, but know that the picturesque seaside village happens to be a delightful sunset-watching destination as well. After soaking up the watercolor skies, order the fresh catch of the day while sipping a mojito at quite possibly the coolest bar and restaurant on the entire island.
Sunday
You can't travel to Madeira without at least trying a sip of the famous Madeira wine and other varieties produced on the island. Join the full-day wine tour with Discovering Madeira and taste your way through four different wineries while they do the driving. You'll tour the historic Blandy's in Funchal, eat lunch at Quinta do Barbusano where the views match the quality of the food (the espetada Madeira, skewers of local beef, steal the show), sample varieties while staring at a coastal waterfall at Terras do Avô, and cap it all off at the family-run Vinhos Barbeito.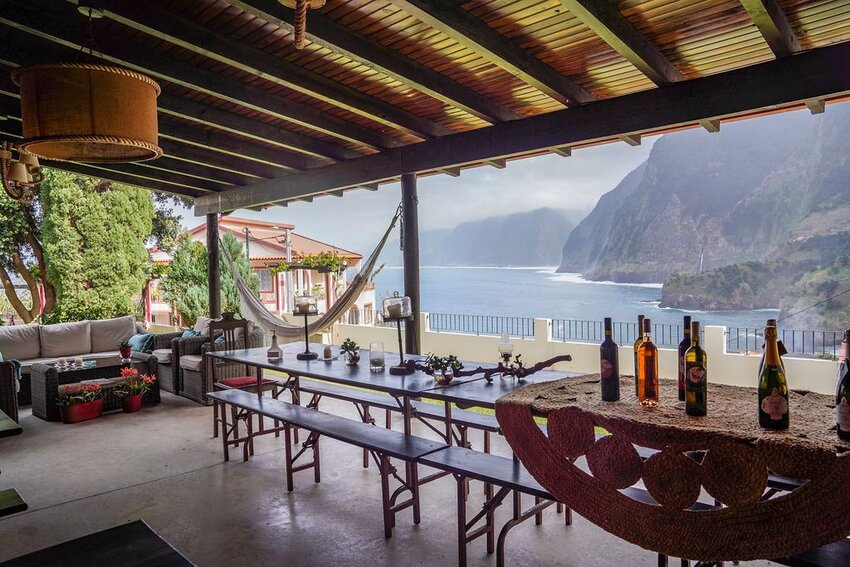 For your last evening in Madeira, a sunset cocktail on the rooftop bar at the Savoy Palace is in order. With almost 360-degree views and a solid drink list, all that's required is to sit back, relax, and watch the sunset. After, head downstairs for dinner at the property's onsite restaurant, Pau de Lume. Get your last fill of Portuguese dishes like seafood risotto and the classic bacalhau à brás (salt cod, egg, and shredded potatoes) before calling it a night.
Where to Stay
A multitude of options await for your slumbering needs in Madeira. Staying in (or near) Funchal will grant you access to nightlife and restaurants, while also providing a somewhat central location for your daily adventures. For larger hotels, the oceanfront Pestana Carlton caters well to families or big groups, and the Savoy Palace offers higher-end luxury. If you're more of a boutique hotel person, consider the Quinta da Casa Branca or Sé Boutique Hotel.