Cities in Morocco fill your senses entirely. Look up and feast your eyes on intricately carved mosque walls, ornate tiles, and the endless ocean of stars in the Sahara. Breathe deeply when passing the crowded restaurants or bakeries and you're immersed in the sticky-sweetness of Moroccan mint tea and the complex spices that make up traditional tagine and Friday couscous. Walk through the old medinas—bustling marketplaces full of colorful merchandise—and experience the cacophony of vendors hawking their wares and the periodic adhan (call to prayer) from the minarets of dozens of mosques.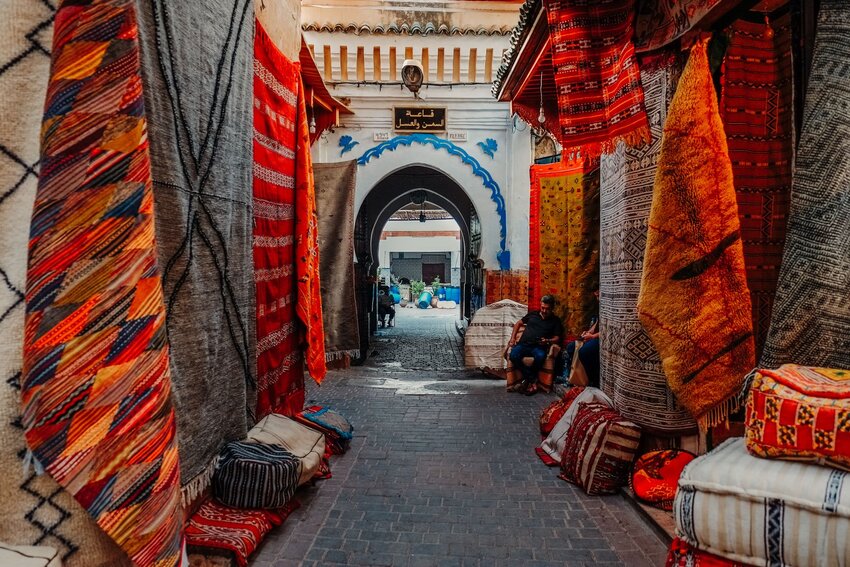 Medinas in Morocco share similarities, but the oldest imperial city offers a rich craftsmanship and hubbub that's made it famous. Fez's sprawling, fortified city was influenced and shifted by waves of Amazigh populations, Arab and al-Andalusian immigrants, and several dynasties. As one of the largest medinas in North Africa, and as a UNESCO World Heritage Site, the old city of Fez is one of the most impressive and best preserved landmarks in Morocco. Fez el Bali's cultural and political significance in Morocco's history gives it a seat of power, an artisanal flare, and makes it a worthy stop on your way through the country. Take a day trip through the medina of Fez with a few of our favorite culturally significant stops.
Start Off at Bab Bou Jeloud
Once upon a time, this door was a simple, modest structure (likely from the 12th century) designed for protection. An entrance through the massive external walls, the gate opened to the main souq thoroughfare, sloping gently downwards to the cultural center of the city. Then under French rule, a grand triple-arched gate with elaborate geometric designs was created. You certainly won't be the only travelers at this iconic door, but beginning your adventure in Fez's medina requires a monumental entrance.
Discoverer tip: There are Moroccans who hover around Bab Bou Jeloud (also shortened to Bab Boujloud) looking for tourists to take on tours. While they can be quite persuasive in offering their services, try to keep in mind that they're just trying to make a living for the day. A confident "La, shukran"("no, thank you") should do the trick, then you can plunge into the swirling sights, sounds, and smells of the medina at your own pace.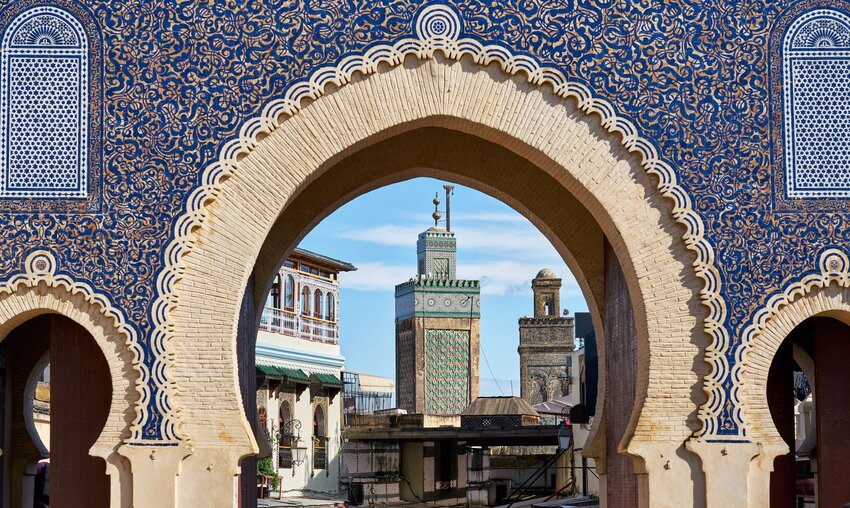 Shop Along the Souq
Once you've entered through the main gate and past the first stretch occupied by restaurants, you'll have two directional options to explore old Fez. The smaller street to the left fades to smaller food stalls where kefta kebabs grill over coals, carts are piled high with strawberries, and butchers' tables sport everything from camels' head to cow tongue. To the right, you'll find the beginning of the medina's shopping center.
Everything is bright, intricate, and eye-catching. Calligraphers etch complex Quranic verses in marble tablets outside their doors. In pottery shops, painted tagine dishes of all sizes, olive bowls, and cups spill onto the floor.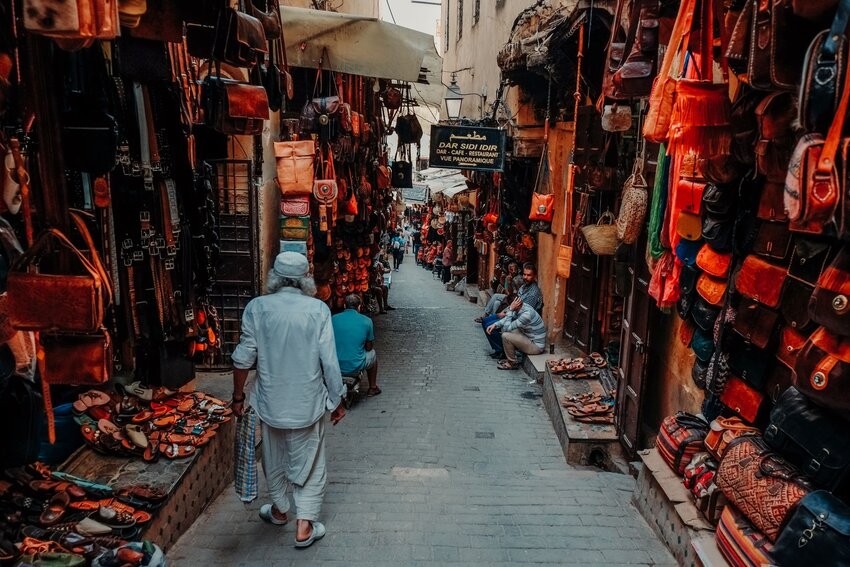 You'll walk away from perfume shops with a signature scent after smelling dozens of amber liquids in large glass vials. Animal horns are carved into combs and pens and ink pots. Earrings and necklaces clutter black cloth stretched over entire doors, and patterned sandals and slippers hang from entryways and over leather bags and cushions. Bright carpets and blankets overlap, rolled tightly or stacked in towers rising halfway up the walls.
In the metalworking district, an artisan quarter further into the souq, you'll hear the ting ting of mallets striking metal before you see the glinting platters and ornamental tajines. Here, you can purchase round metal shades designed for light to spill out in complex patterns.
Take some time to wander these parallel streets and purchase a few items before you head east towards one of the oldest continually operated universities in the world.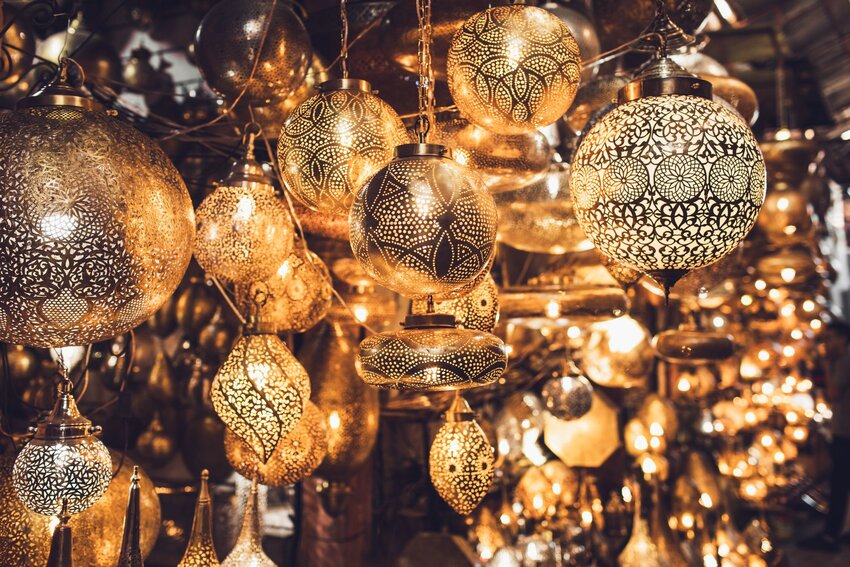 Visit Mosque and University Kairaouine
Kairaouine is the oldest Islamic educational institution in the world and has a compelling historical significance. You'll feel it as you move towards the university, the streets narrowing as they pull you deeper into the medina.
While only muslims are permitted to enter, all visitors can look into the colossal courtyard at one of the open doors. Palace-like in structure, Kairaouine is vast and complex. The Fez medina is made up of twisty paths that disguise the true shape and size of the mosque, but from above, the minaret and rows of green tiles are noticeable amidst hundreds of thousands of rooftops.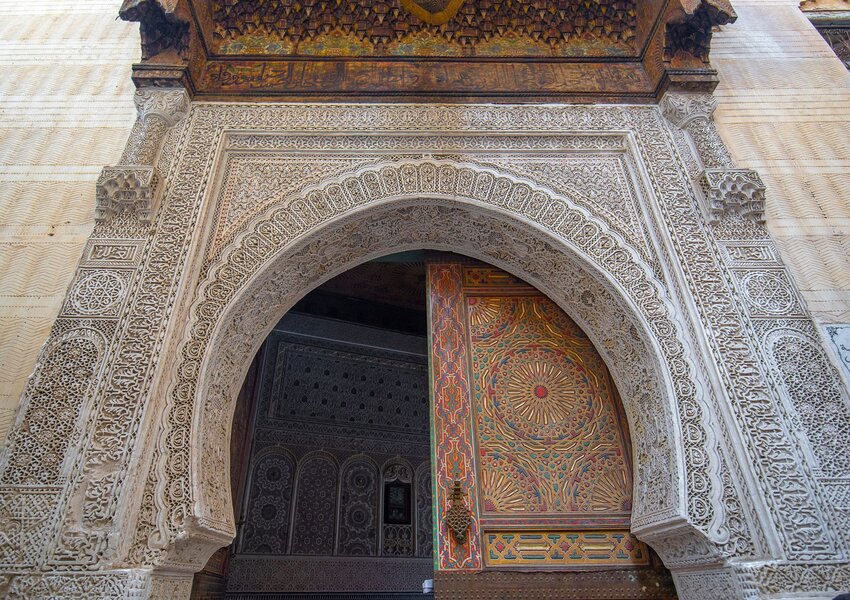 Eat Lunch on a Terrace
When you get hungry, hunt for one of the many signs that read "terrace." These restaurants can be somewhat crowded and yes, you'll have to climb several flights of stairs, but the view over the medina is worth it.
From below, the streets have an all-consuming quality. There's so much to look at in one block that it's impossible to conceptualize the over 9,000 alleyways and 90,000 people living in homes within these ancient walls. From above, though, the streets disappear and roofs spill in every direction, minarets sprouting between them.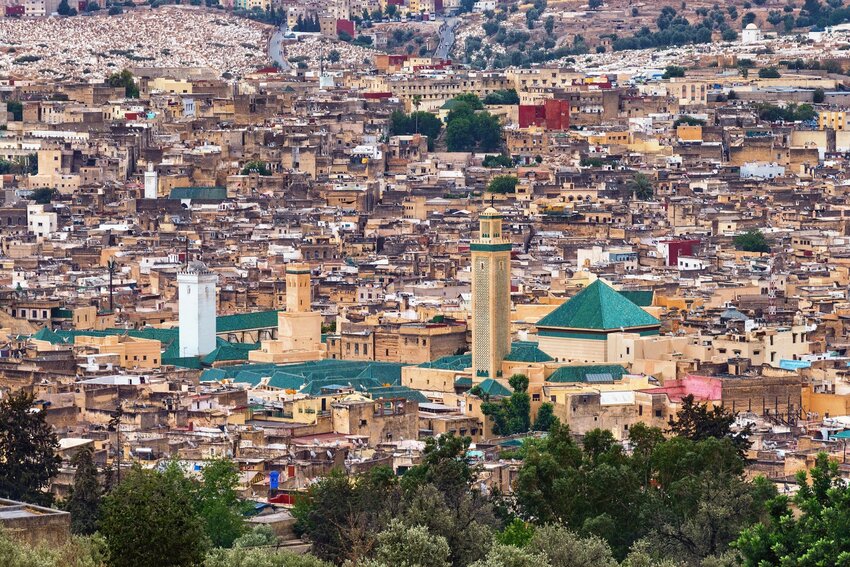 A meal on one of the city's many terraces may include a few olive dishes, a goat tagine to share, or maybe even a camel burger. But if you're lucky, this rooftop experience will include something even more unique. It'll start with a single voice from a crackling speaker, and then another will join, then another. There are around 300 mosques in Fez's medina and when their adhan calls begin, the entire city seems to stop to listen.
Get Some Mint for the Tanneries
Fez's leather work is legendary. Take the Chouara Tannery, which has been in use for almost a thousand years. It's clear why this is a popular destination: these dyeing vats are iconically traditional. But so too is the odor rising from ingredients that have been a part of the process for centuries—including cow urine and pigeon droppings–as well as the natural coloring, like saffron, pomegranate, and turmeric that's still in use.
The surrounding leather shops hide the bee-hive pits from view, but as you climb upwards through leather jackets, handbags, and wallets, you'll smell them. To make the sight worthwhile, take a sprig of mint if offered—it's much easier to enjoy the birds-eye view of this ancient process with your nose buried in its powerful scent.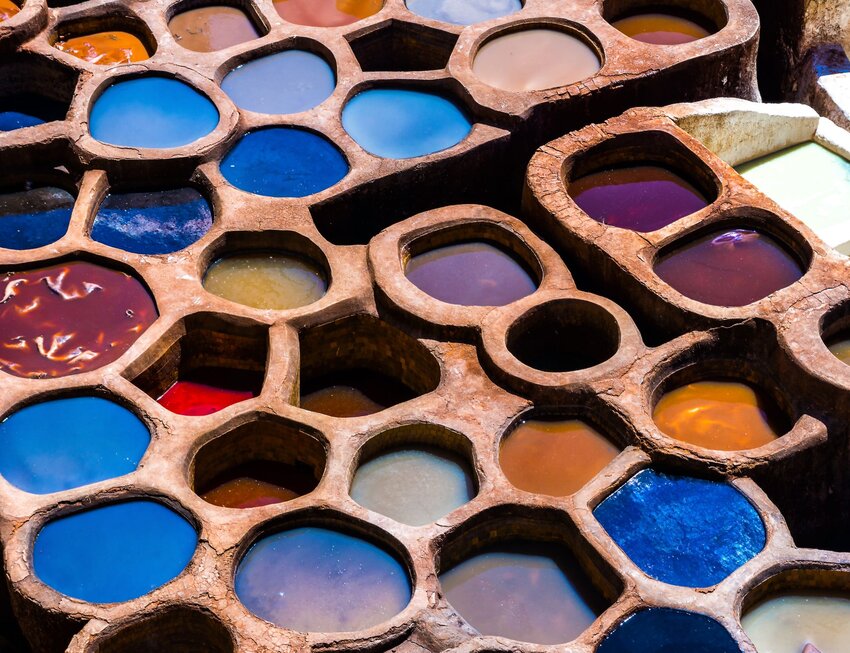 If You've Got More Time
There's enough to do in the old medina and in the rest of Fez to fill several days, so if you're around for a bit longer, consider checking out a few of these additional activities.
• The Royal Palace, Dar al-Makhzen, was the center of power and governmental rule for a number of non-consecutive years throughout Moroccan history. Now, the gold doors and decorated walls are a picturesque spot on your way around the city.
• The Mellah of Fez, the historic Jewish quarter, is fairly close to the Royal Palace and dates back to the mid-15th century. Here, you can still find well-preserved, centuries-old Jewish monuments.
• Visit the Nejjarine Museum of Wooden Arts and Crafts near the Kairaouine mosque. Once an inn for merchants, the museum is gorgeously decorated with preserved cedar carvings and offers a rooftop look over the medina.
• Take in the view from a higher vantage point a little further outside the city. Visiting a lookout like Borj Nord, a fort built into one of the surrounding hills, gives visitors a windswept panoramic of the old medina and of the ville nouvelle.
• Tour one of Fez's co-ops. Outside of the old medina are factories of carpet and blanket weavers and pottery makers. These crafts-spaces offer a different view into the production process, but away from the noise of the medina, these spaces give visitors a more intimate experience with who's making your fabulous new rug.