There is no place as alluring and seductive as the Mediterranean. But even by over-the-top Mediterranean standards, the Amalfi Coast stands apart. This enticing stretch of coastline along the southern edge of Italy's Sorrentine Peninsula features 15 different towns. You can explore picturesque fishing and mountain villages with twisty, narrow streets, hidden beaches, and Roman ruins; this is where precipitous cliffs meet the turquoise sea. Whether you're looking for complete relaxation or the ultimate adventure vacation, you will undoubtedly find it on the Amalfi Coast.
The Amalfi Coast has been designated a UNESCO World Heritage Site for its natural beauty and diversity as well as its historical significance. From ancient cathedrals and villas to lush resorts and tempting restaurants, here is what you need to know about exploring the unique towns and rugged landscapes of the dazzling Amalfi Coast.
Best Time to Visit the Amalfi Coast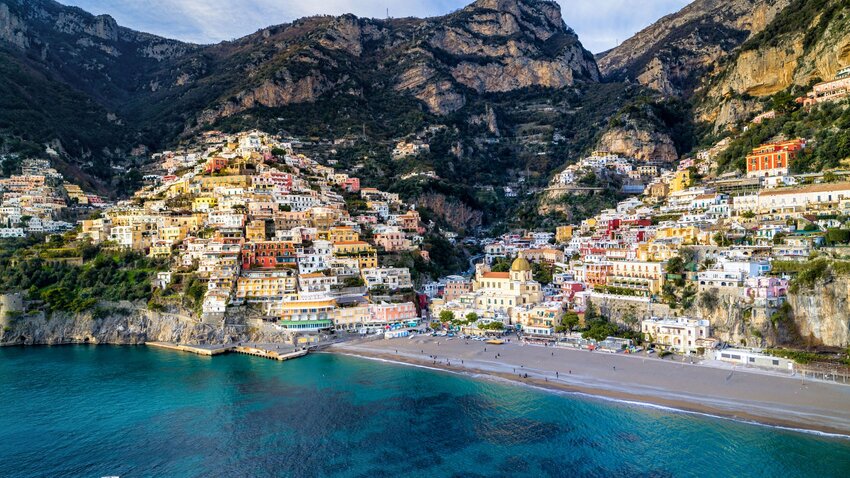 The Amalfi Coast features a typical Mediterranean climate, with hot summers and cool, damp winters. Summer is the busiest time to visit and if you're planning a trip between June and September, you should book your reservations well in advance. If you would like to visit the famous lemon groves and experience local traditions, like the evocative Easter processions in Sorrento, plan your visit for the spring — the season begins with Easter and most hotels open on April 1. The weather can be unpredictable so make sure you're prepared for a rainy day or a canceled boat. As the high season winds down toward the end of October, you'll likely find some great travel deals, but be aware that many shops, restaurants, and hotels start to close down at the beginning of November. The Christmas festivities that start in early December and stretch to January 6 are sparkly and sweet and you will usually have sunny days that are perfect for trail hiking.
How to Get Around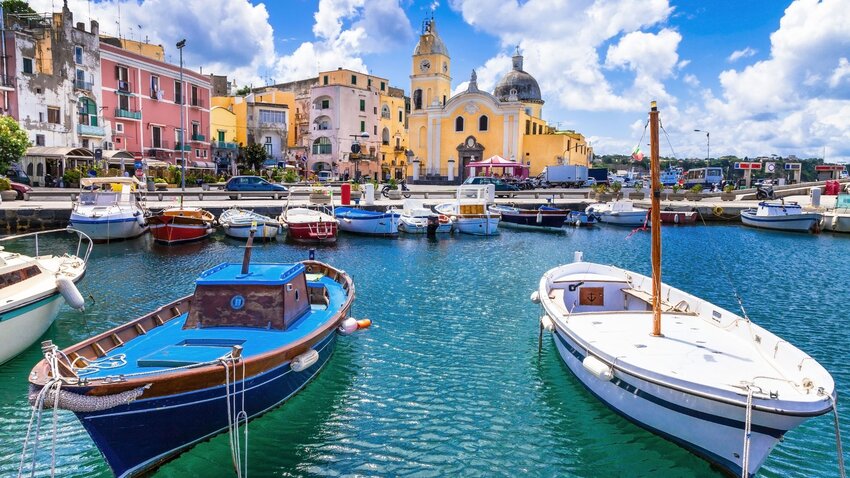 You have all kinds of options for getting around on the Amalfi Coast, and there are pros and cons to each. You can rent a car and have the flexibility of creating your own itinerary and traveling at your own pace, but the narrow curvy streets, limited (and expensive) parking, and traffic might try your nerves and your patience. Inexpensive and easy-to-use SITA buses travel between most towns on the Amalfi Coast, though they can be extremely crowded in the summer. Taking a ferry allows you to experience the Amalfi Coast from the water for unsurpassed views of beaches, mountains, and coastal towns, and run from April to October (and are weather dependent). There are also private drivers, scooter rentals, and taxi services.
The Island of Capri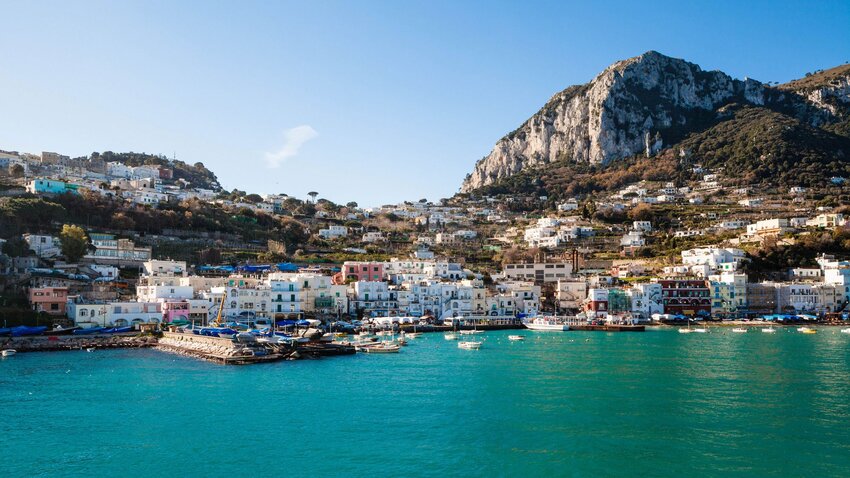 This captivating island is world-famous for its natural splendor, boutique shopping, and spirited nightlife. To get there, you can catch a ferry from Sorrento or take a hydrofoil from Naples, and from June through September there are ferries from Positano and Amalfi.
Start in the Piazzetta, where if you take your time, you'll discover the heart of the island. There are four bars to choose from where you can order a cappuccino in the morning and watch the island wake up or have a cocktail before sunset and relax outside in the square before dinner. For a budget-friendly option, opt for the pizza at Buco di Bacco.
The sea in Capri is well known to be extraordinary. Schedule a private boat trip and swim alone in empty coves or hire a chair and an umbrella at one of the island's many beach clubs like Lo Scoglio Delle Sirene in Marina Piccola. Less well known are Capri's hiking trails, where the expert move is to order a picnic from Capri Michel'Angelo, which comes with a map of the best spots to stop, and enjoy your delicious (and completely plastic-free) meal over exceptional views.
Be sure to check out the famous Blue Grotto, which has a long history of beauty and mystery documented as far back as when Capri was ruled by Emperor Tiberius in 26 AD. This natural wonder is only accessible by boat, but you can take a two-hour boat tour around the island that includes a stop at the Blue Grotto, usually with an extra fee. Or, you can take a bus from Marina Grande in Capri or Piazza dell Pace in Anacapri. Look for the flight of stairs just below the snack bar and at the bottom there are small row boats that can take you inside the cave. Be sure to arrive early in the day when the sun creates an incredible electric blue light effect.
History lovers will love a tour of Capri's most famous home and villa-turned-museum, Villa San Michele. Located 327 meters above sea level in Anacapri, the museum's elaborate gardens and panoramic views are beguiling.
During your visit to the Amalfi Coast, you should definitely try to spend at least one night on Capri. If you visit during the months of July and August, plan for a few days so that you can create a more relaxing itinerary to beat the heat and the day-tripper crowds. There's a wide variety of lodging at every price point, and if you're looking for a taste of luxury, consider the lavishly landscaped Hotel Luna. It has an array of services from an on-site restaurant to a pool and an outside gym with a view of the sea and the Faraglioni.
Positano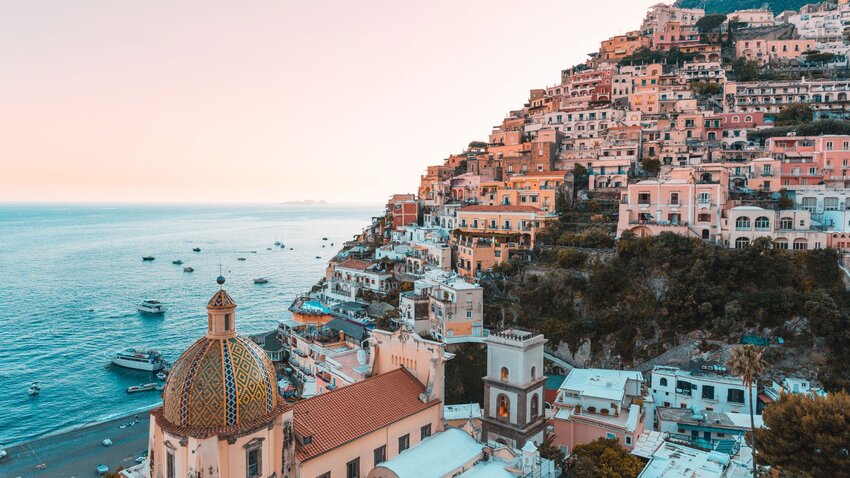 Romantic and enchanting, the hillside town of Positano is like stepping into a colorful fairytale. The best way to explore this town is to simply meander the streets and relax near the water. Positano's most visible attraction with its colorful, majolica-tiled dome, the Church of Santa Maria Assunta, is well worth the visit, and underneath the church is a fresco-covered 1st century BC Roman villa.  For an authentic and adventurous Italian dinner, take the shuttle up to La Tagliata. There is no set menu, but whatever they make is sure to wow you. And if you like beaches, you can claim a spot on one of Positano's small, rocky shores to better soak up the sun.
Amalfi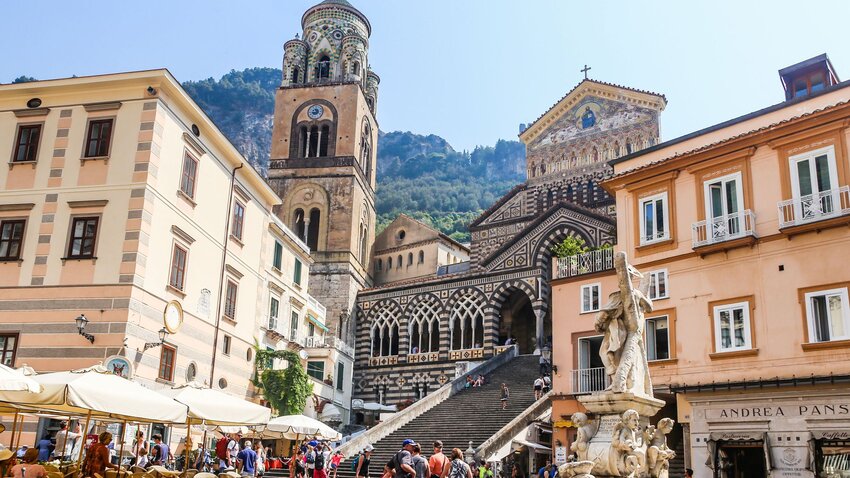 Amalfi sometimes gets overlooked for its smaller, more famous neighbors, but you should plan on a stop here — or even better, an off-season stay. Have a drink or a pastry at Pasticceria Pansa and visit the 13th-century Chiostro del Paradiso behind the Cattedrale di Sant'Andrea that dominates the town piazza.
Sorrento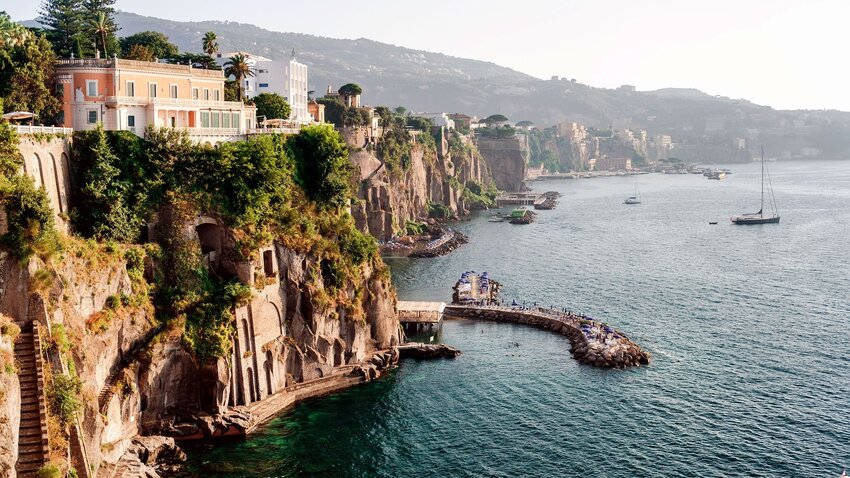 Sorrento is not technically part of the Amalfi Coast but it does serve as the gateway and can be a strategic home base for your coastal day trips. This year-round town has plenty of charm and lots to do, with plenty of public transportation options and a good range of hotels and dining. Must-see attractions in Sorrento include the Cathedral of Sorrento, with its beautiful clock tower and impressive frescoes, and The 7th-century Cloister of San Francesco. Along the Corso Italia and the back streets of town, shop for inlaid wooden boxes and limoncello.
There are two ports in Sorrento, the bustling port of Marina Piccola where the ferries depart and arrive, and the historic port of Marina Grande with numerous waterfront eateries. Piazza Tasso is the hub of town; stop for an espresso or spritz at the historic Bar Fauno before jetting off to your evening activities. For fine dining, book a table at Ristorante Museo Caruso. Seafood is the star here with menu highlights that include red tuna carpaccio and pezzogna, a prized local fish served with mozzarella and tomatoes. The impressive wine cellar has more than 1,000 bottles to choose from.
Sorrento makes a fabulous home base for day trips in the region, so why not splurge on premium lodging with a view? The luxurious Grand Hotel Capodimonte provides breathtaking views of the Sorrento, the Gulf of Naples, and Mount Vesuvius. Five cascading waterfall pools nestled in the hillside are the perfect spot to relax after a busy day of sightseeing, and onsite restaurants provide everything from light snacks to five-course meals.

About the authors:
Tara Schatz
Tara is a freelance writer and photographer with a passion for outdoor adventures. She currently blogs at Back Road Ramblers, where she shares travel tips, adventure destinations, and family vacation ideas for the wanderer in everyone. Her goal is to help people connect with the world and each other by encouraging them to embark on journeys big and small.
Gillian Longworth McGuire
Gillian is a writer, photographer, and travel planner who lives in Rome. She shares her daily life in Rome on her Instagram account. In her popular newsletter, Gillian Knows Best she writes about her favorite places to see, eat and shop in popular Italian destinations like Rome, Venice, and Capri.