The U.S. is packed with pristine lakes that offer opportunities to watch the sunset over alpine peaks, paddle along glassy waters, and kick off your flip-flops and go for a dip.
So, if you're hoping to kickstart your next adventure, look no further. We've put together a list of 10 stunning U.S. lakes worthy of at least a weekend away.
Jenny Lake, Wyoming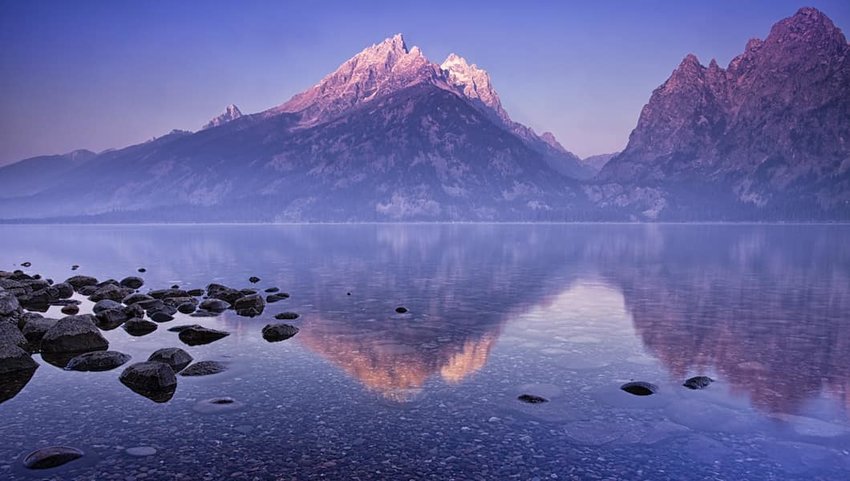 Nestled at the base of Cascade Canyon in Grand Teton National Park, Jenny Lake is 423 feet deep and spans an impressive 1,191 acres. However, this glacially carved body of water isn't just an impressive Grand Teton icon. Jenny Lake is the perfect adventure hub for hiking, backpacking, camping, boating, swimming, climbing, fishing, and even wildlife viewing.
Strap on your hiking boots and trek the lake's namesake trail or one of the area's popular footpaths including String Lake, Leigh Lake, Hidden Falls, or Inspiration Point – all of which are accessible from Jenny Lake's shoreline.
Next, drop by the South Jenny Lake dock and rent a kayak or canoe to spend the afternoon cruising over the lake's glassy waters. On your way out, don't forget to catch a sunset at the Cascade Canyon Overlook, an incredible photo op that highlights the craggy, alpine peaks of the Teton range.
Lake Tahoe, California/Nevada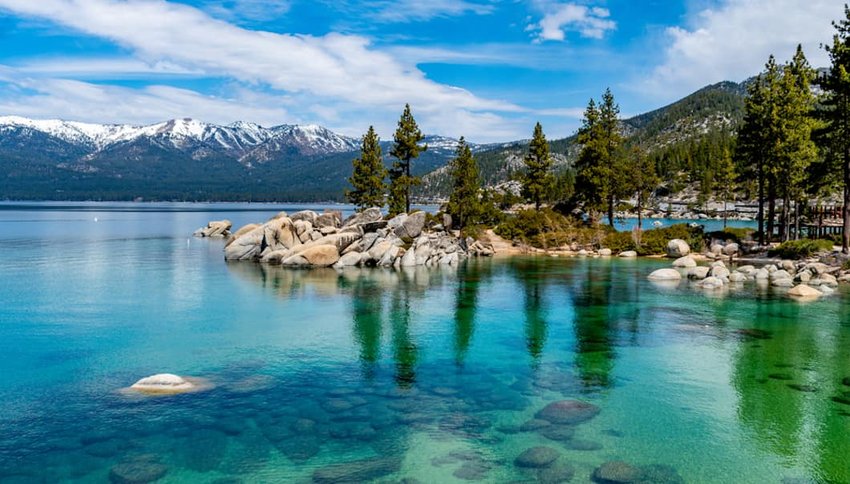 Most people consider Lake Tahoe to be a California icon, but it actually straddles both California and Nevada. As one of the oldest lakes in the world and the largest alpine lake in North America, it's not surprising that this 191-square-mile natural oasis averages over 2.7 million visitors every year.
The lake is generally split between two sections, north and south. However, regardless of the side you choose, you can expect a plethora of year-round, outdoor activities. In the winter, you can take advantage of fresh powder at the Valley Alpine Meadows, an internationally acclaimed ski resort with over 6,000 skiable acres or the world-renowned Heavenly Ski Resort.
During summer months, Tahoe completely transforms into a lakeside fit for travelers looking for incredible hiking trails, bike paths, paddling potential, jet skiing, and even paddle boarding.
Lake Powell, Utah/Arizona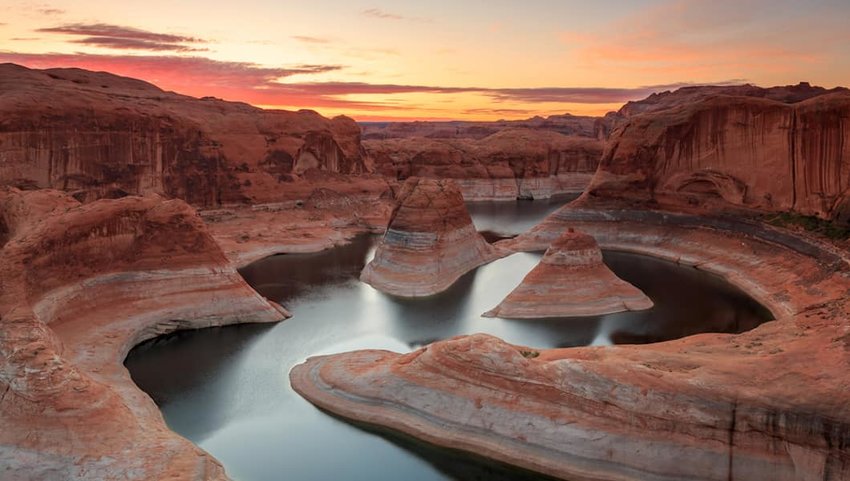 Lake Powell might technically be a reservoir, but with over 2,000 miles of shoreline, it offers just as much beauty and adventure as any natural lake. Not to mention, because Lake Powell hugs the Utah and Arizona border and sits within the iconic Glen Canyon National Recreation Area, you can expect plenty of bright, sunny days allowing abundant activity all year long.
Boating is definitely the most popular activity on Lake Powell, and rightfully so. The Rainbow Bridge National Monument, one of the world's highest natural bridges, draws the most visitation and can be easily accessed via a scenic two-hour boat ride along the lake.
However, aside from boating and paddling potential, Lake Powell is also known for its iconic Colorado River overlooks, like Horseshoe Bend, and several nearby slot canyons, like North Wash and Bullfrog Bay Canyon.
Crater Lake, Oregon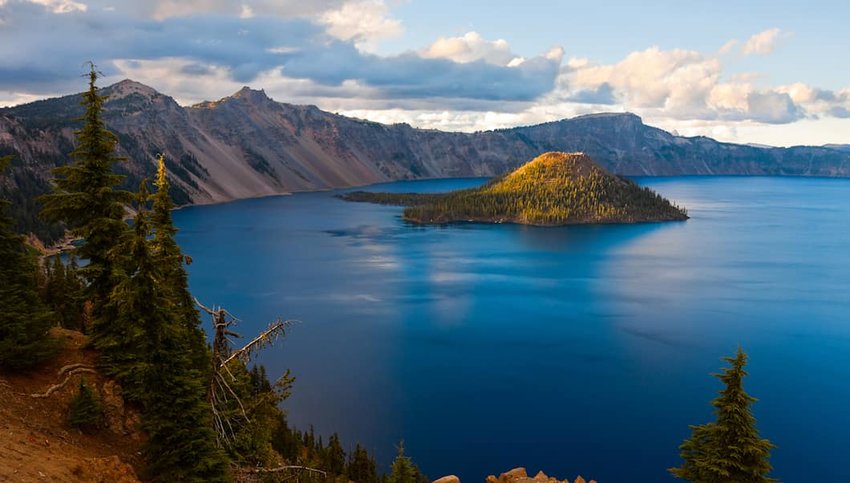 Looking to cliff-jump into the country's deepest lake? We have you covered.
Oregon's Crater Lake is just as beautiful as it is intriguing. Incredibly, the lake was created by a volcanic explosion that left a large caldera that has since filled with rain and snow. In other words, the lake's history is reason enough to plan a visit.
Crater Lake sits within its namesake National Park, in a remote slice of southern Oregon. There are several scenic viewing areas scattered throughout the park, like the Sinnott Memorial Overlook, that offer highly accessible, jaw-dropping views of this piercing blue body of water.
Most visitors will take the 33-mile Rim Drive that encircles the lake. However, before you hop back in your car, we recommend taking advantage of one of the area's fantastic hiking trails.
The Cleetwood Cove trail, for example, will not only take adventure-seekers to the lake's pristine shoreline, but it also leads to a 35-foot cliff where the brave can safely leap into the sparkling waters below.  
Lake Jocassee, South Carolina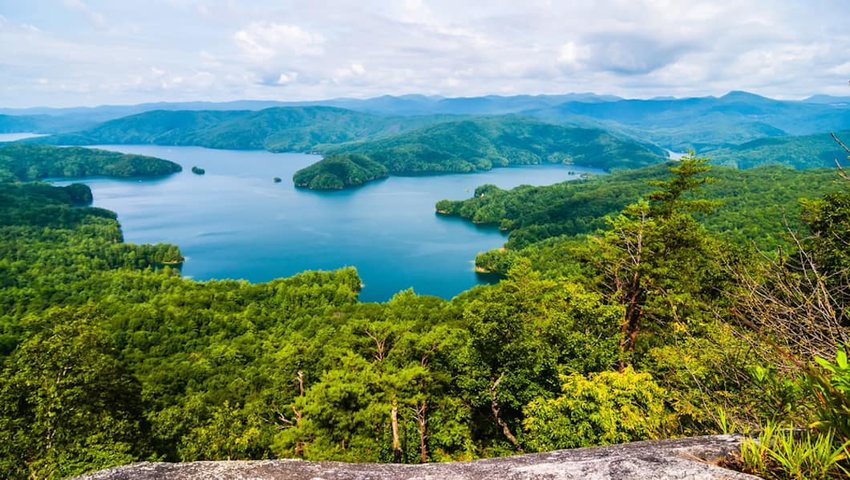 Located in Devils Fork State Park, Lake Jocassee is a hand-crafted South Carolina icon that is best-known for its pristine Appalachian mountain backdrop and infinite outdoor recreation potential.
This Appalachian-fed lake encompasses 7,565 acres of relatively undeveloped land, temperate rainforest, and several cascading waterfalls. Start by taking a scenic drive along the Jocassee Gorges to get acquainted with the area. Along the way, drop by the parking area for Sassafras Mountain, the highest point in the state, and take in sweeping views of the surrounding four states.
Don't worry, after spending some time exploring by foot, there'll be plenty of time to rent a kayak and paddle through the densely forested mountains to several crystal clear streams and waterfalls.
Lake Superior, Wisconsin/Michigan/Minnesota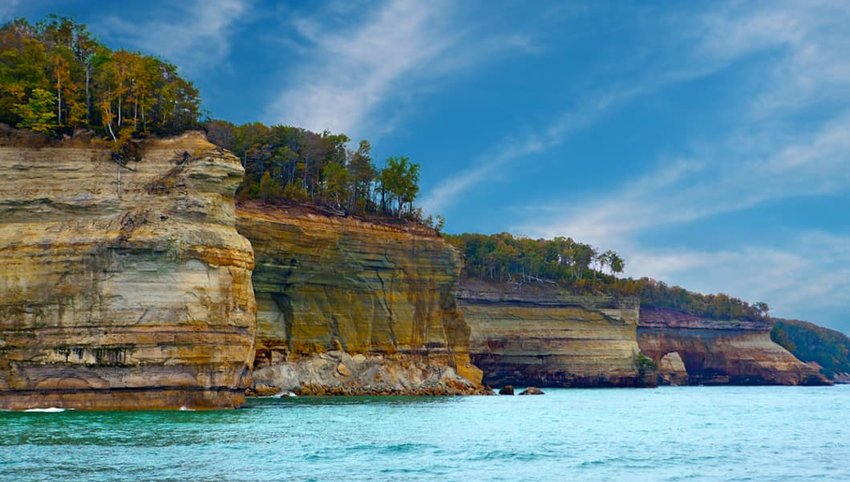 Despite popular opinion, you don't have to live on the coast to get beachside views. Lake Superior, the largest freshwater lake in the world, has a whopping 31,700 sq. miles of surface area. Basically, it's an ocean in disguise.
One of the most popular ways to experience the dramatic landscape surrounding this mega lake is via the North Shore Scenic drive. This stretch of highway leads to some of the most iconic, picturesque hiking trails, state parks and overlooks in the area.
We recommend you stop to stretch your legs at Tahquamenon Falls, check out the Great Lakes Shipwreck Museum, or grab a kayak and explore Isle Royale National Park. Other major attractions include Enger Park, Mount Josephine, Split Rock Lighthouse and Palisade Head.
Lake Chelan, Washington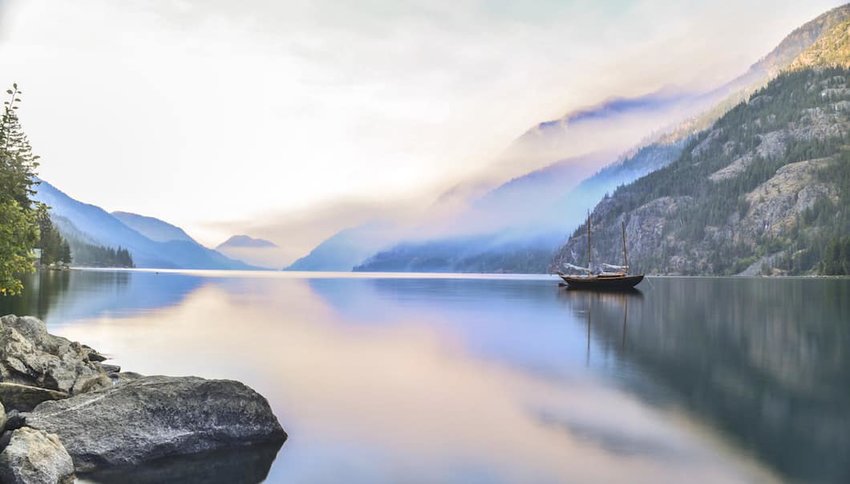 Stunning lakes are aplenty in Washington state, so it's hard to choose just one. However, Lake Chelan is an absolute must-see for visitors to the North Cascades.
Sitting at the base of a glacier-carved valley, Lake Chelan provides the only access to Stehekin, a tiny, up-lake secluded village that can only be accessed by boat, seaplane, or on foot. To experience Stehekin, most visitors will hop on the Lady of the Lake passenger ferry and spend the day horseback riding, kayaking, biking, fishing or hiking around this charming town.
Like previously mentioned lakes on this list, Lake Chelan offers a variety of water sports and recreation potential. So, whether you choose to trek along an accessible footpath, spend the afternoon shopping, ride a bike on the lake's shore, or simply catch a sunset at a lakeside lodge or resort – we promise you won't be disappointed.
Lake Clark, Alaska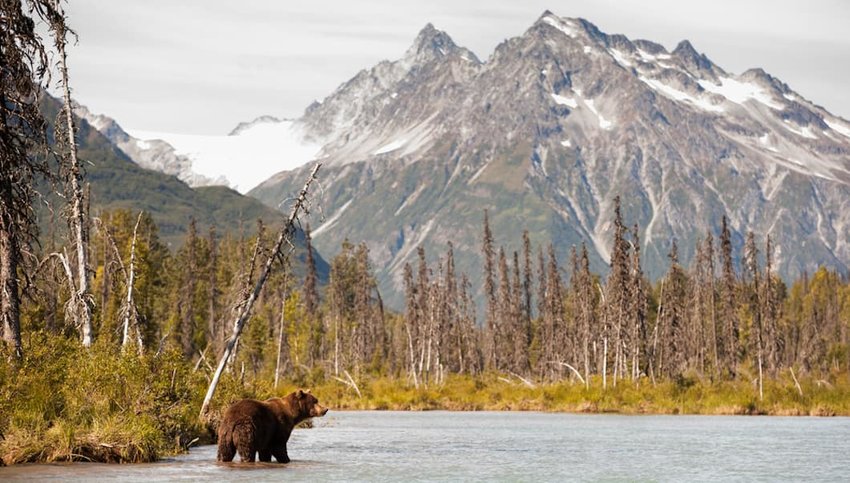 Lake Clark and its namesake National Park aren't the most accessible on this list, but this Alaskan paradise is undeniably worth the effort. Surrounded by towering volcanoes, alpine glaciers, jagged summits, and millions (yes, millions) of acres of remote wilderness, Lake Clark is the epitome of diverse Alaskan terrain.
Although there are no roads to this isolated lake, the short flight will give you a unique birds eye view of three rugged mountain ranges, two giant volcanoes, large expanses of rainforest, and, of course, crystal-clear alpine lakes and rivers.
Once at the lake, you can bunker down in a quaint cabin on the shores of the glacially-fed, turquoise Lake Clark before either hitting the trail or jumping into a kayak or canoe for an afternoon paddle.
Lake Clark is the least-visited on this list, so if you're seeking solitude, this is the lake for you. And as an added bonus, you're likely to spot meandering grizzlies along the shore.
Finger Lakes, New York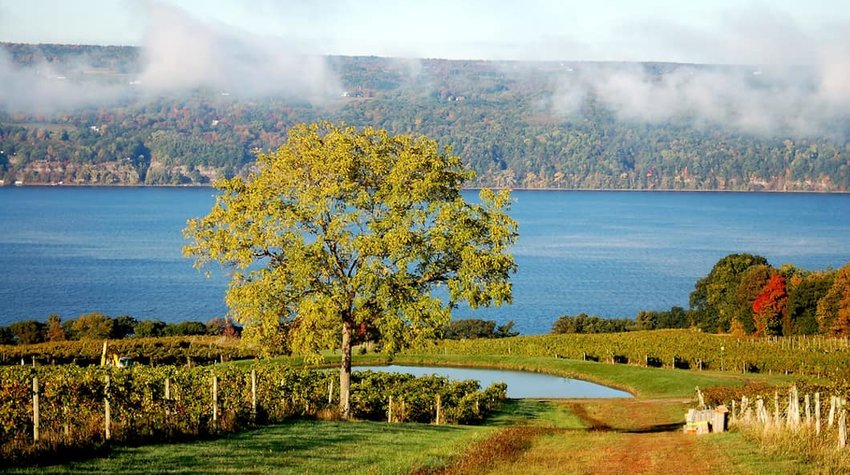 Among the things you probably wouldn't expect to experience together are — 11 glacial lakes, dozens of cascading waterfalls, and…wine country.
The Finger Lakes are a group of 11 long and narrow bodies of water that, as you might have guessed, sprawl out like natural digits over the landscape. Seneca Lake, the area's most popular destination, is surrounded by vineyards and is known for the Seneca Lake Wine Trail, which consists of more than 30 wineries that offer year-round tasting and activities. Is there a better way to wind down from a long day on the lake than with a tasty glass of wine? We think not.
If drinking wine isn't really your thing, that's ok too. Finger Lakes is beloved by locals for its camping, biking, hiking, and water recreation options. So, in addition to world-renowned wineries, breweries, and distilleries, there are 134,000 acres of water to explore.
Lake McDonald, Montana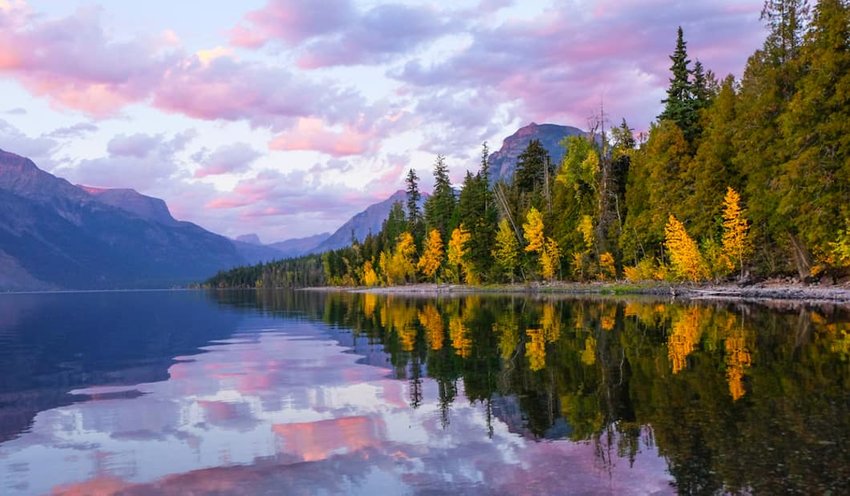 Lake McDonald, the glistening crown-jewel of Montana's beloved Glacier National Park, is just 10 miles long and 1 mile wide.
However, what it lacks in size it more than makes up for in spectacular mountain scenery. The glassy, reflective waters of Lake McDonald make it the perfect place to kick back and relax after a long day of hiking in the park.
Not to mention, wildlife viewing here is top-notch. It's not uncommon for bighorn sheep, elk, mule deer, and even the occasional grizzly bear to make their way down the pebbly shores of Lake McDonald. So, if you drop by, don't forget your camera!
The beloved Going-To-The-Sun Road winds alongside Lake McDonald for miles, and the Lake McDonald Lodge and Apgar Village offer the perfect opportunity to grab a bite to eat or re-up on snacks.
Ready to Go?
The time has come for you to get your boat on, swim on, hike on, or float on. Whether you love to hike, bike, camp, backpack, paddle, surf, or sail — one of these beautiful bodies of water will certainly fit the bill.