In Portugal, cities curve gracefully over steep hills, seaside-villages perch over crashing waves, and mountaintop hamlets carve in and around enormous boulders. Between these diverse landscapes, Portuguese cuisine is a delightful array of regional flavors and national specialties as varied as the country itself. While experiencing the many foods that define Portugal takes more than a single vacation, there's no better lens through which to get to know the land, people, and culture.
As you plan your trip or make your way through Lisbon, Porto, and the hundreds of towns and villages spanning the country, start your Portuguese food tour by trying these 10 dishes.
Bacalhau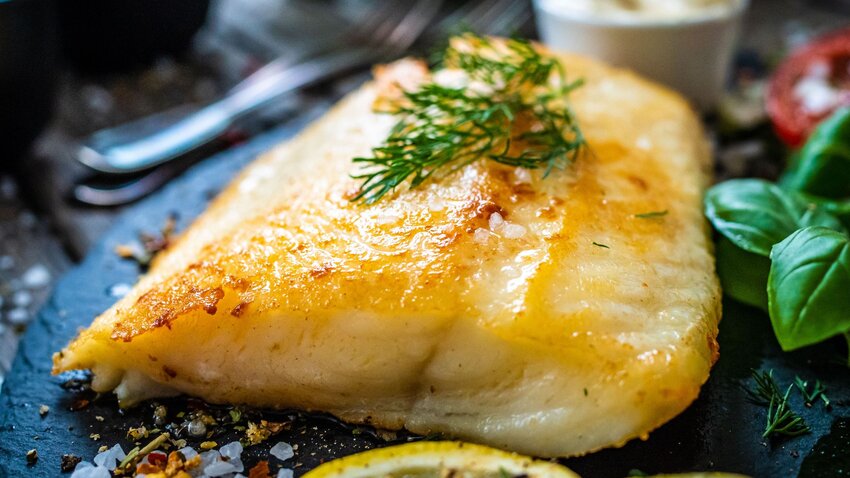 Since the 16th century, Portuguese fishermen have been harvesting the key ingredient for bacalhau (salt cod), Portugal's national dish. Pre-refrigeration, sailors discovered cod in the waters around Newfoundland and Nova Scotia, and salt-dried the fish for their own consumption. What was left over when they returned to Portugal struck a chord with the population, and the noise has reverberated since. Some say there are more recipes for bacalhau than there are days in the year, and once the dried fish is desalinated, the rehydrated fish is made into fried fritters (bolinhos de bacalhau), stews, gratins, and much, much more.
Bifana
When it comes to this pork sandwich, regional specialties can't be ignored. While the origin of this late-night Portuguese classic is largely speculative, they're found around almost every corner. In the south, the sandwich is made of a few thin patties of pork, typically served with a bottle of mustard. In Porto and other northern towns, the meat is shredded and stewed in vats spiced with everything from paprika to chili peppers. But no matter where you're eating one, the bifana is a cultural landmark across Portugal.
Sardinhas Assadas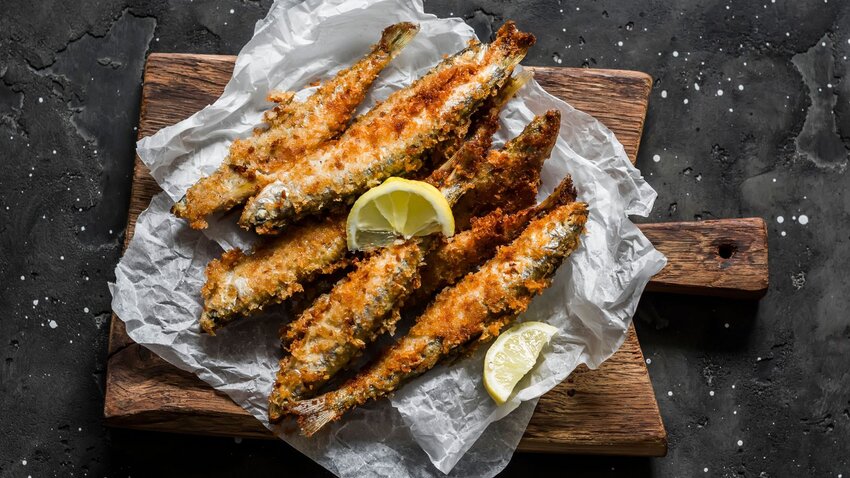 Along the country's extensive coastline, the abundance of sardines has made them one of the most popular dishes in Portuguese homes and restaurants. In fact, it's not uncommon to see entire stores dedicated to tinned fish, with hundreds of flavors to choose from. But sardinhas assadas, or grilled sardines, are perhaps even more familiar. At restaurants, sardinhas assadas are served simply, with light seasoning (salt, pepper, and lemon) on small bits of toast, occasionally accompanied by steamed vegetables or a light tomato sauce. And every summer, sardine festivals take over city streets and entire barbecues are covered with sardines, which are then served hot and crispy alongside flakey Portuguese rolls.
Arroz de Marisco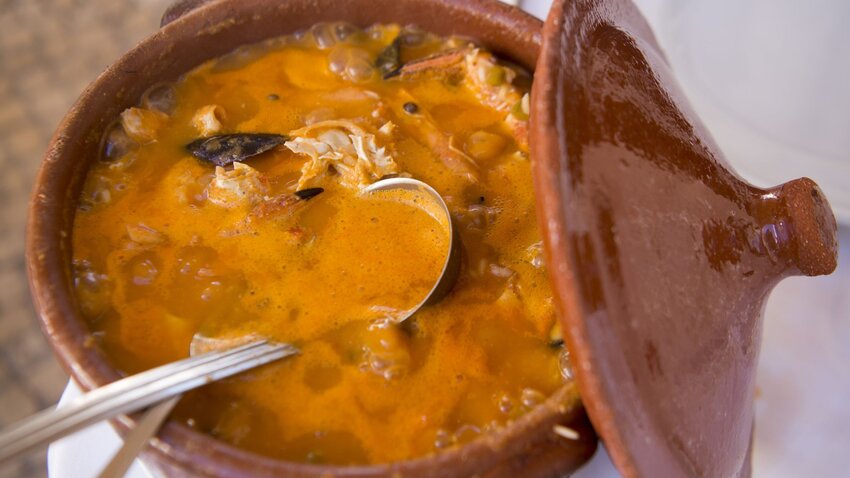 Portugal's favorite seafood rice bears similarities to Spanish seafood paella, both heavy in fish and shellfish and cooked in a thick herbed sauce. But while paella is completely reduced, arroz de marisco remains stew-like, with bites of shrimp, mussels, squid, clams, and fish. Often served in a large clay pot, arroz de marisco is the perfect accompaniment to your coastal journey in Portugal, and is best enjoyed at one of the local seaside restaurants beside a plate of freshly harvested barnacles.
Alheira
Sausages are eaten frequently throughout Portugal, and while chouriço à bombeiro and its flaming dish are perhaps the most recognizable, alheira (bread sausage) has one of the most unique histories. When the Spanish Inquisition arrived in full force in Portugal, Jewish refugees and residents were forced to conceal their faith and present themselves as Christian converts. Because the traditional pork sausage that sustained families through the winter was not allowed in Jewish households, residents of Mirandela developed this alternative to fool invaders. Alheira is still eaten today, often prepared with chicken, rabbit, or beef alongside the traditional breadcrumb filling.
Porco Preto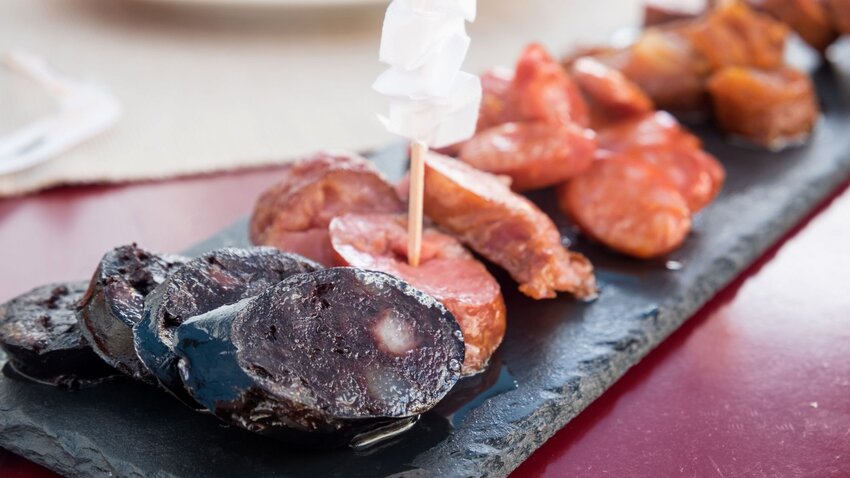 Poco preto comes from the black pig native to the Iberian peninsula and has a slightly nutty flavor from the acorns the pigs consume – the higher the quality, the stronger the taste. The meat is cured and served beside flavorful cheeses on restaurant tables or is packed into smoked sausages and served beside Baga wine (a variety of grape grown in the Dao and Bairrada regions). From ribs to pork and seafood stews, porco preto provides a deep flavor in every form, although we always suggest visiting the market vendors serving the cured pork to try a few samples.
Francesinha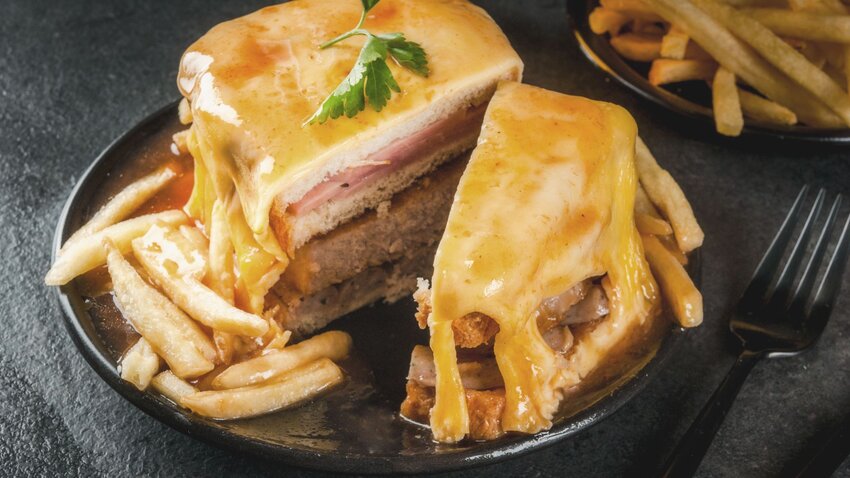 In the 1950s, a Portuguese man living in France became deeply inspired by the French Croque Monsieur and created the now well-known francesinha. The plated sandwich is layered, beginning with a thick slice of bread, and then climbing with a layer each of ham, cheese, and steak. The entire creation is covered with more cheese and a slightly spicy, beer-and-tomato-based sauce — although every chef has their own secret recipe that makes each francesinha unique to its restaurant — and then popped in the oven. Order this melty, rich classic with a glass of Suber Bock or vinho verde (a light, refreshing wine) to wrap up a day of climbing hills rising above thousands of terracotta rooftops.
Polvo à Lagareiro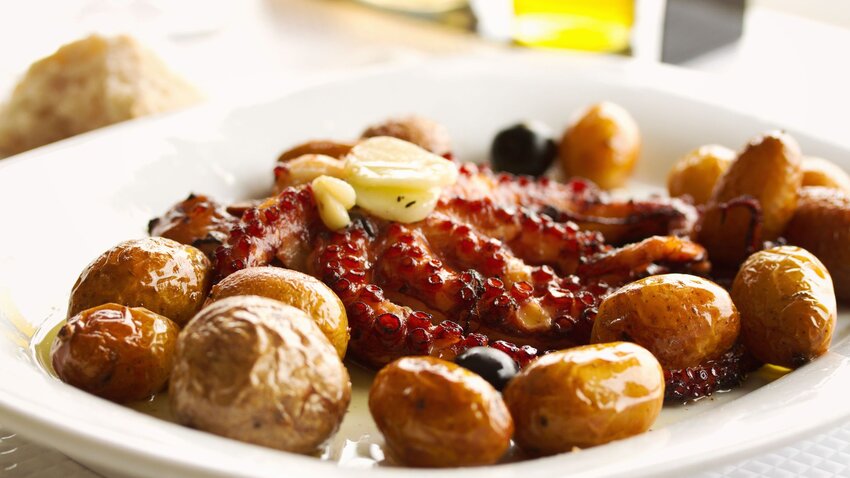 Polvo, or octopus, is cooked in a particular style in this famous Portuguese dish. The term "lagareiro" once referred to the mill where olives were crushed to produce oil. Now, lagareiro is a cooking process, which in this case involves boiling the octopus and brushing it with olive oil before baking it with onions and heaps of garlic. Perhaps most important are the sides, as this dish isn't complete without its characteristic accompaniment of small, roasted potatoes.
Travesseiros
In Sintra, the summer home for Portuguese kings and nobility, a bakery called Piriquita is told to have captured a king's attention with a puffy, pillow-like confection. Travesseiros, named for their resemblance to pillows, are an enormously popular treat in Sintra and beyond. Made of crispy, flakey puff pastry covered in granular sugar and stuffed with an almond and pastry cream, these desserts are addictive and delicious. Visitors can tour castles and expansive gardens in Sintra, and pack a few dozen travesseiros into their day from the busy, continually-operated Piriquita bakery.
Pastel de Nata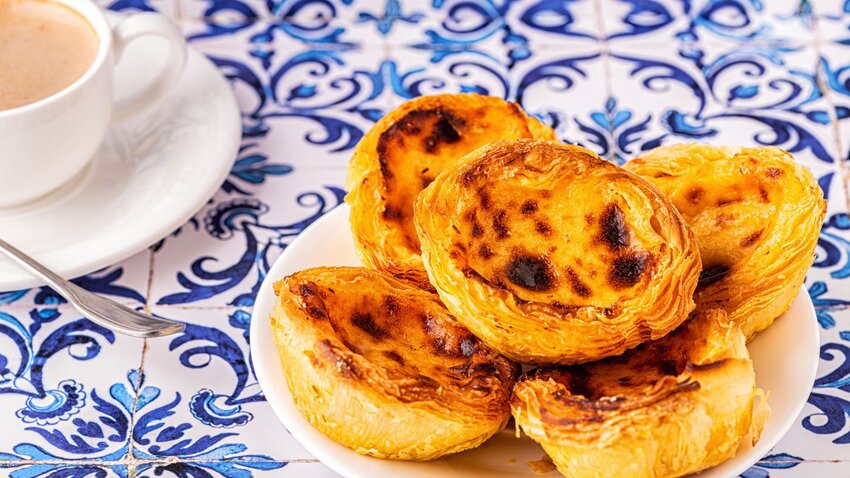 These famous egg tarts are as synonymous with Portugal as the language or the seafood. Rippling puff pastry crusts spiral outwards from the bottom in a characteristic swirl, filled with a creamy egg-yolk custard that's broiled and crispy on top. These small tarts have been around since the 18th century, but that doesn't mean they haven't evolved since. Some are made with port wine, others are infused with lemon, chocolate, or cinnamon. They're best when they're hot, the flakey pastry crumbling away and the flavors melting across your tongue. The one drawback: they're gone far too quickly — so order more than one.