Savvy travelers know that family getaways and reunions can quickly add up in the form of hotel stays, but thankfully, Airbnb has opened up a plethora of possibilities for the modern-day traveler by providing affordable accommodations on this peer-to-peer platform. Staying in a local's home makes for an immersive vacation as you connect with the community and experience a destination away from the crowds by placing yourself in the heart of a culture. From tranquil treehouses to ultra chic villas, these luxurious, jaw-dropping Airbnb lodgings will make the perfect vacation rental for the whole family.
Alpine Haus, Colorado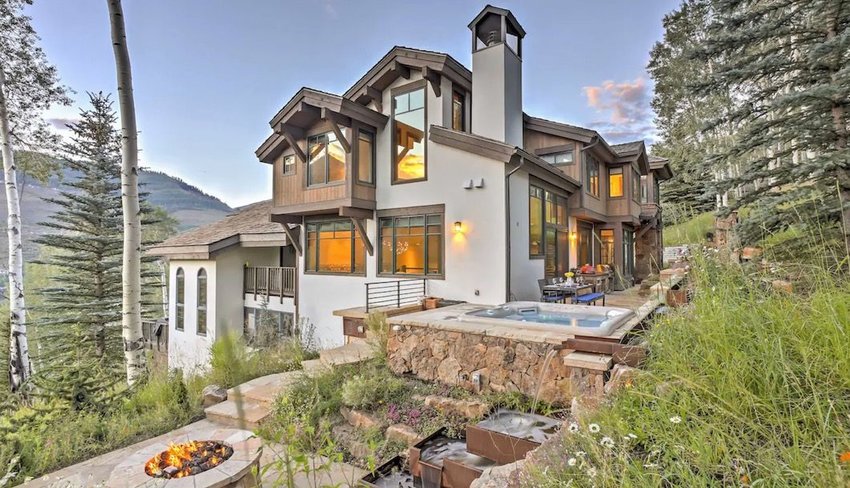 Ideal for a winter adventure in the resort town of Vail, Colorado, this luxurious hilltop property is conveniently situated between the mountain village of Beaver Creek and Vail Village. Hit the slopes for the day with your family and unwind in 4,500 square feet of living space by lounging in front of the wood-burning fireplace or by soaking in sweeping views of the surrounding White River National Forest and snow-capped mountains from the outdoor hot tub. Boasting six tastefully-decorated bedrooms and a fully-equipped kitchen with shiny marble countertops, the Alpine Haus comfortably sleeps a family of 11. Come to experience the world-class ski runs or revel in the luxuries of a five-star hotel. This Airbnb even includes a heated outdoor patio and fire pit for an evening of s'mores under the twinkling night sky.
Boca Grande Island Estate, Florida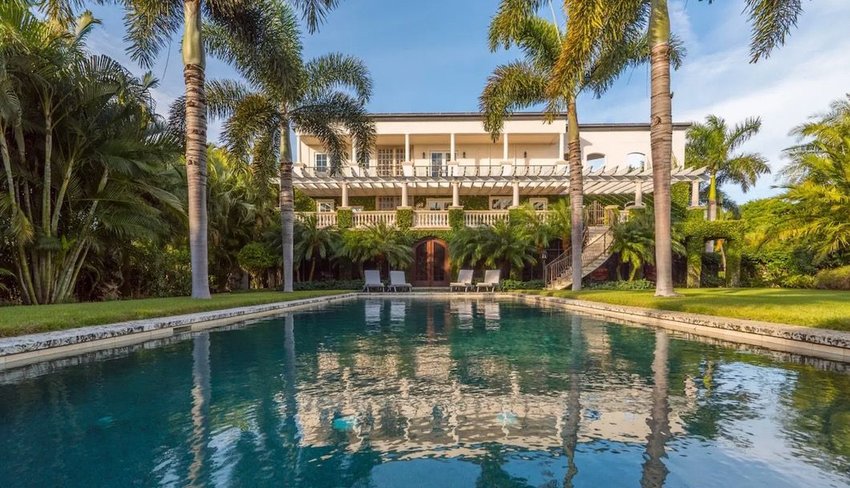 Enveloped by perfectly-manicured gardens and boasting private beach access, this elegant five-bedroom property in Boca Grande on Florida's Gasparilla Island is a secluded paradise. Its 4,616 square feet of living space comfortably sleeps 14 and the two golf carts and 10 bicycles that come with this property allows your family to explore the quaint residential community of Boca Grande like an islander. Pack up the provided snorkeling gear, fishing equipment, and beach toys for an afternoon on your private, sun-drenched stretch of sand or lounge on the beach chairs by the 50-foot pool. Cook your meals in the fully equipped outdoor kitchen that faces the pool and dine al fresco with the whole family as you listen to the waves lap against the shore on the beach.
Stunning Old Town Penthouse, Illinois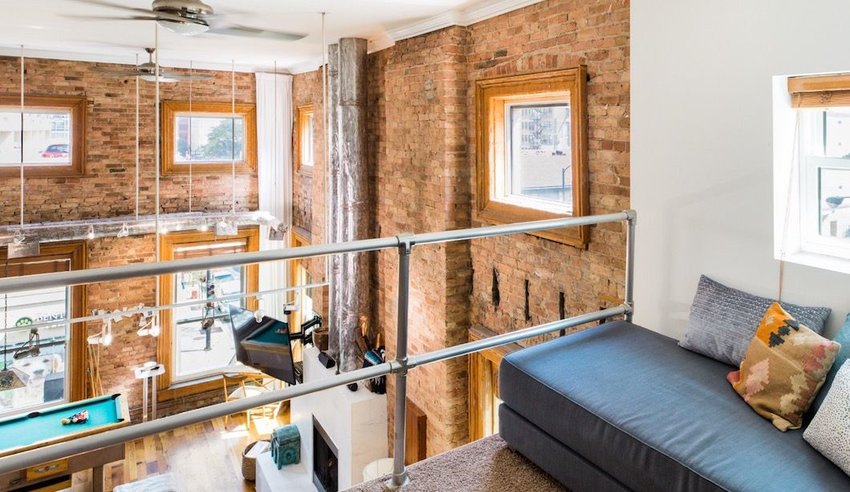 This stunning, 4,000-square-foot property is ideally situated in the heart of Chicago — allowing guests to easily reach Michigan Avenue and Oak Street Beach on foot or by bike. This Airbnb was built in 1897 and recently renovated in 2017, combining a penthouse unit with a loft by private staircase. The penthouse accommodates up to 16 at this joint property. With trendy exposed brick interior walls, soaring, 20-foot ceilings, and floor-to-ceiling windows in the living room, this bright and airy five-bedroom loft seamlessly blends comfort and style.
Craftman Cottage, California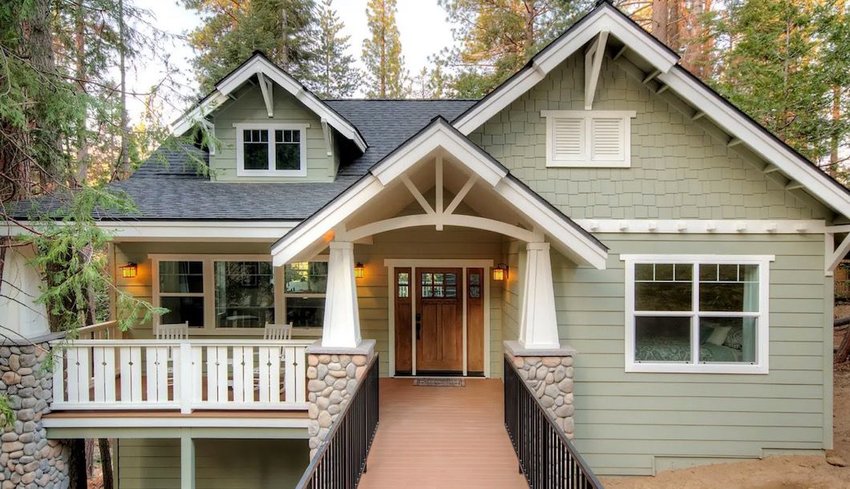 A craftsman-style cottage nestled on the grounds of Yosemite National Park is a charming property for eight that encourages your entire family to reconnect with nature. This Airbnb has a central location, which makes an ideal base for exploring Yosemite Valley, Wawona, and Badger Pass Ski Area. Begin your mornings by sipping tea on one of two rocking chairs on the covered front porch and finish the afternoon exploring Yosemite's vast wilderness of tumbling waterfalls and ancient giant sequoias. Prepare your favorite meal in the farmhouse-style kitchen and dine al fresco on the rear deck against a picturesque backdrop — all the while reveling in that crisp mountain air.
Modern Melrose Mansion, California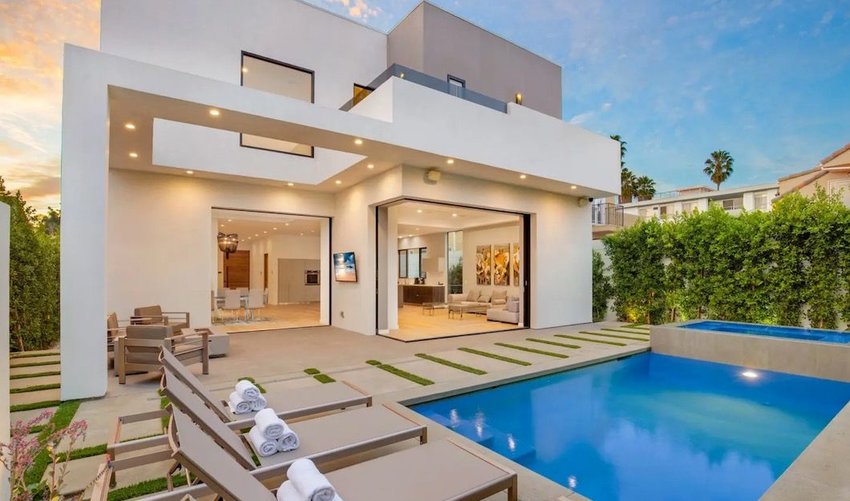 For the ultimate decadent city break, this ultra-modern Los Angeles mansion provides the perfect base for urban exploration. The sleek, four-bedroom property in West Hollywood comfortably sleeps eight, while the master suite boasts a cozy fireplace and blissful, spa-inspired bathroom. The guest bedrooms are even equipped with private balconies for exclusive views over the neighborhood. With Universal Studios Hollywood just five miles away and Rodeo Drive in Beverly Hills a mere three miles away, spend your days experiencing the thrills of the theme park or perusing stylish boutiques before retiring to the trendy villa to lounge by the property's outdoor pool.
Stunning Modern Barn, New York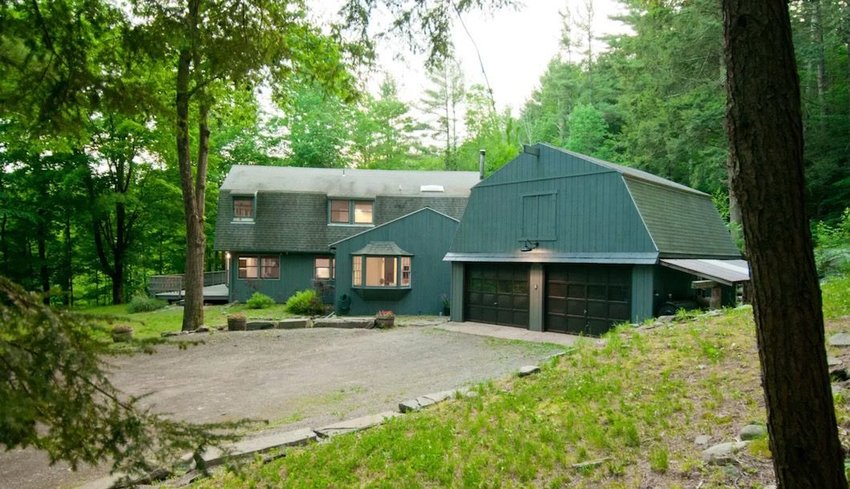 As an elegant retreat for large families looking to vacation in New York's Hudson Valley region, this stylish, 2,800-square-foot, two-story barn accommodates up to 10 people and is situated in close proximity to artsy Woodstock. In the summers, hike and canoe as you explore your surroundings and in the winters, go snowboarding at Hunter Mountain. Spend your time in this space by sprawling in front of the stone fireplace or in the yoga room, where you can relax alone or watch a movie with your family. The owners of this modern barn who spend their leisure time hiking and snowboarding equip you with a list of their recommendations upon booking to ensure you make the most of your time here.
Tree Top Lodge in the Hillside Overlooking Tenmile Lake, Oregon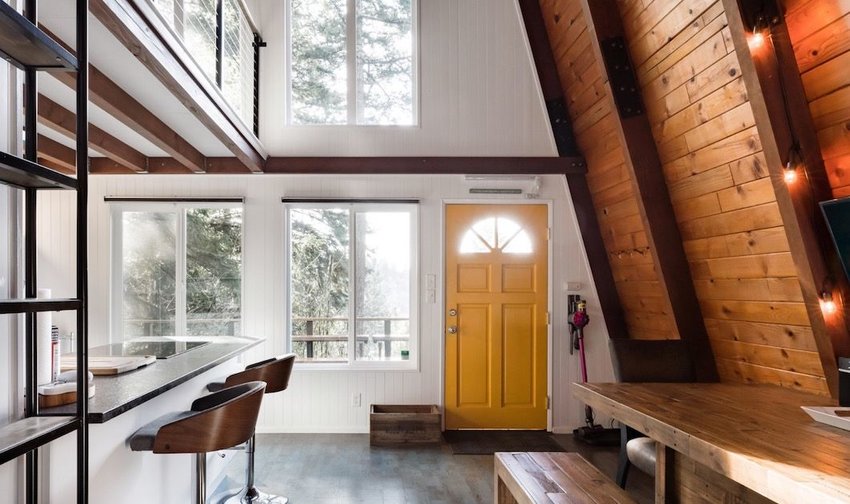 Hidden among the trees on a hilltop is a dreamy, coastal Oregon escape overlooking Tenmile Lake. This two-bedroom treetop lodge accommodates up to eight and features wood-paneled interiors for a rustic cabin vibe, two modern bedrooms with cushy king beds, a living room with double chaise sectional, and a study with an inviting daybed. Though this property has a secluded location, its close proximity to downtown Lakeside allows for easy access to classic American diners and bars, as well as a grocery store. Explore private hiking trails from your doorstep, take a leisurely, two-mile stroll to Tenmile Lake, or stargaze from the deck before going to bed among the trees.
Treehouse Family Retreat, California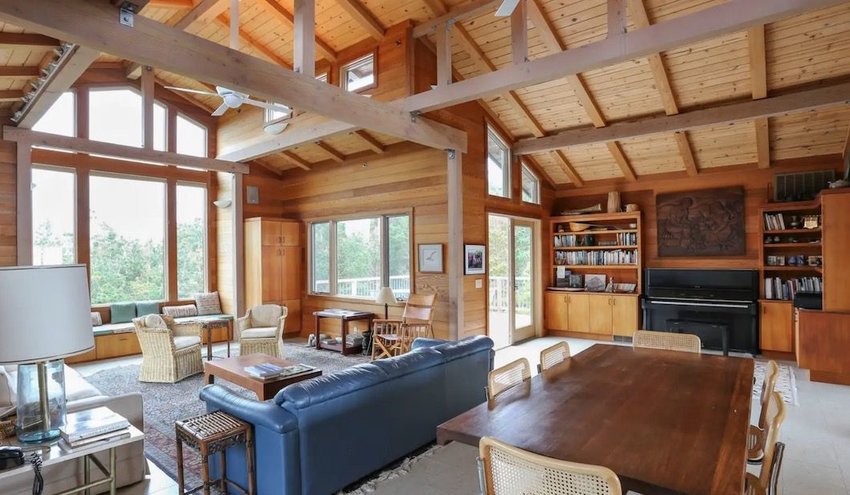 For kids or kids at heart, this is your chance to stay in a real-life treehouse in the idyllic Californian town of Inverness, which is just north of San Francisco. This property was rebuilt following the Mount Vision Fire that swept through the area in 1995 and now boasts an open-floor plan upstairs, which makes it ideal for family get-togethers. Perched at the top of the Inverness Ridge, this thoughtfully-designed, four-bedroom property that accommodates eight is a secluded getaway with exclusive sunset and sunrise viewing opportunities. This treehouse shares 100 yards of property line with Point Reyes National Seashore, where you'll discover a network of well-maintained hiking and mountain biking trails. Go for an early morning nature walk or opt for a more strenuous hike to Drakes Estero before retreating to the treehouse to join your family for a barbecue dinner on the outdoor deck.
Spacious Southern Louisiana Escape, Louisiana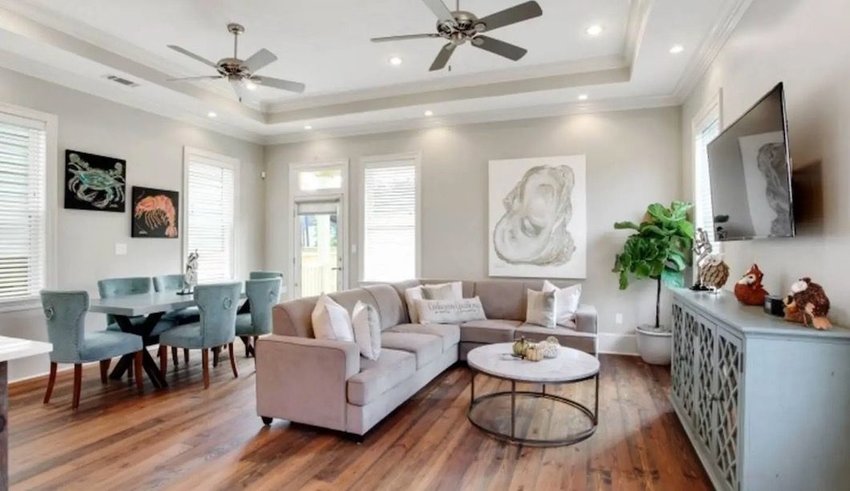 Only one block from the Lafitte Greenway and three blocks from Canal Street, this five-bedroom mid-city property is minutes from New Orleans' most popular attractions. Hop in an Uber for a five-minute ride to the historic French Quarter, where you can marvel at the city's iconic Creole townhouses or listen to live music at the jazz clubs on Frenchmen Street. Its open living space encourages families to come together and its outdoor entertainment area is ideal for huddling around the fire pit in the evenings. Escape to New Orleans with your family to experience a weekend of Southern hospitality or participate in the lively celebrations of Mardi Gras.
The Box Hop, Ohio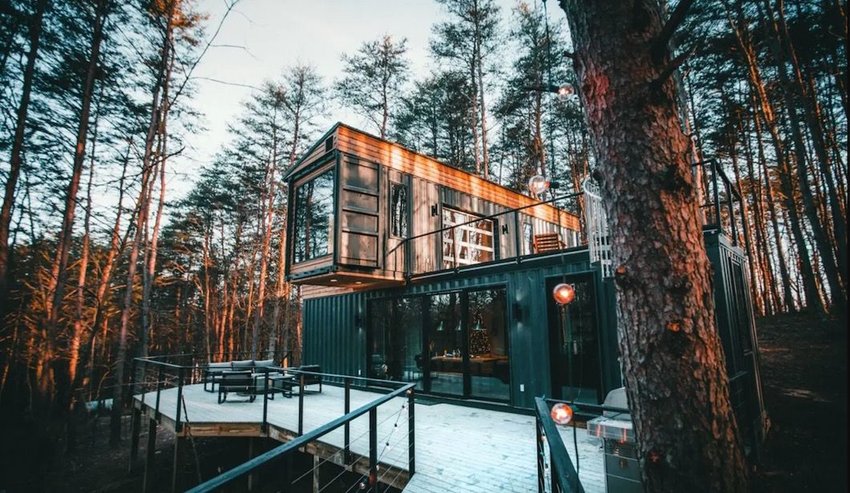 Nestled in verdant forests on a sweeping 18.5 acres in Hocking Hills, this innovative Rockbridge, Ohio property was constructed from three intermodal shipping containers and transformed into a minimalist, three-bedroom home. The aptly-named Box Hop is a modern take on the rustic cabin lifestyle and invites outdoorsy families of up to eight to come and experience the 25 miles of rugged hiking trails and silver waterfalls of Hocking Hills State Park. Go fishing or canoeing nearby, then cozy up next to the gas fireplace or soak in the six-person outdoor hot tub among the trees.