There are 13 countries along the Equator — passing through three of the seven continents. To explore them all, start in Ecuador and follow this notional line that separates the northern and southern hemispheres. Travel through the Amazon rainforest, then cross the Atlantic to the heart of Africa. Explore two very different Asian archipelagos before winding up in the Pacific Ocean nation of Kiribati. Here's what to expect from a journey along the Equator. (Note: Despite its name, Equatorial Guinea, on the West Coast of Africa, does not touch the dividing line.)
Ecuador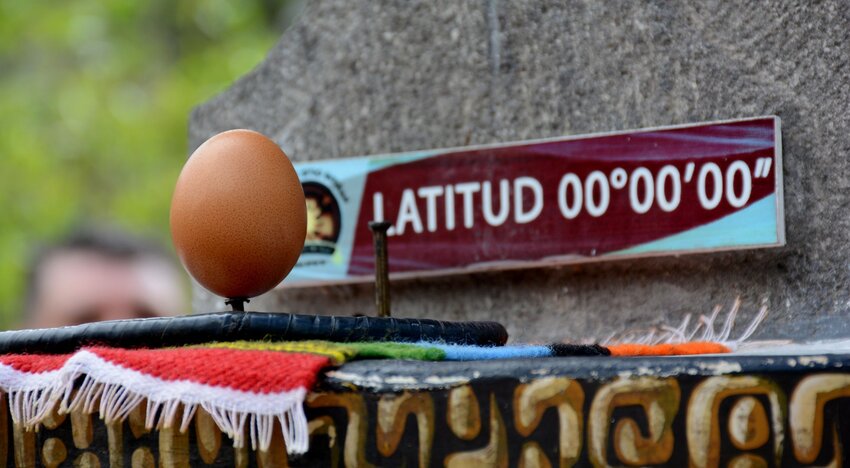 Ecuador translates as Equator, so where better to begin than here? A short drive north of the capital city of Quito is the Mitad del Mundo, or the Middle of the World. There, a monument topped with a globe marks latitude 0 degrees – or rather it almost does, as modern GPS technology actually places the Equator about 260 yards away. That doesn't seem to matter to most visitors, who happily pose for a picture as they straddle the yellow line that's painted across the plaza. It's supposedly easier to balance an egg on a nail at the Equator than anywhere else, and here, find out just how dubious a claim that is.
Colombia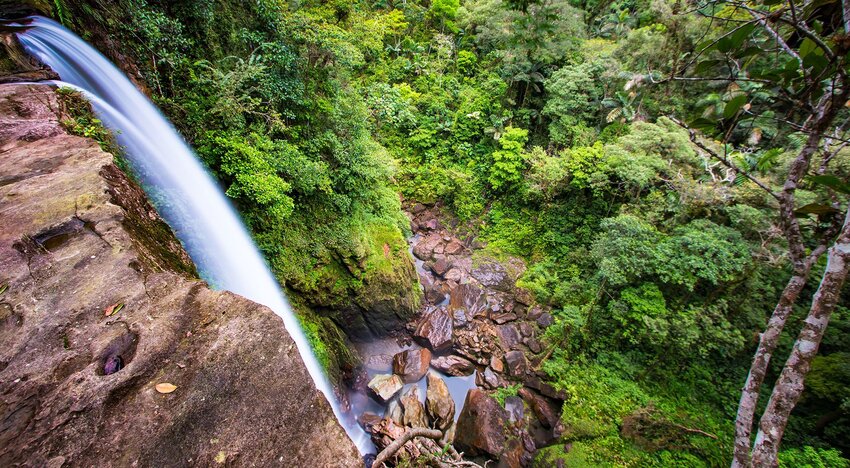 From Ecuador, the line slips into southern Colombia. This remote region is a world away from the north of the country, where colorful cities, inviting beaches, and verdant coffee plantations captivate visitors. Instead, it's characterized by lush rainforest and hidden waterfalls. Tourism close to Colombia's stretch of the Equator is far less developed than in the Peruvian or Brazilian Amazon. That said, for those prepared to forgo luxury lodges, a rafting or kayaking trip along one of the area's many rivers brings the area's abundant wildlife tantalizingly close.
Brazil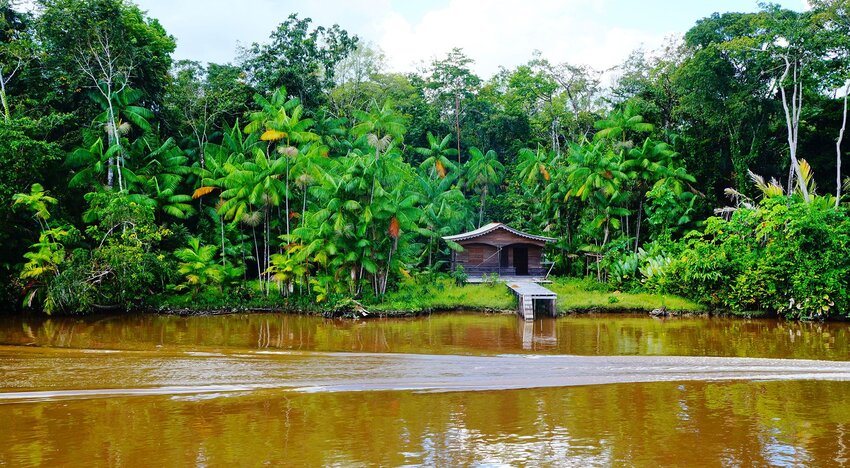 In Brazil, the Equator line bisects the Amazon. At its eastern point, it travels through the city of Macapá, a busy river port closely linked to neighboring French Guiana.There's not a lot to see in the city, save for an 18th century fort and the Marco Zero monument — which marks not only the Equator but also the movement of the sun. At the time of the equinoxes in spring and fall, the sun is perfectly aligned, shining through the circle at the top of the monument and along the Avenida Equatorial.
São Tomé & Principe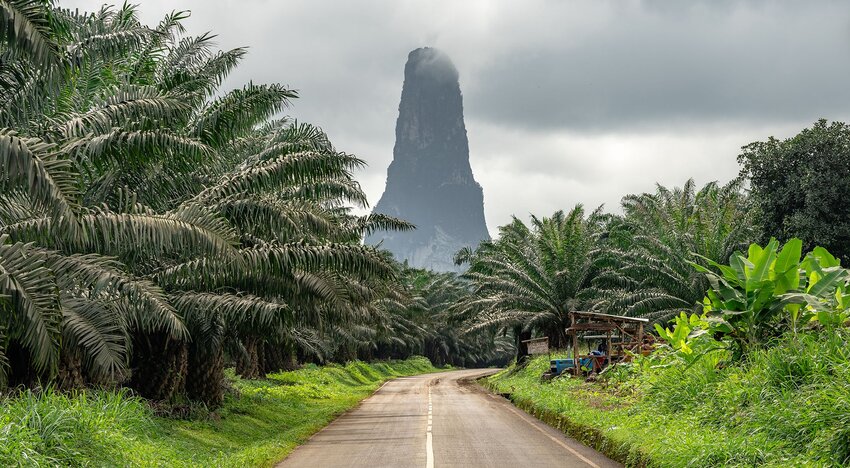 On the opposite side of the Atlantic Ocean, São Tomé & Principe is an island nation close to the coast of Africa. This emerging destination made it onto Lonely Planet's Best in Travel list in 2019 but remains under the radar for many travelers. That's a pity, as this volcanic paradise is brimming with rainforest and unspoiled beaches. Two of its unmissable sights are a stone's throw from the Equator: Lagoa Azul (Blue Lagoon) in the Obô de São Tomé Natural Park and the striking Pico Cão Grande, a towering pinnacle of solidified lava.
Gabon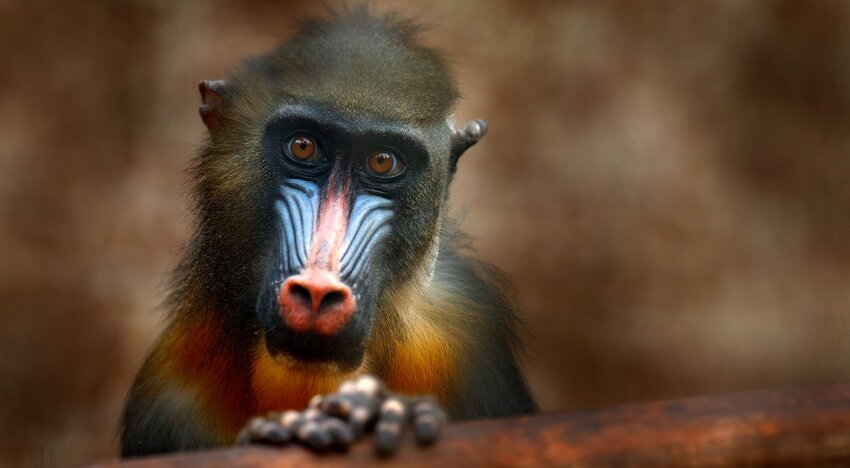 Over on the mainland is Gabon. Sometimes dubbed "Africa's last Eden" because of its wildlife and natural beauty, it's also nicknamed the "land of the surfing hippos" thanks to a spread published a couple of decades ago in National Geographic. Photographer Michael Nichols snapped the animals in Loango, a couple of degrees south of the Equator. Loango is one of 13 national parks established by former president Omar Bongo in 2002. They cover about 10% of the country. Gabon hopes one day to become Africa's answer to Costa Rica — but for now, its limited infrastructure means it's for intrepid travelers only.

Republic of the Congo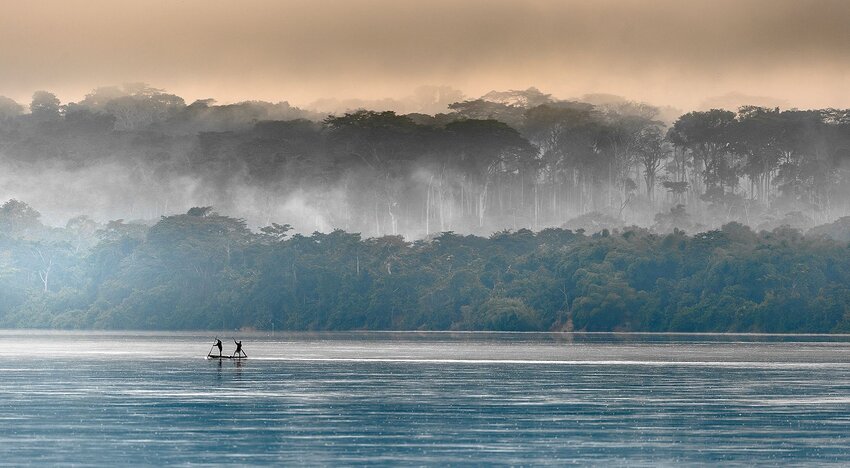 Relatively few tourists make it to the Republic of Congo (don't confuse it with the Democratic Republic of Congo – that's next door). Those who do will need to research their trip with care. Many parts of the country are risky for foreign nationals, with high crime rates and incidences of rebel activity and banditry. However, in the capital Brazzaville, it's worth seeking out the flamboyant sapeurs – you might have seen them in a 2014 commercial for Guinness. But the Equator actually passes considerably further north through the Republic of the Congo. There, you're more likely to encounter tranquil rural landscapes and lush forest, as this area forms part of the Congo River's drainage basin.

Democratic Republic of the Congo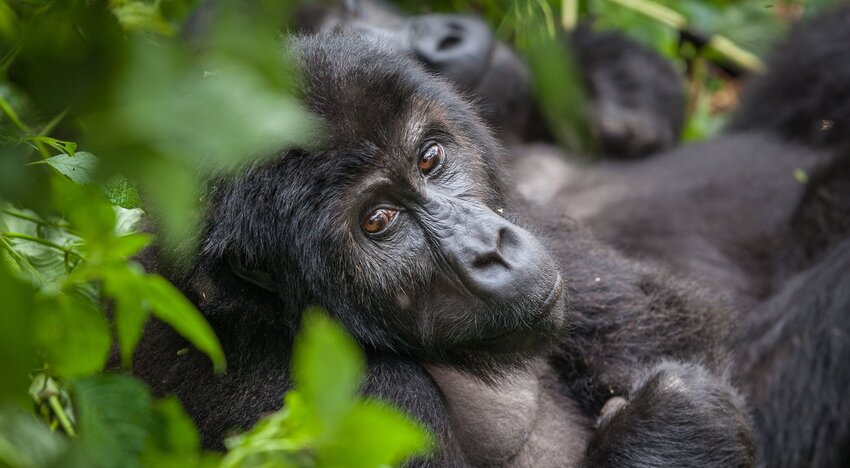 Visits to the Democratic Republic of the Congo are off-limits right now as political instability puts travelers at risk of robbery or kidnapping. But bookmark this for later and visit Virunga National Park on the country's eastern border. It's Africa's oldest national park and a UNESCO World Heritage Site. Along with neighboring Uganda and Rwanda, it's home to a sizable but endangered population of mountain gorillas. Only a thousand exist worldwide; Virunga has around a third of them. They are especially vulnerable; unlike their lowland cousins, they are unable to survive in captivity and no one's yet figured out why.
Uganda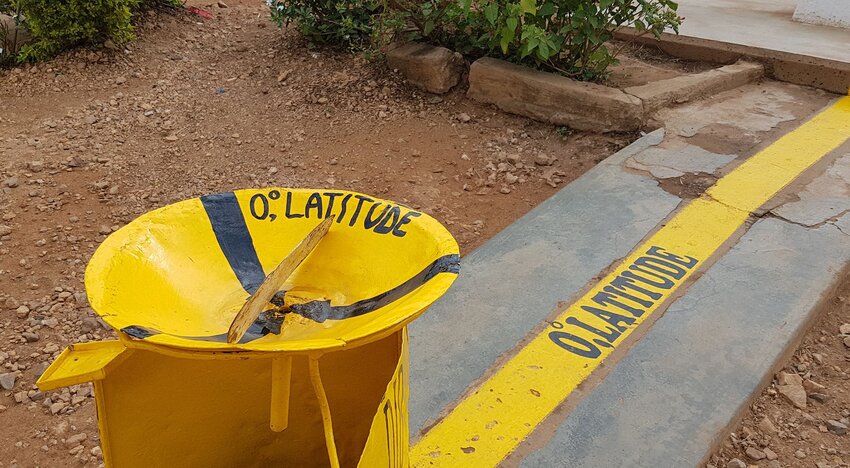 As in the DRC, Uganda's biggest draw is its gorillas. However, the country's busiest safari destination is actually Queen Elizabeth National Park, which straddles the Equator. Stop off to see elephant, hippo, buffalo and even the elusive tree-climbing lions for which the park is famous. Continue along the road towards Uganda's largest city Kampala to reach the country's busiest Equator crossing. Beside a souvenir shop, there are couple of small sinks. There, travelers can try one of the Equator's most well-known experiments and see if water does drain in a different direction on opposite hemispheres. Disappointingly, it's a myth, though it's still fun to try.
Kenya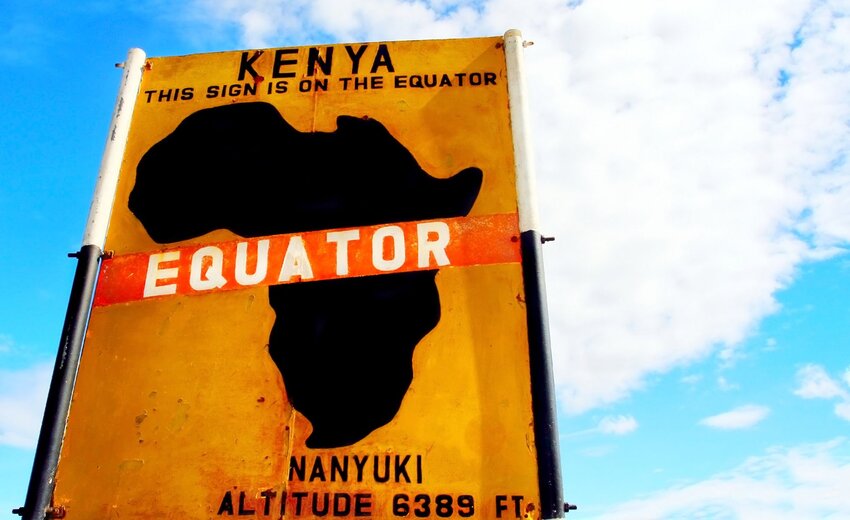 East Africa's premier safari destination is a favorite with animal lovers the world over. Each year, a mind-boggling 1.5 million wildebeest attempt a migration north across the Mara River, and witnessing it is spectacular. In the nearby Masai Mara, tick off the Big Five – lion, leopard, buffalo, rhino and elephant; Amboseli and Tsavo National Parks are similarly well-stocked. Tourists sometimes overlook Meru National Park, which straddles the Equator. However, it was once the home of George and Joy Adamson, best known for Born Free, the book and film about  the orphaned lion cub they reared and released back into the wild. The Kenya Wildlife Service has worked hard to solve problems with poaching, and visitors are returning to see Meru's varied wildlife once again.
Somalia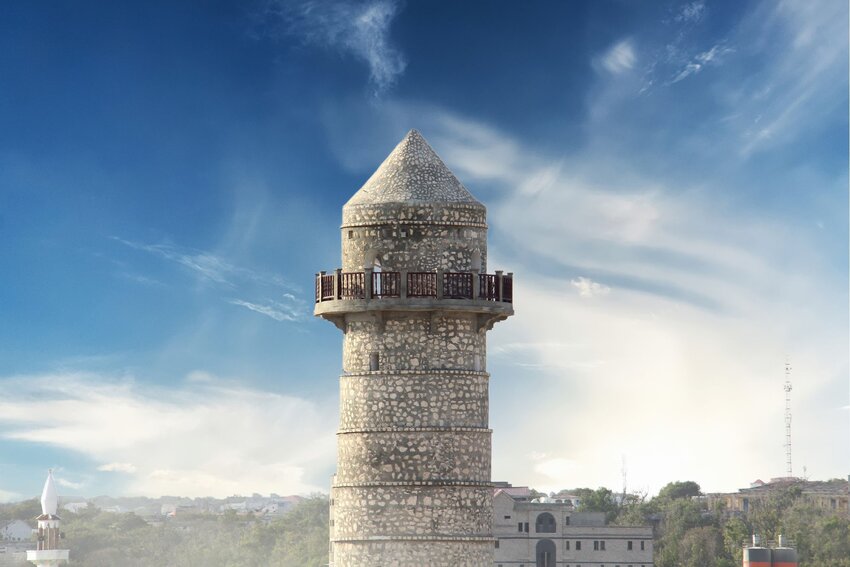 Volatile Somalia is next on this Equator journey, but ongoing violence makes this off-limitsat present. When peace returns, the area's mercantile history, ancient fortifications, dramatic waterfalls and endless unspoiled beaches will make this an enticing prospect for those seeking adventure.
Maldives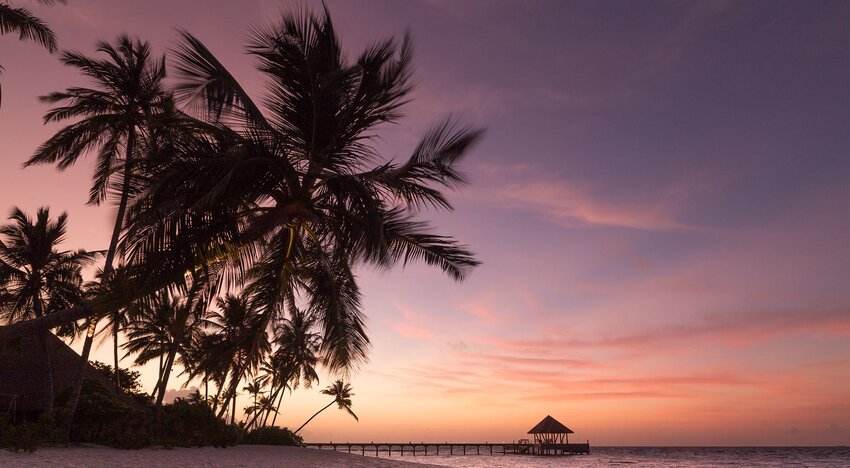 The Maldives comprises 26 ring-shaped atolls containing 1,190 coral islands, 185 of them inhabited and countless others given over to tourism. In recent years, a proliferation of budget-busting guesthouses has opened up to cater to visitors keen to get an insight into paradise. For absolute luxury,book an overwater villa in one of the swanky all-inclusives and let a private butler deal with everything. The closest atoll to the Equator is Addu, the southernmost island group, though the country's signature luxury resorts are located further north. But regardless of where you stay, nothing beats diving and snorkeling against a breathtakingly beautiful backdrop of sugar-soft sand and gently swaying coconut palms.
Indonesia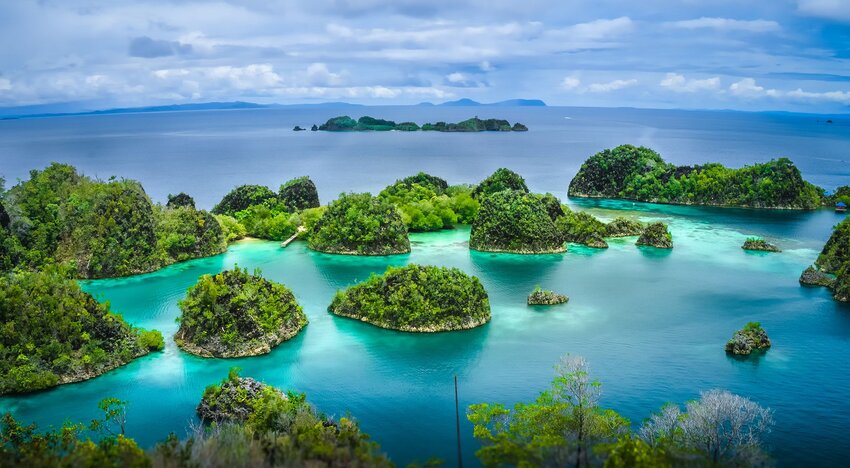 A considerable number of Indonesia's 17,508 islands attract tourists. Bali offers verdant rice paddies and cliff-top temples, Lombok lures with the promise of deserted beaches, and Komodo's home to some pretty fierce-looking dragons. On Java, climb Mount Bromo to experience one of the most incredible spots on the planet to watch the sunrise over a panorama of volcanic craters. The Equator cuts across Kalimantan, Indonesia's part of Borneo. It's the best place in the country to see orangutans in the wild. Ride down the Sekonyer River on a klotok, a type of houseboat, to Tanjung Puting National Park to observe these engaging primates hanging out in the tree tops and swampy mangroves.
Kiribati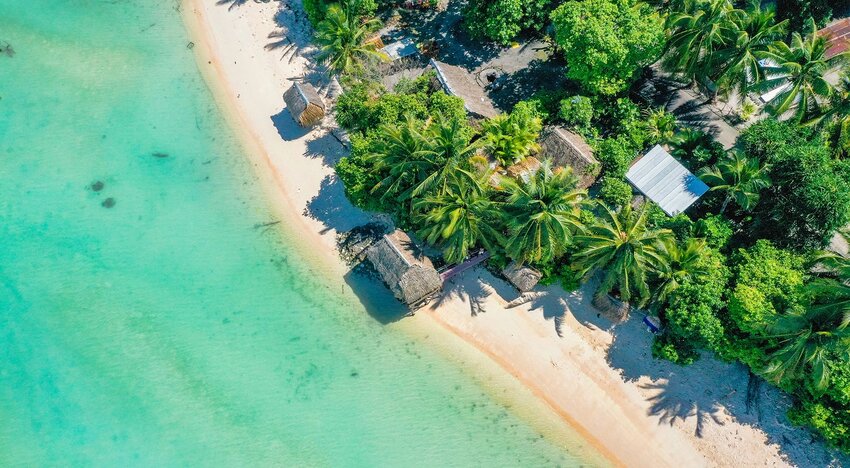 The last of the thirteen is the Pacific nation of Kiribati, pronounced Ki-ree-bas, where you'll find clusters of uncomplicated coral islands from which you can dive, swim, surf, or fish. It is the only country in the world to span all four hemispheres, as it also sits on the Antimeridian, longitude 180 degrees. However, that doesn't put it on the International Date Line, which has bypassed Kiribati since 1995 when the government decided it was fed up with its citizens having to manage a 23 hour time difference between regions. The islands of its 32 atolls are very spread out, resulting in the need for three separate time zones: UTC +12, +13 and +14. Together with Samoa and Tokelau, the easternmost part of Kiribati is the first place in the world to usher in the New Year.
Main photo by Siraphob Werakijpanich/Shutterstock.