Autumn is the best time of year in the Southwest. While dropping temperatures mean breaking out the sweaters and heaters everywhere else in the country, in this corner of the U.S. it means the weather is just right for some outdoor exploring. While most minds immediately jump to the Grand Canyon when thinking of Arizona, there are plenty of other fantastic spots in this sunny state that you have to see to believe.
1. The Wave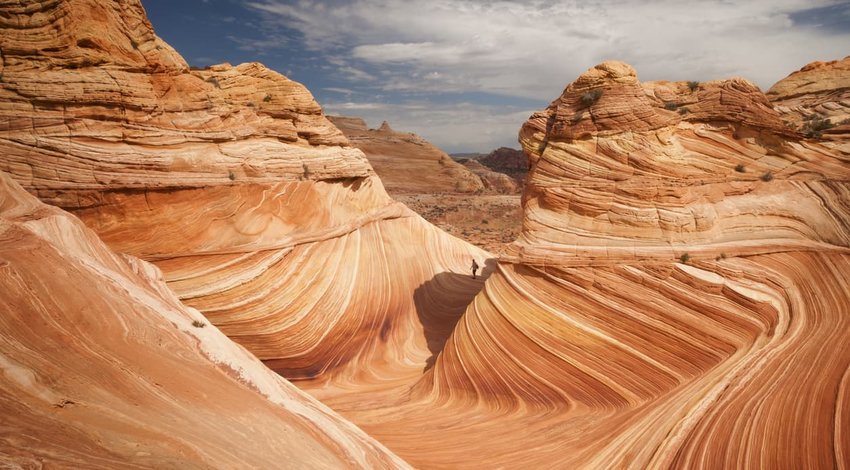 If you've scrolled past this natural wonder on Instagram you've definitely wondered, "How do I get there?" The Wave is part of the Coyote Buttes North Special Management Area straddling the border of Arizona and Utah, and yes, it's just as spectacular in person. The product of centuries of erosion, this geological feature is only open to those with permits, and even then only a few fortunate visitors get to enter each day.
2. Antelope Canyon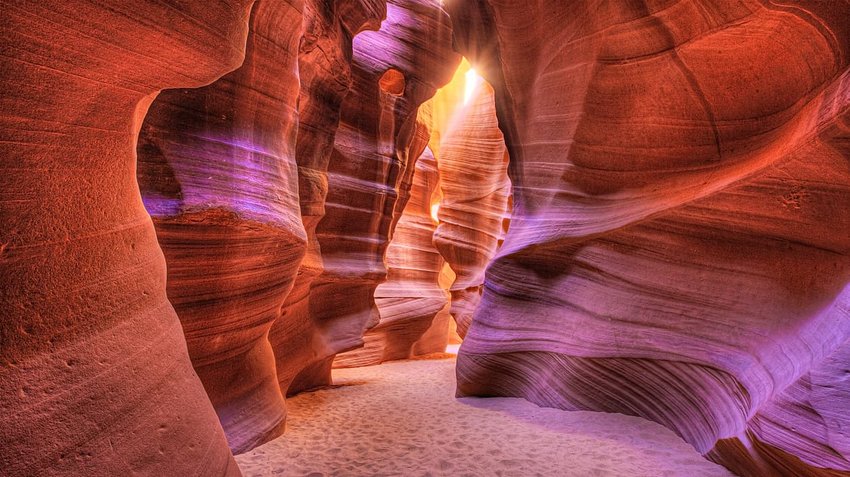 Not too far from the Wave, Antelope Canyon is another astonishing feat of erosion. Arguably the most famous slot canyon in the West, Antelope Canyon is split into Upper and Lower canyons and also limits the number of visitors allowed entry. The lucky ones who secure a ticket will find themselves in a silent world of golden light and impossibly smooth orange walls.
3. Devil's Bridge, Sedona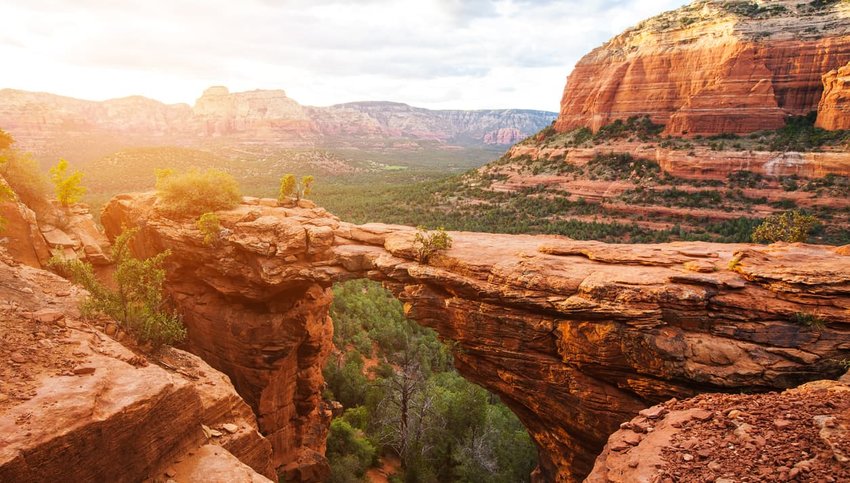 We could have put the entire town of Sedona on this list, but if you're looking for the best of all worlds, Devil's Bridge delivers. A bit of a hike outside of town, this natural rock bridge is one of the most photographed points in Sedona. Take the short hike to this point and get an up close encounter with the red dirt this region is famous for.
4. Coconino National Forest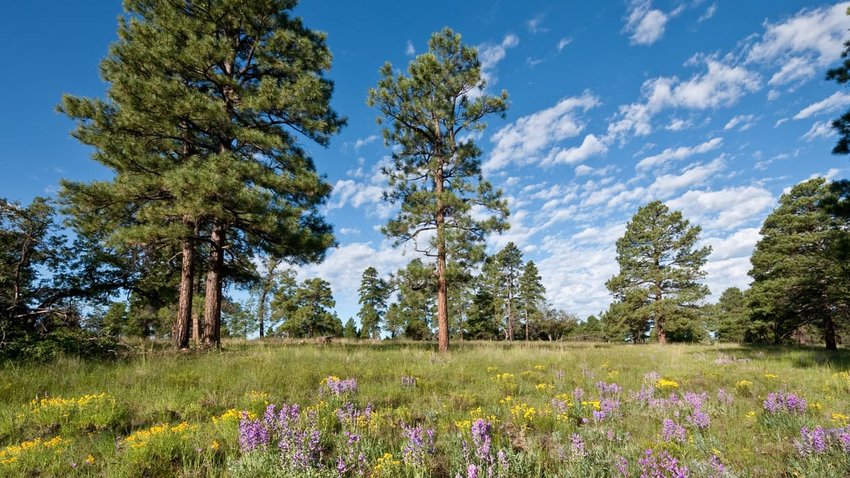 Just outside Sedona, you'll find the largest ponderosa forest in the world in Coconino National Forest. But that's not all this area has to offer. From mountains and canyons to rivers and red rocks, this is the perfect place for some outdoor exploration, whether you prefer hiking, biking, or horseback riding.
5. Petrified Forest National Park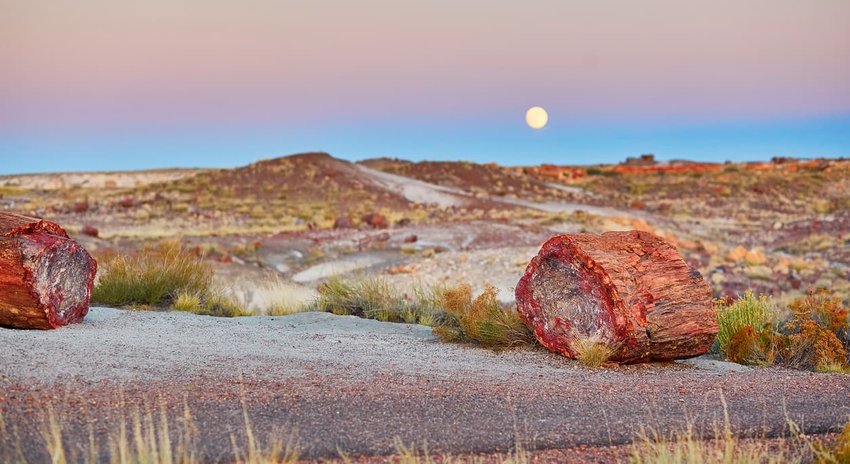 If you thought living trees were incredible, check out the fossilized trees at the Petrified Forest National Park. These fallen trees thrived in the Late Triassic Period, about 225 million years ago, and now reside in one of the most colorful and unique landscapes on earth. Look beyond the fossils and explore the bright badlands and desert terrain that makes this area so stunning.
6. Superstition Mountains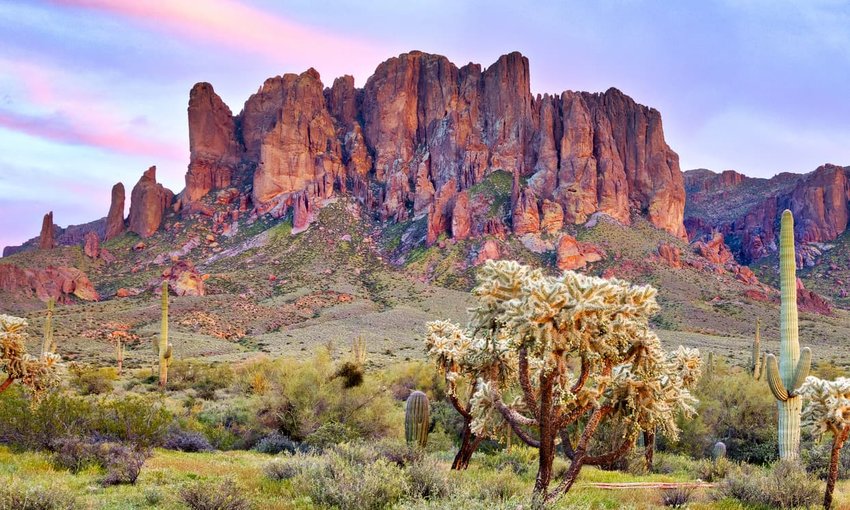 Set an hour or so outside Phoenix, this mountain range earned its mythical name. Rumors and myths of the Lost Dutchman's Gold Mine and other treasures have surrounded the Superstition Mountains for decades, though these days the area attracts more hikers than gold seekers.
7. San Francisco Peaks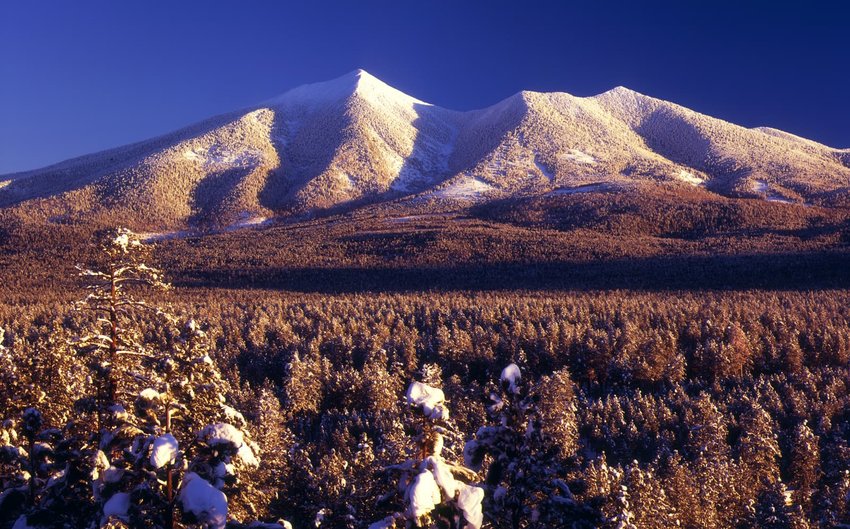 Thought Arizona didn't have snow? You thought wrong. You can find world-class skiing in the San Francisco Peaks of Northern Arizona. Included in the area is Humphreys Peak, the tallest mountain in Arizona, which comes complete with some epic ski runs at Snowbowl.
8. Horseshoe Bend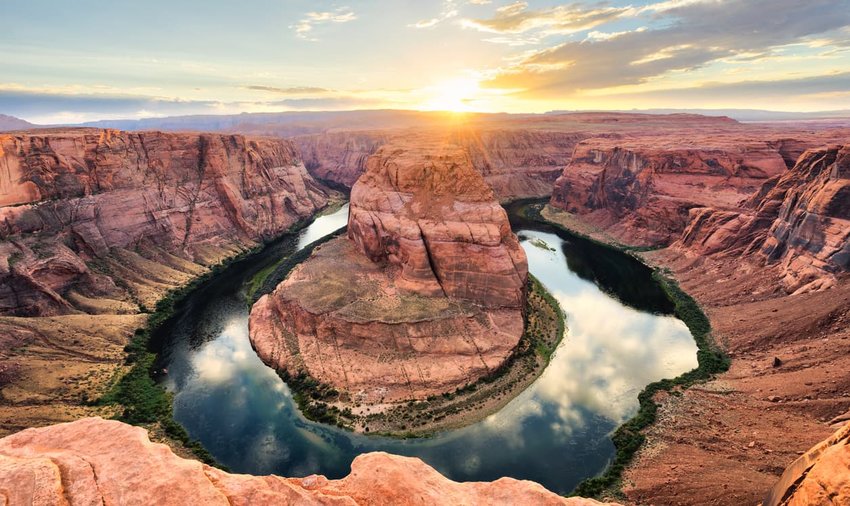 Long famed for its iconic viewpoint, Horseshoe Bend is an offshoot of the Colorado River and makes for one of the most romantic spots in Arizona. Downstream from Lake Powell, this stunning spot is accessible via hiking trail, and sunset viewers are treated to the perfect perfect show.
9. Havasupai Waterfalls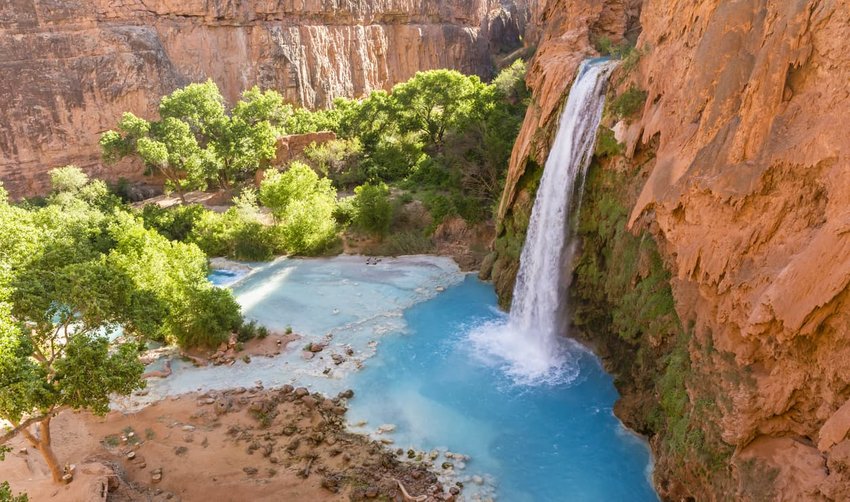 Turquoise blue water is not what you'd expect to see in Arizona, but the Havasu Creek defies the odds. Conjuring up a series of magical cascades, from Beaver Falls to New Navajo Falls, there are plenty of waterfalls to chase here. Whether you hike from fall to fall, spend the night camping, or just stop by on your way to the Grand Canyon, it's definitely worth a place on your Arizona road trip.
10. Saguaro National Park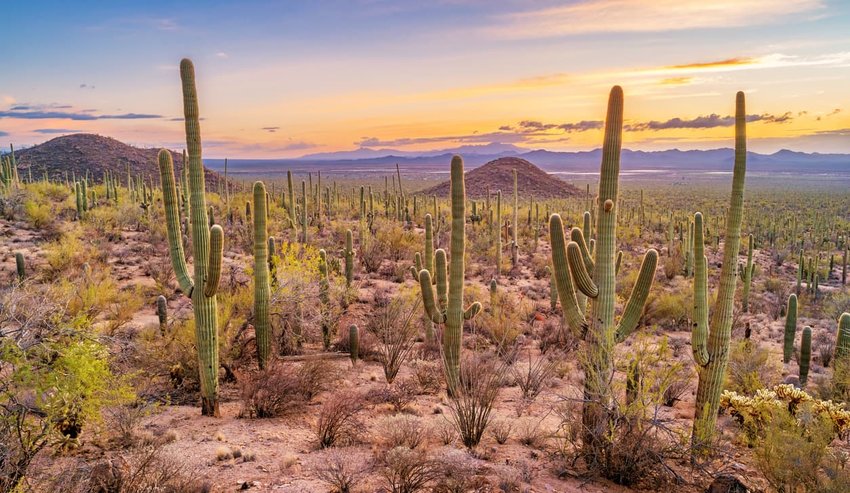 Did you know it's illegal to chop down a saguaro cactus in Arizona? Perpetrators can find themselves slapped with heavy fines and even jail time! These protected plants are plentiful in Saguaro National Park in southeastern Arizona. These cacti have long been a symbol of the state, and coupled with an incredible sunset, will convince you that the desert heat is worth the sweat.
11. Hunts Mesa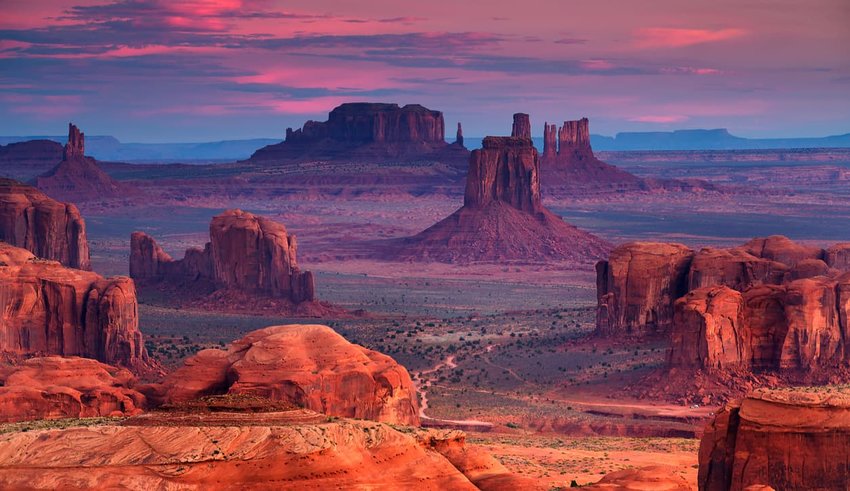 Utah might be better known for hosting the famed Monument Valley, but part of this historic area stretches into Arizona. Hunts Mesa, a section of the Valley, is a particularly photographic area that falls within the Monument Valley Navajo Tribal Park. The stunning rock formation seems like something out of an Old Western film, and you'll be tempted to spend the entire day finding new angles from which to admire the landscape.
12. Blue Canyon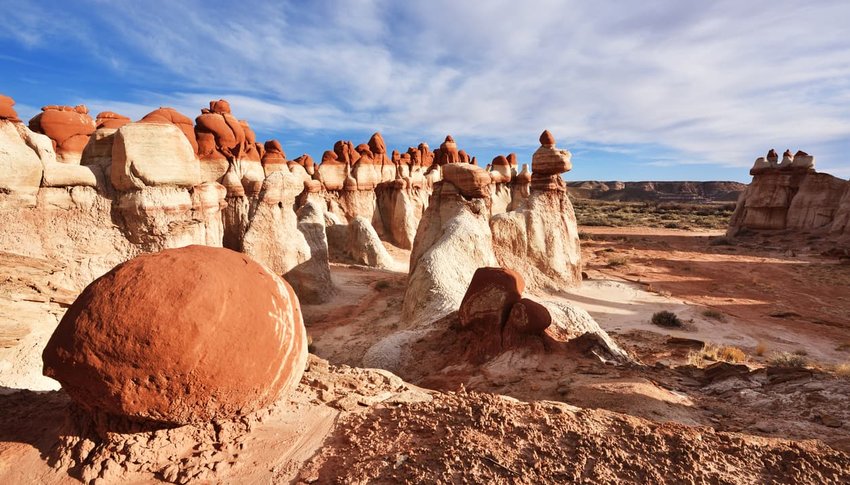 Not far from the Wave, this scenic area looks like something out of a science fiction film. Part of the Moenkopi Wash on the Hopi Indian Reservation, Blue Canyon is chock full of colorful rocks and hoodoos that have been eroded into fascinating shapes over the centuries. Would-be visitors must be accompanied by a guide, but the views are unlike anywhere in the world.
13. Kartchner Caverns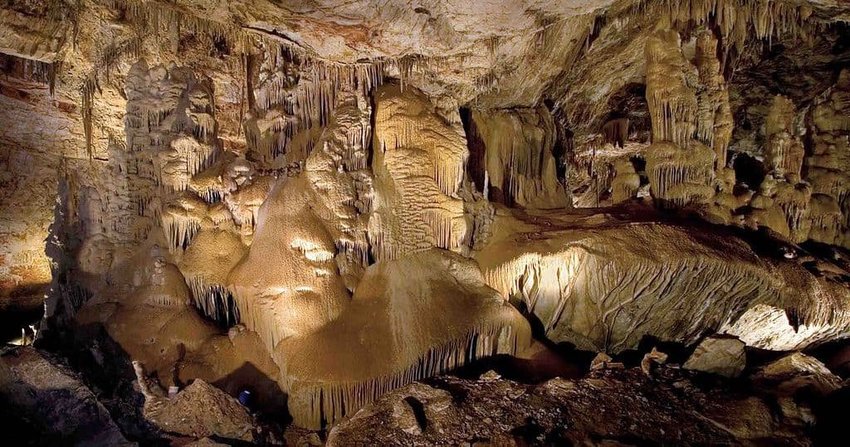 Over 2 miles long, this underground cave system is a wonder to behold. Carved from limestone and decorated with dazzling cave formations, Kartchner Caverns contains some of the largest stalagmite and stalactite formations in the world. The Throne Room and Big Room are open to visitors, and if you're lucky you can spot a few of the cave bats that make their homes here.
14. Arizona Scenic Trail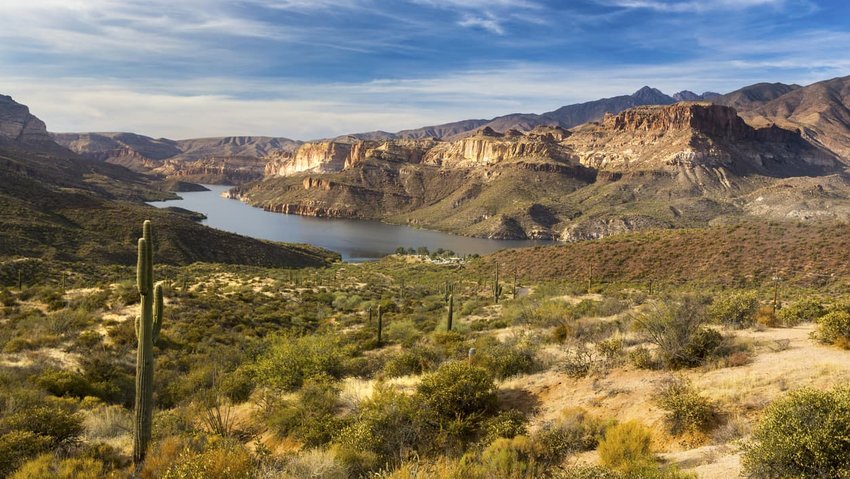 Arizona is home to one of the nation's 11 National Scenic Trails, and this one is a doozy. Stretching from the Mexico border to the Utah border, the Arizona Trail passes through the entire state, exposing those who attempt it to Arizona's many varied and beautiful landscapes. If you want to check off all the best stops in Arizona, this is the ultimate trail for you.