The Pacific Coast Highway has no shortage of attractions along its 656-mile route. The iconic road trip begins at Dana Point in Orange County and ends at the US 101 in Mendocino County, though many people like to begin in San Francisco and work their way south. Not only does the PCH connect much of California, but it also features historic landmarks, stunning natural sites, and a number of novelty attractions along the way.
It's a challenge deciding which landmarks to visit, but you can't go wrong no matter where the road takes you. The most important thing is to take your time traveling down the Golden Coast because the journey is as stunning as its many destination points. Here are a few of our favorite stops that should make your road trip itinerary.
Golden Gate Bridge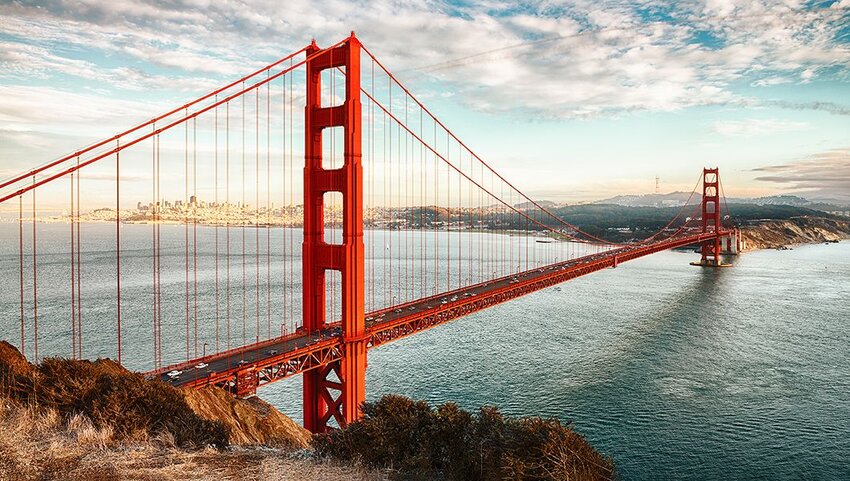 We're starting off with an obvious one. The Golden Gate Bridge is undoubtedly one of the most iconic American landmarks. Completed in 1937, it was the longest suspension bridge in the world when it was built. Though it no longer holds that distinction, it's still an iconic part of San Francisco and free to visit. Sightseers who want to walk across the bridge can use the east sidewalk, while cyclists are welcome to either the east or west sidewalk. If you're interested in learning about the bridge's history, you can join a free walking tour, offered on Thursdays and Sundays by the non-profit City Guides. You can also visit the bridge's Welcome Center, which houses a gift store and exhibits about the bridge.
Point Sur Lighthouse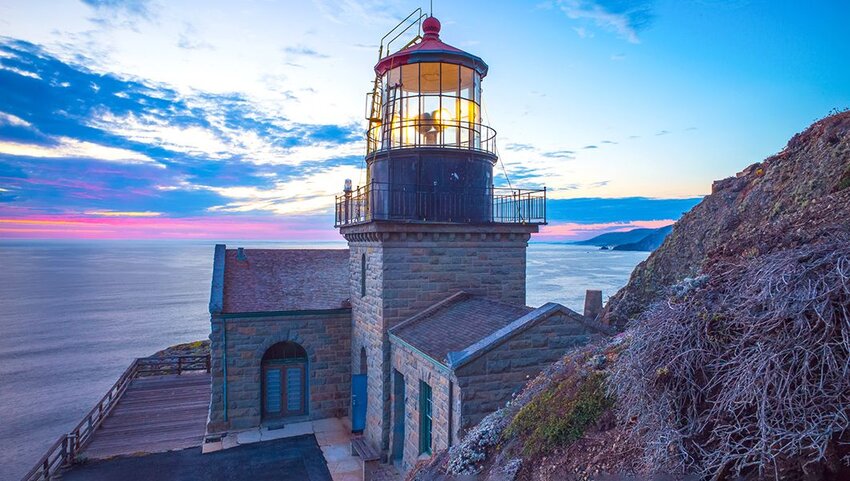 Point Sur embodies all the reasons millions of people opt to live in the Golden State. Located atop a volcanic rock on the edge of the Big Sur shoreline, the lighthouse allows uninterrupted views of the Pacific Ocean ahead while you're surrounded by rugged mountains and warmed by the California sun. The lighthouse and surrounding area are now a California State Historic Park, and the effort put into preserving site is evident. These efforts mean that the lighthouse is only open for tours on Wednesdays and Saturdays and the three-hour tours are given first-come, first-served rather than via reservations. If you're comfortable with heights, you'll want to visit Point Sur's official site for more information, as the views from atop the lighthouse are like no other.
Hearst Castle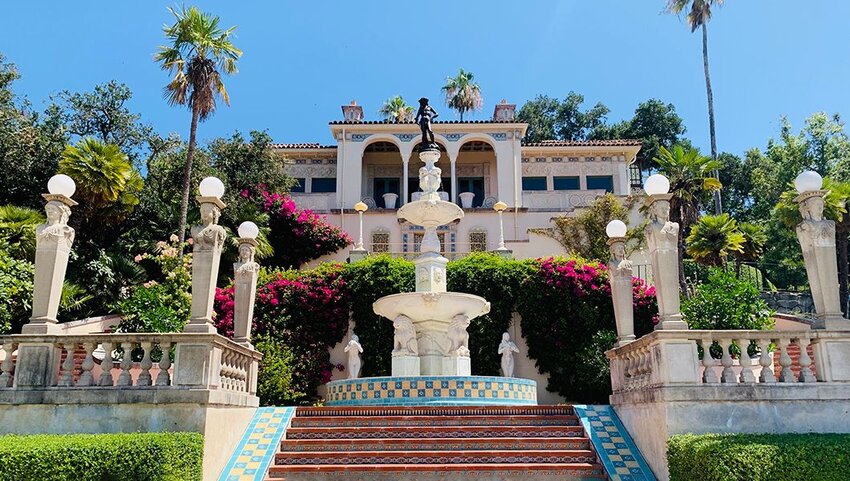 The Pacific Coast Highway is lauded for its scenic views of natural landscapes. But one of the most striking landmarks along the way is an over-the-top contrast to the simplicity of PCH's natural scenery. Hearst Castle is a can't-miss attraction known for being a stunning display of human extravagance. With 165 rooms, 3 guest houses, and two massive pools, the sprawling, 127-acre property is awe-inspiring to visit. This ostentatious estate was built by a barrier-breaking female architect, Julia Morgan, for just one man: William Randolph Hearst. Fortunately, many more people get to enjoy the property these days, and you can be one of them. Hearst Castle sits halfway between San Francisco and Los Angeles, and is a two-hour drive from Point Sur Lighthouse, making it a logical next stop if you're making your way down PCH from San Francisco.
Solvang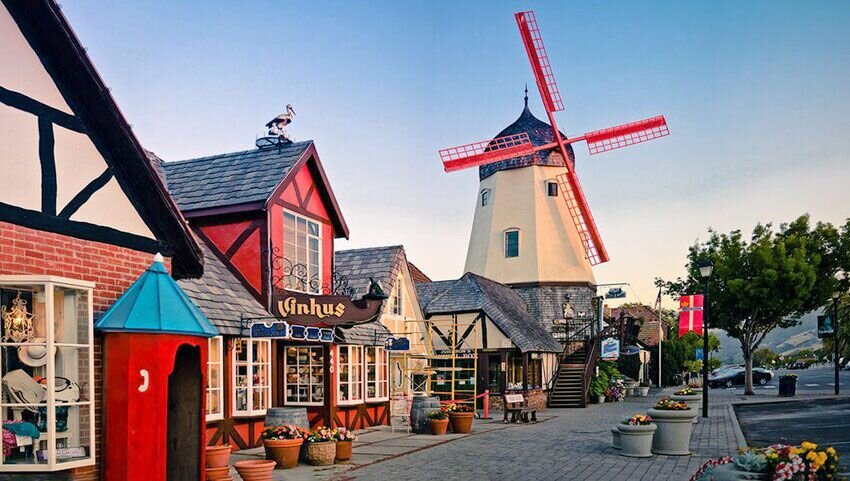 Solvang is the perfect place for those who love taking road trip diversions to picturesque small towns. Located in Santa Barbara County, the "Danish Capital of America" was founded in 1911. The town's buildings are a display of traditional Danish architecture, with windmills and thatched roofs featured on many of the buildings. The town's attractions include a trolley, six museums, a handful of bakeries offering Danish pastries, and annual events like "Danish Days." If you're passing through between June and September, you can sit under the stars and catch a play at the town's 700-seat outdoor amphitheater Solvang Festival Theater.
Malibu Pier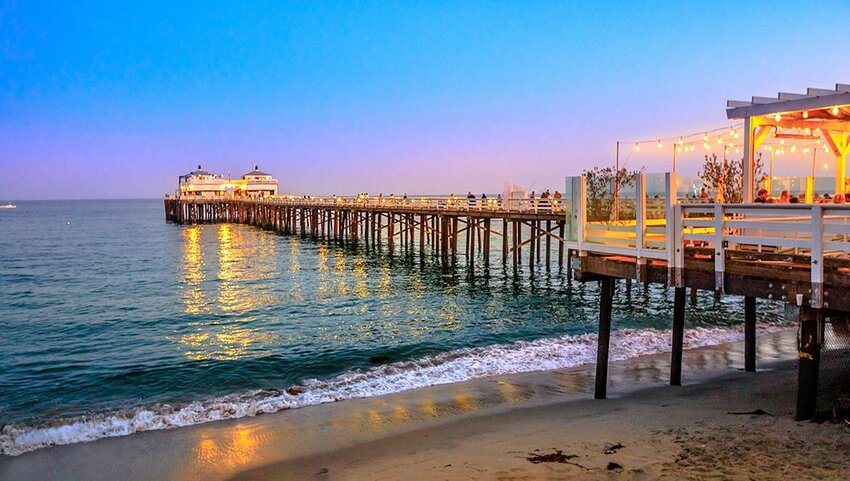 Known for its swoon-worthy beaches and its popularity among celebrities, Malibu is one of those hyped-up destinations that actually lives up to the fanfare. Point Dume State Beach, Zuma Beach, and Leo Carrillo Beach are all excellent places to surf, swim and watch gorgeous sunsets. The Pier is perfect for photo ops and features two restaurants; Malibu Farm Restaurant & Bar, and Malibu Farm Cafe. You can also attend a wine tasting at Malibu Family Wines or dine at one of the many restaurants with oceanside seating. You could simply spend the day cruising down PCH, with the Santa Monica Mountains and the Pacific Ocean as companions, and it still wouldn't be a bad way to pass the time. The "Bu" is an excellent place to end your road trip, but don't even think about leaving the West Coast without squeezing in a day in Los Angeles.