Protecting the environment goes beyond banning single-use plastics and Styrofoam containers. Did you know that the type of sunscreen you use can also wreak havoc on the world's oceans? Non-biodegradable sunscreen contains harmful chemicals, like oxybenzone, which have been shown to contribute to the death of coral reefs and surrounding sea life. Some destinations have helped raise awareness of these environmental risks by enacting sunscreen bans that require travelers to use only bio-degradable sunscreens.
Be cautious when selecting sunscreen, even if it says, "reef safe." While the federal government requires products to be labeled in a truthful manner and not mislead consumers, there is not a consensus on what "reef safe" truly means, so you could be purchasing one you think is great, and it's actually not biodegradable.
If you want to do your part to help, here are five environmentally-friendly sunscreens to pack for your next beach trip.
Thinksport SPF 50+ Sunscreen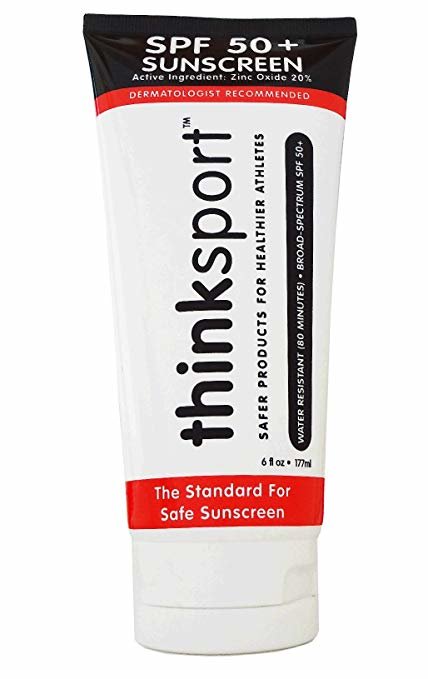 Thinksport receives a lot of mentions as one of the top picks for reef-safe sunscreen. Wirecutter Magazine ranks Thinksport as their No. 1 choice for reef-safe sunscreen because it lacks the toxic ingredients found in other sunscreen brands. The main active ingredient is non-nano Zinc Oxide, which is the safest choice for sea life. Thinksport is said to be easily absorbed into your skin, and it's also water-resistant for up to 80 minutes. Water resistant sunscreens are better options as they contain fewer ingredients that can wash off in the ocean.
Babo Botanicals SPF 30 Clear Zinc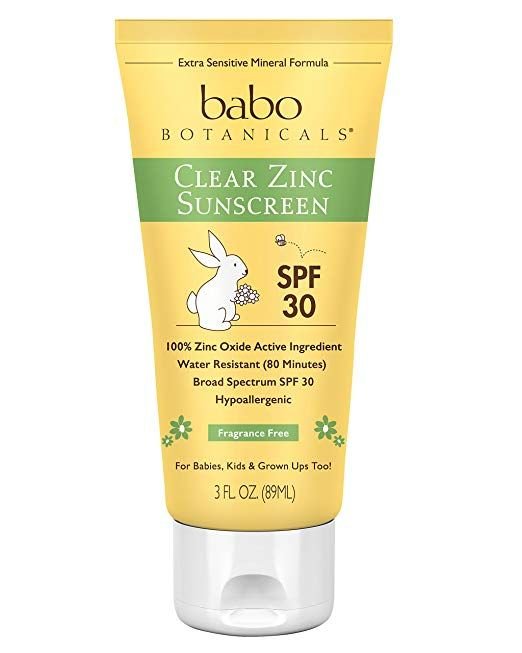 Babo Botanicals SPF 30 is another non-nano Zinc Oxide option that is water and sweat resistant for up to 80 minutes. It's hypo-allergenic and doesn't contain any gluten, soy or dairy. This is a great option for kids and anyone with sensitive skin. Babo Botanicals has UVA and UVB protection and is ranked #1 in safety on EWG, or the Environmental Working Group. EWG is a non-profit organization who specializes in researching toxic chemicals, agriculture and more in order to help people to live healthier lives and make more informed purchasing decisions.
Badger Sport Zinc Oxide Sunscreen Cream SPF 35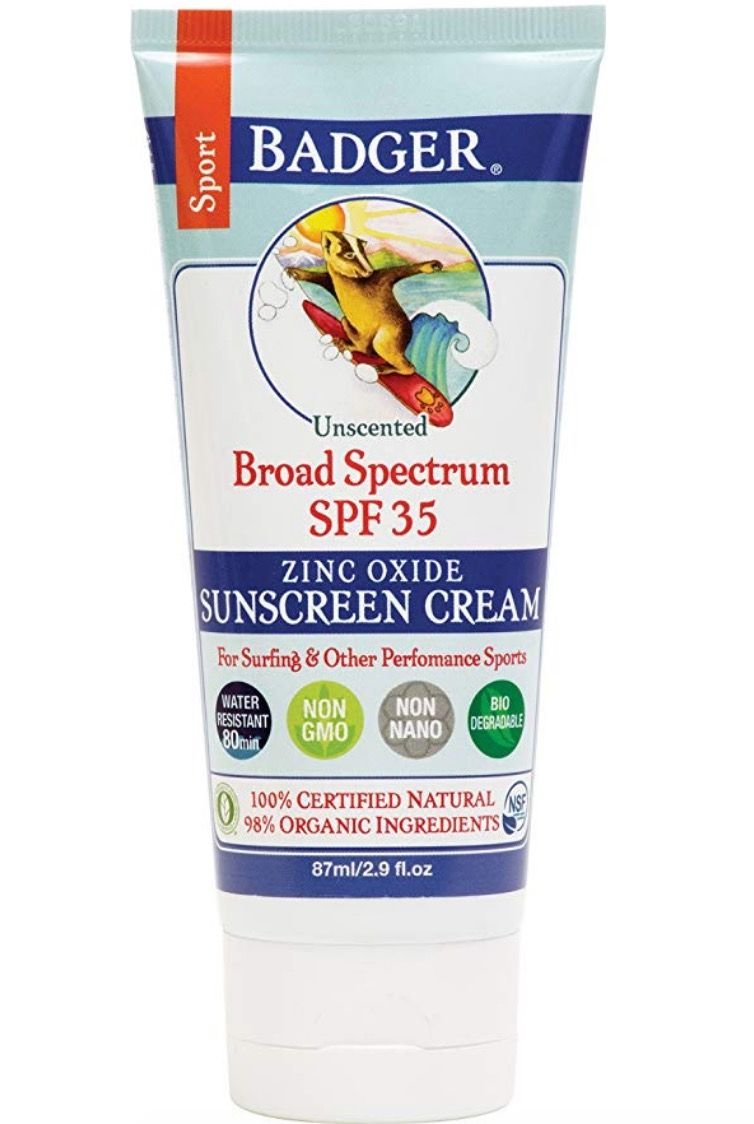 Badger Sport Sunscreen is another very popular Zinc Oxide sunscreen cream that also helps treat, heal and sooth your skin. Badger skin products are renowned for their healing properties, and the line was essentially borne out of necessity. The company's founder had issues with cracked hands and developed a great skin care line using the best available organic products. You won't find oxybenzone or octinoxate in Badger Sport Sunscreen, nor do they use artificial fragrances, synthetic chemicals, GMOs or parabens.
All Good Sport Sunscreen Lotion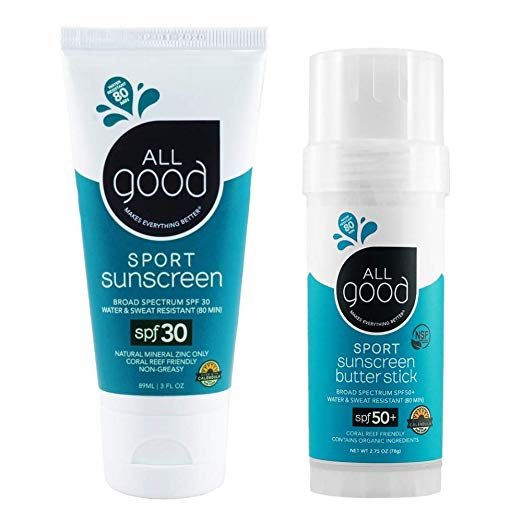 If you're looking for a biodegradable sunscreen line that's also versatile, consider All Good Sport Sunscreen Lotion. They offer a wide range of sunscreen forms, including sprays, butters, sun sticks and sprays. All Good Sport focuses on natural ingredients. It's vegan and packed with buriti oil, rose hips, organic green tea and more. Like the others on this list, it does not have any harmful toxins that can potentially damage the reef.
Raw Elements Non-Nano Zinc Oxide Sunscreen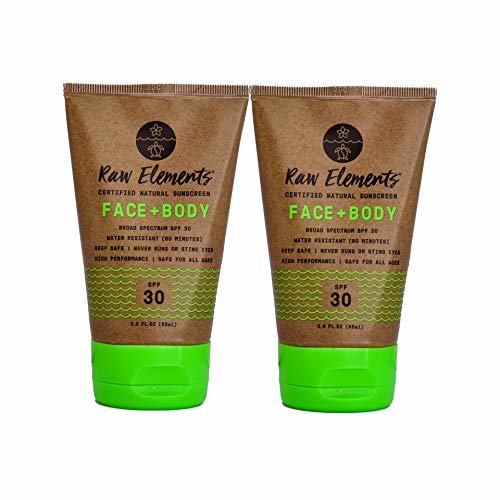 Raw Elements Sunscreen rounds out our top five choices for environmentally friendly sunscreens. While many sunscreens are designed by scientists and pharmacology companies, Raw Elements has a more relatable backstory. It was developed by a lifeguard and backed by a team dedicated to making a positive impact on the environment.
Raw Elements' active ingredient is non-nano Zinc Oxide, while everything else is natural and organic — black tea, sunflower oil, green tea, coffee bean, cocoa butter, hemp seed oil, beeswax and more. It has received numerous important designations, including an EWG #1 rating, Non-GMO Project Approved and more. Look for a variety of other accompanying environmentally friendly products, including Raw Elements Tinted Facial Moisturizer, a sunscreen and moisturizer that also uses non-nano Zinc Oxide.
Psst! We take pride in promoting products we think you'll like, but just so you know we use affiliate links, which means we may earn compensation for any sales generated from this page. Thanks!