A star glitters in the night sky. The view swoops beneath the clouds to reveal, piece by piece, a colorful castle dotted with intricate turrets and regal flags. Our eyes are drawn to a meandering moat. Fireworks go off, while a shooting star makes an arc in the background. Sound familiar? It should be — it's the iconic Disney intro. This 30-second clip usually marks the start of a couple hours of pure fantasy, but the castle itself is based on a blend of real European landmarks. And they're not the only real-life fairy tale castles out there; here are six fantastical structures you can actually visit.
Neuschwanstein, Germany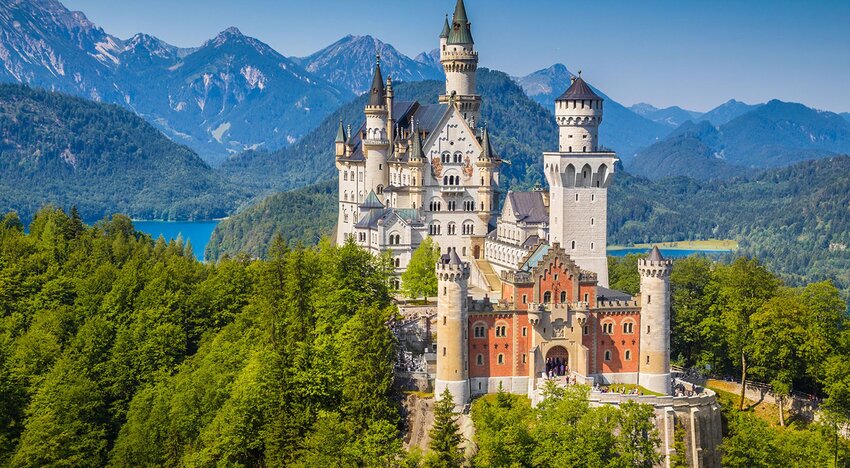 Neuschwanstein is the king of the castles, and its 1.4 million annual visitors prove it. Constructed atop a cliff in the foothills of the Alps — and overlooking a crystalline lake, dashing waterfall, and a neighboring yellow castle — Neuschwanstein was commissioned in 1868 as an opulent residence for King Ludwig II of Bavaria, who was famed across Europe for his extravagant taste and eccentricity. The design is a mixture of the king's personal fantasies, with a Byzantine-hued Throne Room and a Gothic royal bedroom. Sadly, the King died before the castle was completed, but it opened to the public just 7 weeks later in 1886. Nearly a century later, Walt Disney visited on a tour of Europe, and it's said Neuschwanstein was the primary inspiration for Sleeping Beauty's castle.
Alcázar of Segovia, Spain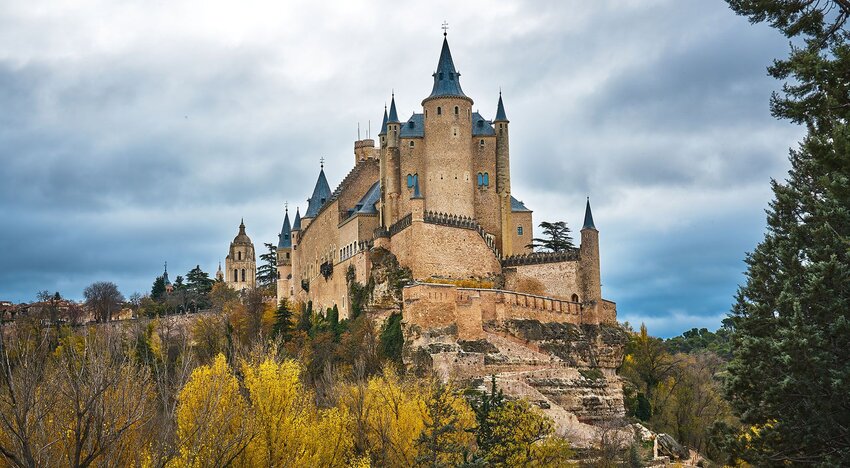 Another European building rumored to have inspired Walt Disney, this turreted treasure has had a long and eventful history. What was originally a Roman outpost grew into an impenetrable state prison, then to an artillery college, and is now a tourist attraction. When you're not pretending to be Rapunzel and climbing the stone tower, you'll find the interior decor is dripping in gold and velvet. Tapestries and priceless works of art adorn almost every wall. See how the Alcázar's royal residents once lived close-up, by admiring their suits of armor, grand garments, and dining rooms set for a royal banquet.
Château de Chillon, Switzerland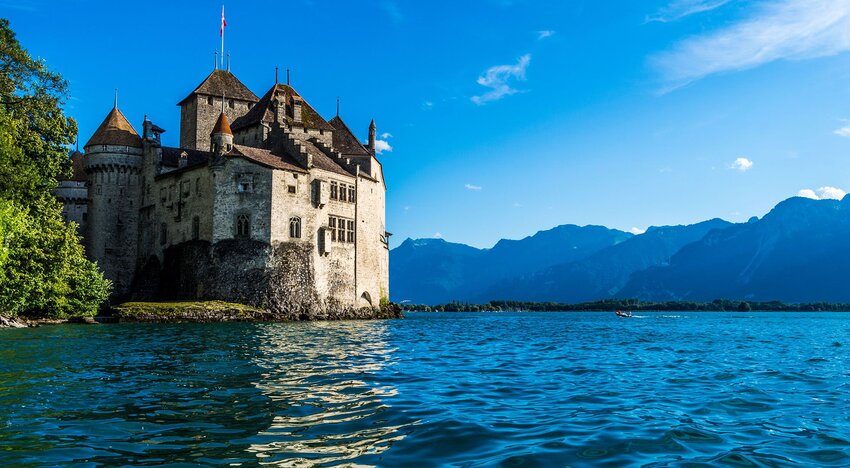 Sitting pretty on Lake Geneva, the Château de Chillon looks like an IRL version of Prince Eric's castle in Disney's The Little Mermaid. The Swiss stronghold is built on an island — in fact, "Chillon" means "rocky platform" in an ancient dialect. Like most castles, Chillon was of great strategic importance, guarding trade routes between northern and southern Europe. When you visit, you're guided through its life as a Roman fortress, then a Medieval dungeon, before it became a 19th-century restoration project. Its military exterior belies an interior fit for a king; for example, the Grand Hall is decorated with a quirky zigzag brickwork pattern and a huge fireplace. When you visit, look out for the room's window benches, which have the loveliest view over Lake Geneva, and breathe in the fresh air coming off the lake.
Eilean Donan, Scotland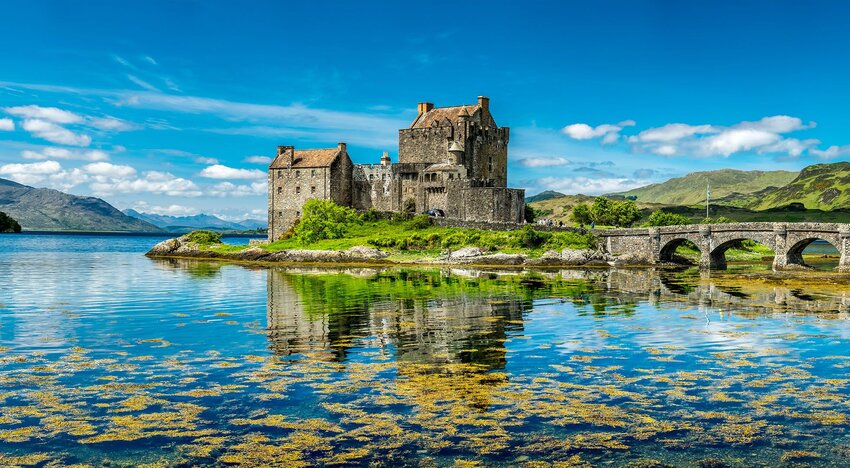 In the movie Brave, gray mist swirls around the Highland towers of Merida's family seat, its appearance inspired by the brooding nature of Scottish castles. Eilean Donan, arguably the most famous of them all, was a key inspiration for the Pixar team. Accessed only by a footbridge over Loch Duich (don't worry, no monsters live in this loch), the tall stone structure protected the clans in this part of Scotland from marauding Vikings, English soldiers, and rival families for centuries. However, once Scotland's warring days were over, Eilean Donan lay in ruins for 200 years. It wasn't until 1932 that the castle was restored to its former glory. Go for the moody photo ops, stay for the warm hearths and atmospheric bagpipe music.
Château de Chambord, France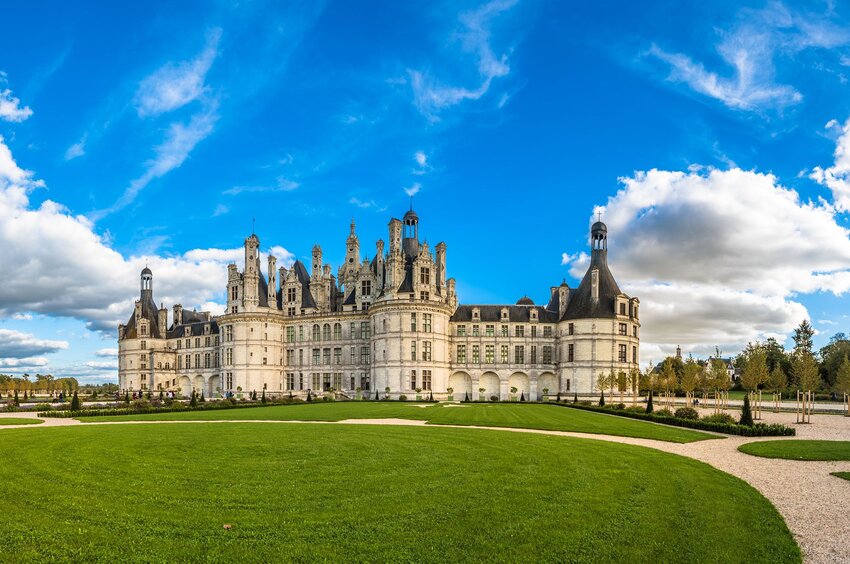 Remember how impressed Belle was when she stumbled across the Beast's castle? That's how Disney's creators felt when they first saw the Château de Chambord, which allegedly inspired both the 1991 animated Beauty and the Beast and 2019 live-action remake. Located in the picturesque Loire valley, the château was originally conceived as a hunting lodge for King Francois I, but was completed more than 100 years later in 1685. The castle's star attraction is a unique double helix staircase paying tribute to the genius of Leonardo da Vinci, plus one of the finest examples of formal French gardens in the world. It's easy to imagine Belle bonding with the Beast in the Château de Chambord's decorative rooms — or even making snow angels on its limitless grounds.
Bran Castle, Romania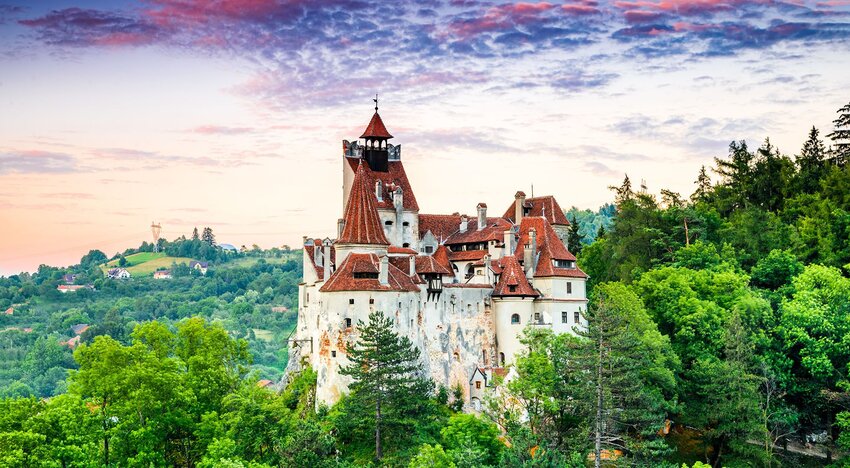 Though not exactly a fairytale, this list wouldn't be complete without a shoutout to Bran Castle, widely believed to have inspired Dracula's ghoulish residence. Although author Bram Stoker never visited Romania, Bran matches his vivid description. The 14th-century castle is built on the edge of a precipice, close to a gushing stream, and set deep within a dark forest — perfect for a mysterious Transylvanian count to hide in. But if you come here to learn about Dracula, you might be disappointed — the museum within the castle focuses more on modern Romanian royalty, who made Bran their favorite residence in the 1920s.
Main photo by Emeric REYNAUD/Shutterstock.