The feeling of liberation you get from cycling is almost impossible to beat. And this sense of freedom is the same whether your pedaling to the grocery store, cruising along a riverfront or climbing up steep hills. It's just you, the fresh air and your bike. You set the pace, plan the route and lay down the challenges. From a route across remote Scottish islands to urban trails in London, here are seven great cycling trips in the United Kingdom.
Box Hill Olympic Route
Surrey, England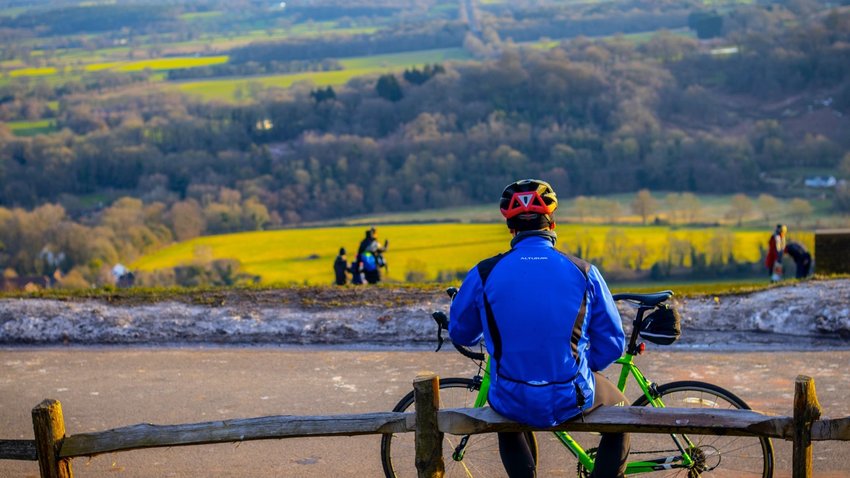 When the Olympics came to London in 2012, the Surrey Hills Area of Outstanding Beauty was the destination chosen for peloton road cycling events. Today you can traverse the route raced by Olympians on a rewarding 10-mile loop circuit up to Box Hill. You'll travel along weaving country lanes, through pretty villages and passed lush meadows. The ascent up the hill is via a zigzagging road with a height gain of 423 feet. Stop to enjoy the views of the Surrey Hills and River Mole or attempt to complete the circuit nine times, as the male Olympic competitors did.
Plan your trip here: Surrey Hills Cycling
Camel Trail
Cornwall, England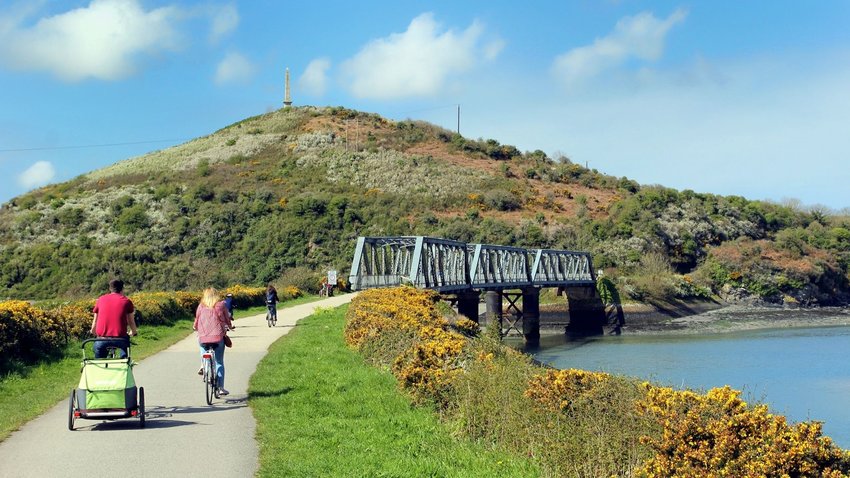 Meandering through the pristine rolling countryside of northern Cornwall, this 18 mile route is ideal for lazy rides and family outings. Originally a railway line, the flat, well-surfaced trail connects the port town of Padstow with historic Bodmin. It skirts the banks of the River Camel and affords views of undulating patchwork fields, bluebell woods and rippling streams. There are plenty of opportunities to stop for a picnic and grab food and drinks at welcoming pubs. Adventurous bikers can veer off the main route to discover villages and explore Bodmin Moor. Bike rentals are available in Bodmin, Padstow and Wadebridge.
Plan your trip here: Camel Trail
Elan Valley Trail
Wales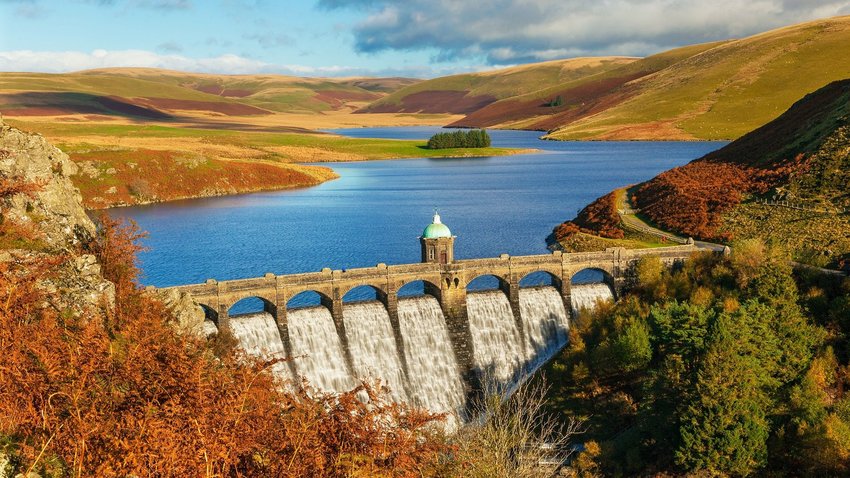 Away from the crowds in central Wales, Elan Valley is a breathtaking region of rivers, manmade reservoirs, dams and pastoral landscapes. This 18 mile out-and-back route is great for all cycling abilities as it has a predominately tarmac surface. Starting at Cwmdeuddwr village, you'll pedal down into the emerald green valley to Caban Coch Dam. Break to admire the dam's waterfall effect and then climb steadily up and around the shores of three reservoirs. The northern end of Garreg Ddu Reservoir offers arguably the best view. Finish at Craig Goch Dam and then make your return to Cwmdeuddwr.
Those looking to travel further can combine this trail with the Ant Hills and Elan Epic mountain biking routes. The Elan Valley Visitor Centre has trail information and bike rentals.
Plan your trip here: Elan Valley
Giants Causeway to Benone Beach
Northern Ireland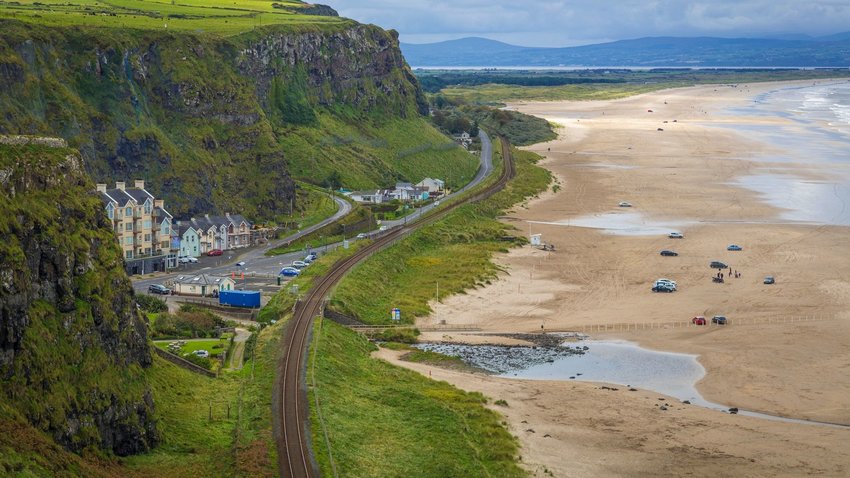 Across the water in Northern Ireland, a delightful route travels along the County Antrim coastline. It combines the island's green landscapes with rugged shorelines and seaside towns. The eastern starting point is just outside the UNESCO-listed Giants Causeway and runs parallel to an historic tourist train line. This takes you to Bushmills, where you can stop for a tour of a whiskey distillery, and then through gorgeous pastures to coastal Portrush and Portstewart. Upon reaching Castlerock, a bikeway drops down to Downhill Beach. From here you can choose to continue on the beach road or bike along the seashore to Benone Beach.
This is a 22-mile section of Route 93 of Northern Ireland's National Cycling Route. The entire route covers 164 miles between Bangor, on the eastern coast, to Derry, in the country's northwest.
Plan your trip here: Cycle Northern Ireland
Hebridean Way
Scotland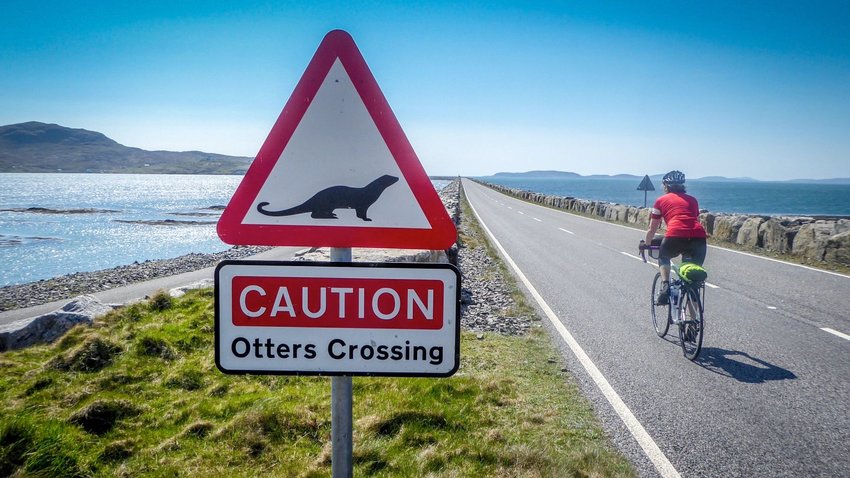 Got a few days to spare for a cycling trip? Then head to the Outer Hebrides, a chain of tranquil islands off Scotland's northwest coast. From Vatersay, the chain's southernmost inhabited island, the trail stretches for 185 miles to the northern tip of Lewis and Harris. You'll bike over 10 islands, cross six causeways and take two ferry crossings when completing the entire trip. Go slow and admire curving white-sand beaches, turquoise waters and craggy hills. Spot eagles, red deer, seals and otters. Not to be missed are the 5,000-year-old megaliths of the Calanais Standing Stones.
Plan your trip here: Hebridean Way
Monsal Trail
Peak District, England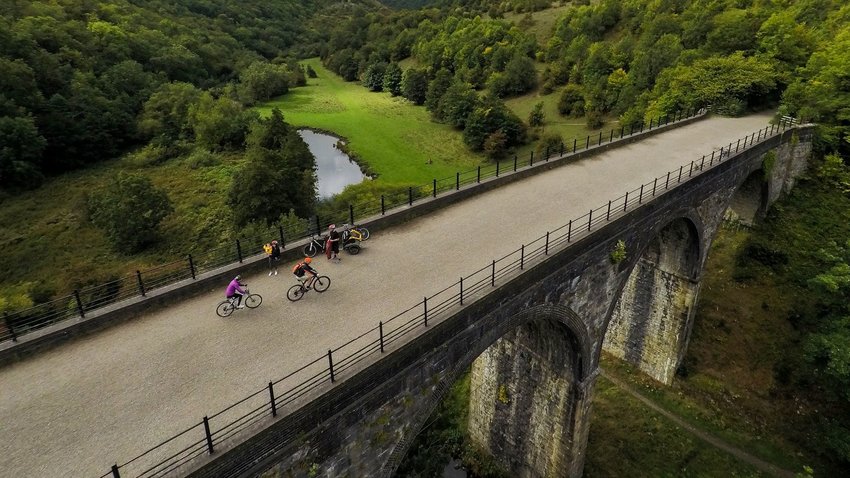 Trails that occupy old railway lines are a common theme in the UK, and this one in the Peak District National Park is a wonderful option for all ages. It's just 8-miles-long (one way) but gives a fascinating snapshot of the geology and wildlife of the Peak District. Begin in Buxton or Bakewell and have fun passing through train tunnels and over an emblematic viaduct. There are views of limestone dales, wildflowers, hay meadows, ash woodlands and the River Wye to take in. Historic landmarks, such as Cressbrook Mill and Litton Mill, stand as reminders to the area's importance during the Industrial Revolution. Be sure to stop in Bakewell for a traditional Bakewell tart pastry.
Plan your trip here: Monsal Trail
Tamsin Trail
Richmond Park, London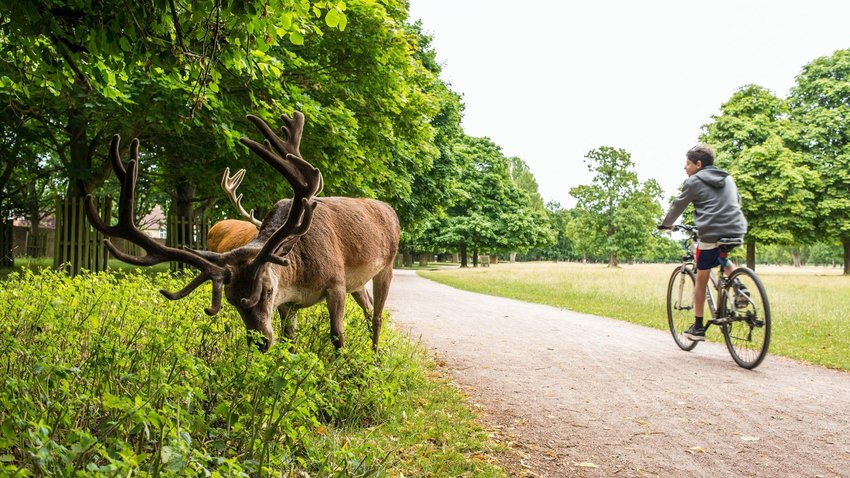 Owing to its compact size, you never need to travel far in the UK to come into contact with nature. Just 12 miles from central London, Richmond Park is an oasis of greenery cherished by Londoners. This royal park boasts ancient trees, grassy lawns and wild meadows, where red and fallow deer roam freely. Making the park enjoyable for bikers is a 7.5-mile-long loop trail, which is accessible from the park's entrance gates. On your way round you can stop at interesting sights such as the Isabella Plantation woodland garden. From King Henry's Mound lookout you can spot the spire of St. Paul's Cathedral in the distance.
Want to see more of London by bike? The trail links up with the Thames Cycle Route, which runs between Hampton Court and Dartford. Look for the signs on the park maps.
Plan your trip here: Richmond Park