Microstates like San Marino and Tuvalu may be more challenging to pinpoint on a map, but their infinitesimal size only adds to their appeal. From central Europe to Oceania, these and other tiny nations are rife with natural beauty, fascinating history, and awe-inspiring culture that rival even those of the largest of territories.
Whether you're a history buff hoping to visit centuries-old republics, or someone who'd rather lounge on the beach in an island paradise, these pint-sized independent states offer a wide range of opportunities for curious travelers. Keep reading to learn more about the seven smallest countries in the world.
Vatican City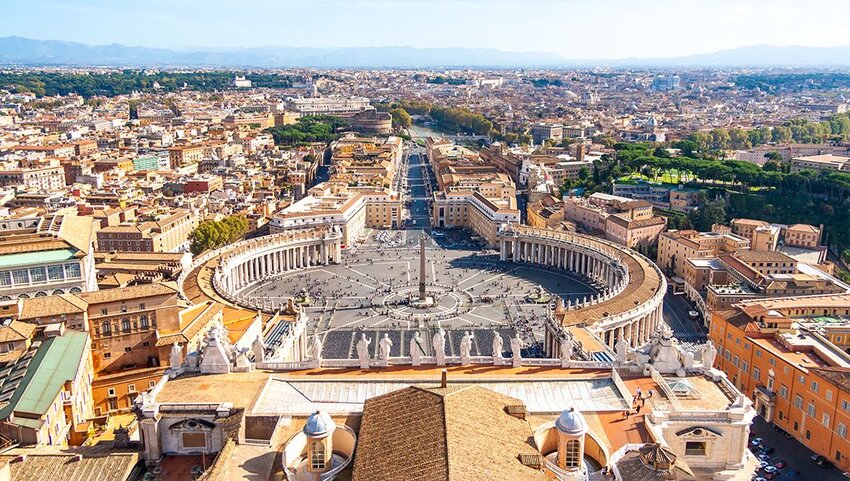 No independent nation-state is tinier than Vatican City, which serves as the epicenter for operations of the Catholic Church. Landlocked within the borders of surrounding Italy, Vatican City covers a mere 121 acres and is called home by less than 1,000 permanent residents. The region's history long predates its independence, however, which was finally achieved in 1929 with the signing of the Lateran Pacts that ended decades of direct Italian influence.
The city-state is renowned not only for its religious significance, but its stunning Renaissance-style architecture and glorious artistic works that are some of the most famous around the globe. One of the more recognizable landmarks is St. Peter's Basilica, a gorgeous, domed structure that was completed in 1615. This building, along with the adjacent St. Peter's Square, welcomes thousands of pilgrims annually to experience events presided over by His Holiness the Pope. Elsewhere in the city you can find the Apostolic Palace, which is the residence of the Pope and also the location of the awe-inspiring Sistine Chapel. The chapel was built in 1470 and the great Michaelangelo was tasked with painting its famed ceiling — a grand landscape highlighted by indelibly influential art pieces including "The Creation of Adam." The Sistine Chapel has grown to become Vatican City's most popular tourist attraction, though no matter where you turn you're bound to encounter centuries of history at every corner of this small country.
Monaco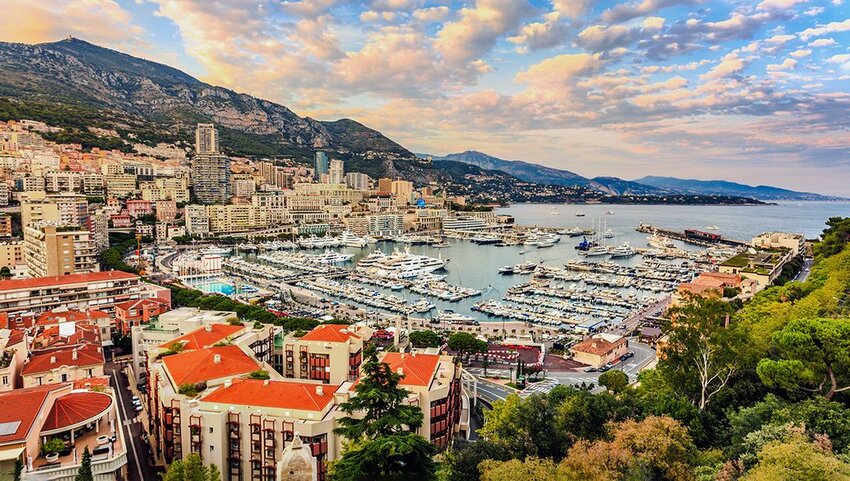 Situated along the French Riviera, the microstate of Monaco is a mere 0.78 square miles in area. But despite its tiny size, Monaco is home to upwards of 30,000 citizens, making it one of the densest countries worldwide. Furthermore, this small nation is rich in both culture and gross domestic product, as Monaco houses one of the highest concentrations of wealthy individuals anywhere in the world, earning it the nickname "Billionaires' Playground." This lavish association with wealth is exemplified even further by the thriving casino industry located within Monaco's borders, with no casino more renowned than the luxurious Monte Carlo Casino. Oddly enough, however, native Monegasques are prohibited from gambling per a mid-1800s edict from Princess Caroline — in exchange Monegasques are exempt from paying income tax — and the country's gambling industry is exclusively reliant on foreign nationals.
If gambling isn't of interest to you, the region is also home to the highly-acclaimed Formula One Monaco Grand Prix, an event held annually since 1929 that's since become one of the world's most prestigious automobile races. Furthermore, the country boasts a rich history and is ruled by one of the longest-reigning families in Europe, the Grimaldi family, who have overseen Monaco since 1297. In 1956, they even welcomed Hollywood royalty into the family, as Prince Rainier married actress Grace Kelly.
Nauru
While Vatican City and Monaco are the two smallest mainland nations, no island country boasts a more minute area than the Oceanic state of Nauru. This Pacific paradise encompasses around a mere 8.1 square miles in area, but at the same time has a long and storied history dating back millennia. Naura is believed to have been first inhabited by Micronesian and Polynesian settlers around 1,000 BCE, with British sea captain John Fearn becoming the first European to arrive in 1798. Nauru achieved its independence nearly two centuries later in 1968, and for a brief time held status as having the world's highest GDP in the early 1980s.
Nauru is unique, not only for its size, but for the things it lacks. The nation has no armed forces, no rivers, and no protected regions. However it remains a beautiful and largely untouched island paradise surrounded by coral reefs and sparkling blue ocean. Some of the more majestic natural sites worth visiting in Nauru include Anibare Bay and the Buada Lagoon. Though if you're more interested in the country's culture, popular activities include Australian Rules Football — the country's national sport — bodybuilding, and local rhythmic singing and dancing known as "reigen."
Tuvalu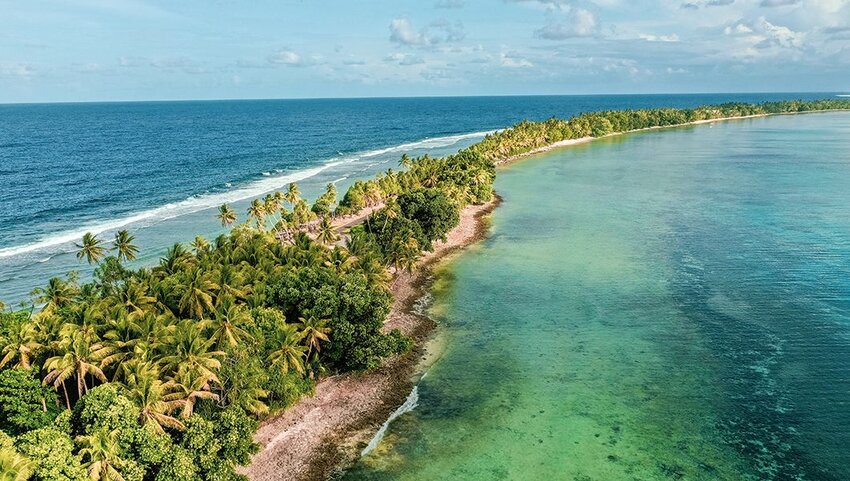 Located in the Pacific less than 1,000 miles southeast of Nauru, Tuvalu is next up on the world's smallest nations list. Consisting of nine small islands that form a chain spanning around 420 miles long, Tuvalu's total land area is a mere ten square miles, with only 14.9 miles of coastline. Furthermore the nation has one of the lowest collective altitudes of any country in the world, as its islands only rise 13 to 16 feet above sea level. Among Tuvalu's nine atolls, none is larger and more populous than Funafuti, home to the capital.
Tuvalu was formerly known as the British Gilbert and Ellice Islands before finally achieving its independence in 1978. The country is primarily known for two exports, one agricultural and one technological. Given the prevalence of coconut palms throughout the islands, Tuvalu exports copra, a dried coconut kernel. Its other "export" is a bit more unusual; Tuvalu ventured into the internet space and sold its country's .tv internet suffix to a company in California, which in turn sells web domains to television broadcasters thus providing Tuvalu with an unlikely source of revenue.
San Marino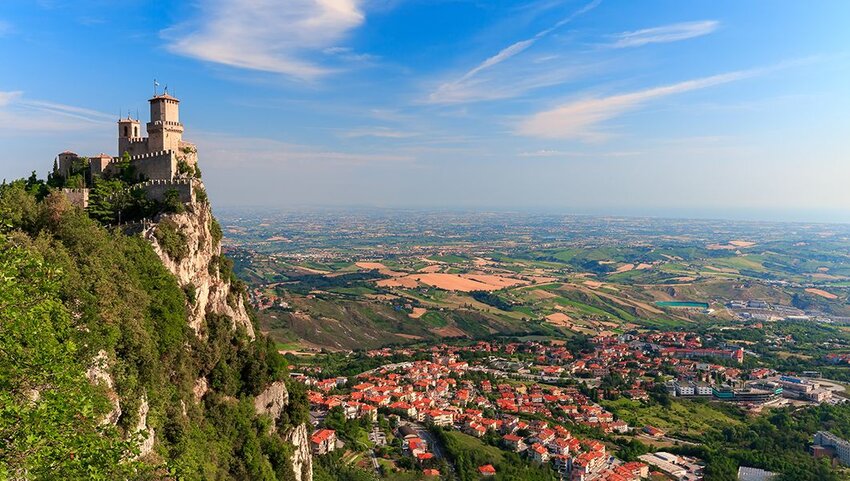 Much like Vatican City, the 24-square-mile country of San Marino is entirely landlocked within Italy's borders. San Marino also holds a unique status as the world's oldest extant republic. The micronation was founded on September 3, 301, though it wouldn't be until 1978 that the nation's Declaration of Citizen Rights was formally recognized.
Tucked within this landlocked microstate exists a city of the same name, which boasts a trio of medieval fortresses that have helped preserve the city's uninterrupted status as San Marino's capital since the 13th century. These fortifications — known as the "Three Towers of San Marino" — are individually named Guaita, Cesta, and Montale, and were built between the 11th and 14th centuries to both defend the city and hold prisoners. Though they no longer serve an active military purpose, the towers now house several museums and are located atop the peaks of Mount Titano, a UNESCO World Heritage site that offers breathtaking views as far as the Adriatic Sea. The city is perhaps the main highlight of the country as a whole, as its rich history, charming cobblestone streets, and medieval architecture attract over 3 million annual visitors — a number that dwarfs the permanent city population of just over 4,000 residents.
Liechtenstein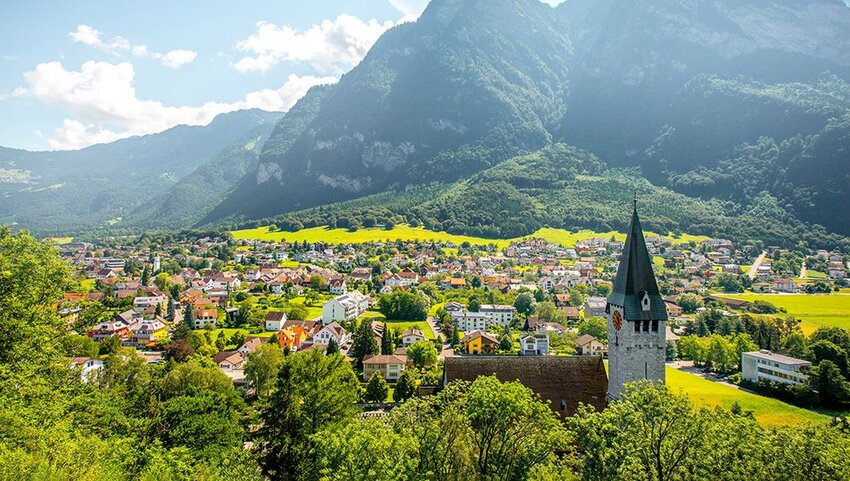 Covering an area of roughly 62 square miles, the European microstate of Liechtenstein borders Switzerland to the west and Austria to the east. Given its tiny size and geographic location, Liechtenstein is the only country in the world with 100% of its territory in the Alpine region. Among the country's beautiful snow-capped peaks, none reaches a higher elevation than Grauspitz, climbing to a height of 8,527 feet. All told, most of the entire country sits at an elevation greater than 6,000 feet, as the majority of its eastern portion is made up of the Rhätikon Mountain foothills. Another unique aspect of Liechtenstein's geography is that it is double landlocked, with Uzbekistan being the only other country in the world to hold such a rare distinction.
Liechtenstein achieved its independence in 1866, breaking off from the Holy Roman Empire. It's largely maintained its neutrality ever since, remaining uninvolved in both World War I and II. In the wake of World War II, Liechtenstein began to rapidly modernize under the rule of Franz Joseph II, and has even become the world's leading manufacturer of false teeth by producing around 60 million sets annually. Liechtenstein also boasts a proud national identity, as each year on August 15 all of the country's residents are invited to celebrate the garden of Vaduz Castle in the nation's capital.
Marshall Islands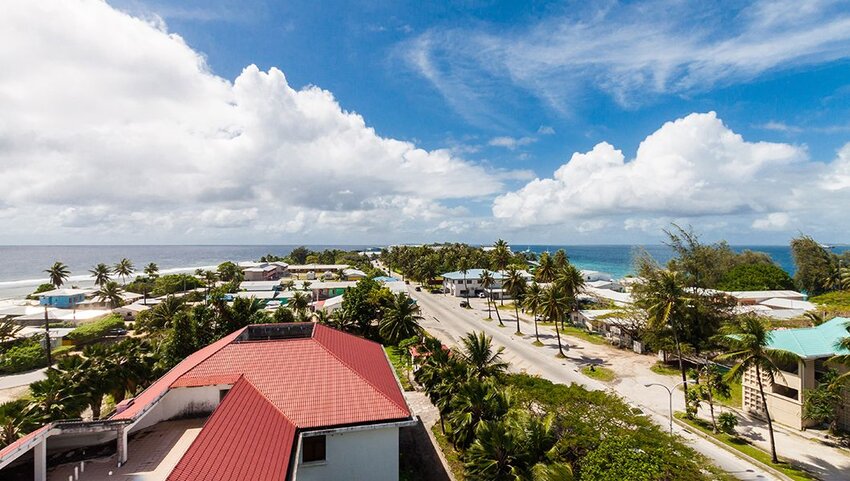 Known by the name Majōl in the local Marshallese language, the Marshall Islands are made up of 1,200 islands and islets covering around 70 square miles of land spread out over 750,000 square miles of ocean. The islands form two parallel coral atolls in the Pacific Ocean — Ratak to the east and Ralik to the west — that lie 125 miles apart and extend 800 miles north to south. The largest of the country's many atolls, Kwajalein, is a mere six square miles in area, yet surrounds a large 665-square-mile lagoon.
The Marshall Islands were previously administered by the United States from 1947 to 1986. It is home to the famous Bikini Atoll, which was the site of 23 nuclear bomb tests between 1946 and 1958 by the U.S. government — experiments that directly inspired the story of the film Godzilla. Furthermore, Bikini Atoll was the namesake for the now-popular bathing suit, which was designed by Louis Réard and named after the islands where a nuclear test had taken place four days prior to the garment's debut. The Marshall Islands officially adopted their constitution in 1979, and finally gained their independence in 1986.