In Northern Morocco, tucked in the Rif Mountain range, is a city known as the "Blue Pearl." Chefchaouen — sometimes simply "Chaouen" — was founded in the mid 1400s as a military stronghold to defend the region from European invasions from a post between two peaks. Spanish and Portuguese immigrants settled in this area, alongside a number of Jews fleeing religious persecution and other Andalusian families expelled from their countries of origin. Cultures merged and created a colorful tapestry of traditions and practices as newcomers, local tribes, and Moors sought refuge and homes in and around the fortified city.
Today, the characteristic blue walls stand in sky-like contrast against the deep green of the cupping valley. But unless you were there in the Middle Ages, the reason behind the color is mostly speculative. Some believe Jewish tradition brought the hue, others say it's a cooling color to keep homes chilled, or to call to mind the Mediterranean sea or local waterfalls. Chefchaouen may be blue because the residents like the color or because it continues to bring in tourists, but the result, regardless of origin, is a maze of twisting medina streets that are both pleasing and relaxing.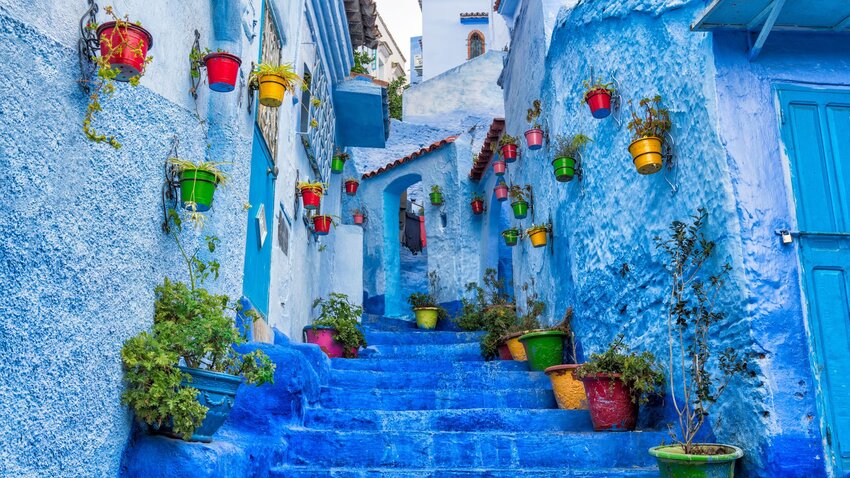 While Chefchaouen continues to draw in tourists, it lacks the activity and people-packed noise familiar in other Moroccan destinations like Marrakesh. Visiting this city is an excuse to do just what the blue color seems to signal: enjoy and rest. Here's how to lean into the color and unwind in one of Morocco's best-known attractions.
Climb to the Spanish Mosque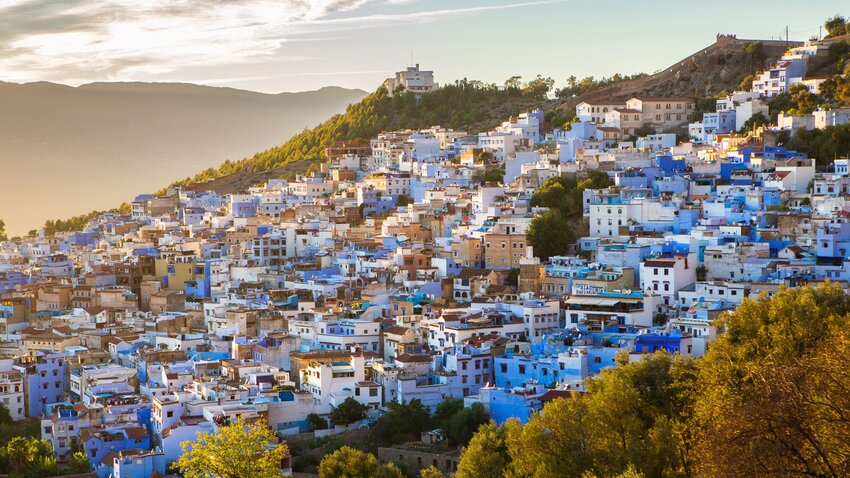 The Spanish Mosque is visible from multiple viewpoints in Chefchaouen, perched on a hill to the east with a winding stone path leading from the medina upward towards the structure. While it was built for worship, its sole purpose now is a space to gather for sunsets and photos. The entirety of Chaouen is visible from the stone wall around the mosque, the blue washed walls blending together from the distance. It's the perfect place to relax and eat a picnic while the sun sets behind the mountains that cup the city.
Take a Tour of the Marajuana Farms
The mountains and land in this region of Morocco are lush with produce and greenery. As you're in your car or bus along the twisty, cliff-side roads leading into Chefchaouen, you may see fields of short green plants. You may even smell them. Cannabis – and the extract Moroccans harvest, hashish – grows well in the north of Morocco (though it is technically illegal). Some of these farms have been in families for generations, and offer tours demonstrating this old tradition. You may be guided around the fields, walked through the process, or even get your hands into it by beating the dried bunches yourself.
Visit a Hammam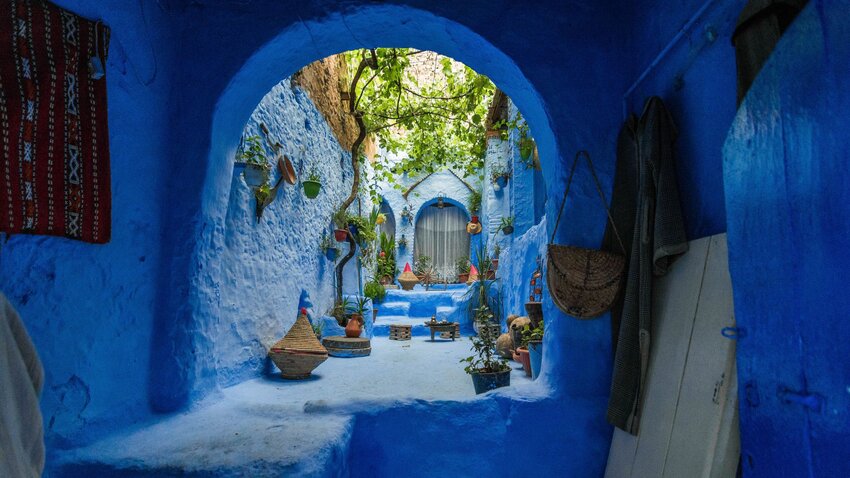 For some full body relaxation, any visitor to Morocco should stop at a hammam. Though they are traditionally ancient steam-rooms, hammams in the Chefchaouen medina cater to tourists with spa-like privacy. Luxurious treatments including full-body scrubs, clay masks, and washes with black soap (argan oil-infused soap) are accompanied by sugary mint tea. For a local experience, public hammams are cheaper, but may be a step outside of comfort zones.
Dine at a Rooftop Restaurant
It's worth getting as many views of Chefchaouen as possible during your visit – the houses cascade down the side of the mountain and the blue views are unique from every angle. Devour tagine, pastilla (a meat pie covered in warqa, which resembles filo dough), and couscous with a view overlooking the city. Snagging a terrace-seat may be slightly more expensive, but the view from above is worth it. The more common spots are around the open square in front of the kasbah, including Aladdin, Cafe Clock, and Chez Hacham.
Shop at the Medina's Souk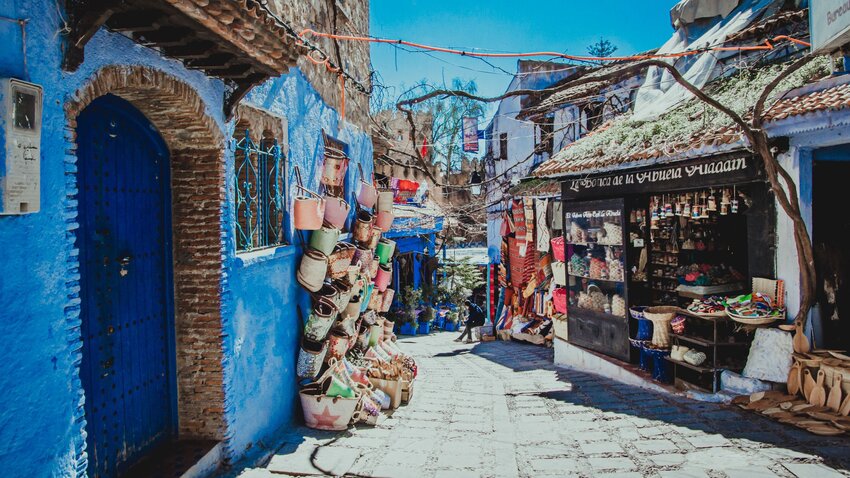 Prices are a bit elevated in Chefchaouen due to the size of the city and the number of tourists proportional to residents, but that doesn't mean shopping shouldn't happen. Blue shop doors are thrown open to reveal handmade blankets, leather bags, traditional hats and djellabas, walls of slippers, and paintings depicting the blue doors of the city.
Hike to Nearby Waterfalls
Morocco is a backpacker's paradise, from sprawling hills to deserts to craggy cliffs. The sloping valleys and peaks of the Rif Mountains make for an excellent day trip, with sun-streaked views and winding paths. Visitors won't need to pack an overnight bag though, as grand taxis ferry hikers from Chefchaouen to popular mountainside trailheads. Akchour is the most common hike from Chaouen, with trails criss-crossing over streams and rivers (and trail-side cafes quite literally built into the mountainside), leading to a natural pool, waterfalls, and the God's Bridge rock formation.
Pose Against the Blue Backdrop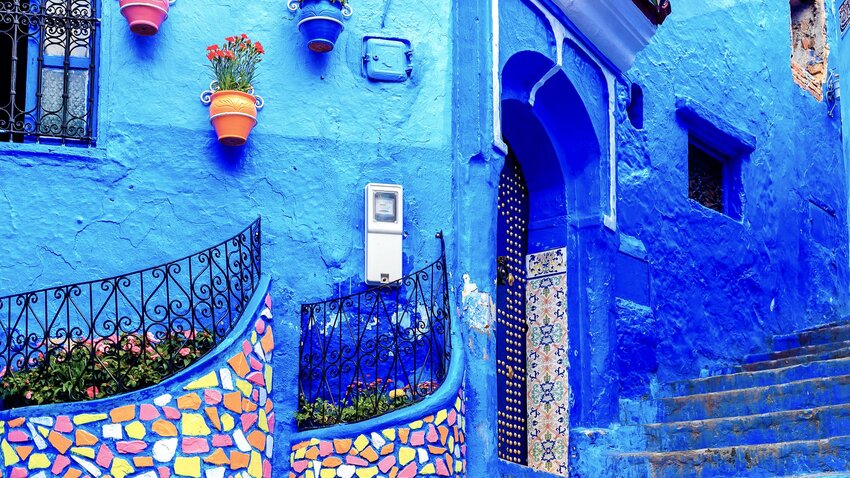 With photo opportunities this good, it seems ludicrous to leave Chefchaouen without taking advantage. There are small alleys, stone stairs lined with greenery, deeply-hued walls, and cats wherever you look. The thinner streets are covered with vines and flowers, a lattice-work of dense plants to shade walkers and provide photos with 365 degrees of beauty. If ever there's a spot to capture yourself in Morocco, it's here.