Glaciers are great tongues of ice formed millions of years ago. To the naked eye, they appear immobile, but in fact thanks to gravity, they steadily creep down the mountain valleys on which they're found, carving some spectacular scenery as they go. No matter which angle you view them from, they're a remarkable sight, but some are especially breathtaking. Check out these jaw-dropping glaciers around the world and see what we mean.
Vatnajökull, Iceland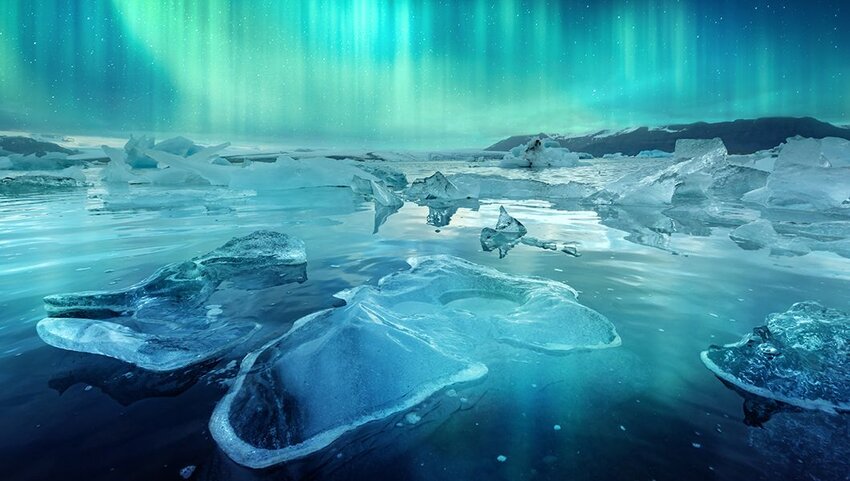 Vatnajökull is Iceland's largest glacier, covering around 8% of the country's area. As you drive along the south coast ring road, it looms large, but to really appreciate its scale and beauty you'll need to take a closer look. Super jeeps and snowmobiles will get you up on top of the glacier. Don crampons and hard hats to hike across the glacier's surface or to peer inside its glittering ice caves. Make a point of stopping at the exquisite Jökulsárlón Glacial Lagoon, where pieces of ice calve from Breiðamerkurjökull, one of Vatnajökull's outlet glaciers. They glide silently down to the sea, where Atlantic breakers wash them onto the beach to slowly melt away into the black sand.
Athabasca, Canada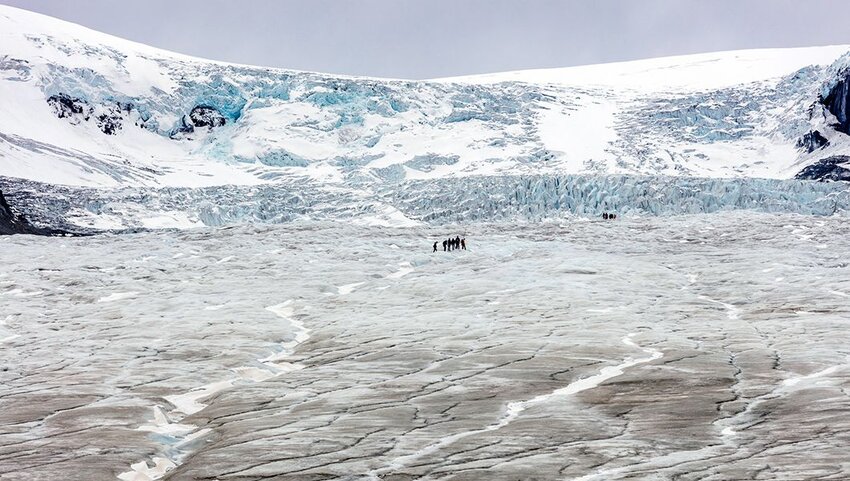 The Columbia Ice Field is the largest ice field in the Rocky Mountains and the mighty Athabasca Glacier is one of six major glaciers to emerge from it. It's close to the Icefields Parkway, making it the most visited glacier in North America. In summer, tourists ride the Ice Explorer and flock to the Columbia Icefield Skywalk, a walkway that leads to a glass-floored observation deck and views of snowy mountain peaks and valleys carved by moving ice. For a closer look, experienced guides can escort hikers out onto the glacier; hidden crevasses and other hazards make it unsafe to do so independently. However, this natural wonder is receding at a rapid rate and experts suggest it will be much diminished within a generation, so if you plan to see it, make it soon.
Grey, Chile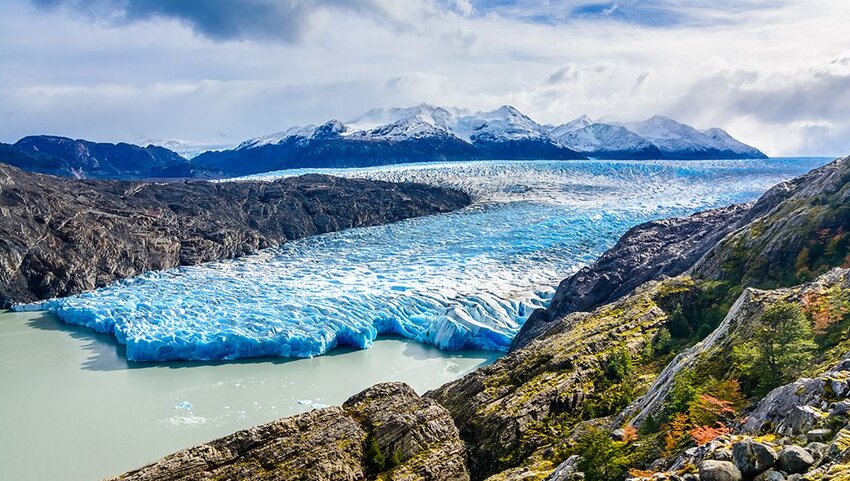 Located in the heart of the Torres del Paine National Park, this majestic glacier is one of many must-sees in this part of southern Chile. Boat trips depart regularly from the Lago Grey Hotel, ferrying passengers as close as is safe to the front face of the glacier. Towering above you, the ice has been compacted into a fabulous wall of blue ice. It creaks and groans, periodically calving dramatically into the frigid lake beneath. It's a jaw-dropping scene with a backdrop of craggy granite peaks and dense coniferous forest.
Franz Josef, New Zealand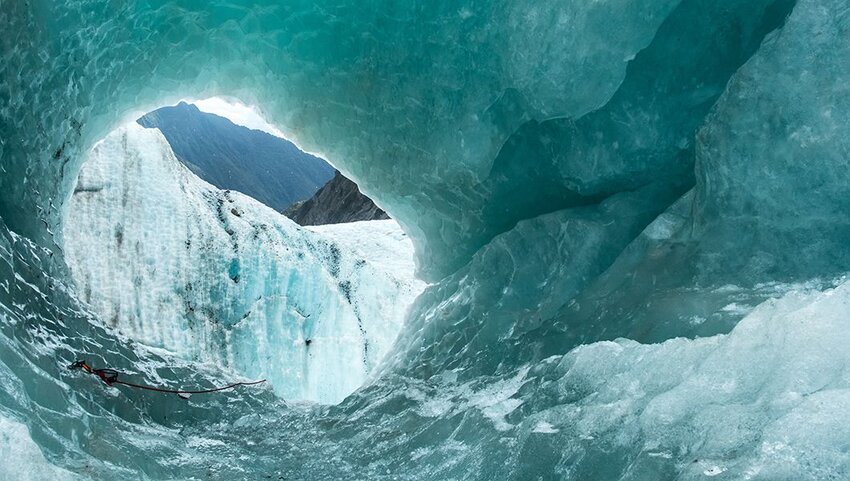 New Zealand's Southern Alps are home to more than 3000 glaciers, but two stand out. Close to the west coast on South Island you'll find Fox and Franz Josef. They're both impressive, but arguably Franz Josef has the edge over its larger neighbor, because it's steeper and littered with many more crevasses and ice caves. A gravel path leads along the valley towards the glacier's receding snout, but it's worth booking a guided hike to get you up onto the ice. A helicopter will land you high above sea level and for the next few hours, you could be squeezing through narrow crevasses, as well as admiring dazzling caves and ice towers.
John Hopkins, Alaska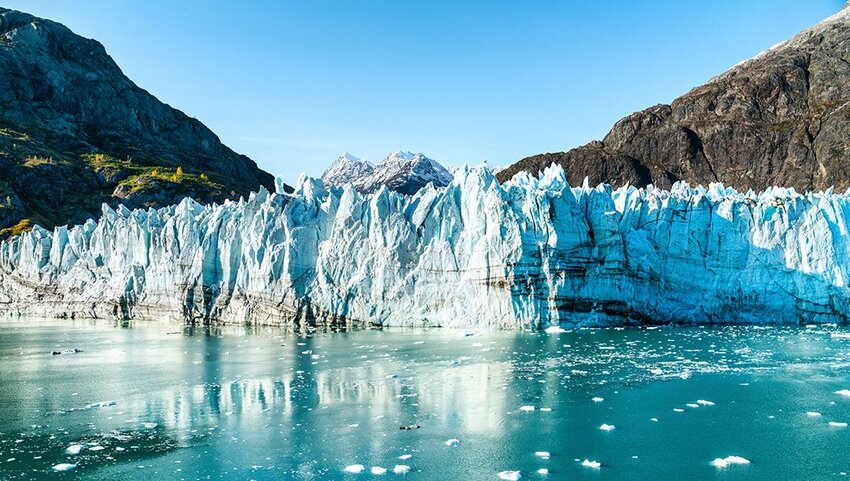 John Hopkins Glacier is the jewel of Glacier Bay National Park. Extending across a fjord, it measures an impressive mile or so across, and can be accessed by cruising up the John Hopkins Inlet. The ice that calves into the water at the end of the glacier has traveled around 12 miles from its source in the Fairweather Mountains. That makes it one of the largest glacier in the park and also one of just a handful that is still advancing. It's also a good place to spot wildlife, including the Pacific harbor seals that haul themselves up onto John Hopkins' icebergs and the plethora of seabirds that are found here.
Khumbu, Nepal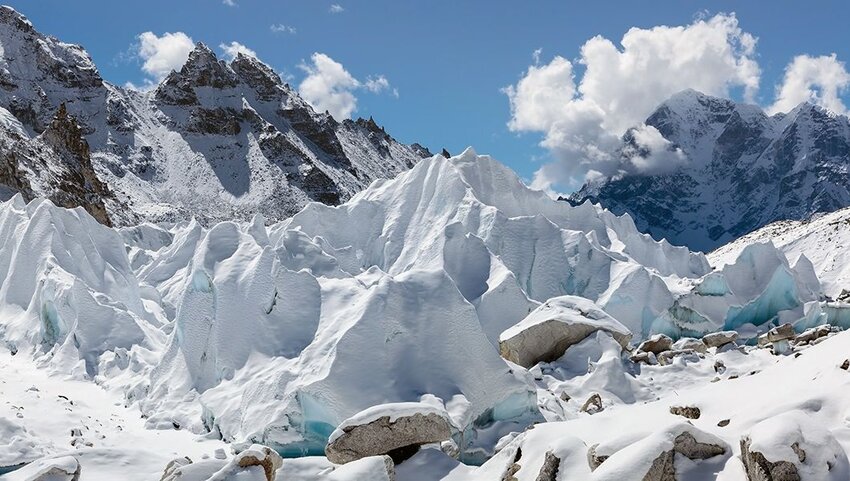 Situated in the Himalayas on the trail to one of Everest's base camps, Khumbu is the world's highest glacier. Its source is located at around 2500 feet above sea level. This glacier is also the largest in Nepal and because of the steep gradient, relatively fast-paced, moving around 90 to 120cm each day. The Khumbu icefall at its head is a major and dangerous obstacle to climbers attempting to summit Everest via the south col route. Snow hides treacherous crevasses and large blocks of ice fall frequently. To minimize the risk of avalanches, climbers try to traverse this stretch early in the day when it is at its most frozen and therefore most stable.
Aletsch, Switzerland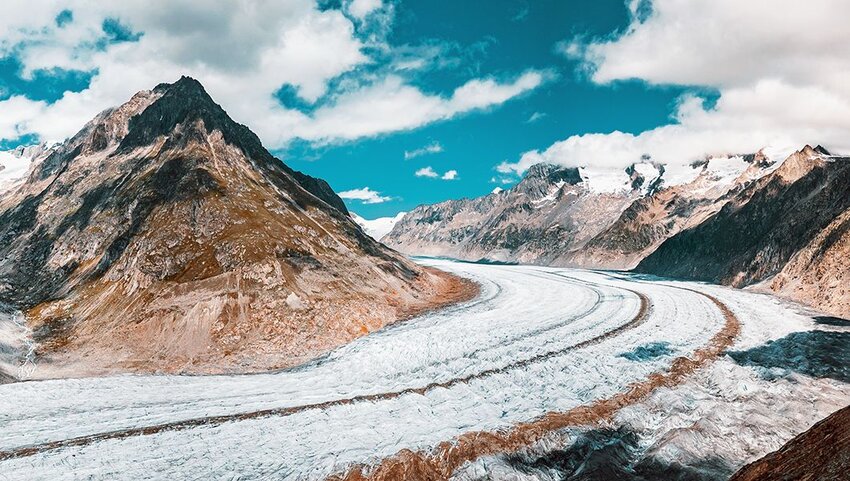 Switzerland's magnificent Aletsch Glacier is the largest in the Alps. It begins where four smaller glaciers converge at Konkordiaplatz in the Bernese Oberland. Reaching it takes surprisingly little effort. Simply board the train at Kleine Scheidegg for the ascent of the Eiger through a tunnel. Alight at Jungfraujoch, the highest railway station in Europe at 11,362 feet above sea level, and step out onto the terrace for a panoramic view over the glacier. Year-round, at this altitude, there's snow and ice all around, making this a magical spot and one that's recognized as a UNESCO World Heritage Site.
Perito Moreno, Argentina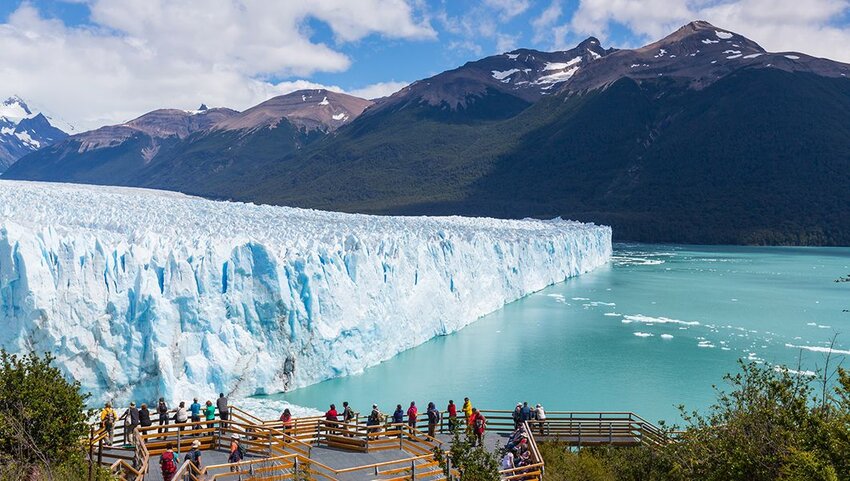 Argentina's most famous glacier is a beauty. This Patagonian gem lies within reach of the resort town of El Calafate and receives a steady stream of day-trippers as a result, who can access the glacier by land or by boat. However, there's another reason to visit: Perito Moreno is highly unusual in that unlike most of the world's glaciers, it's not shrinking. The rates of accumulation and ablation at this UNESCO World Heritage Site typically balance each other out. Nevertheless, from time to time, travelers witness a sudden and dramatic partial collapse. As the glacier moves, an awesome ice bridge forms; pressure builds up behind it and every few years it fractures in spectacular fashion.