Homesickness isn't hard to identify. We've all felt the pangs of longing for what is familiar, comforting, and known, when we're traveling from one new destination to another. The symptoms appear as frequently as waves along the shore, and retreat just as quickly. Acclimating to the waves is what ultimately makes homesickness bearable, though many of us often feel the pull toward home no matter how well we adjust to the ebb and flow of the water.
Whenever I've strayed too far, for too long, from my hometown, one of the first things I fantasize about is the regional cuisine of New England. As a lifelong New Englander, there is something about the landscape that is etched irrevocably on my bones. I enjoy being away from the area—I like visiting new places and living elsewhere—but there are days when meals are unable to touch the place of hunger and yearning I hold inside of me. On these days, I find myself dreaming of the familiar tastes accompanying nostalgic New England foods I've enjoyed since childhood. I've learned, over the years, that this is because food is deeply tied to memory, and that the consumption of certain delicacies brings forth a fondness for days past.
If you've never been to New England, but you plan on traveling there sometime in the future, try these eight beloved food items and create some memories of your own.
New England Clam Chowder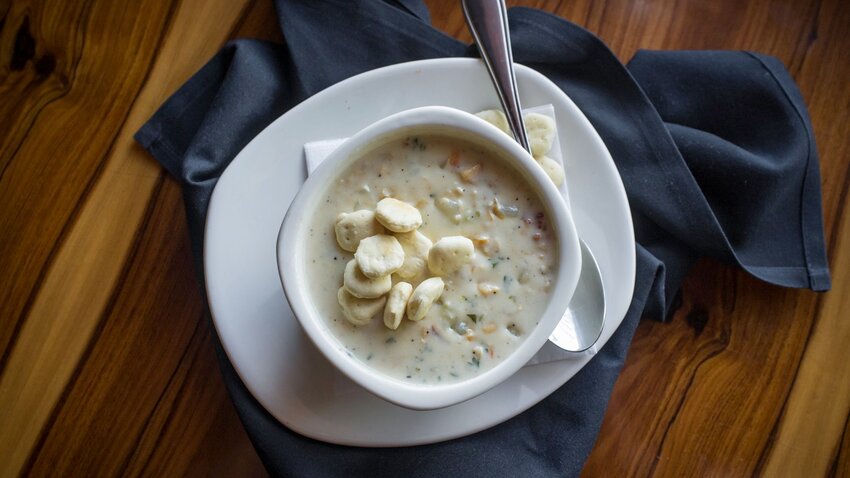 Growing up, clam chowder was a staple of New England life. Trips to the beach, whether in Maine, or New Hampshire, or Massachusetts, were followed with cups of clam chowder. Eating soup in the middle of July seems abnormal to those who are unfamiliar with the ritual, but there are few things more enjoyable than clam chowder, oyster crackers, and a cold Coke after you've spent the day soaking up sunshine with the sand between your toes.
New England Clam Chowder is commonly made with clams, potatoes, celery, onion, and salt pork, mixed with milk, heavy cream, and broth to create a thick texture. Native to the area since the early 1700s, clam chowder became popularized throughout Boston in the 1830s when it was served at the famous Union Oyster House. Hearty and comforting, this seafood stew is perfect on any day and for any occasion. If you want something for lunch that'll leave you satisfied but mobile, clam chowder is the way to go.
Try it: New England Clam Chowder from Boston-based Legal Sea Foods
Lobster Rolls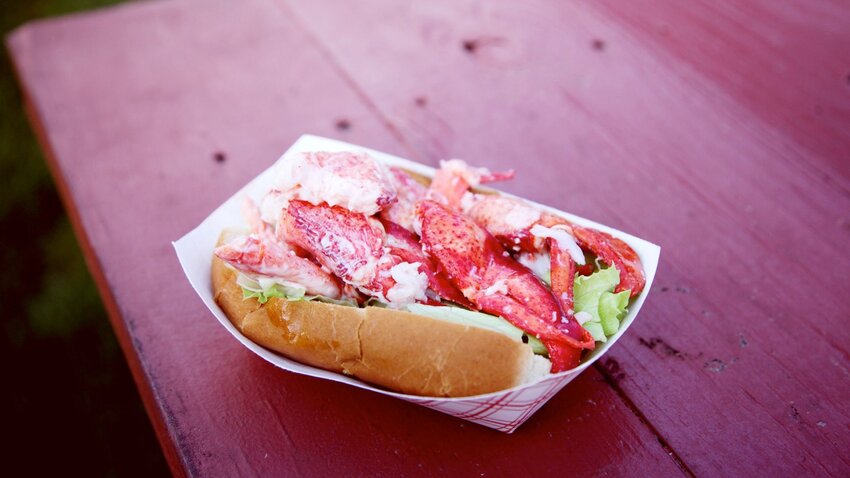 For many, New England is synonymous with lobster rolls. As someone who was averse to lobster for most of my life, I never understood the appeal. My palate changed as I got older, though, and now summer feels incomplete without a lobster roll. Typically prepared one of two ways, this coastal delicacy is available at every seafood restaurant in the region. Always served on a grilled hot dog bun, you can have your lobster roll warm with butter, lemon juice, salt and pepper, or you can have it chilled with a little mayonnaise and chopped celery. Served with French fries or potato chips, lobster rolls are a quintessential New England experience.
Some of my favorite summertime memories involve me sitting on the rock wall at a private beach in Hampton, New Hampshire, watching the sun set over the water, as my partner and I share lobster rolls and hot dogs and fries. We have shared many meals over the years, but these moments are the ones I long for the most whenever we're apart.
Try it: Maine Lobster Roll Kit from Mcloons Lobster Shack in South Thomaston, Maine
Baked Beans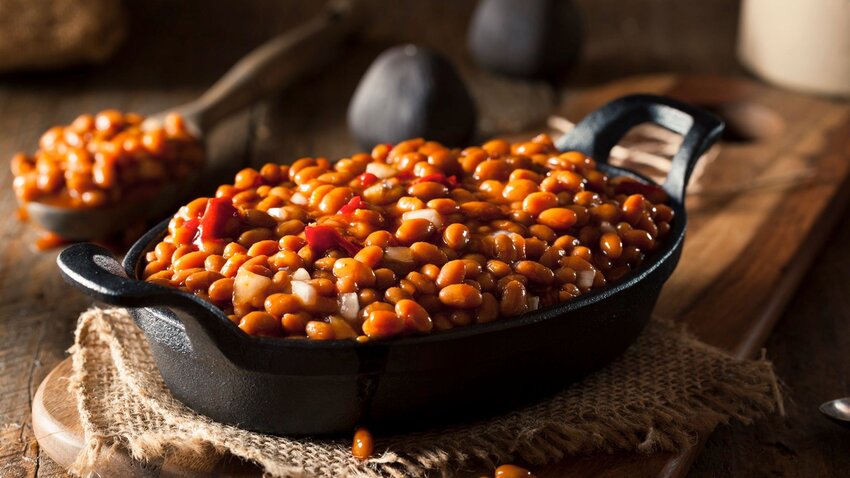 Baked beans from a can don't hold a candle to true Boston baked beans. This variety relies on molasses and salt pork to flavor the beans in a unique and smoky way. Though uncommon to say when you're from the area, Boston has been nicknamed "Beantown" because of this traditional food. Originally prepared throughout New England by Native Americans, baked beans became a staple in the Pilgrim diet during the 1620s and beyond. Baked beans are available as a side dish in select restaurants in the region, though you may have better luck in the city of Boston itself. I typically ate baked beans with hot dogs and brown bread (another New England specialty) when I was growing up. Sometimes, my mother still makes this exact meal on Saturday nights.
Fluff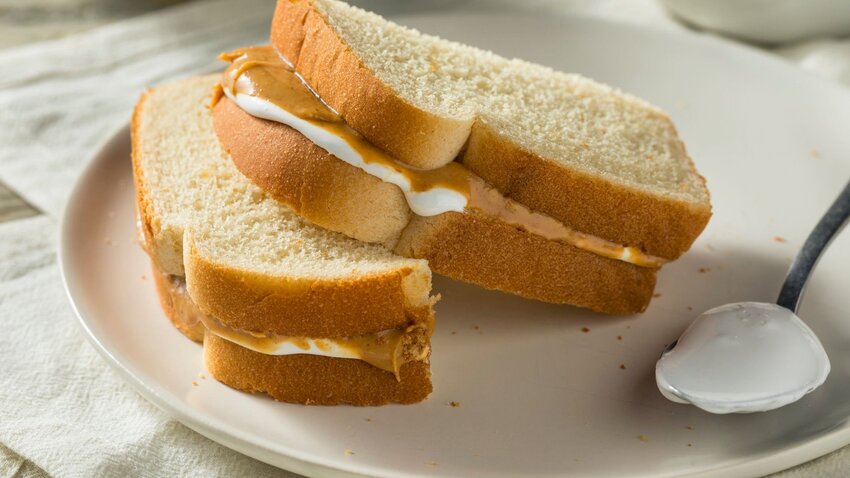 If you've never eaten Fluff, you're missing out. This delectable marshmallow creme spread was created in Massachusetts in the 1920s and has been an area favorite ever since. Fluff is difficult to describe—it has the taste of a sticky, sweet marshmallow but an entirely different texture. It's a spreadable confection that can be eaten on its own, but for a true New England experience, you'll need to have a Fluffernutter sandwich, allergy permitting! The sandwich consists of a layer of Fluff on one slice of bread and a thick layer of peanut butter on the other. The number of Fluffernutter sandwiches I have eaten in my lifetime should be criminal. Cut diagonally and served with a glass of cold milk, a Fluffernutter sandwich is still one of my go-to lunches when I can't think of anything quick to prepare.
Try it: Buy Fluff by the jar at Amazon
Whoopie Pie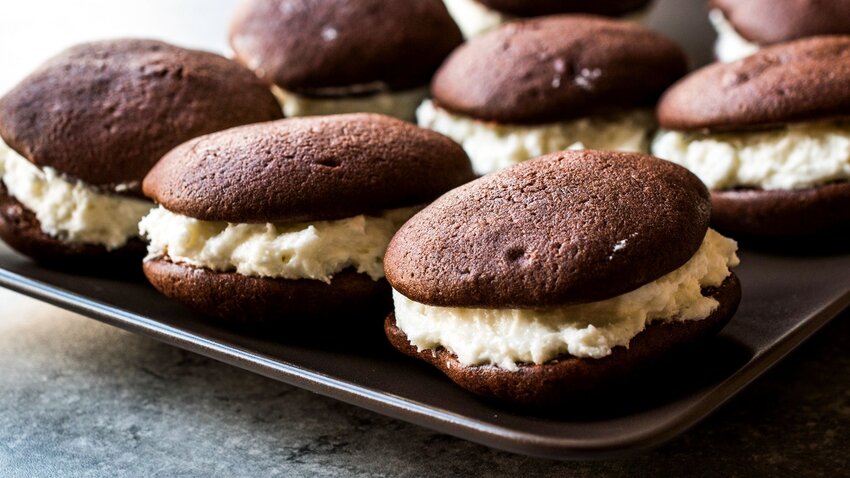 Saying the words "whoopie pie" outside of New England draws some intriguing glances. This cake-like dessert is best described as a type of sweet sandwich. Consisting of two mound-shaped pieces of cake on the outside and a hearty layer of cream between the two, whoopie pies are available in a variety of flavors. The most traditional is a chocolate cake whoopie pie with a white cream filling. Seasonal flavors are offered during the year, such as pumpkin whoopie pies in the Fall and peppermint cream whoopie pies during the holidays.
Try them: Various Whoopie Pies available from Cape Whoopies in Cape Elizabeth, Maine
Coffee Milk
Coffee milk, the official state drink of Rhode Island, is one of my most favorite regional items. I know, I know, it's not food. But coffee milk is integral to the New England experience. Consisting of coffee syrup and milk, this beverage can be made at home or it can be ordered at a smattering of restaurants. Like chocolate milk, it's consumed in the morning with your breakfast. I have about twenty years worth of fond memories filled with glasses of coffee milk and plates of scrambled eggs and bacon at New England diners.
Try it: Buy Coffee Time Coffee Syrup from Rhode Island at Amazon
Hoodsie Cups
Hoodsie cups made an appearance at every birthday party and celebration I attended in elementary school. These adored desserts are made with vanilla ice cream on one side and chocolate ice cream on the other, and are served in small wax paper cups with even smaller wooden spoons. Created by the Hood milk company in Massachusetts in 1947, Hoodsie cups are three ounces of pure joy. I've had many Hoodsie cups alongside slices of cake, and several more in the solitude of the kitchen once everyone else had gone home.
Fenway Franks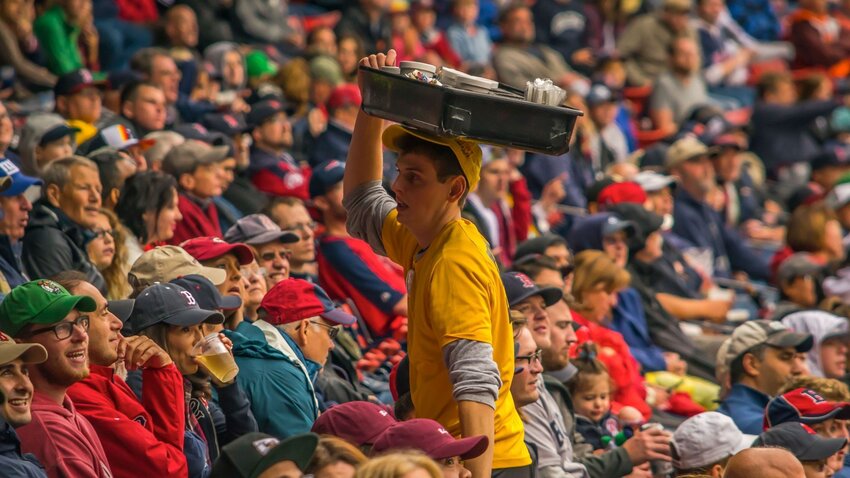 Fenway Park, in the middle of the summer, crammed into the awkwardly arranged seats to catch sidelong glimpses of the Red Sox game underway. Nothing feels more like home to me than this sensation. Growing up, my mother worked at Fenway Park, and my brother and I were often brought along with her to enjoy the games and a Fenway Frank. You simply cannot visit Fenway Park without getting one of their hot dogs. Easy to eat and delectably customizable, Fenway Franks are nostalgia on a roll. I like to order mine with mustard and relish, but you can order yours however you'd like.
Despite feeling a constant pull toward other areas of the world, part of my heart—and my stomach—will always be in New England.