If you aren't already addicted to your smartphone, these travel apps might do the trick. There's numerous apps out there that can simplify your life and travels like never before. From creating your itinerary to helping you pack and find places to eat, you have the power of a travel agent in the palm of your hand. Never again will you have to wonder if you're sticking to your travel budget or missing out on fun roadside attractions. Here's our current list of the best travel apps to download before your next trip.
TripIt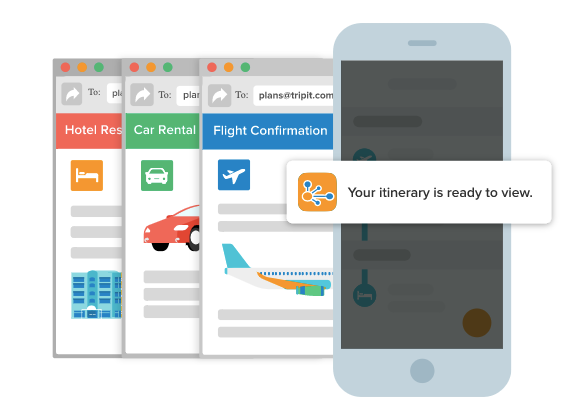 TripIt organizes your entire travel itinerary in one handy-dandy app. All of your reservations, including flights, car rentals, train tickets and accommodations, are assembled into a categorized list, arranged by date and time. After forwarding your reservations to plans@tripit.com, the app creates your master itinerary in a matter of minutes. It's perfect for when you need to quickly look up a confirmation number or check the time of your flight. Plus, the app makes it easy to share your itinerary, so others can stay apprised of your travel schedule.
Packing Pro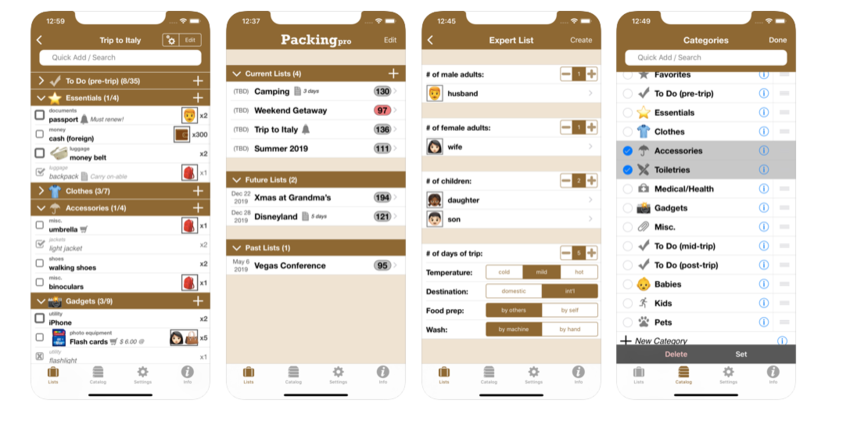 Packing Pro streamlines the process of packing, so you can be organized and efficient before you leave for your trip. Just enter your destination, how long you're gone for and your destination's predicted weather. Packing Pro will produce a list of necessary travel items divided by packing category, in addition to a pre-trip to-do list. You'll never forget your passport or an extra pair of socks again.
Roadtrippers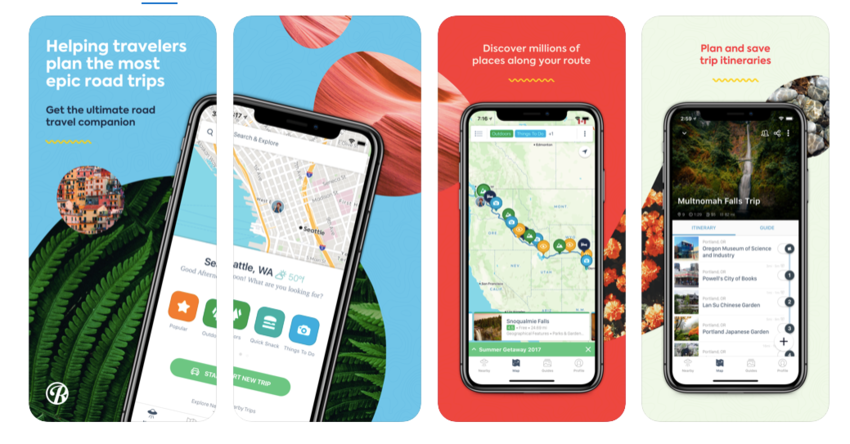 Planning a road trip? The Roadtrippers mobile app will help you every step of the way. To begin, enter your starting point and end destination into the app. Not only does Roadtrippers produce directions, but they assemble a master list of recommendations for your journey. From accommodations and restaurants, to camping and RV parks, outdoor recreation sites and points of interest, the app makes last-minute road trips a piece of cake
XE Currency Converter

If you're traveling to a different country, the XE Currency Converter mobile app is a must. It keeps you up to date on the current conversions and helps you know if you're getting a good deal. It's easy and simple, and it prevents you from being tricked into a bad exchange rate at the first kiosk you see.
Google Translate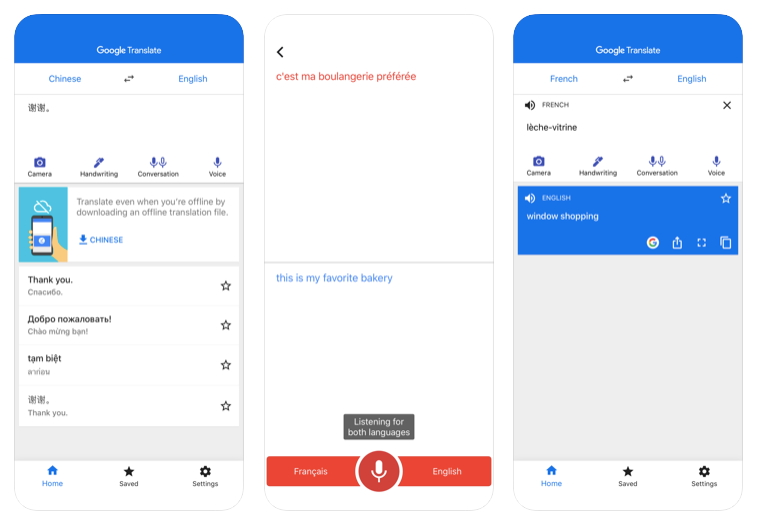 Google Translate has the ability to translate 100 languages right on your phone. It ca even translate text without a data connection, though you have to remember to download the translation file prior to being offline. Plus, when you point the app's camera towards a sign that needs translation, the app converts the text instantly. The conversation mode, which interprets language two ways, can be used on 32 languages and is especially helpful when you need to talk to a local.
LocalEats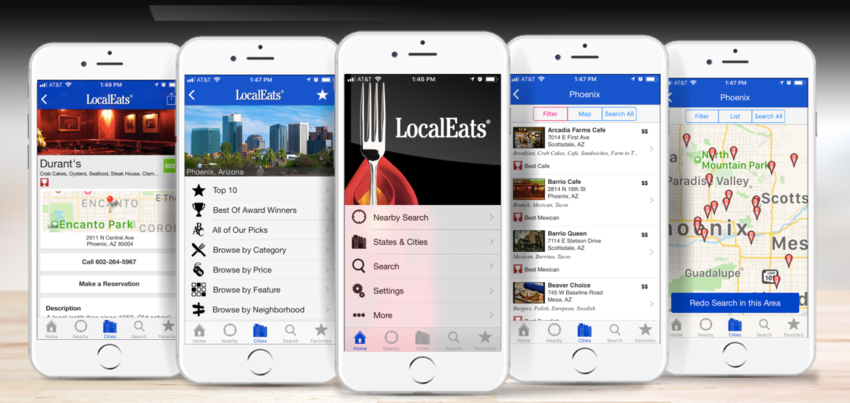 Never eat at a chain restaurant while traveling again when you download LocalEats. Providing curated lists of the best local restaurants, LocalEats is the go-to app for hungry foodies wanting to discover delicious food. Restaurants are chosen by the editorial staff, all food-lovers, and searches can be filtered by neighborhood, price range, bar information and patio availability.
FlightAware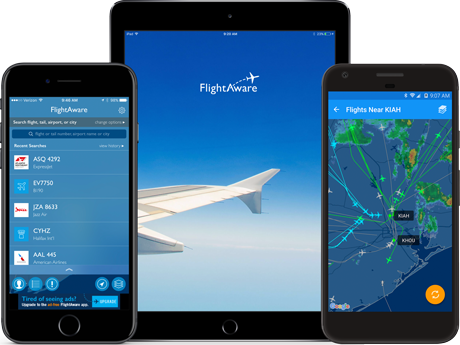 Is there anything worse than arriving at an airport only to discover your flight's been delayed? FlightAware tracks flights across the world, with a live map showing cancellations, delays and gate changes. Enter your upcoming flight number to receive real-time notifications regarding the airplane's activity. Plus, the Misery Map keeps you informed of inclement weather that may cause cancellations around the globe.
Trail Wallet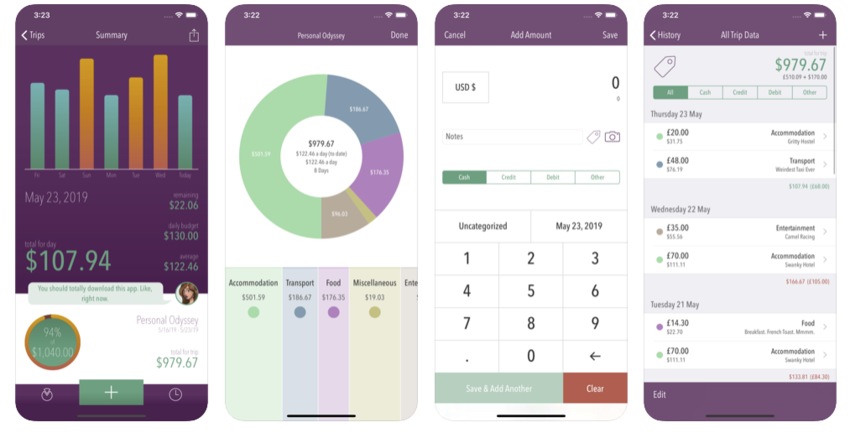 Whether you're traveling for a week or six months, Trail Wallet will keep your travel budget in check. Enter in your daily budget and length of trip and the app provides an easy-to-understand record of your spending. Since it's quick and easy to add expenses in real time, you won't feel burdened by tracking your expenses. At the end of the day or week, Trail Wallet displays your spending records using graphs that will let you know if you're on budget.