Taking a road trip provides you with the perfect opportunity to listen to an engaging audiobook and learn some valuable information in the process. When you're staring out at the open road for hours on end, your brain is free from the distractions typically following you around at home. Use this to your advantage and spend time listening to audiobooks on your favorite subjects and connect to yourself in a totally new way. Numerous audiobook apps are available to download on your smartphone or tablet. All you need to do is choose the app that works best for you and press play.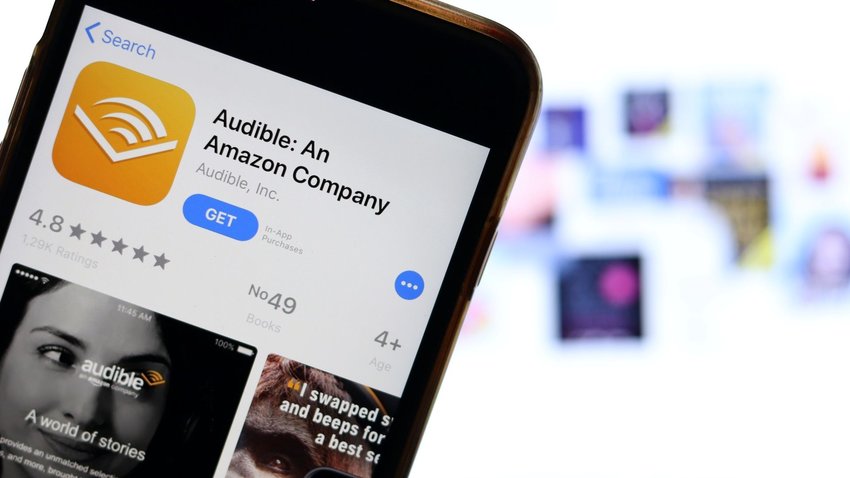 By far the most popular audiobook app on the market is Audible. Powered by Amazon, this app offers new users a 30-day free trial which includes one free audiobook of your choice. Once the trial elapses you'll be charged a monthly fee of $14.95 to continue your Audible membership. You don't need to be an Audible member to buy and listen to individual Audible books, but it's almost always a better deal.
With your monthly payment, you receive one credit which can be redeemed on any audiobook within the app's extensive collection. It's usually best to use your credits for an audiobook that costs more than the monthly subscription fee to ensure you're getting the most out of your benefits. The selection ranges from new releases to best sellers to classics and everything in between, which makes it easy to find something regardless of your interests.
In addition to the credit, each Audible user is permitted to pick two free Audible Originals per month. These titles are usually more obscure than popular audiobooks, but they still pack in a lot of useful knowledge and make for easy listening while you're covering shorter distances.
Audible can be linked directly to your existing Amazon account. One of the main perks of this app is that Audible releases exclusive audiobook narrations you can't get anywhere else, with actors such as Thandie Newton and Laura Dern lending their voices to popular titles.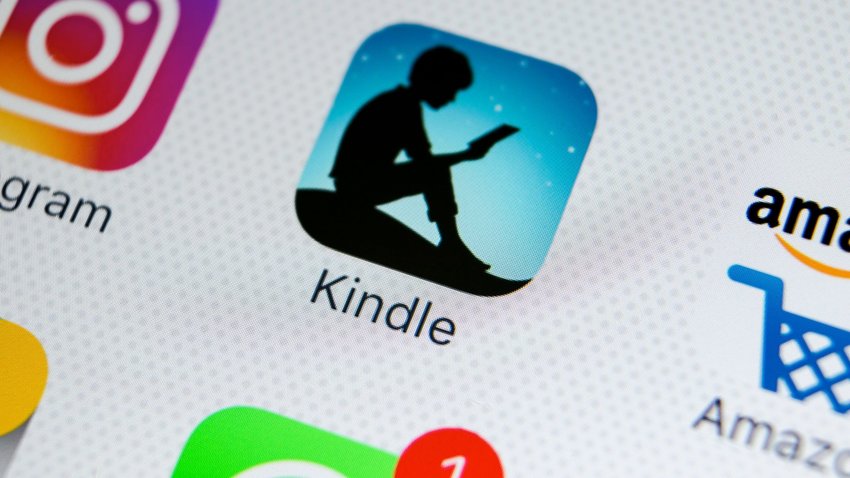 Contrary to popular belief, Kindle is not just an app for ebook users. While Audible is Amazon's audiobook juggernaut, Kindle offers users a unique way to get the most bang for your buck. When you purchase an ebook through the Kindle app or on Amazon.com, you're given the option of purchasing the audio companion for a fraction of what it would cost to buy the audiobook outright, no subscription required.
One of the best features of Kindle is that the app allows you to effortlessly switch between reading and listening to the book of your choosing with the push of a button. If you've recently started reading a book you can't put down but you know you're gearing up for a road trip, all you have to do is queue up the audio to pick up right where you left off.

Free to download and easy to use, Libby is essentially a library app. To browse through the available collection of audiobooks and ebooks, you must enter the number of your physical library card. If you've yet to obtain one, simply contact your local library and request your free card. You'll need to show proof of residency to complete this step, but once you have your card you're ready to start borrowing books from Libby right away.
Libby is linked to your local library network, so the audiobook selections may be slightly limited compared to other apps. The major benefit of using Libby though is that you never have to pay a monthly fee and you can borrow as many audiobooks as you want. Each account is permitted to have up to 10 audiobooks out at one time, and you can borrow each individual audiobook for a standard 14 day period just like you would if you were borrowing from the library itself.
Since you can't beat the cost, this app is perfect for families who want to have a rotation of audiobooks to listen to during a road trip to keep the kids entertained. If you're not ready to return a book just yet, you're allowed to extend your hold as long as there isn't a waiting list for the requested item.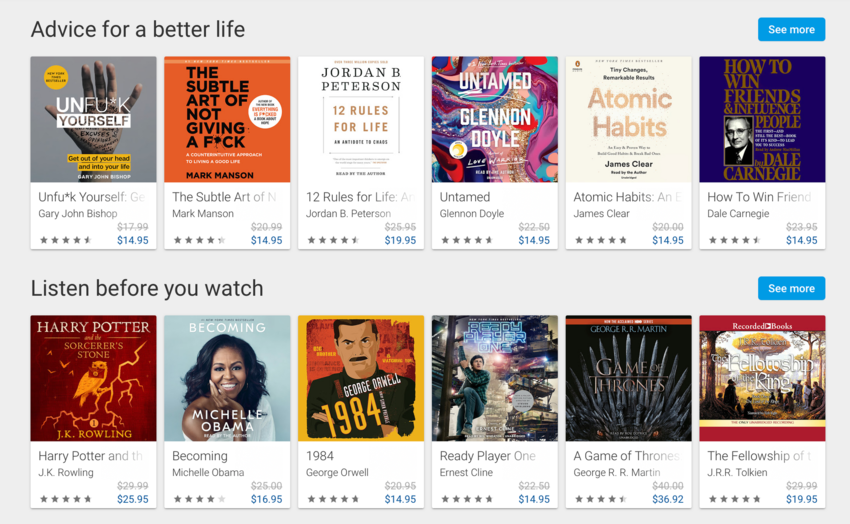 If you want to buy audiobooks but you don't want to pay for a subscription, Google Play Books is right up your alley. With this app you purchase each audiobook individually, and you never have to wait for your monthly credit to show up before you start shopping. The only drawback with this app is the condensed selection, though you're still likely to find numerous titles you can play while you're on the road.
Audiobooks in your Google Play Books library sync automatically between devices. If you start an audiobook at home and you're really enjoying it, you'll be able to pick up right where you left off when you're in your car heading to your next destination. Prices vary depending on subject and popularity, though each audiobook costs $17.95 on average. A few bargain sections are available and it's often worth the time to browse through these to see if there's a hidden gem waiting for you.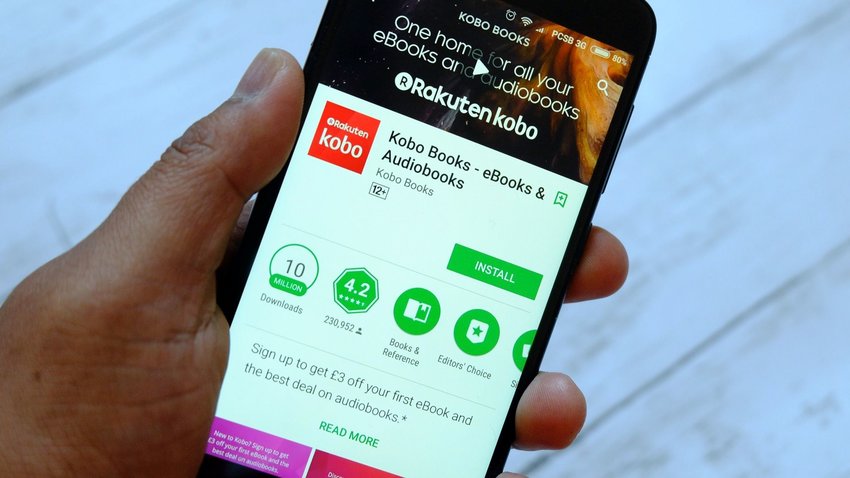 User-friendly Kobo follows the subscription of Audible, but at a lower cost. With Kobo you receive a 30-day free trial and you pick one audiobook for free during this period. The monthly membership only costs $9.99, and you still gain access to numerous titles you can enjoy while you're out on the open road.
Like many other apps, Kobo lets you slow down or speed up the narration depending on your preference with a few simple clicks on your smartphone. You can also check periodically to see how much time is left in the chapter you're listening to or how much time is left in the audiobook in general. This helps you track your progress within the story and keeps you on pace for your projected destination arrival time.
Your subscription gets you one book of your choice per month, though the selection and narration options aren't as extensive as Audible. Prices for a la carte audiobooks on Kobo range from a few dollars to around $21 for best selling titles, so there is something for everyone regardless of your budget. Kobo provides customized recommendations for new titles once it learns your preferences. This helps you discover different audiobooks all within the same trip.
Top photo by oneinchpunch