Back before they were outfitting half the people you see in every airport and running slick TV commercials on every channel, I got a couple pieces of luggage from a then-fairly-obscure brand called Away as wedding gifts, and they've been my go-to carry-on and checked bag ever since.
So after being chucked around on dozens of flights and wheeled through miles of airport terminals and rough sidewalks, how have they held up more than three years later?
The Carry-On
I got the original Away Carry-On (the Bigger Carry-On didn't yet exist) back in early  2016, and by my rough estimate have taken it on at least 30 trips since.
I won't say the bag looks brand new--it's picked up a few minor scuffs and scratches on its outer shell along the way--but it still performs like the first time I used it. The wheels have never gotten sticky or damaged, the zipper has never jammed, and the telescoping handle has never bent, despite my resting a heavy messenger bag on it nearly every time I travel.
Its one major "repair," wasn't really a repair at all, but rather an upgrade to its built-in battery storage compartment to comply with FAA regulations.  They offered to either pay for me to send the bag to them for service, or to send the upgrade kit to me to do myself, and I chose the latter. A painless 15 minute procedure later, the battery pack can now be ejected with a single, satisfying press; no screwdriver required.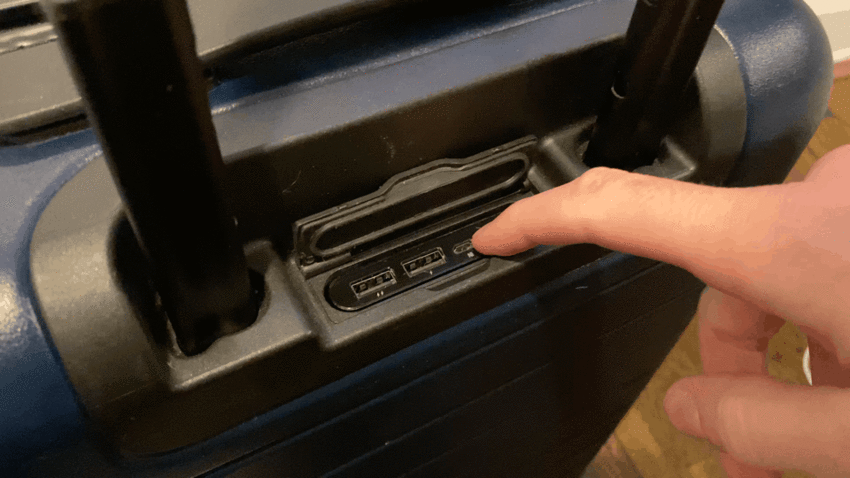 I have noticed that the battery can sometimes partially eject itself if I rumble the bag across a rough sidewalk, and the battery pack itself is woefully outdated. It's too large to only have 10,000mAh of capacity, and it still lacks modern touches like USB-C Power Delivery. But even now, I do find charging my phone from the back of my suitcase to be the height of luxury. Digging through my bag to find a battery pack just doesn't compare.
The inside of the bag is also as functional as ever, and still looks brand new. I've stuffed the compression side of the suitcase with far more stuff than was advisable--to the point that it was extremely difficult to actually close the compartment's zipper--and yet it's never stretched, torn, or broken.
All things considered, I'd give the Carry-On a solid A for longevity. And if it does start to have issues later on, it also has a limited lifetime warranty to fall back on.
The Large
I've used Away's Large checked bag far less than the Carry-On, but have nonetheless had more issues with it. After only about a year, two of the feet on the hinge side of the bag broke, and had to be replaced. Away once again offered to either pay to ship the bag back to them for repairs, or send me the replacement parts to fix it myself, and I again opted for the latter. It was an easy fix, but I was disappointed to have to make it at all.
It's also picked up more dings than the Carry-On, despite having many fewer trips to its name, but I suppose that's the plight of all checked baggage that gets thrown around without a care.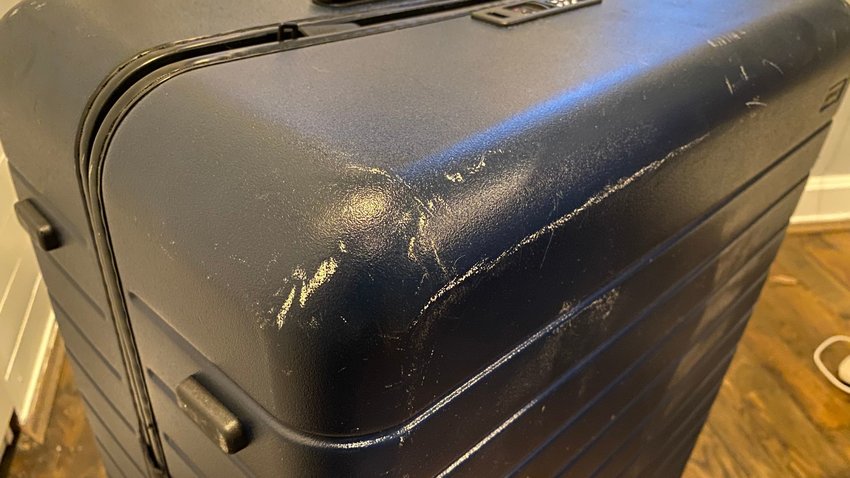 Mostly though, I'm disappointed that Away didn't adapt the interior storage to make better use of the large size of the bag. It features the exact same interior arrangement as the Carry-On, but upsized. The space feels cavernous, and indeed, you can fit a lot of clothes in there, but you'll really have to rely on packing cubes if you want any semblance of organization. The zipper pocket on the compression pad in particular could have been divided into multiple, smaller pockets, since it's too vast and unwieldy to be of much use.
The Large Away suitcase fills a niche, and fills it reasonably well, but some of the magic of near-perfect Away Carry-On just doesn't translate to the larger size.
So over three years on, I'm still in love with Away's Carry-On, and consider it by far the best piece of luggage I've ever owned. If you need a big checked bag though, I've learned that you should probably just get something inexpensive (like this highly rated 30" spinner from AmazonBasics for about $70), because it's just going to get beaten up anyway.
---
Feature image credit: Artur Tumasjan/ Unsplash
All featured products and deals are selected independently and objectively by the author. Inboxlab may receive a share of sales via affiliate links in content.