Merely uttering the words "Hawaiian Islands" conjures images of lush tropical forests, trailing vines, flamboyant orchids and hibiscus blossoms, craggy lava beds and, most of all, fantastic beaches. Stretches of white or black sand, the bluest waters, frothy surf crashing against the shore...no matter which of the Islands you choose to visit, a perfect swimming beach awaits.
Hapuna State Beach
The Big Island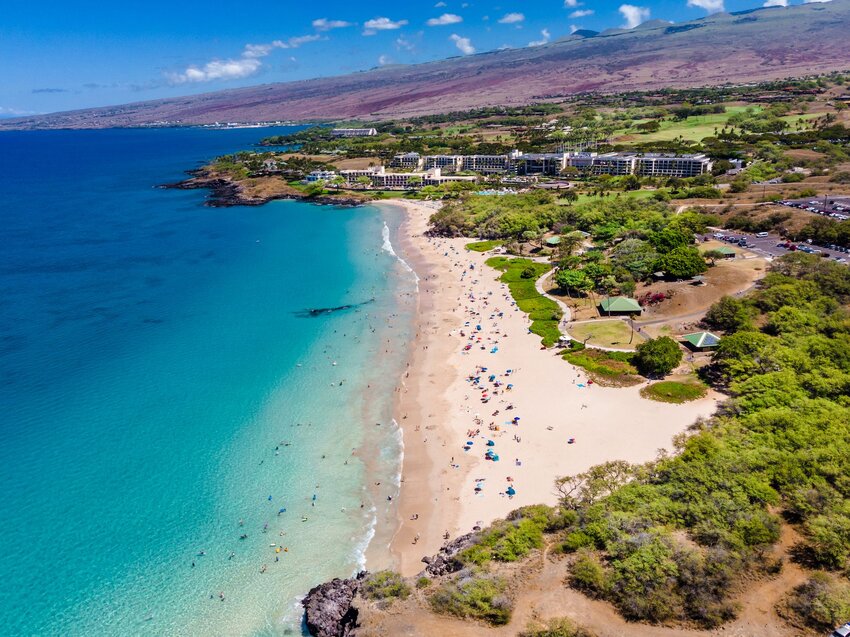 If your perfect beach is a quintessential stretch of dazzling white sand and crystal blue water, Hapuna State Beach is for you. Consistently ranked as one of the top ten beaches in the Hawaiian Islands, Hapuna comes with food vendors, showers, restrooms, picnic areas, a grassy slope, and shade trees. Early in the year you might see migrating humpback whales offshore, and all year long the water is perfect for swimming, bodyboarding, and snorkeling, though as is true on most Hawaiian beaches, the surf will tend to be higher in the winter months and far gentler in summer. Hapuna's wide beach is a perfect picnic and sunbathing spot, and the walk up and down the long stretch of sand will loosen up even the laziest of sun-worshippers. You'll find Hapuna along the Kohala Coast just north of the Waikoloa road.
Kua Bay
The Big Island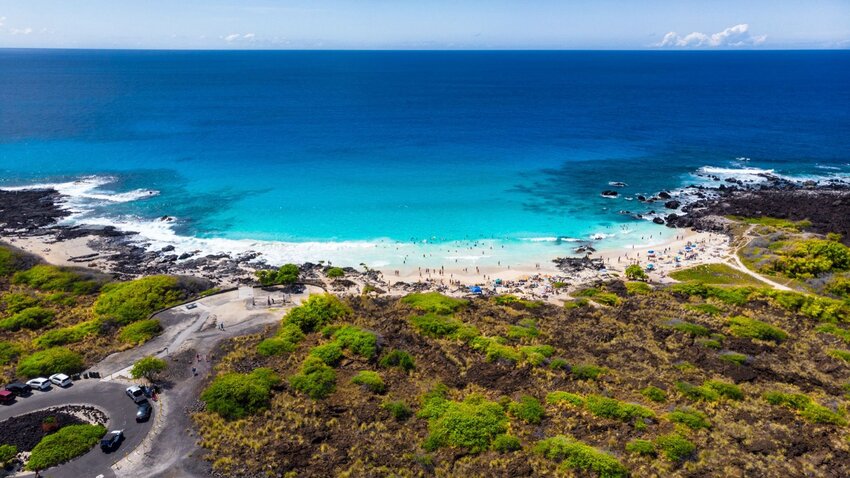 Farther south on the western shore of the Big Island, try Kua Bay—properly known as Manini'owali Beach--for another spot that beckons swimmers into the water. More secluded and far smaller than Hapuna, Kua Bay is a sparklingly clear curve of water lapping up against a combination of black lava rock and white sand beach. The contrasts create a picture-perfect spot for a Hawaiian afternoon of sun, sand, and swimming. Sea turtles and dolphins make frequent appearances, and the water is great for snorkeling in summer, but expect larger waves in the winter. Bring your own picnic and drinks, as only the occasional food truck happens into the parking area. And, don footwear that allows you to cross at least ten feet of lava rock to reach the sand. Showers and restrooms are available in the parking area, but there is no shade at Kua Bay, so bring a hat or umbrella. Sunsets here are spectacular; try to visit during the fall or winter, when the parking area will be open past sunset (it closes before sunset in summer.) Finally, Kua Bay's popularity can make it crowded on weekends, so try to visit during the week for a day of fun in the water.
Hanalei Bay
Kauai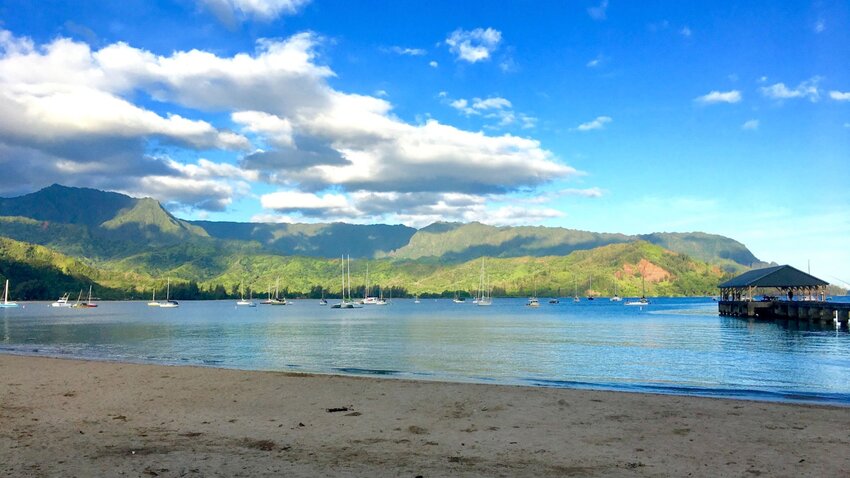 The largest bay on the north shore of Kauai is Hanalei Bay, a two-mile sweep of flat beach surrounded by steep, jungle-clad mountains. This picturesque spot is perfect for swimming and stand-up paddle boarding in summer, and in winter the surfing is awesome. A long, covered pier is a favorite spot for fishing and picnicking, and kids of all ages will enjoy leaping from it into the crystal-clear water. The beach slopes so gradually into the water that it makes a wonderful play area for little ones just learning to swim (when there's no surf), and the long span of water is fantastic for distance swimmers. Restrooms, showers, and picnic tables are available, though parking can be crowded on weekends. At the edge of Hanalei River, which meets the sea near the pier, a small boat ramp makes the launch of kayaks and paddle boards easy. With over 12 miles of passage up the river, you'll encounter coconut palms, hibiscus flowers, and even endangered wildlife such as the nene (Hawaiian goose). When you've had enough sun and water, take a very short walk from the bay to Hanalei Town, where you will find charming restaurants, shops, and galleries. For a peek into Kauai's history, visit the Waioli Mission House.
Poipu Beach
Kauai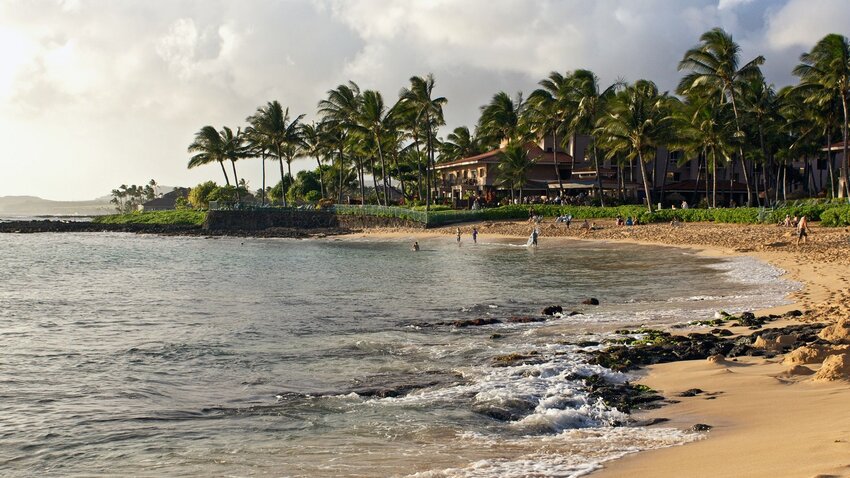 Very popular and considered by many to be among the best beaches in the country, Poipu Beach Park, on the southern end of Kauai, is made up of two sand crescents strung together. Poipu has something for everyone, whether it's wading, swimming, snorkeling, boogie-boarding, or surfing. Palm trees tossed by ocean breezes provide dots of shade, and a lawn area and playground create a perfect spot for families. Snorkel and surfboard rentals are available nearby, as are picnic areas and showers. Poipu Beach offers a wonderful opportunity to teach youngsters about ocean animals, as sea turtles commonly swim alongside humans in the shallow waters, and Monk Seals come ashore to sunbathe. Be mindful of staying at least 100 feet away from the seals, as they're an endangered species. During the winter months, humpback whales are sometimes visible just offshore. Poipu will definitely delight.
Ka'anapali Beach
Maui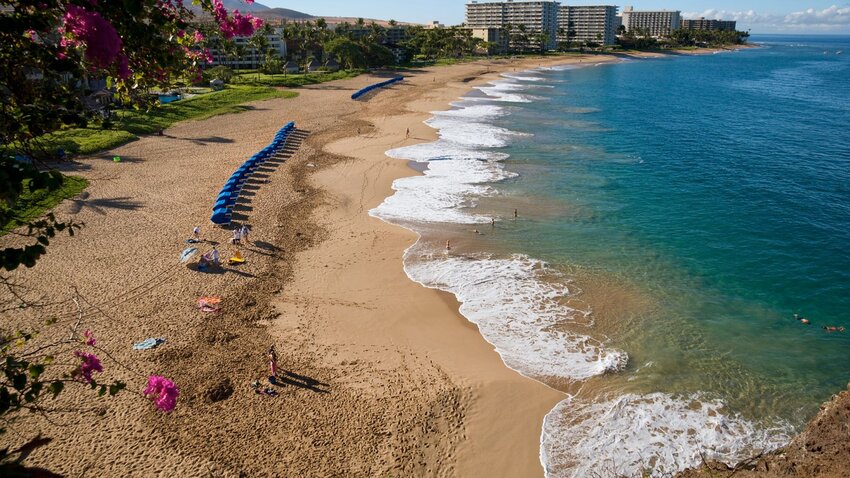 Imagine three miles of fine, white sand and crystalline water, and you have Ka'anapali Beach on Maui's west shore. Despite the resorts dotted along this stretch of coast, the length and width of Ka'anapali allow plenty of room for everyone. Swimming and snorkeling are favorite pastimes here, and for those that are a bit more adventurous, a jump from 16-foot Puu Kekaa, Black Rock, at the beach's north end is a must. If you're less bold, you can watch every evening at sunset, when a cliff diver lights torches along the rocks and then makes the leap. Green sea turtles love to hang out in this section of the beach, so keep your eyes peeled when snorkeling. If you tire of the water and sun (is that possible?!), head to Whaler's Village, an open-air, world-class shopping complex adjacent to Ka'anapali Beach. The Village features wonderful restaurants and shops along with free Hawaiian entertainment.
Makena Beach
Maui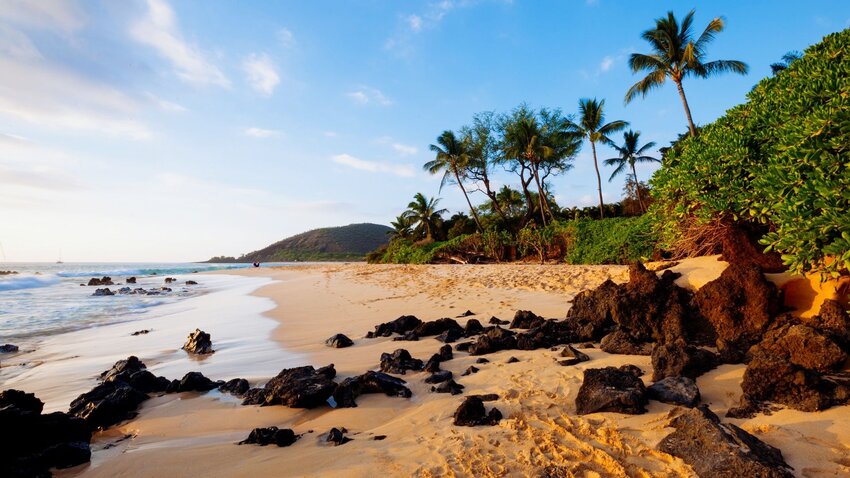 Makena Beach, also known as Big Beach, welcomes sun worshippers and swimmers with a mile-and-a-half curve of white sand and bright blue waters on the south end of Maui. You will find plenty of space here to stretch out and relax without having to worry about crowds. Big Beach is undeveloped, yet all the amenities are available, including picnic area, restrooms, food concessions, parking, and a lifeguard. When the shore break is big (and not for the novice), the water here will be filled with bodysurfers, but all swimmers can enjoy the water on days of smaller surf. An added bonus is a secret beach found just beyond the rocks on the north edge of Big Beach. Called Little Beach, this bit of shoreline offers a clothing-optional experience for the free spirited.
Baldwin Beach
Maui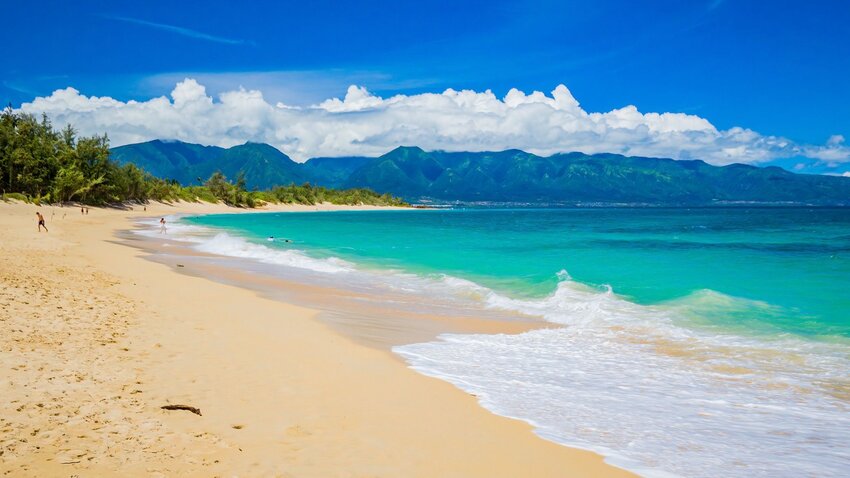 Lastly, it would be a shame not to mention, for families traveling with keiki (little ones), Baldwin Beach Park on the North Shore. It offers some of the best waves for bodyboarding and bodysurfing on Maui, but each end of the beautiful white sand beach culminates in a protected, calm swim spot: Baldwin Cove on one end, and the aptly named Baby Beach, perfect for children, on the other.
Ko Olina Beach
Oahu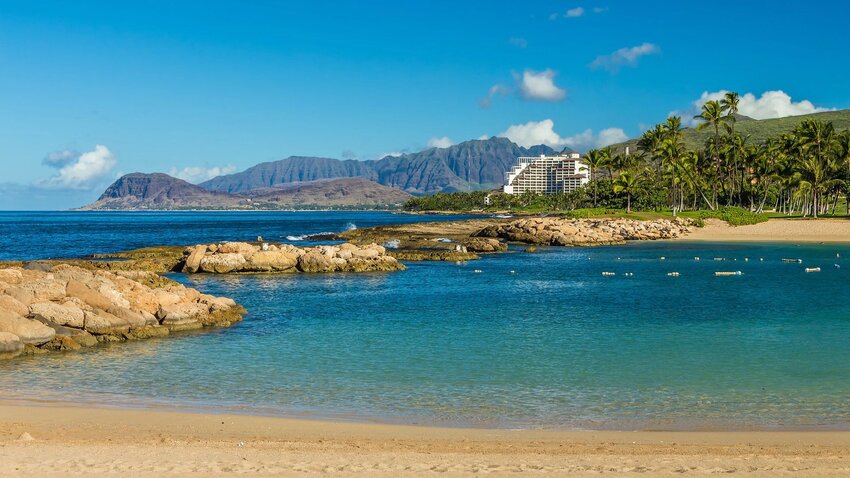 Ko Olina Beach Park, while privately owned, is open to the public via designated parking lots nearby. Ko Olina spreads across 642 acres and spans four pristine lagoons connected by over a mile of paved paths by the shore. Waving palms, white sand, and some grassy areas fringe the coves, and the turquoise water, well protected by the reef, is relatively shallow and perfect for swimming. Bring all that you need with you, as there are no amenities or lifeguards at Ko Olina.
Waimea Bay Beach Park
Oahu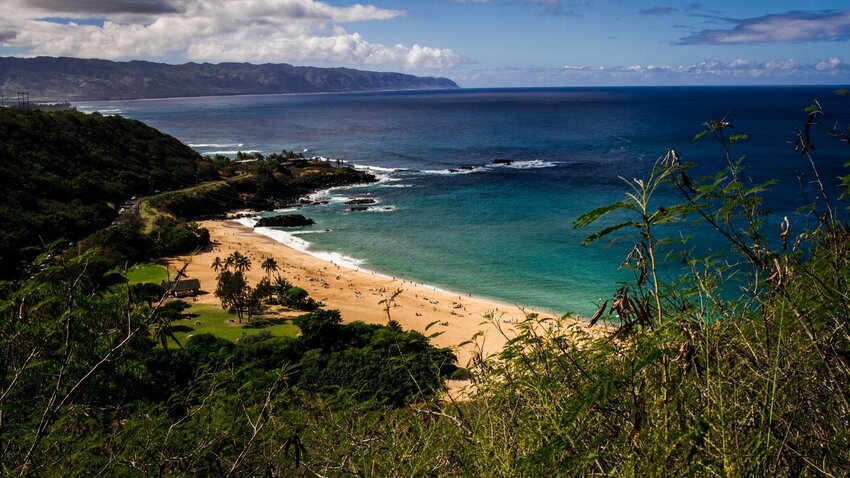 Summer is the time for swimming at Waimea Bay Beach Park, which is infamous for its 30-foot waves in winter, waves that lure some of the world's best surfers. Waimea holds an indelible spot in surfing lore, as it was one of the first spots where surfers rode the giant waves. In the summer months, when the ocean calms, Waimea Bay offers gorgeous sparkling sands and azure waters for bodyboarding, surfing, snorkeling, swimming, and fishing. A large, steep-sided lava crag rises up out of the sand partway down the beach, and daring swimmers of all ages enjoy leaping from varying heights along its edge into the warm water below. The park has all the amenities, from parking to picnic areas, restrooms, showers, and lifeguards.
Kapukahehu Beach
Molokai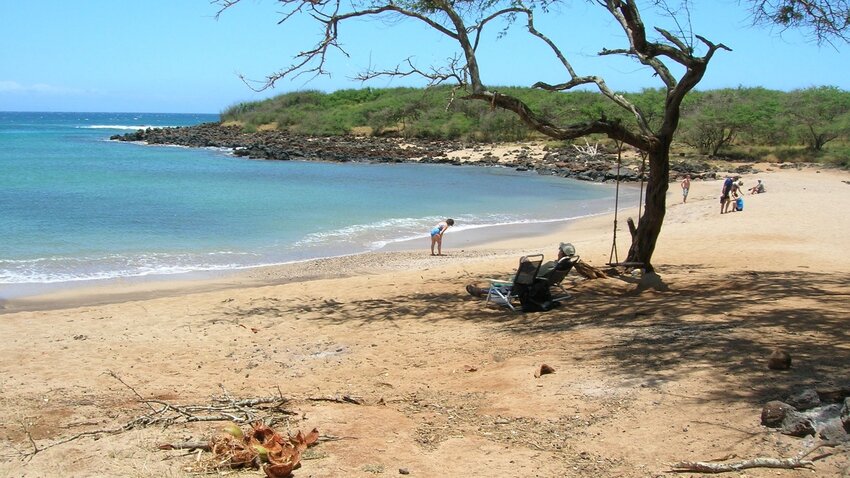 If a quiet beach all to yourself is right up your alley, the beaches of Molokai should head your list. Crowded resorts and bars, shopping, and the general bustle of crowds can be found elsewhere, but Molokai delivers on beaches that feel remote and untrammeled. For the best swimming, head to Kapukahehu Beach (Dixie Maru Beach), a small, sheltered cove of golden sand where the protected waters make it a family favorite. High surf days bring strong currents, so use caution, as there are no lifeguards nor other facilities here.
Hulopo'e Bay
Lanai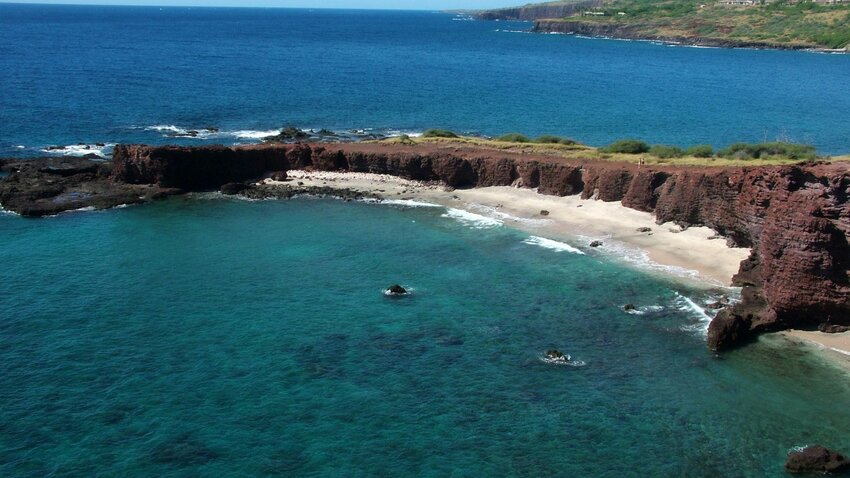 Also known locally as the Pineapple Island, Lanai is the smallest of the six publicly accessible inhabited islands in the Hawaiian Island chain. For the best swimming, be sure to find Hulopo'e Bay, on the island's south shore. Polihua, one of the longest white-sand beaches in Hawaii, is on the north shore, but high winds and sometimes treacherous surf make it best for beachcombing rather than swimming. For calmer, swimmable water, Hulopo'e delivers, and it is popular for both picnicking and water fun. Bring your water shoes and explore the lava terrace on the beach's east side, where large tidal pools beckon budding naturalists of all ages with an enormous range of sea life.