WE KNOW THERE ARE QUESTIONS AROUND TRAVEL AMID THE CORONAVIRUS (COVID-19). READ OUR NOTE TO READERS HERE.
First of all, pat yourself on the back for seeking a sustainable, eco-friendly alternative to buying plastic bottles in bulk! In doing so, you're not only making your life a lot easier, but you're also helping to prevent tons of plastic from reaching the ocean floor.
Chances are, you're here because finding drinking water is easy but finding the right reusable water bottle for your lifestyle is surprisingly overwhelming. With a variety of sizes, shapes, styles, and features to choose from, what seems like a simple enough task can turn into hours of scouring the web for a workable way to stay hydrated.
To help you narrow down your search, we've compiled a list of the best travel bottles to take on your next adventure.
The Best For...Extreme Temperatures
Known for their legendary bear-proof coolers, it should come as no surprise that Yeti developed one of the most robust and versatile bottles on the market. More than your everyday water bottle, the Yeti Rambler Series is made from 18/8 stainless steel and vacuum sealed, which means it can keep your chamomile tea piping hot and your cold brew cold for an extraordinarily long time. Whether you fill it up with a steaming hot beverage before a sunrise mission in the mountains or pack it full of ice-cold water for a long-distance trek in the sun, the Yeti won't leave any residual quirky flavors in your drink.
With sizes ranging from 18 oz to half a gallon, there's a Yeti out there for just about every type of traveler. So, whether you want to throw it in your daypack, attach it to a carabiner and haul it up a pitch, or just need something that can handle being thrown from one side of the car to the next, the Yeti is built to last. Keep in mind, however, that due to its hardy design, the Yeti isn't the lightest stainless-steel bottle around and isn't ideal for thru-hiking, long-distance backpacking, or situations that require minimizing pack weight.
Nevertheless, even if you aren't concerned with a bear trying to snag a sip of your water, Yeti's wide-mouthed rambler offers an excellent everyday adventurer the opportunity to carry water, worry-free. And hey, it doesn't hurt that Yeti has added a stainless-steel wine tumbler to the lineup. Get your drink on anytime, anywhere with a Yeti!
The Best For...Big Cities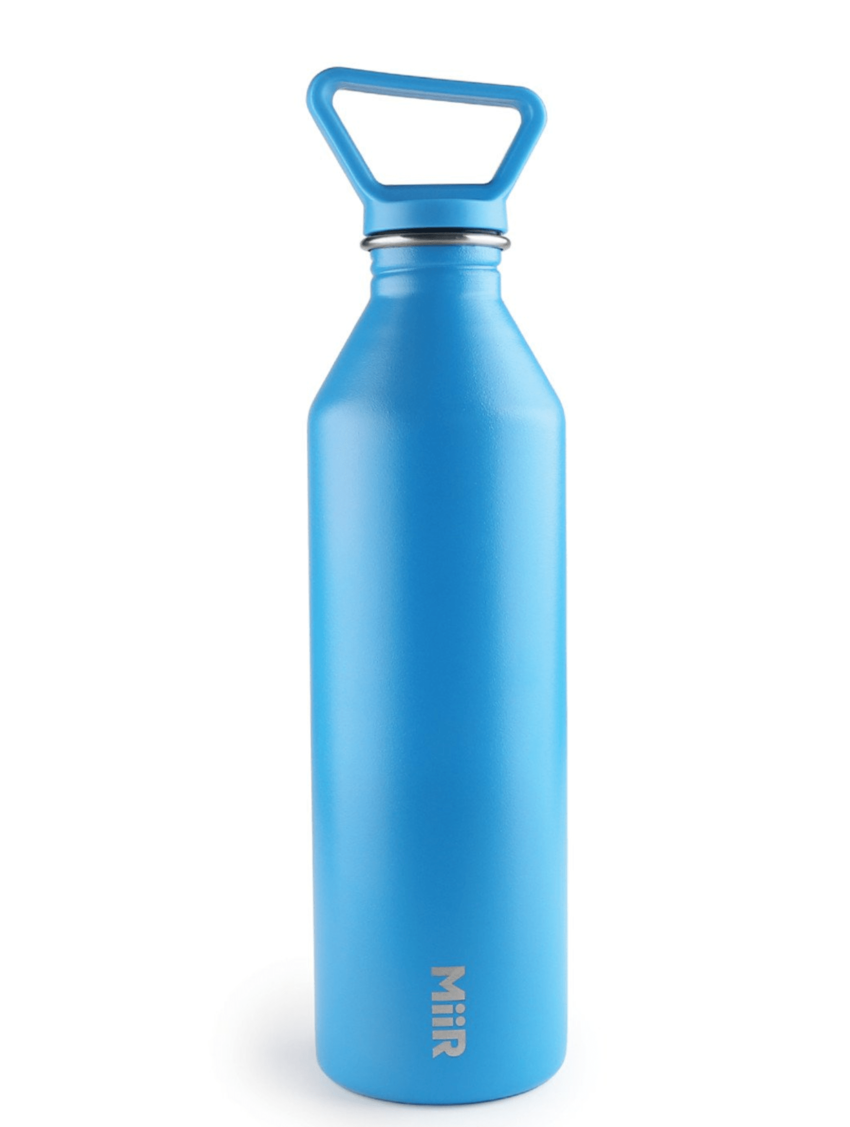 Built like a Yeti on a diet, the Miir Slate bottle is a slim, functional, simple, yet durable option for daily use. Considerably lighter than options as mentioned above, the Miir Slate offers the durability and construction of a heavy-duty water bottle without the added weight or breadth. Designed with the urban hiker in mind, the Miir Slate is simple, sustainable, and its sleek design makes it easy to slip into a small daypack, so you can stay hydrated on your adventure through the city. The Miir Slate is also sealed to perfection, so whether you're hopping on and off a train in Amsterdam or lugging your pack up the 387 steps of Notre Dame, your Miir Slate can roll with the punches without leaking in your bag.
Better yet, if you have a humanitarian heart, supporting Miir means supporting a company with a cause; Every purchase supports an Active Giving Project, and a unique giving code allows you to track where you're making an impact. Get your glamp, camp, or urban adventure on with the Miir Slate.
The Best For...Extended Adventures
Built with thru-hikers, long-distance runners, and backpackers in mind, the Katadyn BeFree water bottle is a hollow-fiber two-for-one water filtration system that gives you the freedom to drink potable water virtually anytime, anywhere. So, if you're adventuring through the backcountry and traversing streams, but the water source seems questionable, simply fill the soft-sided bottle with water, screw on the filtered top, and drink delicious, debris-free, drinkable water.
The Katadyn BeFree is ultralight, compressible, and easy to clean, which makes this bottle ideal for adventure-seekers that are traveling to places where they cannot reasonably carry sufficient water and have to filter on the go. In fact, because this bottle is explicitly designed as a water filtration system, it is only guaranteed for 1,000 liters and wouldn't be an ideal option for folks seeking longevity or a daily carry.
The Best For...Gym Workouts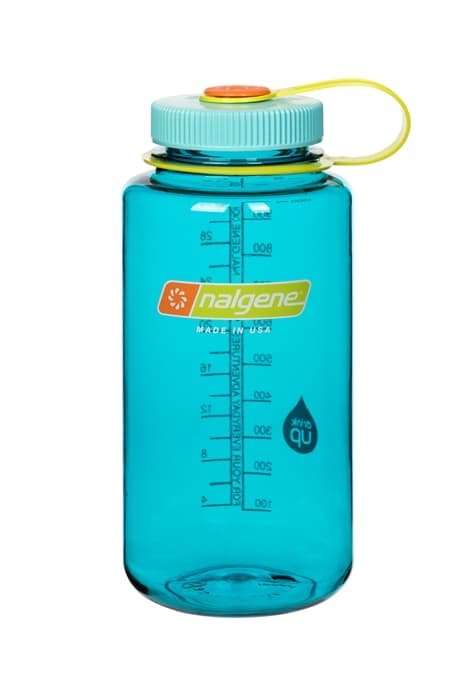 Hey there, gym junkies, this is the bottle for you! Nalgene Tritan is easily the most recognizable water bottle on the market. Known for their easily personalized labels and unique designs, if you have a favorite football team, university or a foundation that you support, chances are, they have a Nalgene water bottle sporting their logo. Avid gym-goers adore these bottles because they often boast measurements in milliliters and ounces, sport a variety of lids for different occasions, and come in a range of sizes.
With stainless-steel, double-insulated bottles rising in popularity, something can be said for the simple, straightforward water bottle that isn't trying to be anything except a water bottle. Besides, Nalgene water bottles are easy to wash, easy to carry and offer the same easy to use wide-mouth opening as stainless-steel competitors, so you can consume water by the gulp-full if you want. Notice a trend? These bottles are just plain easy. After all, you're just drinking water.
With approximately 8 million metric tons of plastic making its way to the ocean every year, you may be surprised to see a ubiquitous, big-box water bottle brand, like Nalgene, on this list. However, Nalgene's plastic bottles are a practical and affordable alternative to throw-away plastics and help the plastic pollution problem by providing a reusable, daily-use option for every type of person.
The Best For...Style
The incredible instagrammable S'well may not be the most practical for long hikes or marathons, but with a variety of designs and colors they will add some flair to your yoga class or tourist adventures. These sleek, stainless-steel water bottles are double-insulated, keeping liquids cool for hours. With a modern form and some cool designs, this water bottle will keep you stylish while keeping you hydrated.
Found in Starbucks, Nordstrom, and pretty much everywhere online, S'well is the peak of popular and it seems like new styles and collaborations (like this one with Lily Pulitzer) are being revealed every month. Did we mention the larger bottles also hold an entire bottle of wine? That's a win-win in our book.
Again, these water bottles are more suited for an afternoon exploring museums and landmarks rather than hiking through the rainforest. But if you want to have a bottle that's as cute as your carefully-chosen travel outfit, S'well has you covered.
Each bottle listed above comes with a set of benefits and drawbacks, so you'll want to consider how you intend to use the bottle to get the most bang for your buck. While plastic bottles, like the Nalgene, tend to be lighter and less expensive, stainless-steel bottles, like the Yeti and Miir, are highly durable and tend to offer a lot more versatility. Regardless of the bottle you choose, you should feel good knowing that you're seeking an alternative to buying throw-away plastic bottles and helping to sustain the environment.