If you like to enjoy the finer things in life at home, why settle for less when you're on vacation? Many companies have started catering to frequent flyers who are willing to spend a little more in the name of comfort, convenience, and quality, and sometimes it pays to invest in items that will last until the final leg of your trip. Whether you're looking for a new neck pillow so you can doze off on the next redeye or a stylish bag to organize the essentials, these nine luxury travel products are oh so worth the splurge.
Drowsy Silk Sleep Mask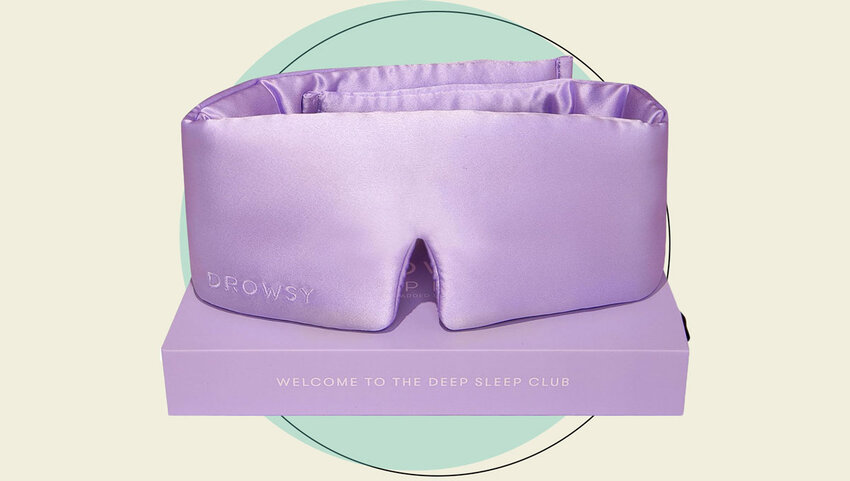 This is one sleep mask you won't want to forget in your hotel room. Hailed as the "World's Most Luxurious Sleep Mask," the Silk Sleep Mask by Drowsy Sleep Co. is made of mulberry silk and triple-layered padding for maximum breathability and cool air flow all night long. The mask is adjustable to fit all head sizes and stays on your face all night long, blocking light so you don't stir awake. The Drowsy mask is just what you need for some luxurious beauty sleep. This dreamy nighttime accessory is also available in 16 colors to suit your unique style.
OUAI Thick Shampoo and Conditioner Set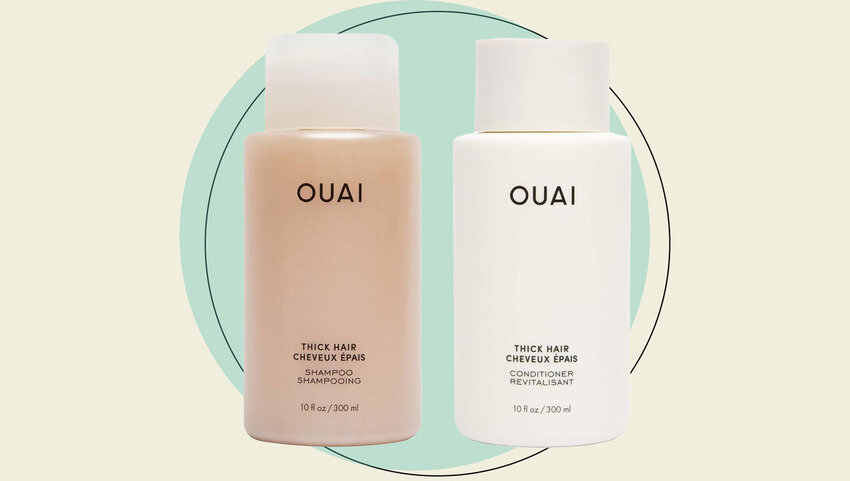 If your hair feels a little dry after a redeye, you're not alone. Thousands of happy customers thank OUAI for hydrating, strengthening, and detangling their locks both on the go and at home. Travel-size shampoo and conditioner bottles will easily get through airport security and are the luxury hair care treatments you need when you don't have room in your luggage for additional products. OUAI shampoo and conditioner are sulfate-free and can be used on all hair types and lengths. The Parisian-inspired products are made of keratin, marshmallow root, shea butter, and avocado oil — ooh la la.
Sennheiser Momentum 4 Wireless Headphones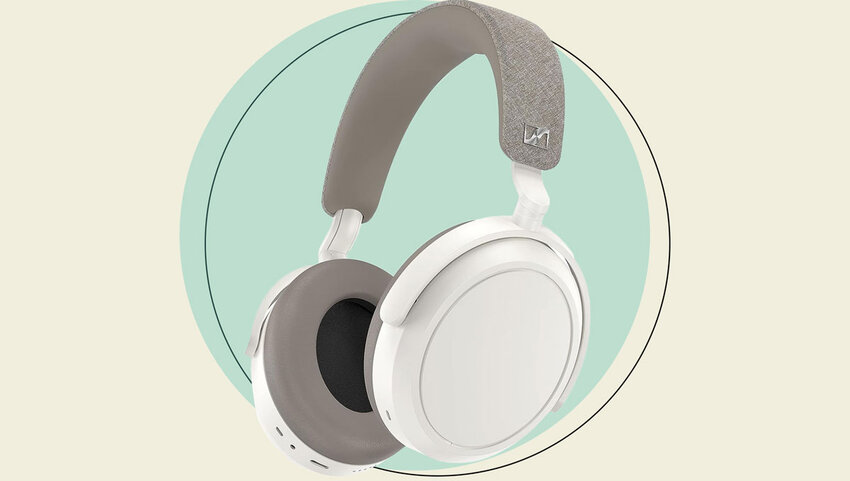 Noise-cancelling headphones are essential on a long flight, so you won't regret spending a little more for ones that really work. Designed by award-winning German audio equipment company Sennheiser, the Momentum 4 Wireless Headphones are top-tier when it comes to cutting-edge technology, with a stylish silhouette to boot. You can adjust the sound to your individual listening preferences and four digital microphones automatically suppress wind noise. With a long battery life and comfortable ear cushions, Sennheiser's Momentum 4 Headphones are lightweight and foldable — making them the perfect accessory for your streaming mid-flight.
Bellroy Classic Weekender Duffel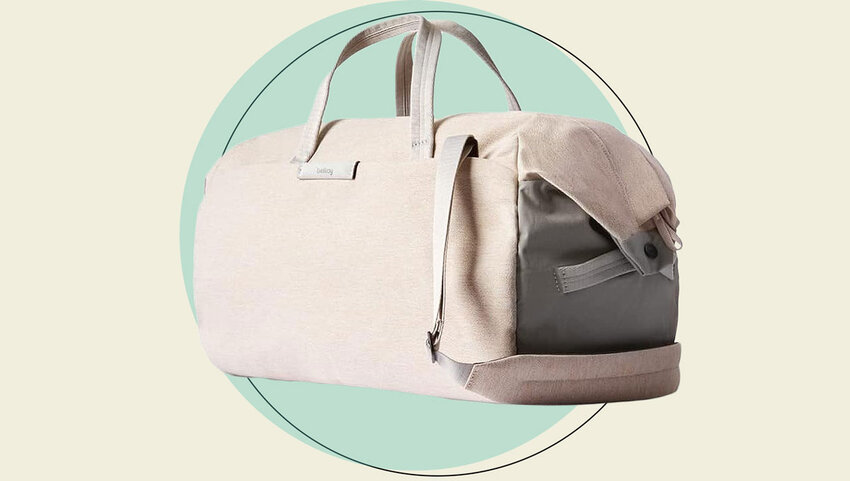 A casual carry-on that fits all of your commodities is a must on long layovers. Sustainable luggage brand Bellroy is based in Australia and doing its part to create travel products that have a positive impact on the planet. With a minimalist barrel shape, the Classic Weekender Duffel offers detachable straps for three carry mode options, internal pockets for personal belongings, and a quick-access exterior pocket with a key clip. With up to 35 liters of available storage, you can safely pack jackets, snacks, books, and more, and the bag is made of durable, water-resistant polyester made from 100% recycled PET plastic bottles and eco-tanned leather so you can feel better about your carbon footprint.
Purple Royal Seat Cushion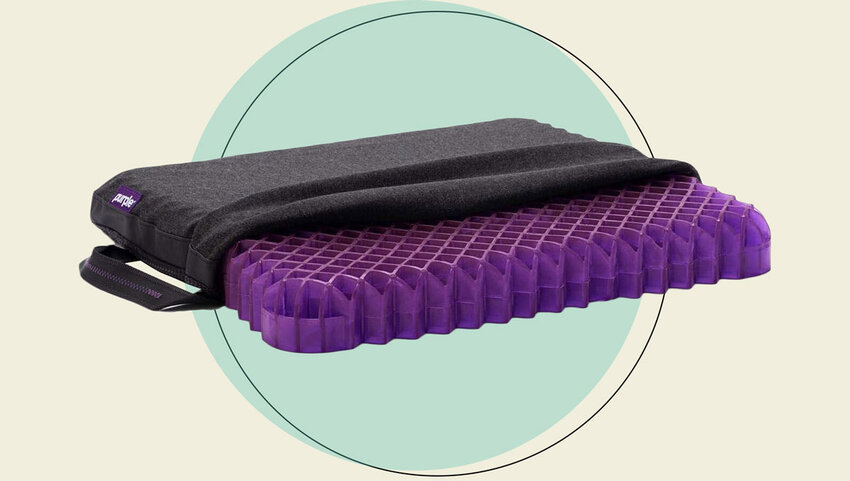 Innovative mattress company Purple is devoted to alleviating back pain and misalignment with its pressure-reducing GelFlex grid design, and we're happy that they extended their sleep expertise to seat cushions. The travel-size Royal Seat Cushion is the perfect solution to uncomfortable chairs, stools, and other hard seats you might encounter throughout your travels. A machine washable cover protects the two-inch thick gel cushion, making it easy to clean after heavy use. Your derriere will thank you!
Noshinku Refillable Pocket Hand Sanitizer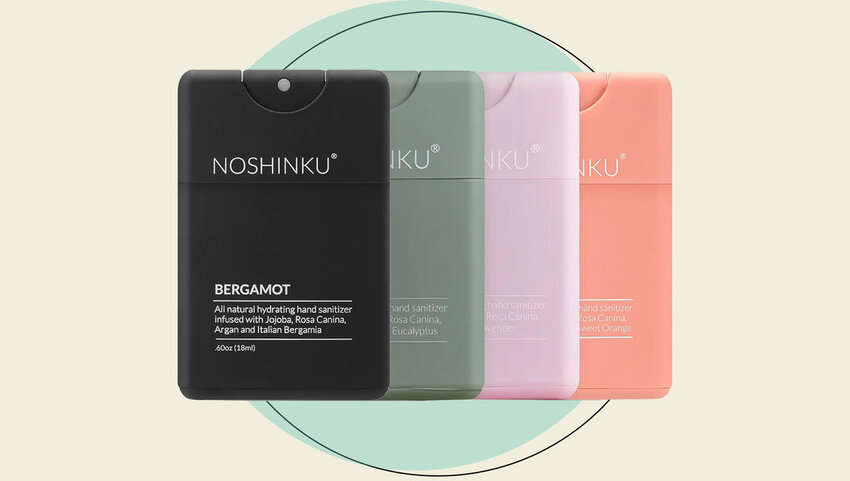 Prioritizing personal hygiene is super important — especially in the midst of the COVID-19 pandemic — so always make sure you keep your hands clean and smelling fresh. Organic sanitizer company Noshinku has revolutionized hand sanitizer, launching seven scents that will invigorate you after a long day of travel. The refillable, travel-size pocket sprayers can fit neatly in your pocket or purse and boast FDA-registered formulas all featuring coconut oil, eucalyptus, jojoba, sugarcane, and alcohol. The luxury pocket sanitizers won't dry out your hands and they sure do smell good!
LARQ Bottle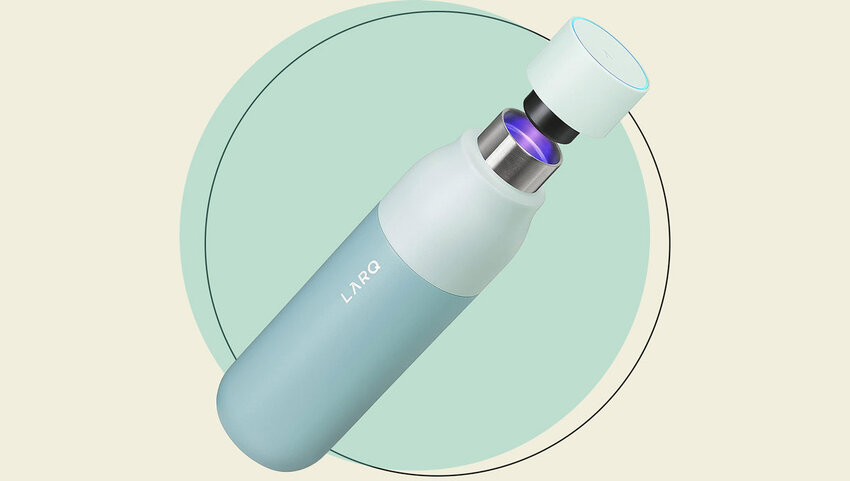 Filtered water isn't often readily available, but if you want cleaner water for your own peace of mind, the innovative LARQ Bottle is quickly becoming a beloved accessory for those on the go. Offering fresh water in just 60 seconds, the bottle self cleans with just the touch of a button to neutralize bacteria every two hours to keep its contents clean and odor-free using non-toxic, mercury-free, UV-C LED technology. The insulated stainless steel water bottle is lightweight and can keep water hot for 12 hours or cold for 24. Plus, it's BPA-free and comes in six stylish colors.
Ostrichpillow Go Neck Pillow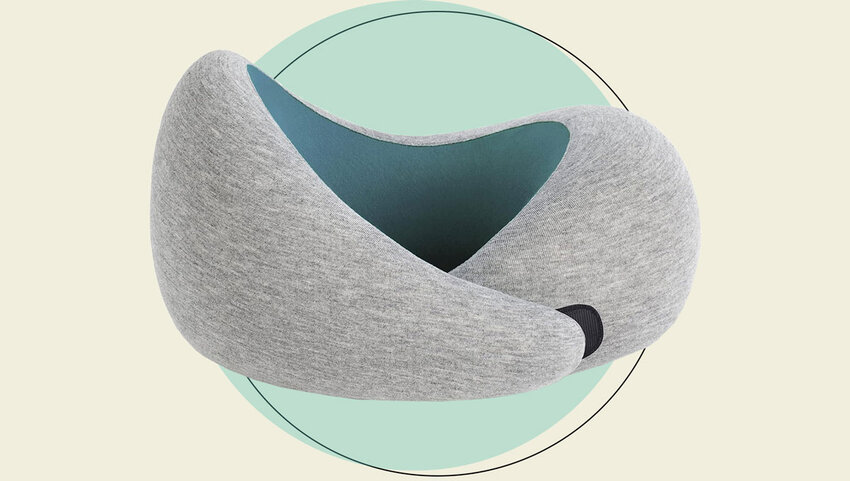 Choosing the right neck pillow is a tricky task, but reviewers praise the Go Neck Pillow by Ostrichpillow for its 360-degree ergonomic design. Made of high-density BASF memory foam, the pillow features a Velcro closure for customized alignment in order to prevent neck and cervical pain and a removable, machine-washable, sustainable fabric cover. The Ostrichpillow's asymmetrical shape is also unique, providing optimal support and flexibility when it comes to resting positions.
Travelon Essentials Anti-Theft Belt Bag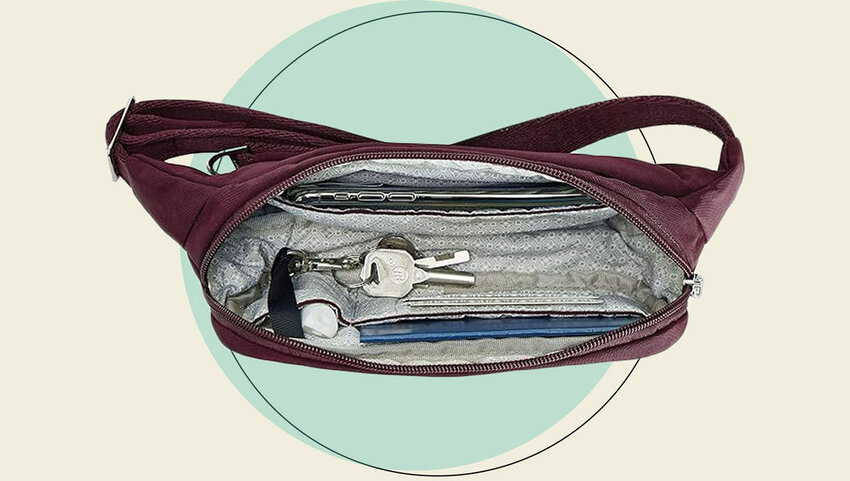 Spending close to $50 on a fanny pack might not seem worth it, but any experienced traveler knows preventing a pickpocket's prying hands from snatching your wallet or your phone is definitely worth the investment. Travelon offers customers an extra level of protection without sacrificing style with the Essentials Anti-Theft Belt Bag, available in four couture colors. With a slim profile, adjustable waist strap, hidden zipper pocket, and tethered key clip with an LED light, the small pack is perfect for your passport, hotel room key, wallet, and more.

Feature image credit: Milko/ iStock