Take It Anywhere
The BioLite FirePit takes up less space than an average cooler, and thanks to its folding legs,  easily goes from the backyard to the back of your car for your camping trip. It delivers a unique campfire experience, thanks in part to its x-ray mesh exterior that allows for a 360° view from the embers to the tip of the flames.
The wood and charcoal-burning FirePit's signature feature is its 51 air jets spaced throughout the pit, which helps promote a beautiful, roaring fire with significantly less smoke than a traditional campfire. Adjusting the intensity of your fire is as easy as changing the fan settings with the onboard controls of BioLite app, and you can even put the air jets into turbo mode to quickly light whichever fuel you choose to use, while eliminating the need to lay on the ground and blow your kindling while you pray that the fire starts. And at the end of the night, turbo mode also helps you burn the last of your fuel quickly when you're ready to pack it in.
Jet-Powered Flame
The jets are powered by a rechargeable battery pack that can stoke your fire for 24 hours. Even better, you can detach the power pack from the FirePit and use it to charge your phone or other device (including BioLite's exceptional HeadLamp 330), which can save the day when you're off the grid. Snag the Solar Carry Cover (sold separately) to recharge the power pack during the day and keep you powered up on longer trips.
Instant Hibachi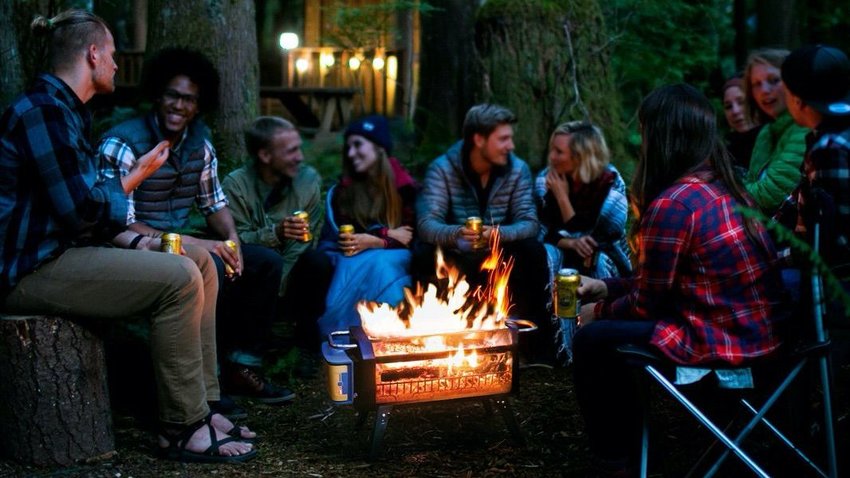 Sitting around the fire and telling stories is great, but the FirePit also thrives as a campground kitchen with the included hibachi-style grill grate. The grate slides over the top of the FirePit, allowing you to create direct and indirect heat zones for all your cooking needs. When you're done cooking, the grate slides off completely and the hot embers left behind are the perfect  starter for a post-dinner campfire.
This FirePit has become a staple in my family for backyard cookouts and camping trips all summer. We easily go from grilling dinner to sitting around the fire without having to worry about the irritating smoke. It's easy to throw in the trunk of a car for an impromptu get-together, and packs into the Solar Carry Cover for easy storage and portability. Before using the FirePit, it never crossed my mind that the campfire needed much innovation, but after using it, it's hard to think about going back.