The "flashlight" on your smartphone is okay for finding your way around a dark house at night, but for actual camping or nighttime hiking, it's worth investing in a good headlamp. A headlamp will let you keep both of your hands free (for trekking poles, perhaps), obviously, but a good one will also be far brighter than the 50-100 lumen light on your phone, allowing you to see further ahead on rough trails.
If you've ever tried a headlamp, though, I'm willing to bet you had some complaints. Most headlamps are essentially bulbous, heavy, incandescent light bulbs hanging off the front of an elastic strap. This inherently unbalanced, bouncy design usually requires a "seatbelt" running over the top of your head to keep the whole thing from sliding down your face. They work, sure, but they're not generally enjoyable to wear.
BioLite Headlamp 330
BioLite is most well known for its FirePit and CampStove, but it's also been a pioneer in LED camp lighting solutions for years, and that expertise is evident as soon as you try on the HeadLamp 330 for the first time.
Instead of a heavy, battery-filled flashlight on the front of the strap, the HeadLamp 330 features an incredibly thin (about as thin as your smartphone) LED lighting array that you'll almost forget that you're wearing. It sits flush against your forehead, and won't bounce around while you hike, run, or dance in the dark.
On the back of the HeadLamp, BioLite eschewed a large and heavy AA battery compartment in favor of a slim lithium-ion rechargeable battery. Despite its small size, that's sufficient to power the HeadLamp for 40 hours on low, or 3.5 hours at full brightness. And if you do need to recharge while you're deep in the back country, any portable USB battery pack would be able to refill the 900mAh battery several times over.
The light and the battery pack were designed to keep the HeadLamp perfectly balanced on your head without a top strap. The whole package is so light, your two ears are all the only additional support that it needs to stay in place.
A Better Lamp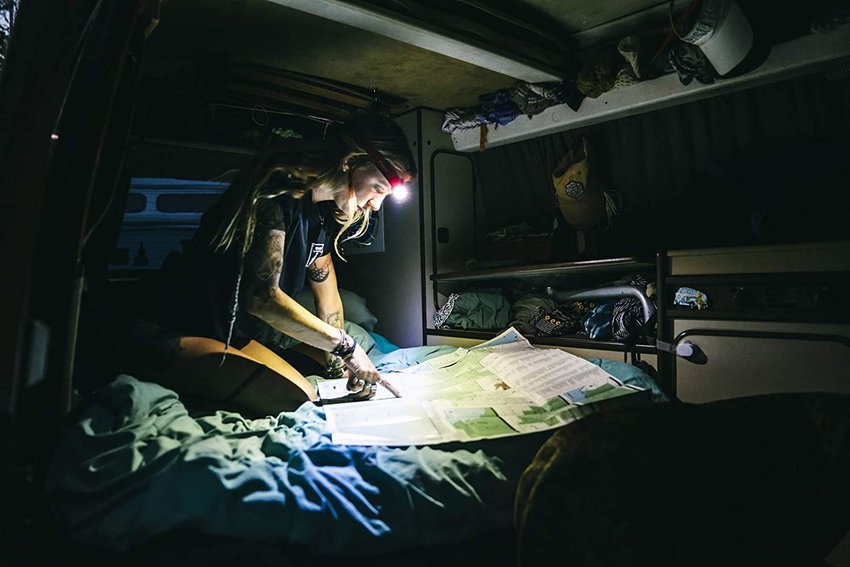 The lamp on the front of the HeadLamp 330 isn't just thin and light; it's also excellent. A sturdy hinge lets you angle the entire lamp towards the ground to help you see your surroundings without blinding your camping mates or keeping your head perpetually angled toward the ground. The button on the top (which is a little hard to find by touch, if I have one complaint about the HeadLamp) also lets you switch between various brightness settings (its highest, 330 lumens, is very bright), between a narrow beam and a wider lamp, and even between white and red light.
A little over a year ago, I used the HeadLamp in its red lighting mode to find my way to the peak of a tall hill in a dark, remote part of California, and my eyes barely had to adjust once I shut off the light to see the Milky Way above. If you're ever lucky enough to see sea turtles hatching, you could also use the red lamp to observe them safely. Goals, right?
Your New Favorite Flashlight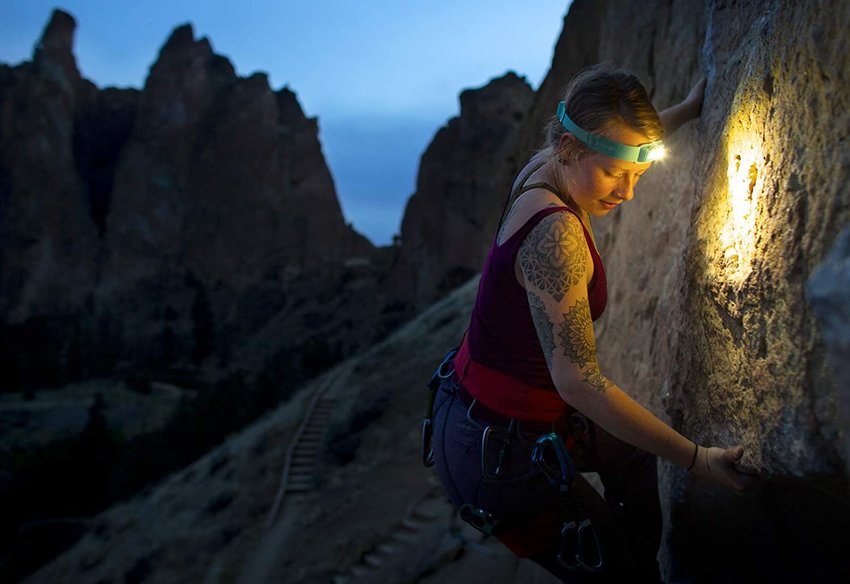 Even if you're not camping or hiking, the HeadLamp 330 is so comfortable to wear, you might just find yourself using it in situations where you'd normally pull out a flashlight. Working on a project in a dark basement, navigating your home during a power outage, or just jogging around the neighborhood at night are all easier when you have both of your hands free. I've even given them as gifts to my younger nieces and nephews, who love wearing them around the house or when playing flashlight tag in the yard.