By now, you probably know that you should wear sunscreen every single day you go outside. UV rays don't just cause sunburns; they can also lead to higher rates of skin cancer, and increase wrinkles and age spots over time.
And yet, most of us don't wear sunscreen every day, because nobody likes wearing sunscreen. The stuff you're familiar with uses elements that physically reflect UV rays like zinc and titanium dioxide, and while it works, it's hardly pleasant. It smells weird, it can stain your clothes, and it leaves an unpleasant residue on your skin that will persist until the next time you shower.
But in Japan, skincare products aren't regulated by the FDA like they are here, and innovation has flourished as the country has developed a deep-seated skincare obsession. While Japan's safety standards for products are still incredibly strict, they do allow for chemical-based sunscreens, in addition to the physical blockers that you're familiar with. The difference can't be overstated.
Note: As always, if you're swimming near any coral reefs or protected wildlife, you'll want to skip chemical sunscreens or options that use zinc nanoparticles (frequently labeled as "sheer"), and opt for a reef-safe sunscreen instead.
Biore UV Aqua Rich
The Japanese sunscreen that I've been using almost exclusively for a few years now is called Biore UV Aqua Rich, and while it isn't technically sold in the U.S., it is easily available for purchase from importers on Amazon (here's a single bottle, but I usually buy packs of three at a time). The sunscreen carries Japan's highest UV-A protection rating of PA++++, but the first time you try it, you probably won't think that it's actually sunscreen. It's notably thinner than any sunscreen you've probably used, has a subtle but pleasant scent, and actually feels like a lotion when you rub it into your skin, thanks to moisturizing ingredients like hyaluronic acid and royal jelly extract.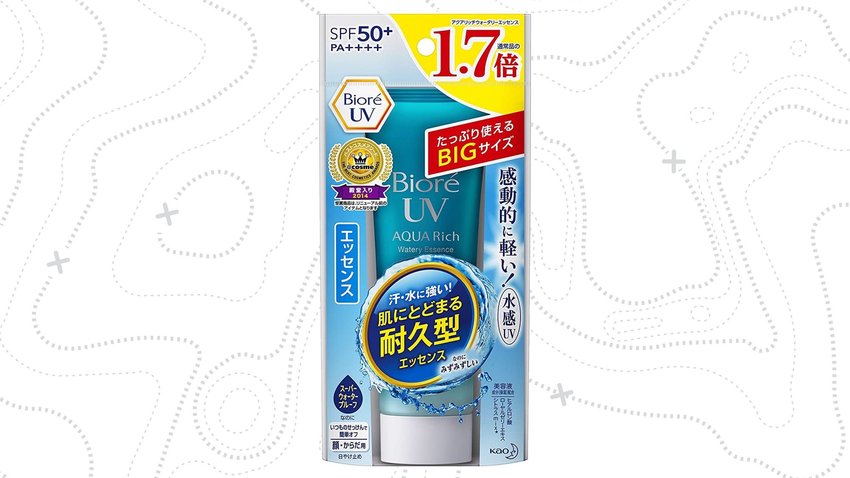 But the most shocking thing is how it feels once you've finished applying it. It feels like nothing at all. There's no greasy or flaky residue, and you'll probably quickly forget that you put sunscreen on at all. If anything, the moisturizing agents actually improve how your skin feels. When's the last time you could say that about sunscreen?
Chemical based sunscreens, since they absorb into your skin rather than sitting on top of it, are also far more waterproof than the sunscreens you're used to, and Biore claims that its Aqua Rich will remain effective for up to 80 minutes in the water. You'll still want to reapply it every couple of hours if you're out in the sun, but you won't mind, because it feels that good.