Deal Alert!
The CampStove 2 Climate Neutral edition is sold out, but you can get the original color for $120 (down from $150), or the CampStove 2 bundle for $184 (down from $260) as part of BioLite's Labor Day sale.
---
BioLite makes some amazing gear to help you enjoy the great outdoors, but a new limited edition version of the brand's popular CampStove 2 also promises to protect the great outdoors.
CampStove 2 Bundle Climate Neutral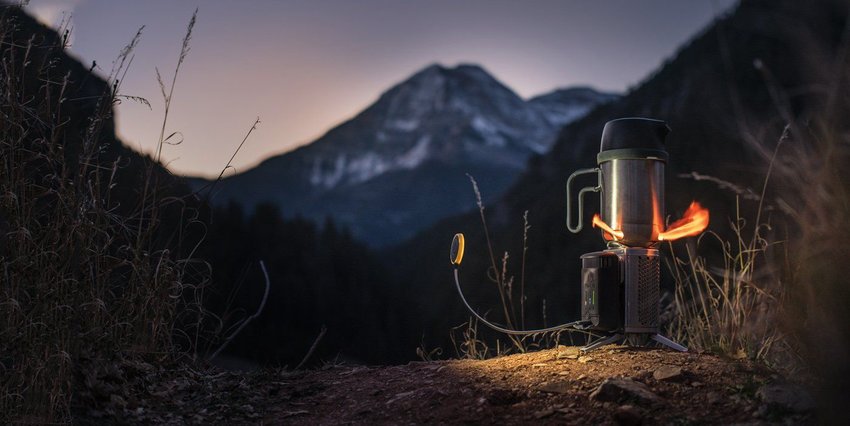 If you aren't familiar with the CampStove 2, it's a unique wood burning camp stove with both battery-powered fans to promote a vigorous flame with minimal smoke, and a thermoelectric power system that turns the heat from the flame into power for the onboard battery. Just find some sticks around your campsite, dump them in, light a fire, and let the fans stoke a flame that can boil a liter of water in under five minutes.
If you're in a pinch, those flames can also recharge the onboard battery, which features a USB port to plug in your phone for a quick charge. It sounds like magic, but  yes, that means that you can charge your iPhone with twigs you found lying on the ground.
This limited edition bundle includes the CampStove in a sleek black and steel colorway, plus a portable grill attachment to turn the stove into a backwoods kitchen, a KettlePot attachment that can be used as both a kettle for water and a pot for food, and a USB-powered FlexLight that can illuminate your campsite or cooking surface while drawing power from the CampStove's battery.
But what makes the bundle particularly special is that 10% of your purchase will go towards Climate Neutral Certified, an independent nonprofit co-founded by BioLite. The organization's goal is to help other companies measure, reduce, and offset their climate emissions, and they've already helped certify dozens of brands across a variety of sectors. So whether you're having a backyard campout or are venturing deep into the backwoods, you'll know that your (extremely cool, extremely useful) stove helped to make a positive difference in the world.
---