Nestled in the heart of the Canadian Rockies, Banff is Canada's first (and arguably most beautiful) National Park. A World Heritage site, Banff offers 2,555 miles of pristine wilderness, glacial-fed lakes, and dramatic vistas. The park is not only easily accessible, it's outright gorgeous. Chances are, it won't take much convincing to push this rugged landscape to the top of your bucket list. Although it can be difficult to narrow down your list of things to do once you arrive, here are 6 things you shouldn't miss when visiting Banff National Park.
1. Icefields Parkway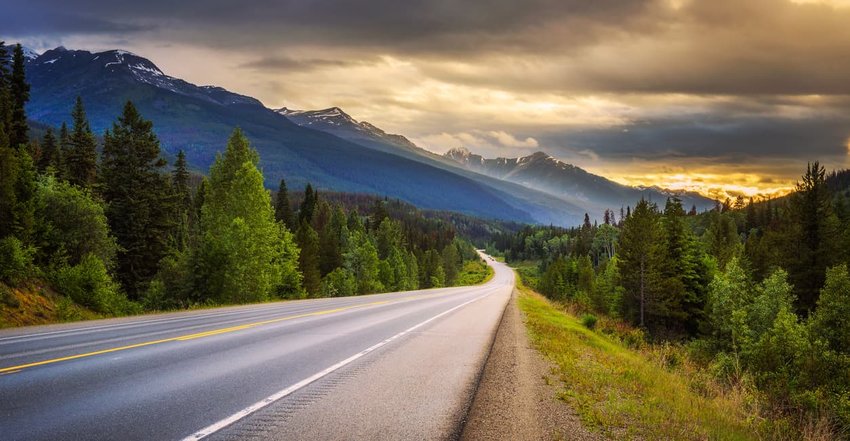 Icefields Parkway is the perfect example of the phrase, "Life is a journey, not a destination." To say that the parkway is a beautiful drive connecting two National Parks – Banff and Jasper - is a total understatement. Traveling the Icefields Parkway is an experience in and of itself. Wrapping its way through towering snow-capped peaks, elegant icefields, and sweeping valleys, every inch of this 230 km (140 mi) stretch of highway is unbearably beautiful.
Where else in the world can you experience pristine emerald lakes, thick larch forests, and postcard-worthy views without ever having to park the car? The Icefields Parkway is considered a world-renowned scenic drive for a reason. That's not to say you shouldn't stop and explore on your own two feet. You'll definitely want to take your time traveling from one destination to the next. Pack a lunch, snap some photos along the way, and keep a lookout for the occasional grizzly bear moseying through the pines in search of berries.
The Icefields Parkway is also home to some of Alberta's most notable attractions like the Columbia Icefield, where you can fill your canteen with ice-cold glacier water, and Sunwapta Falls, an accessible set of turbulent waterfalls crafted by the nearby Athabasca Glacier. Do yourself a favor and fight the urge to plan too many activities in a day. Instead, take some time to appreciate the sheer scale of untouched wilderness around you.
2. Banff Gondola at Sulphur Mountain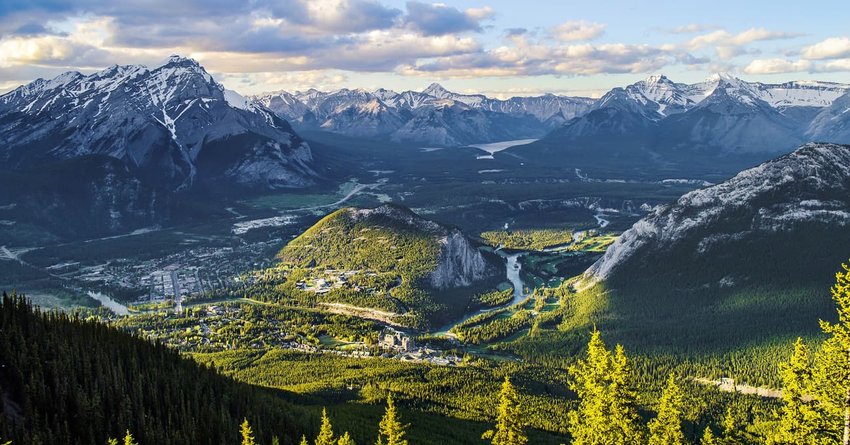 Offering an unparalleled view of the Canadian Rockies, the Banff Gondola will make you feel like you're on top of the world. Jump aboard a glass-enclosed, four-seater gondola to rise high above the valley floor. On your trip to the summit of Sulphur mountain, you'll soar through the trees, enjoy 360-degree panoramic views of Bow Valley, and experience a rare perspective of surrounding mountain ranges. Once at the top, take your time enjoying the views from an observation deck that reaches 7,486 feet above sea level or hike the Banff Skywalk, an easy 1 km (.62 mi) walk along the Canada Vista Trail.
If you're feeling adventurous and don't mind a little punishment for a huge payout, you can opt to climb to the top of Sulphur Mountain via a 5.3 km (3.29 mi) strenuous set of switchbacks through the trees. If your legs are drained when you reach the top, you can purchase a ticket to ride the gondola back down to the valley floor. Whether you choose to experience Sulphur Mountain by air or foot, you'll appreciate one of Banff's best views.
3. Moraine Lake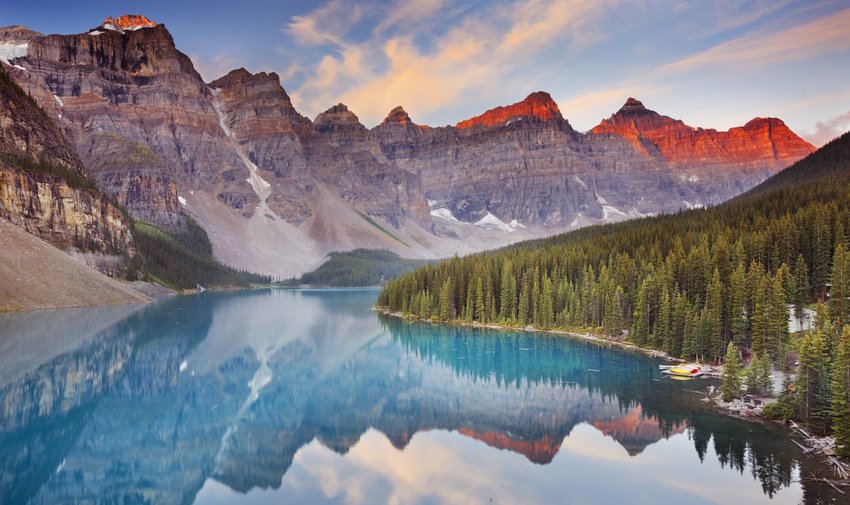 Even if you haven't heard of Moraine Lake, it's more than likely you've seen pictures of it. In fact, if you get your hands on an old Canadian twenty-dollar bill, you'll have a picture of Moraine Lake in your back pocket. Known by locals as the "20-dollar view," your visit to Banff National Park won't be complete without experiencing Canada's most photographed location.
From the top of the grandiose rockpile trail, a rocky set of switchbacks along the backside of the lake, early risers will appreciate an unobstructed view of subtle pink hues as they dance over the Valley of Ten Peaks and reflect off of the calm, pristine waters of Lake Moraine. As an added bonus, the earlier you visit, the less likely you are to share this famous vantage point with crowds.
At only half the size of its neighbor, Lake Louise, what Moraine Lake lacks in size it makes up for in beauty and charm by offering what is often considered the most intense shade of turquoise blue water in Banff. Whether you rent a canoe or decide to stroll along the Moraine Lakeshore Trail, you'll be filling up your phone with jaw-dropping photos of the Rockies in no time.
4. Johnston Canyon Trail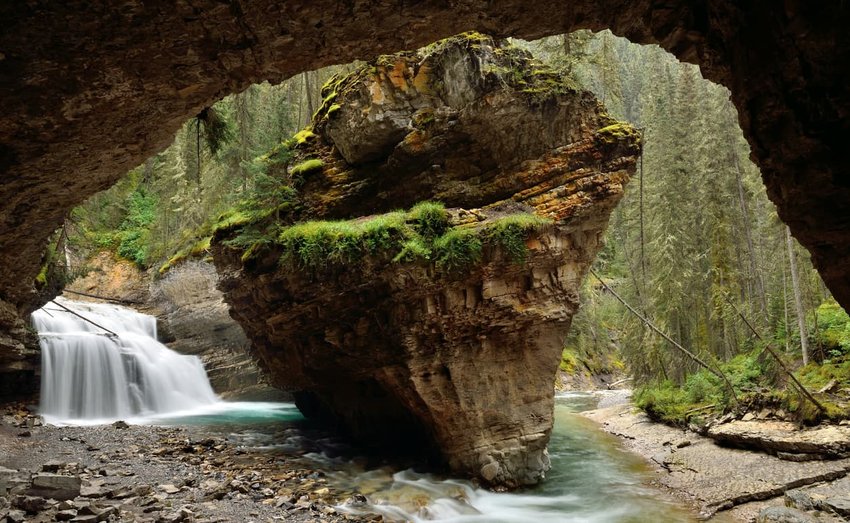 The Johnston Canyon Trail is a humbling trek through one of Banff's most dramatic canyons. You'll begin your adventure on a series of well-maintained catwalks that hug the side of the canyon's jagged cliffside and overlook a pristine babbling blue creek below. Over the course of the first 2.75 km (1.5 mi), you can expect to be surrounded by a unique mix of limestone rock that form the canyon walls.
After trekking for approximately 1.1 km (.68 mi), you'll be rewarded with the canyon's first lively waterfall, Lower Falls. From here, you can hike another 2 km (1.24 mi), passing a series of other pristine falls and continue on to Upper Falls. Shortly before reaching Upper Falls, however, there is a small unmarked trail that travels to the rocky canyon floor. If you decide to make the detour, you'll discover a 'secret cave' boasting a massive moss-covered rock and waterfall that have been popularized by Instagram.
Johnston Canyon is also a popular hiking attraction during winter months. So if you're visiting Banff National Park in the winter and want to witness a landscape that resembles Narnia, strap on some crampons and hike the Johnston Canyon Ice Walk.
Keep in mind, Johnston Canyon receives over 1 million visitors a year, so if you're hoping to visit this iconic canyon trail in solitude, you'll want to get an early start.
5. Bow Summit and Peyto Lake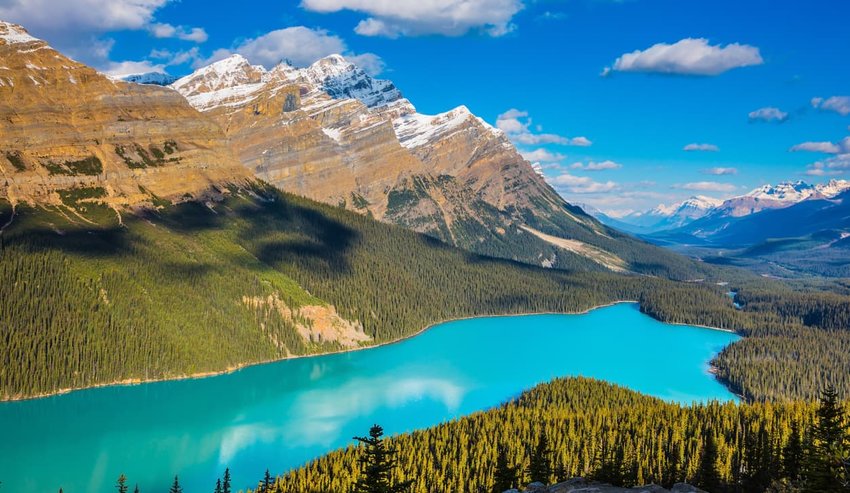 There's no such thing as too many glacial-fed lakes, am I right? The Peyto Lake viewpoint is a panorama that you won't want to leave off of your Rocky Mountain itinerary.
Peyto Lake is fed by Peyto Glacier and is a surreal shade of blue that you have to see to believe. In fact, often when people see pictures of this iconic landscape, they think the lake's hue has been altered or enhanced – it's that amazing.
Approximately 40 km (24.5 mi) from Lake Louise along the famous Icefields Parkway, Peyto Lake is situated in a convergence of vast valleys and surrounded by towering mountain peaks. The Peyto Lake Observation Deck is a 3.8 km (2.3 mi) family-friendly loop trail that will take you to one of the most breathtaking views in the area. Although the view from the deck is spectacular, if you're looking to ditch the crowds, you can also venture further uphill to capture Peyto's fox-like appearance from the Bow Summit Lookout. This self-guided nature trail is just beyond the Peyto Lake observation deck and offers sweeping views of Peyto Lake, Bow Lake, and Bow Valley.
6. Lake Louise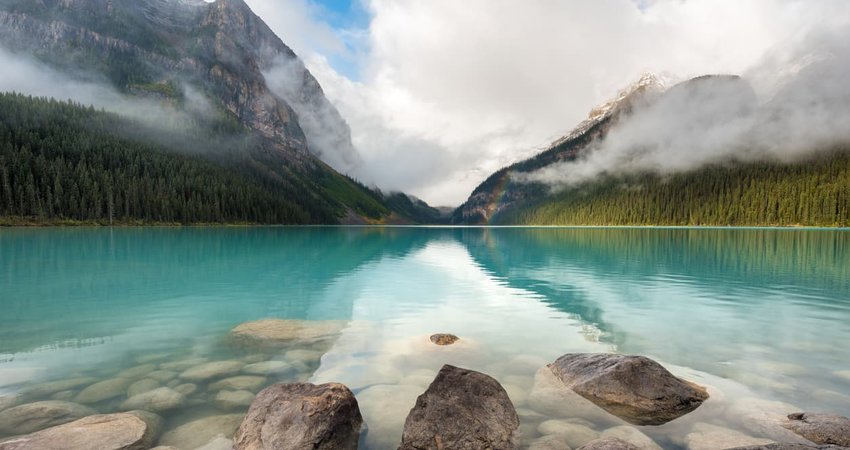 Are you noticing a trend? Another lake, another opportunity to admire, adventure, and explore the incredible natural beauty of the Canadian Rockies. For most, Lake Louise is synonymous with Banff National Park and is a must-see if you're interested in checking off iconic landmarks. Although the Chateau Lake Louise Hotel takes up a portion of the lakeside, Lake Louise is best-known for its array of hiking trails, rustic tea houses, and wildlife viewing opportunities.
If your goal is to escape the bustling crowds and experience solitude in the Rockies, consider hiking the renowned Plain of Six Glaciers trail. This trail is known to offer unparalleled views of the Rockies' rugged terrain, traverses thick pine-tree forests, allows you to get up close and personal with Victoria Glacier before leading to a quaint and secluded tea house nestled in the woods.
If you're looking for tranquility, but aren't interested in a trek into the woods, you can rent a canoe, kayak, or stand-up paddleboard from the nearby boathouse and make your way across the lake's dazzling turquoise waters. Out on the lake, you'll get a clear view of Lake Louise's pride and joy, Victoria Glacier. Experiencing Lake Louise by water is one of the most unique and memorable adventures in Banff National Park.
When to Go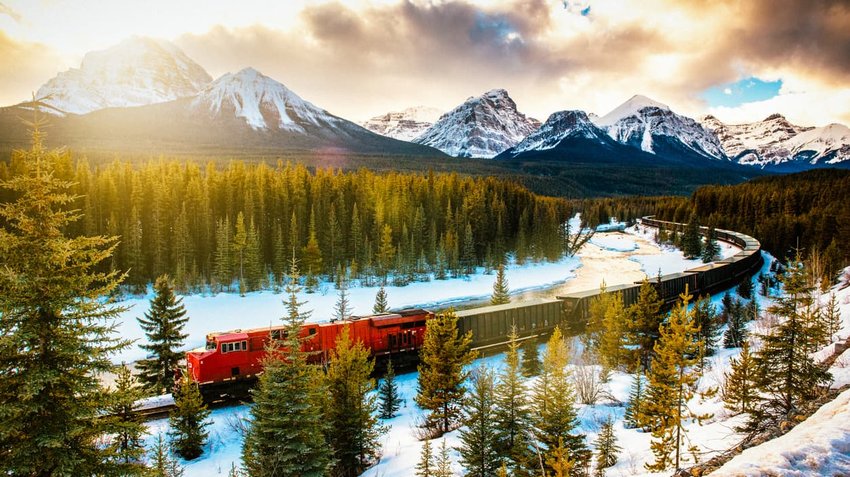 The best times to visit Banff National Park for outdoor activities is generally July through September, but this is also the park's top tourist season. In the winter, the park turns into a winter wonderland and is ideal for winter sports (i.e., cross-country skiing, snowboarding, snowshoeing, and more), but some trails or lakes may not be accessible to the public. It's best to plan your trip in advance and consider the seasons and weather when narrowing down your to-do list. Aside from that, the only downside to visiting Banff National Park is that you probably won't want to leave!