With long distance and international travel largely on pause, many Americans are considering hitting the road and exploring the country from their cars. If you can unplug and safely take a road trip for a week or two, that's great. But if you're working from home anyway during the COVID-19 pandemic, this could also be an opportunity to go car camping or see parts of the country you may never otherwise visit from the comfort of your car, while still staying fully engaged with your work.
If you're going to be using your car as a mobile office, either solo or with your family, it's worth investing in a few pieces of gear to stay connected to the internet while providing power to your laptop, phone and any other gear you need to do your job. The key, as you'll soon see, is redundancy. You don't want to rely on one source of power, or one internet connection if you're away from home for an extended period, let alone basking in the great outdoors while car camping. Luckily, there are plenty of ways to stay powered-on and connected.
Stay Reliably Connected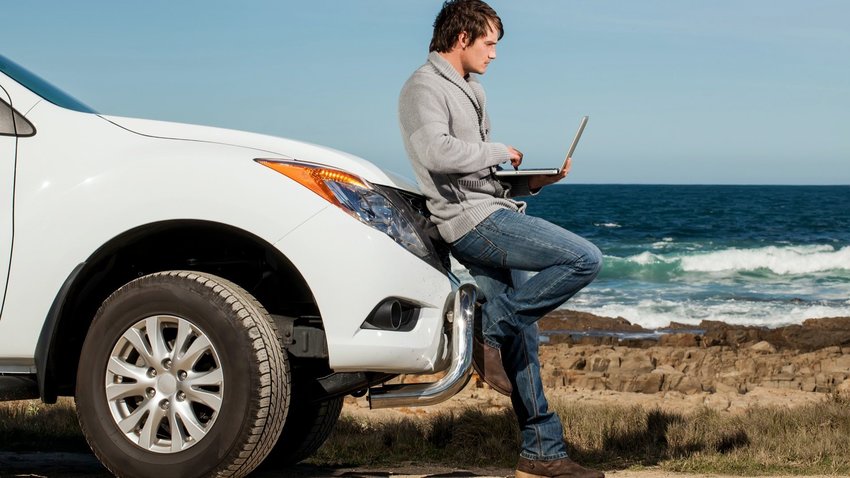 Your mobile office is only as good as your internet connection, but the good news is that modern 4G LTE (not to mention burgeoning 5G) infrastructure is usually fast enough not just for emails and web browsing, but also for Zoom calls.
Chances are, your phone can already act as a portable hotspot; essentially a Wi-Fi router that connects other devices like laptops and tablets to its mobile network. iPhone owners just need to go to the Portable Hotspot section of the settings app to get started, while Android owners will find the option below their Wi-Fi settings. Just remember that even if your phone has "unlimited" data, chances are you'll still have a cap on your data usage while tethering, or at the very least, your data speeds will be significantly throttled after you go over a given allotment, so you'll want to be sure you're not downloading large files or watching too many YouTube videos while you're using a cellular connection.
If it's absolutely critical to have a reliable connection at all times while you're out and about, you'll probably want access to a second network separate from the one your phone connects to. If your Verizon signal is weak and you have to hop onto an important Zoom call in two minutes, you'll want a quick way to access AT&T or T-Mobile's towers to get a reliable connection. If you're traveling with a partner whose phone is on another network, you could likely use their hotspot data if the need arises. T-Mobile, Verizon, and AT&T also offer dedicated portable hotspots and month-to-month data plans, but if you have an older, unlocked smartphone lying around (or find one you like refurbished), that would work just as well. Just pick a plan that makes sense for your mobile internet needs, pop in the SIM card, and turn on the mobile hotspot feature.
Get the Right Car Charger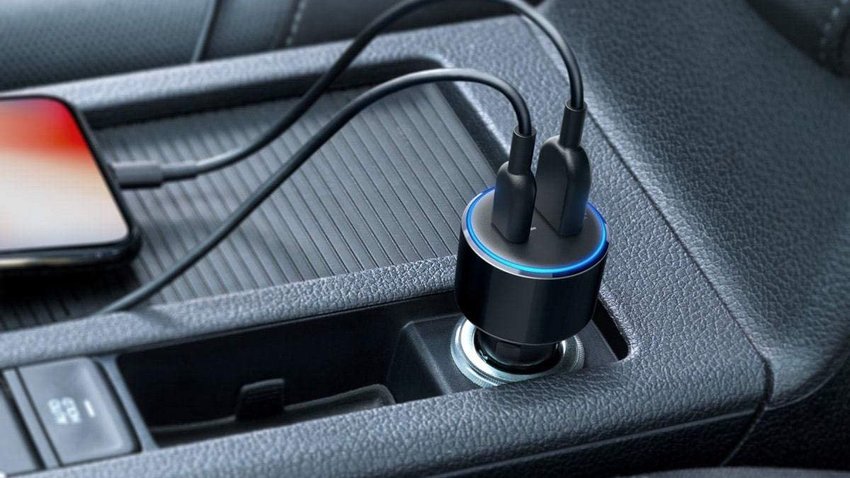 You're going to want to have multiple ways to charge your laptop and phone while you're working from the car, but it should come as no surprise that the most important one is going to be a USB car charger. While a tiny charger might be right solution for a rental car on vacation, power and flexibility are going to be more important than size when outfitting your own car for a longer journey.
This charger from Anker features two USB ports, one of which can charge a phone at full speed, while the other can output up to 30 watts, which is enough to charge most smaller laptops, albeit not necessarily at full speed. If you're going to be working from the road, one port could power your phone while you use it as a mobile hotspot, while the other could keep your laptop charged during even the longest conference calls.
If you're sharing your road trip with family, this charger from AmazonBasics features four ports so that everyone can keep their phones charged at the same time. Its USB-C port can only output 18 watts, so it's less than ideal for laptops, but can still prolong your battery life.
And finally, no option will give you the flexibility of a power inverter, which transforms your car's DC outlet into a couple of standard AC outlets like you'd find at home. That doesn't mean you can plug just anything into it--a blender would burn out the fuse instantly--but it's a great option older laptop chargers, proprietary shaver and toothbrush power cords, and other non-USB-powered tech.
Always Keep a Battery Pack Ready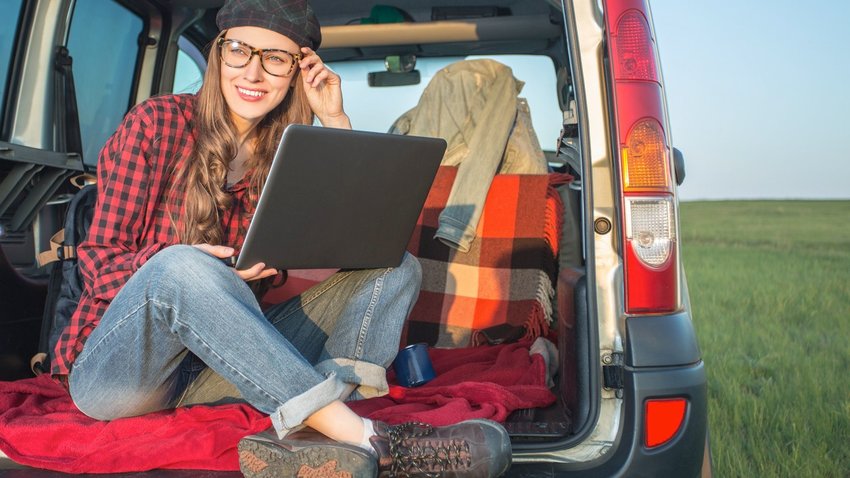 Of course, you won't want to use a car charger for too long while the engine isn't running, so you'll also want to keep a portable battery pack (or two) charged and ready to go. If you need to keep a laptop charged, the key here is going to be to invest in one with USB-C Power Delivery.
If you were running through airports and packing light, we'd tell you to get a slim battery that could fit in your pocket. But if you want to turn your car into an office, bigger is going to be better, because it takes a lot of amperage to fully recharge a laptop battery. This one from RAVPower has 26,800mAh of capacity, which with few exceptions (some of which we'll get to later), is about as big as portable batteries get since larger models aren't technically allowed to be brought aboard airplanes. Laptop batteries vary greatly, but you can generally expect about a full charge from this battery on a standard 13" laptop.
Once the battery's depleted, you can recharge it with one of the car chargers we mentioned earlier, or even with a solar charger, which we'll touch on shortly.
Don't Forget Your Portable Jump Starter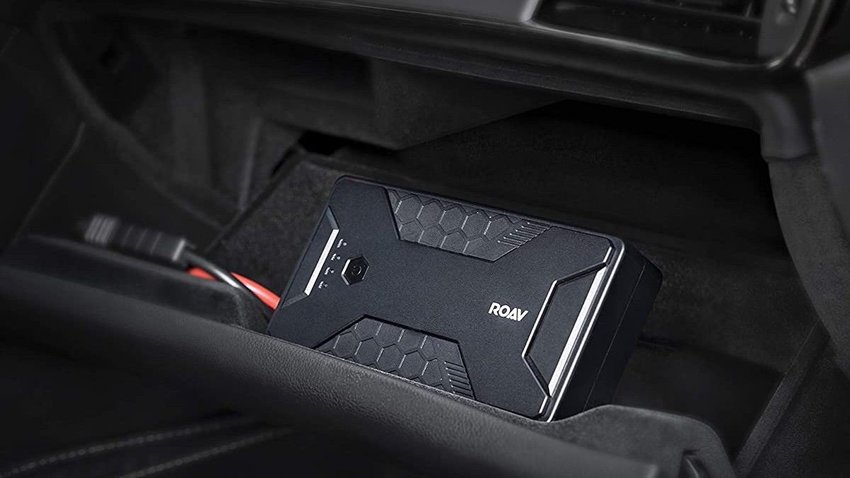 Of course, keeping laptops and battery packs (not to mention mini fridges or anything else you might run off an inverter) plugged in for extended periods of time can be tough on your car battery, particularly if you're using it while the car's engine is turned off.
That's why if you're going car camping, or even just on a short road trip, you should keep a portable jump starter in your glove compartment. Not only will Anker's Jump Starter Pro jump start almost any car (it's rated for gas engines up to 6L, and diesel engines up to 4L), it'll also double as a 12,800mAh battery pack for your USB-powered devices (though sadly, it lacks USB-C Power Delivery). Just be sure to leave a little juice to jump your car battery, in case it needs it.
Harness the Power of the Sun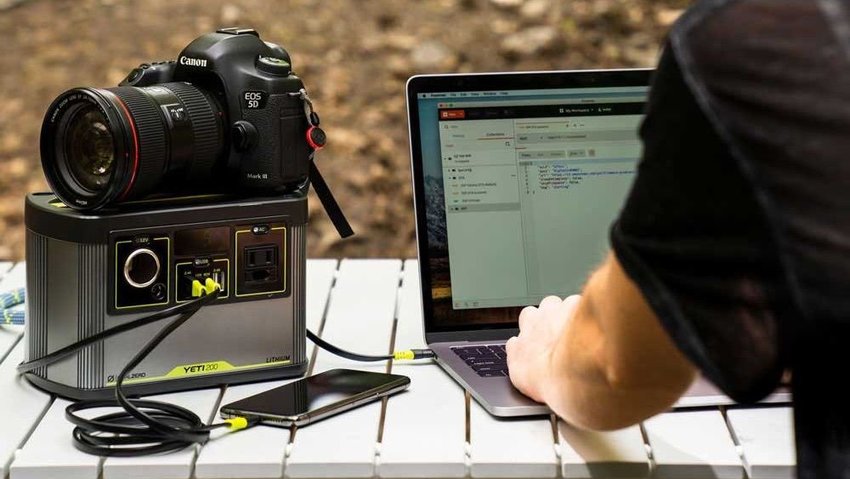 Another way to reduce the strain on your car battery, particularly if you're car camping and don't plan on running your engine during the day, is to invest in a portable solar panel, and potentially an electric "generator" to go with it.
Goal Zero has long been a leader in this space, and offers a variety of panels and portable battery solutions to go with them. For example, the Nomad 10 solar panel can charge USB-powered devices like phones or small battery packs, while the 100 watt Boulder 100 could recharge the Sherpa 100 battery pack, or the Yeti Lithium 200X Portable Power Station, both of which could charge your mobile devices, run camp lights, or power laptops and mini fridges for hours on end.
This step may be overkill, particularly if you aren't planning to venture too far off the main roads, but it can give you peace of mind that your connection to work isn't wholly reliant on using your car's engine to generate power.