Shoes pose a tough dilemma for travelers. They take up a lot of space in a suitcase, so you can never bring as many pairs as you might want. And if you're trying to pack a week's worth of clothing into a carry-on, the shoes you wear to the airport could be the only shoes you bring.
So the travel shoes have to be nimble utility players. They have to be comfortable. They need to stand up to a lot of walking. You may need to wear them to the hotel gym when you exercise, to the office for a meeting, and to dinner at a nice restaurant. No shoe is going to perfectly check all of those boxes, but the Cole Haan All Day Trainers come pretty close.
Available in a variety of colors and styles for men and women, the All-Day Trainers range in color from bright and fun to dark and understated, though for a travel shoe, you probably want to pick something neutral like black (men | women). And from the first moment you slip them on, you'll probably consider them the most comfortable shoes you've ever owned. I did.
En Route
The All-Day Trainers are light and comfortable enough to wear all day, but if you're on a long flight or a redeye and want to take them off for a spell, they're easy to covertly slip off without untying the laces thanks to the stretchy cuff. Just keep your socks on, for everyone's sake.
That convenience extends to the airport as well. If you still haven't gotten TSA Precheck, being able to slip the shoes back on in seconds will get you out of that post-security purgatory area as quickly as possible.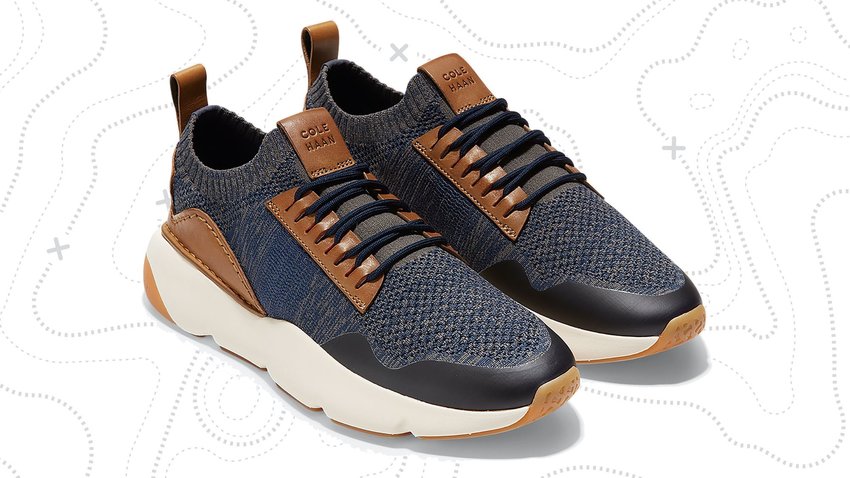 At the Gym
The shoes' extra cushioned heel pad means you can walk through the airport or around the city all day without getting blisters on your Achilles tendon. That same heel pad, combined with the subtle elastic cuff, keeps the shoes firmly in place on your feet even during more strenuous activity. I wouldn't want to run a marathon or play basketball in the All-Day Trainers, but they're more than supportive enough for a 30 minute workout in the hotel gym. Plus, the breathable StitchLite uppers ensure that sweat will dissipate after your workout, meaning the shoes won't get too smelly.
Out On the Town
The All-Day Trainers are not formal shoes by any means. They're sneakers, and they excel at the things that sneakers generally excel at. But they don't draw attention to themselves with large logos or reflective accents, and the darker colorways wouldn't draw so much as a second glance in a dimly lit bar or restaurant, nor would they be out of place in most "workplace casual" office settings. Some colorways even incorporate classy looking leather accents.
If you're going to a banquet or interviewing for a job, you'll obviously just have to find a way to pack a pair of dress shoes. That's a given. But the All-Day trainers can cover a pretty wide spectrum of travel scenarios, and are the shoes I always bring if I can't pack any others.